What Is Trademark Dilution—All Questions Answered
Safeguarding intellectual property is one of the essential concerns of every small business owner. Even if you register your assets as trademarks and protect them by law, the chances are someone could infringe on your rights and endanger your success. For this reason, you must learn more about the problems that may emerge in such a situation, including trademark dilution.
What is trademark dilution, and what are the most common types? How is it different from standard trademark infringement? How does the Federal Trademark Dilution Act protect you from this inconvenience, and in what cases does it apply? Find out by exploring this guide! We also offer a bonus tip on how to file a trademark application without a fuss !
Trademarks in Brief
Trademarks personalize your brand, define your goods and services, and distinguish your products from thousands of other businesses across the U.S. They help shape the identity of your company, which is why they must be unique and exclusively used by you. Below is the table listing some ideas you can file as trademarks:
| Business Assets | Other Creations |
| --- | --- |
| | |
Once you file the chosen trademark with the U.S. Patent and Trademark Office (USPTO), you obtain the exclusive right to use them for commercial purposes. Besides applying for a federal trademark, you can also:
Protect your business asset on a state level by filing an application to the Secretary of State
Keep your trademark unregistered and maintain the common law ownership only, which means you can use the idea only within the area you live in
Original literary and artistic works should be shielded with copyrights, while service marks can protect the particular services you offer within your business.
Trademark Infringement vs. Dilution
Trademark infringement is when a third party uses the business asset someone else protected without permission. If the owner registers the particular mark with the USPTO, such a violation is considered a crime. It means the trademark holder can sue the person who stole their idea and get compensated for the inconvenience.
Trademark dilution happens when another business registers an idea similar to a popular brand, misleading customers. Doing so can spoil the image of the famous company and affect the consumer perception negatively by:
Creating unfair competition
Endangering legitimate economic interests of the popular brand owner
What Types of Trademark Dilution Are There?
There are two common types of trademark dilution in the U.S:
Blurring—This issue diminishes the capacity of the popular brand to stand out from similar businesses due to its resemblance with the new trademark
Tarnishment—It happens when a new brand similar to a famous one offers low-grade products or services, compromising the reputation of the popular trademark
What Does the Federal Trademark Dilution Act of 1995 Require?
The Federal Trademark Dilution Act is an amendment of the Lanham Act of 1946, the primary trademark protection law in the U.S. It requires full protection for famous brands whose work and reputation are compromised by trademark dilution.
The act:
Determines what businesses can be considered famous—Whether the trademark is popular depends on many factors, including:

Duration of using and advertising the specific trademark
Geographic area where the trademark owner offers their goods or services
Degree of recognition and distinctiveness of the mark
Channels of trade
Potential assignments of a particular trademark to third parties
Trademark's presence in the USPTO trademark database

Explains what counts as dilution—The statute says that there may be some situations that do not count as dilution but are similar, such as:

Fair use
News reporting
News commentary
Non-commercial use

Provides remedies for the businesses whose operations were affected by dilution—usually an injunction that will prevent further issues
How Can DoNotPay Help You Get the Best Out of a USPTO Trademark Registration?
To ensure your business asset does not infringe or dilute other people's brands, you should perform a thorough clearance search before registering a trademark. Both the USPTO trademark search and application process can be exhausting and challenging. Luckily, you can do it easily using DoNotPay!
Our app will check if you meet all the requirements for registering a trademark and complete the entire application form in your stead! We will also send it to the suitable USPTO department and help you track your application status.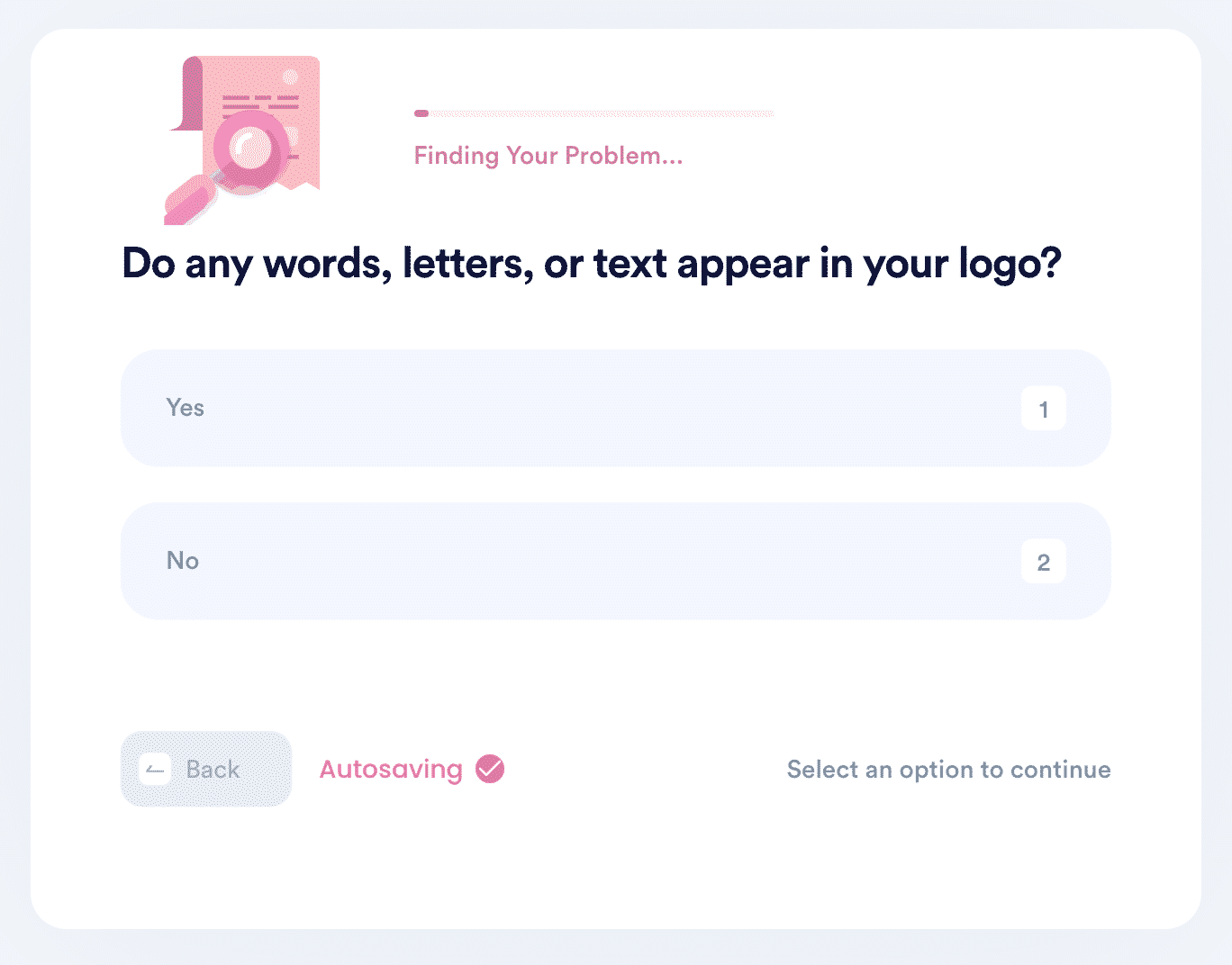 Here is the drill:
Select Trademark Registration
Disclose:

Type and class of the trademark
Other important details of your business

Pay the trademark application processing fee
DoNotPay also features a vast knowledge base that can help you learn more about:
More Problems? We Offer More Solutions
Running a business also calls for various registration processes. Our app can show you the ropes on the following:
Employer Identification Number (EIN) registration
Privacy Shield program self-certification
DMCA agent registration
Do your employees need to submit 83(b) election forms to the IRS? We can help you:
Generate them
Distribute them
File them automatically
No Need To Tighten Your Belt With DoNotPay by Your Side
Handling finances in business can be a burden. There are many unforeseen costs, fees, and even fines. This is where the world's first robot lawyer swoops in!
Take a look at which DoNotPay's products can manage your issues:
| Problem | DoNotPay's Features |
| --- | --- |
| A client breached the contract and refused to pay | Client Breach of Contract |
| Another business copied your brand or used your slogan | Trademark Protection |
| A client initiated the chargeback process for no reason | Fight Chargebacks |
| You need more funds to keep your business afloat or grow it | Business Loan Request Letter |
| People posted bad reviews online that are fake, incorrect, or hateful | Remove Negative Reviews |
All the above-mentioned instances can make you lose money. Luckily, you can rely on our app to nip the issue in the bud.
We can also help you save money by providing you with free faxing and mailing services. No need to waste time or money on post office visits or fax machine purchases.