What Is the Over 65 Property Tax Exemption in Texas?

Texas homeowners are well aware of the fact that the Lone Star State has one of the highest property tax rates in the U.S. To make the situation a bit easier, many Texas counties and school districts offer various property tax exemptions for veterans, the disabled, seniors, or low-income citizens. 
Are you a 65-year-old Texas senior who can't pay property taxes due to low income? We will help you determine if you qualify for a property tax exemption and tell you the easiest way to apply! 
Property Taxes Explained
Each county in the U.S. charges property taxes and uses the revenue to fund important services, such as roads, hospitals, and schools. Since every taxing jurisdiction has different financial needs, the property tax rate varies from county to county—from 0.18% in Louisiana to 1,89% in New Jersey.
While the nation's average property tax rate is 1,07%, Texas homeowners have to pay much more. These are some of the most expensive Texas counties property tax-wise:
| | |
| --- | --- |
| Texas County | Median Property Taxes |
| King County | $5,066 |
| Collin County | $4,351 |
| Rockwall County | $4,054 |
| Williamson County | $3,817 |
| Montgomery County | $3,123 |
How Is Your Property Tax Calculated?
Every Texas county has its own assessor, whose job is to appraise your property and determine its assessed value. The property's value depends on its:
Location

Neighborhood

Interior

Exterior

Curb appeal
After the property assessment, the assessor will calculate your annual tax bill according to your county's property tax rate. You have the right to request the assessor's card to check whether the appraisal was done right. If you notice any inaccuracies, you can schedule a reassessment.
You can try a few strategies to lower your property taxes:
Keep the assessor company during the appraisal to ensure a fair assessment

Avoid home renovations before the assessment

Apply for one of the exemptions available in your county 
Do Seniors Pay Property Taxes in Texas?
Even though property taxes are a burden on most seniors in Texas, elderly citizens don't automatically get property tax relief in this state. As with any other exemption, you need to complete certain forms, file your application, and wait for the response. If you qualify, you'll get one of the senior property tax exemptions and a lower tax bill.
What Are Property Tax Exemptions for Senior Citizens in Texas?
Texas counties offer two types of property tax exemptions for seniors:
Senior Property Tax Exemptions in Texas
Description
Eligibility

65-Years-Old Seniors Exemption

Eligible seniors will get a $10,000 exemption for school district property taxes. The exemption will be added to the existing $25,000 homestead exemption

Seniors older than 65 or disabled residents

The primary residence of the applicant

Surviving unremarried spouse older than 55

Property Tax Deferral

Qualifying homeowners can delay paying for their property taxes until:

They sell the property

They pass away

In case the homeowner passes away, the surviving spouse who's at least 55 can extend the deferral. When the deferral expires, they have 181 days until all of the unpaid taxes are due. They also have to pay an 8% interest
Learn About Other Property Tax Exemptions in Texas
If you're not eligible to get the Texas property tax exemption for seniors, you might qualify for other exemptions: 
Homestead

—Homeowners can get a $25,000 tax exemption on their primary residence

Disabled veterans

—Veterans who are disabled due to a service-related injury can get an exemption of up to $12,000. The exempt amount depends on their age and the severity of the disability 

Surviving spouse of a veteran

—The un-remarried spouse of a deceased disabled veteran is qualified to get the same exemption that the veteran was entitled to
How To Apply for Texas Property Tax Exemptions for Seniors With DoNotPay
Getting a property tax exemption is always helpful, even if you live in one of the states with low property taxes. DoNotPay will help you pay property taxes in Texas, Florida, Illinois, or any other American state. 
To reduce your property tax bill, log in to your DoNotPay account and follow these steps:
Choose our

Property Tax

feature

Answer all required questions regarding your property

Follow the steps provided in our guide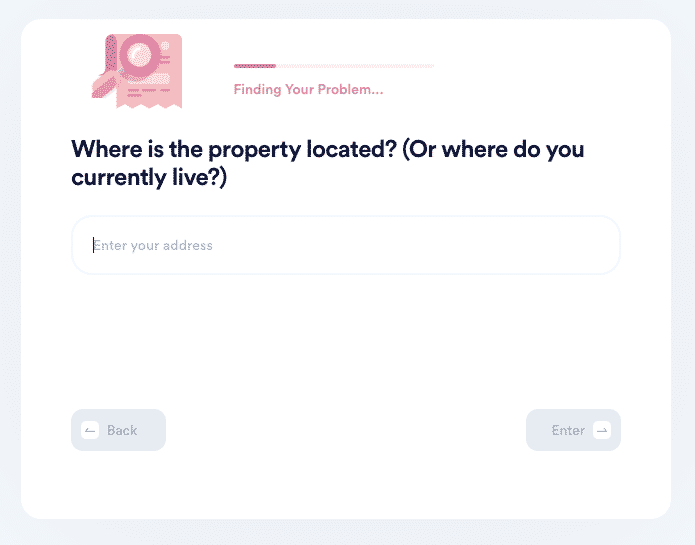 DoNotPay will determine which exemption you can apply for and will generate a personalized guide on how to do it based on the answers you give us. Check out some of the states and counties DoNotPay can help you with:
DoNotPay Helps You File a Property Tax Appeal in a Snap 
If you'd like to file a property tax appeal without having to hire a lawyer or search for appeal templates online, DoNotPay can help you out. Our guide will tell you how to negotiate with your county's assessor, what evidence you need to gather, and how to complete the necessary forms. 
More of What We Can Do for You 
Our multifaceted app can call and record the conversation with the customer service of the company that just won't let you go! If you are having trouble canceling an unwanted service via the traditional channels, use DoNotPay to get it over and done with!
We can help you stop the persistent robocalls and robo texts from the nagging company and request a refund for unused services in a matter of minutes.
We'll also lend a helping hand in stopping spam mail—whether it's electronic or paper. Our Spam Collector product unsubscribes you from unwanted emails and cleans up your physical mailbox too!
DoNotPay Can Do Your Paperwork for You! 
Feeling like you're in bureaucratic hell? Our app will draft the paperwork you need and get you out of any hurdle before you know it! 
We can compose most of the documents that you require for any administrative purpose in your jurisdiction, most notably: