What Is the Difference Between a Power of Attorney and a Durable Power of Attorney?
Do you need to create a power of attorney document, but you're not sure which type of POA would fit your needs? Is your main question: "what is the difference between a power of attorney and durable power of attorney?" You're in the right place!
We will explain the key differences between all types of powers of attorney (POA) to help you choose the best one for you. DoNotPay can also help you create a durable power of attorney in a few clicks.
What Is a Power of Attorney?
A power of attorney is a document that one party (the principal) uses to appoint another party as their agent. The agent gets the power to make medical or financial decisions on behalf of the principal. There are a few different POA types:
Durable
Medical
General Power of Attorney
A general POA permits an agent to act on behalf of the principal in any and all matters in accordance with state law. The agent can make decisions regarding financial and health care matters.
A general POA stays effective as long as the principal is mentally capable of making decisions—as soon as the principal becomes incapacitated, this document stops being valid. This type of POA is typically used when the principal plans to travel outside the state.
Durable Power of Attorney
A durable POA enables an agent to act in the principal's stead in legal and financial matters. The document has to specify the exact powers it will grant. Generally, an agent can:
Deal with different legal matters
Handle businesses
Pay bills and taxes
Springing Power of Attorney
A durable POA document that takes effect on a specific date or after a certain occurrence is called a springing POA.
Medical Power of Attorney
A medical POA is also known as a health care proxy. This document grants an agent the power to make health care and end-of-life decisions on behalf of the principal. Those decisions can refer to surgeries, drugs, treatment options, and similar.
Some states forbid doctors and medical staff to act as medical POA agents. The decisions that a medical POA agent needs to make can be extremely difficult, so the agent should be someone close to the principal.
Limited Power of Attorney
A limited power of attorney grants clearly specified, limited powers over certain aspects of the principal's assets outlined in the document. This type of document can also be limited by time.
Financial Power of Attorney
This type of POA permits the agent to oversee the principal's finances and act in their stead. The agent can pay bills, handle business, and deal with financial or real estate matters.
The Main Difference Between a General and Durable Power of Attorney—Conclusion
The key differences between a durable and general POA are listed in the table below:
Durable POA
General POA

Can't expire
Lasts even if the principal becomes incapacitated
Permits an agent to make financial and legal decisions on behalf of the principal
Doesn't allow an agent to make health care decisions in the principal's stead
Ends if the agent refuses to continue acting on the principal's behalf or if the principal:

Passes away
Revokes the POA while still of sound mind
Puts an expiration date on the document

Ends automatically when the principal becomes incapacitated
Allows an agent to make both financial and health care decisions on behalf of the principal
How To Create a Power of Attorney
Creating a power of attorney can be a complicated process because each state has its own rules regarding this document. Hiring a lawyer is usually the safest solution but, for some people, that might not be an option due to high lawyer fees.
One of the possibilities is to compose a POA by yourself. If you want to create it, you'll need to follow the steps below:
Decide who your agent is going to be
Download or buy a POA form
Define the powers granted
You can avoid all the trouble that comes with creating a POA on your own by signing up for DoNotPay.
Let DoNotPay Create a Durable POA for You
We can help you draft a durable power of attorney in under five minutes. DoNotPay will use a short questionnaire to collect all the necessary information. Once we have the info, we'll create your POA in a flash.
We'll need the following:
Agent's name and address
Co-agent's name and address (if you decide to appoint one)
Powers you want to grant to your agent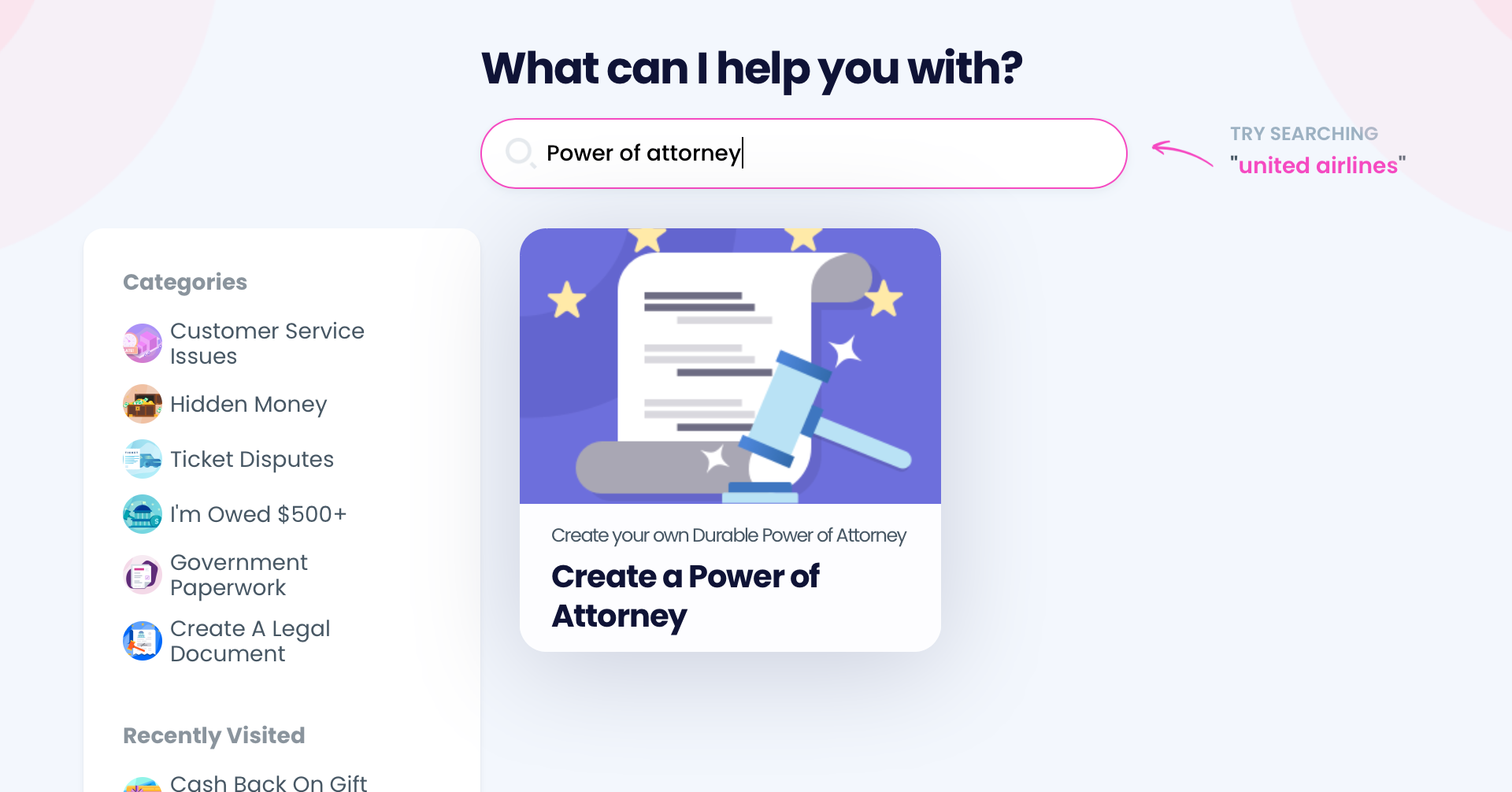 To get your POA letter in a matter of minutes, you need to sign up for DoNotPay and follow the steps below:
Type in Power of Attorney into DoNotPay's search bar
Open the product
Complete the questionnaire
After you complete the steps, DoNotPay will create your POA automatically. We will also give you two notices that you and the agent need to read before signing.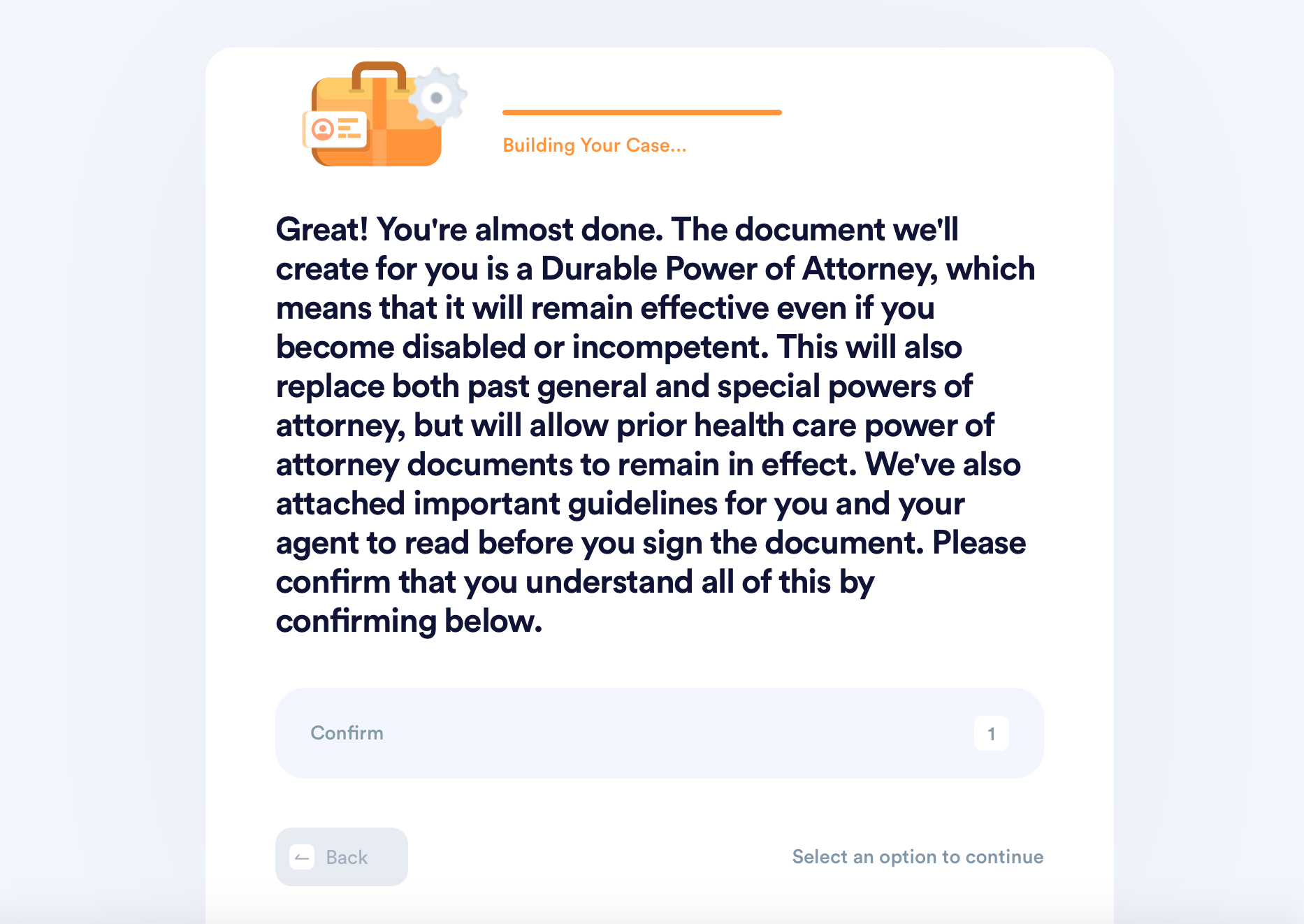 If you live in one of the states that require powers of attorney to be notarized, we have a solution for you. You can select the document notarization option after you complete the questionnaire. DoNotPay will send you a link where you can schedule a meeting with an online notary who will witness your signing of the document and provide their signature and seal.
Shop Online on Your Terms
Have you ever had to deal with complaints about lost, late, or damaged parcels? Is reaching customer service over the phone always a pain? Don't you wish there was an easier way to request refunds and chargebacks for bad purchases?
Shopping can easily turn into a nightmare, but DoNotPay will take away some of that stress. We can help you with all of these issues and more!
If you need to file warranty claims for any kind of product, our AI bots will make the process painless. Those who like to try out new services will fall in love with our virtual credit cards and foolproof methods of signing up for free trials without risking charges.
When you get sick of your subscriptions, cancel them with DoNotPay. Also, don't throw away your used gift cards with a few bucks left—we can help you get your cash back.
DoNotPay Protects Your Interests
There are already so many ways you can use DoNotPay to improve your daily life, but we keep developing more and more features that will make our subscribers even happier.
On our platform, you can find useful resources to: