What Is the Average Retainer Fee for a Divorce Lawyer? Can't You Do Everything Alone?
The key issue during a divorce is finding a way to reduce your stress level as much as possible. That's why you should get familiar with the necessary paperwork, filing procedures, and mandatory separation or waiting period. When it comes to planning your divorce budget, you need to include the price of an experienced attorney if you choose to hire one.
What is the average retainer fee for a divorce lawyer nowadays? DoNotPay provides the answer together with extra useful tips on the divorce procedure. We can also assist you with the required divorce-related documentation!
What Is a Divorce Lawyer Retainer Fee?
Lawyers often charge a retainer fee to handle your divorce case from the beginning. This fee is a down payment for the legal services your lawyer agrees to provide.
A divorce lawyer retainer fee includes the following:
The lawyer will use the retainer fee to settle all incurred costs of the divorce case.
What Is the Average Retainer Fee for a Divorce Lawyer?
While the precise amount of a retainer fee varies from lawyer to lawyer and city to city, the average retainer fee for a divorce lawyer goes between $3,000 and $5,000.
You can try negotiating if you cannot afford the amount a lawyer asks for or find another attorney since some might charge less. Keep in mind that:
Is a Divorce Retainer Fee Refundable?
An attorney will deduct all costs of services provided to their client from the retainer fee. If the retainer is not enough for the case, you will need to pay extra. In case any money remains at the end of your case, you should get it back.
When making all necessary agreements with your lawyer, you should make sure the remaining amount is refundable as some lawyers require non-refundable retainer fees.
Different Divorce-Related Expenses That Influence the Retainer Fee Explained
When calculating the total amount of the retainer fee, a lawyer takes into account the following costs:
| A Lawyer's Retainer Fee Includes | Additional Information |
| --- | --- |
| Hourly rate | Lawyer's hourly rate will be multiplied by the number of hours the lawyer agrees to spend on your case. It means that if a lawyer's hourly rate is $250, and they plan to spend 12 hours on your divorce case, the retainer fee will be at least $3,000 (it will be higher when additional costs are calculated) |
| Law company's expenses | The retainer might include the fees of other law firm employees who will help with your divorce case |
| Additional administrative costs | While some attorneys include court fees and administrative costs in their retainer fees, others might not. In the latter case, it doesn't mean you won't need to settle them—you'll get a bill for them later |
What Else Should You Know When Negotiating the Retainer Fee for a Divorce Lawyer?
When discussing a retainer fee, you should also keep in mind that your lawyer needs to:
Open a trust account—Lawyers keep a trust account where they put your retainer fee. This account is separate from their business account
Provide a retainer agreement—This document should include:

The specification of costs included in the total amount of the retainer fee
The way the attorney will handle the trust account, i.e., when they can transfer any funds to their business account
The frequency of you getting an account statement showing how many hours of service the lawyer has provided
Do You Need a Lawyer?
If you and your spouse reach an out-of-court settlement regarding all divorce matters and decide on a friendly, uncontested divorce, you won't need to hire a lawyer. You can:
Go to mediation if you need help resolving certain issues
Complete, sign, and file the required documentation alone
A no-fault uncontested divorce requires the least money and time since you and your soon-to-be ex-spouse agree on all relevant factors of your post-divorce life, including:
You should outline all the above-listed and any additional matters you agree on in a divorce settlement agreement. No need to consult an expensive lawyer for this document either—sign up for DoNotPay to generate the agreement hassle-free!
DoNotPay Creates Efficient Divorce Settlement Agreements
Our AI-powered app is familiar with the latest state laws and will ensure your divorce settlement agreement complies with them. We'll also take into account your specific situation when preparing a rock-solid document.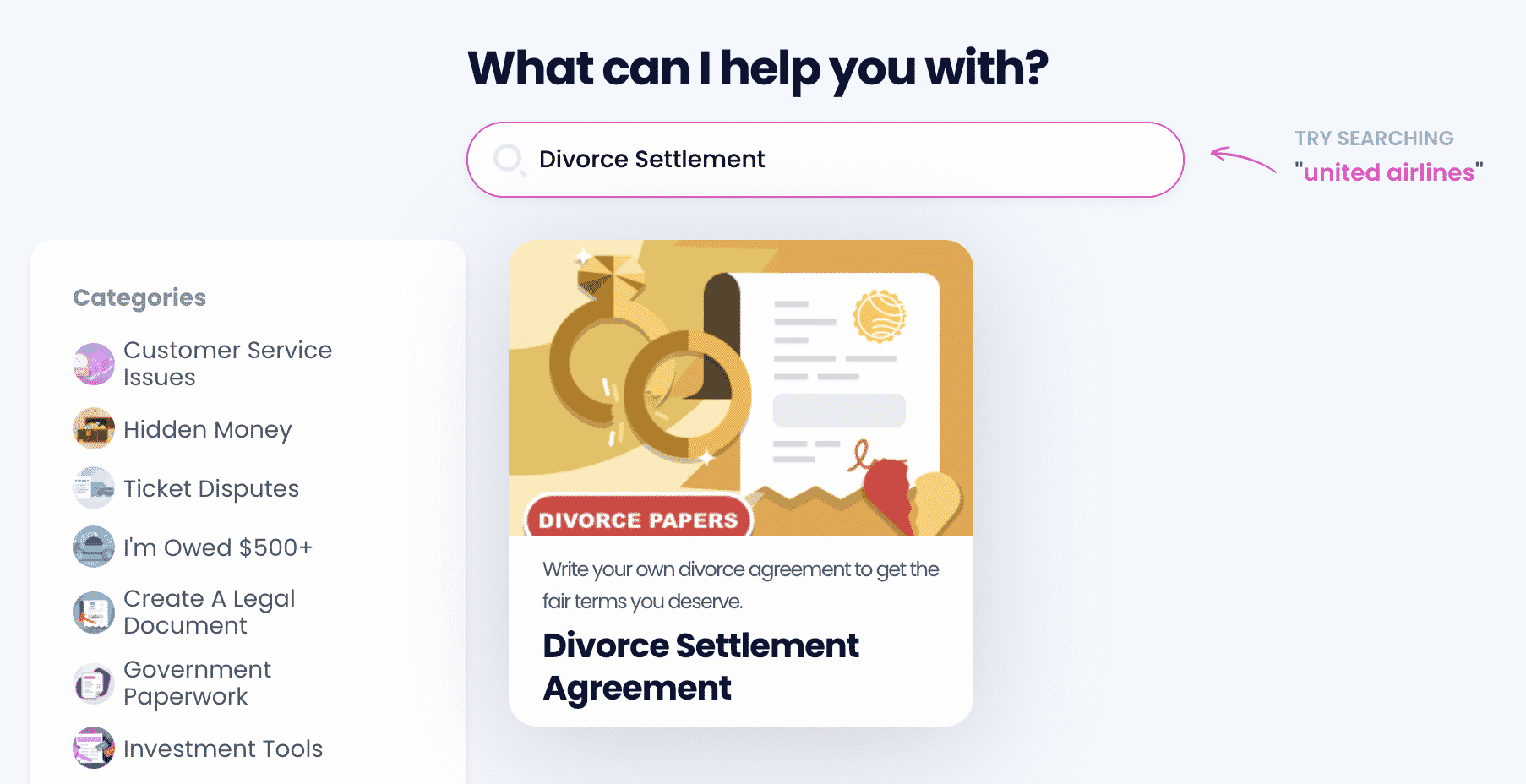 Select our Divorce Settlement Agreement feature
Provide us with information about what you and your spouse have agreed on
Choose if you'd like to get the document notarized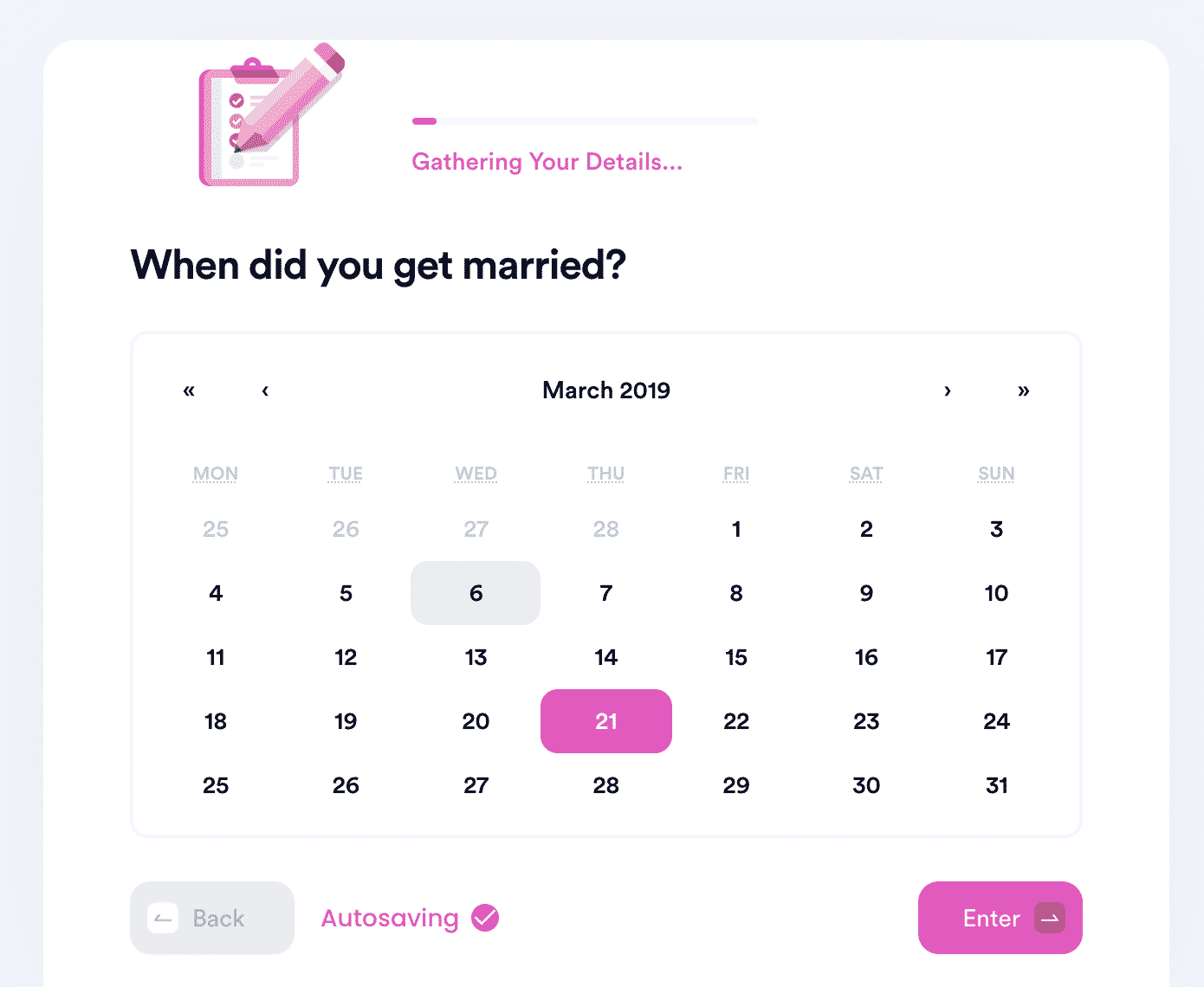 Once you receive the document, you need to file it with the court. When the judge approves the agreement, it becomes legally binding.
Want To Know the Cost of Divorces Across the USA?
If you'd like to know how to keep your divorce costs in control, you should check out the following table presenting divorce costs across the States:
Get Familiar With Relevant Divorce-Related Matters
You should get useful information to make sure your divorce goes smoothly. Check out DoNotPay's vast knowledge base and find answers to lots of questions, including the following:
DoNotPay Helps You Tackle All Kinds of Problems From the Comfort of Your Home
Are you too busy to go to Target, Walmart, or photo studios to get your passport photos taken? DoNotPay offers you the possibility of taking them yourself and having them edited without going anywhere!
Thanks to our app, you don't need to visit the post office if you want to initiate a return. You can also skip going to a notary office because we'll help you get your documents notarized.
Here are some other tasks you can complete with ease using DoNotPay:
We Help You Get Fuss-Free Subscriptions to Any Service
Interested in a specific service or platform? Make sure to get the best out of your free trial without getting charged and ending up with an unwanted paid membership. Even if you make a mistake, DoNotPay can end your subscription in a few simple steps!
Our system allows you to generate virtual credit card numbers to prevent platforms from getting your real bank details and using them for unauthorized transactions. We also offer burner phone numbers that will help you go through any subscription or verification procedure without disclosing personal details.