What Is Mediation in Divorce? DoNotPay Explains the Process!
Do you and your spouse have a hard time finding a middle ground regarding your divorce settlement? If you do, mediation could help streamline your uncontested divorce process.
Don't know what mediation is? There's no need to worry—DoNotPay has got your back! Our article will explain what mediation in divorce is and how it works!
Mediation in Divorce—The Basics
If you want to finalize your divorce fast and at a low cost, you should choose an uncontested divorce. To be eligible for this type of divorce, spouses have to agree on:
Distribution of property
Child custody and child support
Parenting time
Retirement
Taxes
Not being on the same page about one (or several) of these areas will be an issue—this is where mediation comes in.
Mediation is a process used to help soon-to-be-ex spouses reach an agreement on every aspect of their divorce settlement.
The person who helps couples find the middle ground is called the mediator. Mediators are neutral and do not work for either party—they are not allowed to take sides.
A mediator's main job is to help couples come up with ideas that will solve their disagreements. They guide the couple through discussing everything openly and in confidence.
How Long Does Divorce Mediation Take?
Mediation is voluntary, and it continues for as long as the couple and the mediator deem necessary. Both the duration and the cost depend on the severity of the issues and the level of communication between the spouses.
To speed up the process, both parties should have a clear idea of the main issue and what they want to get out of mediation.
What Happens in Divorce Mediation?
Mediation in divorce generally consists of five steps:
Introduction to mediation
Gathering of information
Finding out the needs and interests
Negotiating a fair settlement
Reaching a conclusion
Introduction to Mediation
In the first step, the spouses need to give the mediator some necessary information about the case. The mediator will explain how the process will be conducted. The mediator will also suggest the optimal approach, depending on the complexity of the case.
Gathering of Information
The mediator will discuss all the legal issues that apply to the case—from the division of assets and debts to alimony. Spouses will be asked to bring their financial documents, such as tax returns or bank statements.
This step may take more than one session to complete as the mediator will have to ensure that the parties have everything ready to negotiate a valid agreement.
Finding Out the Needs and Interests
This stage of mediation helps the spouses involved figure out what their ideal outcome of the divorce is—also known as needs and interests. This can refer to debt division, child custody, etc. If the spouses' interests differ greatly, the mediator will have to find a compromise.
This stage can be completed in separate or joint sessions.
Negotiating a Fair Settlement
When the needs and interests are identified, the mediator will have to negotiate a settlement that's fair to both parties. The spouses need to discuss their options and figure out the best solution.
Reaching a Conclusion
In the concluding stage of the mediation process, the mediator will give an unofficial settlement agreement to both spouses to review. If there are no unresolved issues in the case, the spouses will be given a memorandum. The mediator will summarize the key points of the agreement that the couple can use to prepare a formal settlement agreement, which they will file with the court.
An affordable way to draft a tailor-made divorce settlement agreement is DoNotPay!
Creating a Divorce Settlement Agreement Doesn't Have To Be Expensive—Use DoNotPay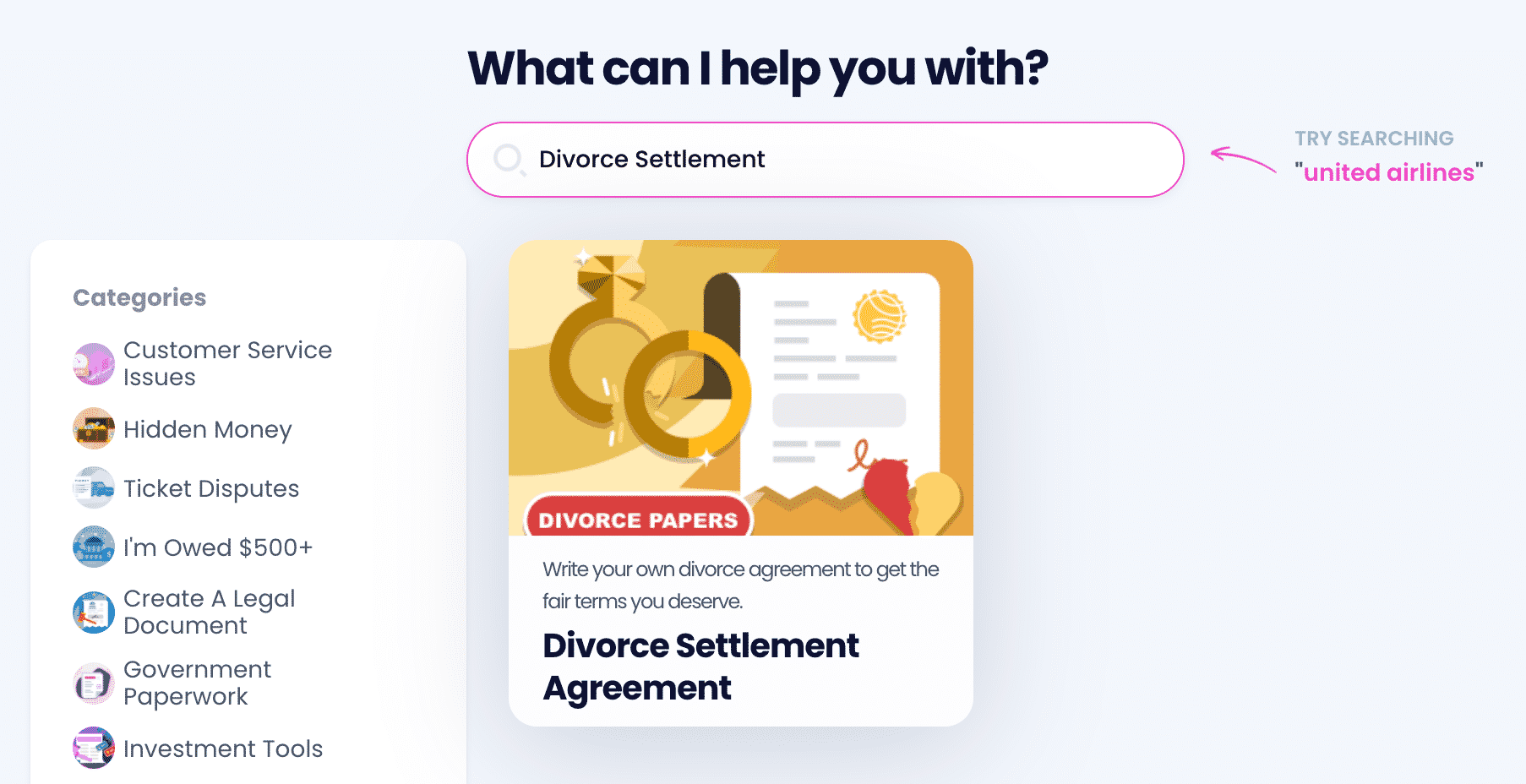 A divorce settlement agreement is a crucial document for an uncontested divorce. Forget about paying unnecessarily costly mediators or lawyers to write this document for you.
Our Divorce Settlement Agreement feature allows you to create a tailor-made agreement that will make sure you get the fair terms you deserve. To get one, follow these simple steps:
Give us the details about your spouse and children
Tell us about your financial assets and income and how you want to allocate them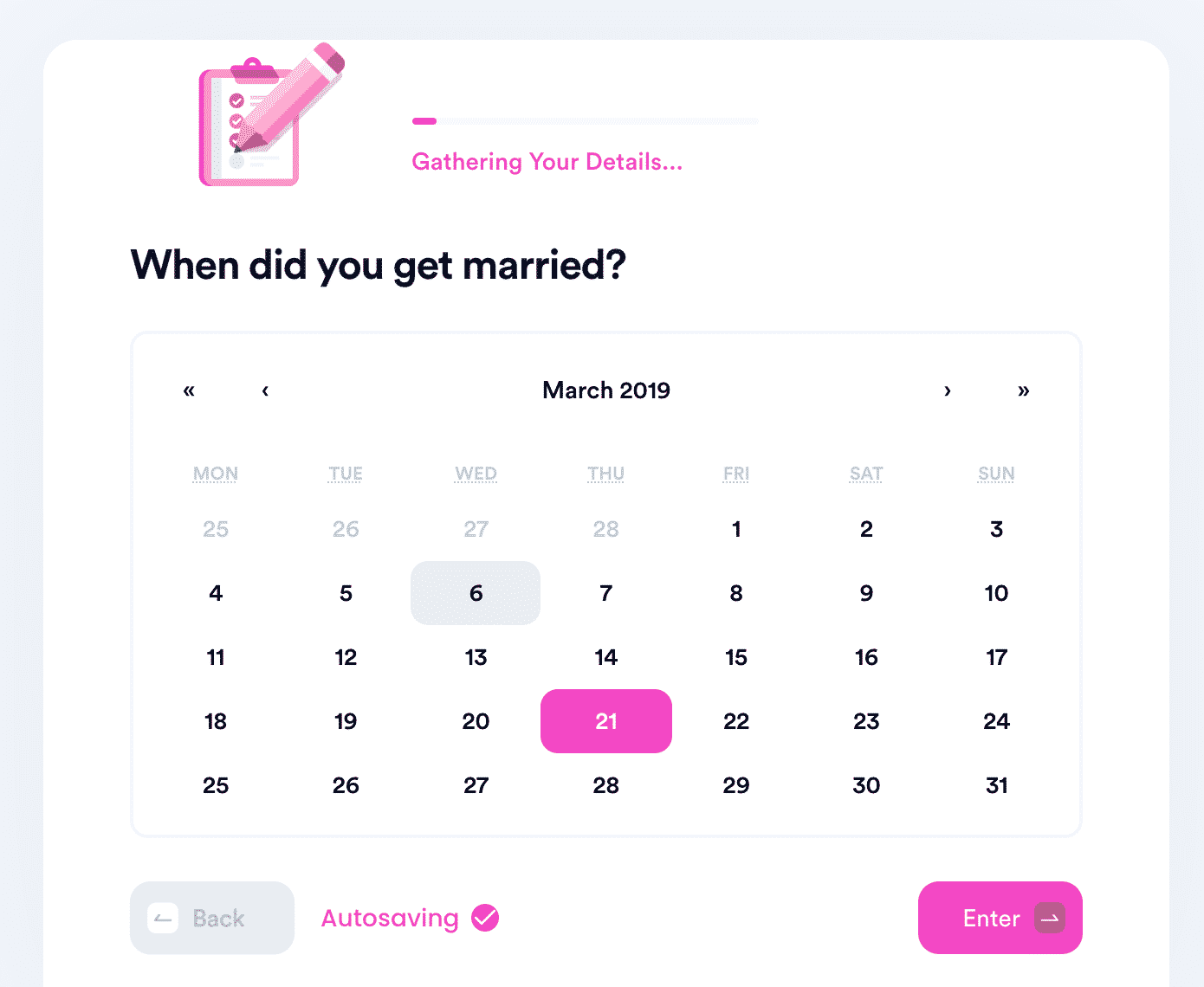 Upon submitting, you will be asked if you want to get your documents notarized through the same app, and you'll receive your agreement in no time.
Can a Mediator File Divorce Papers?
A mediator can't file divorce papers unless they're an attorney.
Note that filing for divorce with a mediator's help will impact the cost of your divorce. The service fees of mediators who are attorneys at the same time are sky-high.
DoNotPay Offers Further Assistance With Divorce-Related Matters
Need more answers to divorce-related questions? DoNotPay has prepared some handy articles that you should check out, including:
If you need help with divorce laws in various U.S. locations, see the table below:
DoNotPay Makes All Issues Go Away in Several Clicks
Using DoNotPay comes with plenty of advantages, the main one being that you can resolve just about anything in a matter of clicks. It doesn't get any easier than that!
Do you need to fax a document, draw up an agreement, submit a FOIA request, get a contract notarized, file a warranty or insurance claim, get a burner number, schedule a DMV appointment, or appeal a parking ticket as soon as possible? Sign up now and clear out your schedule because we'll handle it all!
Are you looking for your missing money? Do you need help with your utility bills or property taxes? We're here to help!
Get Rid of Paperwork With Your AI-Driven Assistant
Even though paperwork belongs in the past, we have to keep dealing with it almost daily. To avoid this annoyance, you can just use DoNotPay!
If you need to compose a demand letter to a rude neighbor, submit a claim for a late or missing package, request compensation from an airline, or sue any company in small claims court, we have your back!
All you need to do is sign up, tell us what you need, and resolve any issue in a matter of minutes!