What Is Financial Aid for College? Check DoNotPay's Detailed Guide
Having sky-high college tuitions in mind, it is no wonder students are looking for financial help wherever possible.
If you are wondering, "what is financial aid for college?", DoNotPay will provide you with an extensive explanation.
We can do more than that! Worried that your application might get rejected? Not sure if you'll receive enough money? DoNotPay files an appeal to any school in your stead as soon as you sign up!
What Is College Financial Aid?
College financial aid is the money students get as help to pay for college or career schools. The source for aid can be:
State
Federal
School
Private
There are different types of college financial aid that you can apply for. Take a look at the financial aid options for college in the table below:
Type of Financial Aid
Brief Explanation
Grants
A grant is a type of financial aid that you don't need to repay. There are certain exceptions—withdrawing from school and owing a refund, for example. Some of the most common federal grants you can get are:

Pell Grants
Teacher Education Assistance for College and Higher Education (TEACH) Grants
Federal Supplemental Educational Opportunity Grants (FSEOG)
Iraq and Afghanistan Service Grants

Scholarships
Scholarships are another type of aid that doesn't need to be repaid. These funds are usually awarded based on academic talent, merit, or a particular area of study. Scholarships are usually offered by:

Schools
Employers
Individuals
Private companies
Nonprofits
Religious groups
Professional and social organizations

Student loans
Student loans are a form of financial aid that requires you to return the money you borrowed. You will also have to pay the interest that accrues. Student loans come from:

The federal government
Private sources (banks or financial institutions)
Other organizations

Work-study jobs
The Federal Work-Study Program offers part-time jobs for graduate and undergraduate students that require financial help. This aid allows them to earn money to help pay for their education
How Does College Financial Aid Work?
To acquire financial aid, you need to take the following steps:
Plan in advance
Complete the FAFSA form
Review your aid offer
Get financial aid
Why Is Planning in Advance Important?
You should start thinking about how to pay for college while you are still in high school. The best way to inform yourself is by asking your school counselor and the college financial aid office about college, state, and nonprofit grant and scholarship options.
You should also:
Start saving before enrolling in college
Keep prepaid tuitions and education savings plans in mind
Meet application deadlines
Why Completing a FAFSA Form Is Important
The Free Application for Federal Student Aid (FAFSA) is a mandatory form you need to complete to begin the financial aid process.
Colleges use your FAFSA information to check your federal aid eligibility and to award their own aid. After you submit this form, you'll receive your Student Aid Report.
What Is an Aid Offer, and What Should You Know About It?
The purpose of an aid offer is to explain the types and amounts of financial aid a college is willing to provide you with. You will also be able to see your expected costs for the year in this report.
In case you managed to enroll in more than one school, you can see and compare the expenses and aid offers. After you find the best fit, you only need to accept the offer of that college.
What To Expect When Getting Your Financial Aid
The financial aid office is in charge of applying your aid to the amount you owe your college. The rest of the money will be sent to you to spend on other school expenses.
To maintain your financial aid eligibility, you should have satisfactory academic progress. Completing your FAFSA form each year is also a must!
What if a School Rejects Your Financial Aid Application? Use DoNotPay To Appeal!
In case a school rejects your financial aid application or doesn't offer enough money, you have the right to send an appeal letter. Future freshmen don't have time to waste on sending an appeal letter to each school they apply to.
That is where DoNotPay steps in! We can generate an appeal letter for you in minutes. You only need to follow a few simple steps:
Search for the Appeal for More Financial Aid product
Include the amount of financial aid other schools offered you if you are applying to more than one college
Provide essential information about your family's current financial status
We will generate your financial aid appeal letter and mail it to the school's financial aid office in your stead!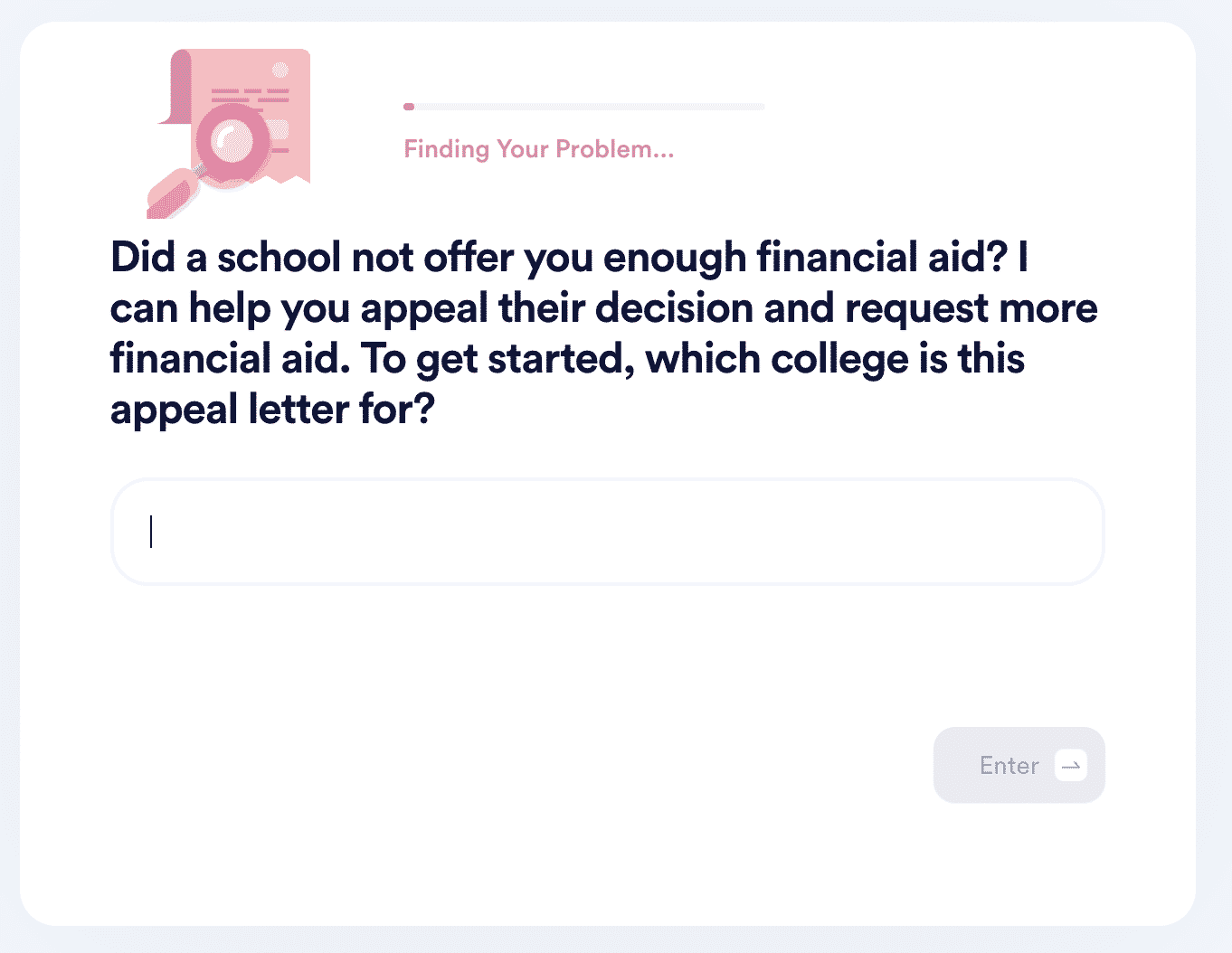 You can also visit our Learning Center to find more information about the requirements for getting financial aid and how long you can keep receiving it. Check out the table below for detailed guides to the financial aid programs on different universities:
Let DoNotPay Be Your Virtual Assistant!
Why bother with deciphering legal terminology or figuring out how to write a legal document when you can let us do it for you? You don't have to waste your time any longer. Once you sign up for DoNotPay, we'll do much more than draft your legal documents or help get them notarized!
DoNotPay will show you how to perform a number of tasks with ease, including suing any company in small claims court, filing insurance claims, claiming warranties, creating passport photos, and sending your neighbor a complaint letter!
Should you need assistance with requesting a refund for a delayed flight or fighting workplace discrimination, our virtual assistant shows you how it's done.
There's More We Can Do!
Tired of dealing with mundane tasks and spending hours running dull errands? We offer the perfect solution!
DoNotPay can assist you in completing tedious tasks with ease! The best part is that you will spend significantly less time on them, and you can get them done from the comfort of your home!
Paying bills, getting a free trial, canceling subscriptions, getting revenge on robocalls, requesting refunds, or making a DMV appointment is only a few clicks away!