What Is a Trademark? Here's What You Should Know and What Mistakes to Avoid
Small business owners should take precautionary measures to protect their products from potential infringement. To solidify your brand in the cut-throat marketplace, you should consider using a trademark.
In this article, we'll address the following questions to help you with your professional development: "What is a trademark, and why do I need it?" Apart from breaking down different types of trademarks, we'll also explain how to file an application form using DoNotPay.
What Does Trademark Mean?
How does a trademark work? A trademark or service mark is a textual or visual symbol that:
Serves as a signifier for the goods or services you provide
Helps customers recognize your brand instantly
Protects your unique idea from fraudulence and counterfeiting
Sets you apart from competing brands in your niche
While business owners are not legally required to register a trademark, it's recommended for the above-mentioned reasons.
You should also know that:
You cannot prevent others from using a word or a phrase that you have a registered trademark for. The only instance where you can pursue legal action is if it is used to reference your product specifically
Trademark and copyright protect intellectual properties, but the first refers to goods and services and the latter to authorship. If you want to secure the integrity of your artwork, consider copyrighting it as well
You become the trademark owner as soon as you complete the registration process and start using it to define your brand
The registration certificate can be used in federal court as proof of ownership
You can submit your trademark registration to the U.S. Customs and Border Protection (CBP). They will intercept any goods that violate trademark laws and endanger your intellectual property
What Can You Trademark?
You can register almost anything as your trademark, provided it is not already used by a different brand. Below is a list of common trademark examples:
What Is Trademark Registration?
You have several options for trademark registration, depending on the level of protection you wish to acquire. Take a look at the table below for a detailed explanation of the trademark protection law:
Registration Type
Description
Common law rights
Common law rights guarantee that the specific mark you are using to refer to your goods or services is protected in the geographic area you operate in. Local trademark protection is guaranteed even without registration
State trademark registration
The trademark is protected by the laws of your state of residence. If you decide to branch out to a different U.S. state, you'll have to register there as well
Federal trademark registration
If you want to acquire federal registration, you can trademark your brand with the United States Patent and Trademark Office (UTSPO). Federal registration will:

Allow you to use the ® symbol for your goods and services
Create room for expansion of your business to other U.S. states

International trademark registration
The so-called Madrid Protocol enables you to protect your brand outside the U.S. territory. It still does not ensure worldwide protection since the treaty applies to a hundred or so countries
How Much Does It Cost To Trademark a Business, Logo, or Name?
It is hard to pinpoint the cost of trademark registration since it depends on the following factors:
How your goods and services are classified
Which USPTO Trademark Electronic Application System (TEAS) form you chose
Whether you get legal assistance
As per international trademark laws, there are 45 categories for goods and services, respectively. If you are registering a trademark for several different products, you will be charged a separate fee for each class.
If you wish to register your trademark with the UTSPO, the institution provides two filing options:
TEAS Standard ($350 per class)
TEAS Plus ($250 per class)
Some business owners enlist the services of an IP lawyer to guide them through the registration process. The trademark attorney's flat fees can significantly increase the overall costs of registration. To avoid additional expenses, you can subscribe to DoNotPay and rely on the AI-powered app to streamline the procedure.
Apart from submitting the initial registration paperwork, you will also have to apply for renewal after a designated period. If you fail to do so, your trademark will become "dead" or invalid, and you will have to re-register.
How To Register a Trademark With the USPTO
To submit your trademark application to the USPTO, you'll have to meet certain requirements and complete these steps:
Make sure your trademark is original by checking the USPTO database
Determine the trademark class of your goods or services
Choose a suitable trademark application form (TEAS Plus or TEAS Standard)
Provide the necessary trademarks info and submit the form online
If you've filled the TEAS form successfully, you'll receive a serial number for your registration. Note that it may take several weeks for the UTSPO to process your application.
Is There an Easier Way to Trademark—and Protect—My Brand?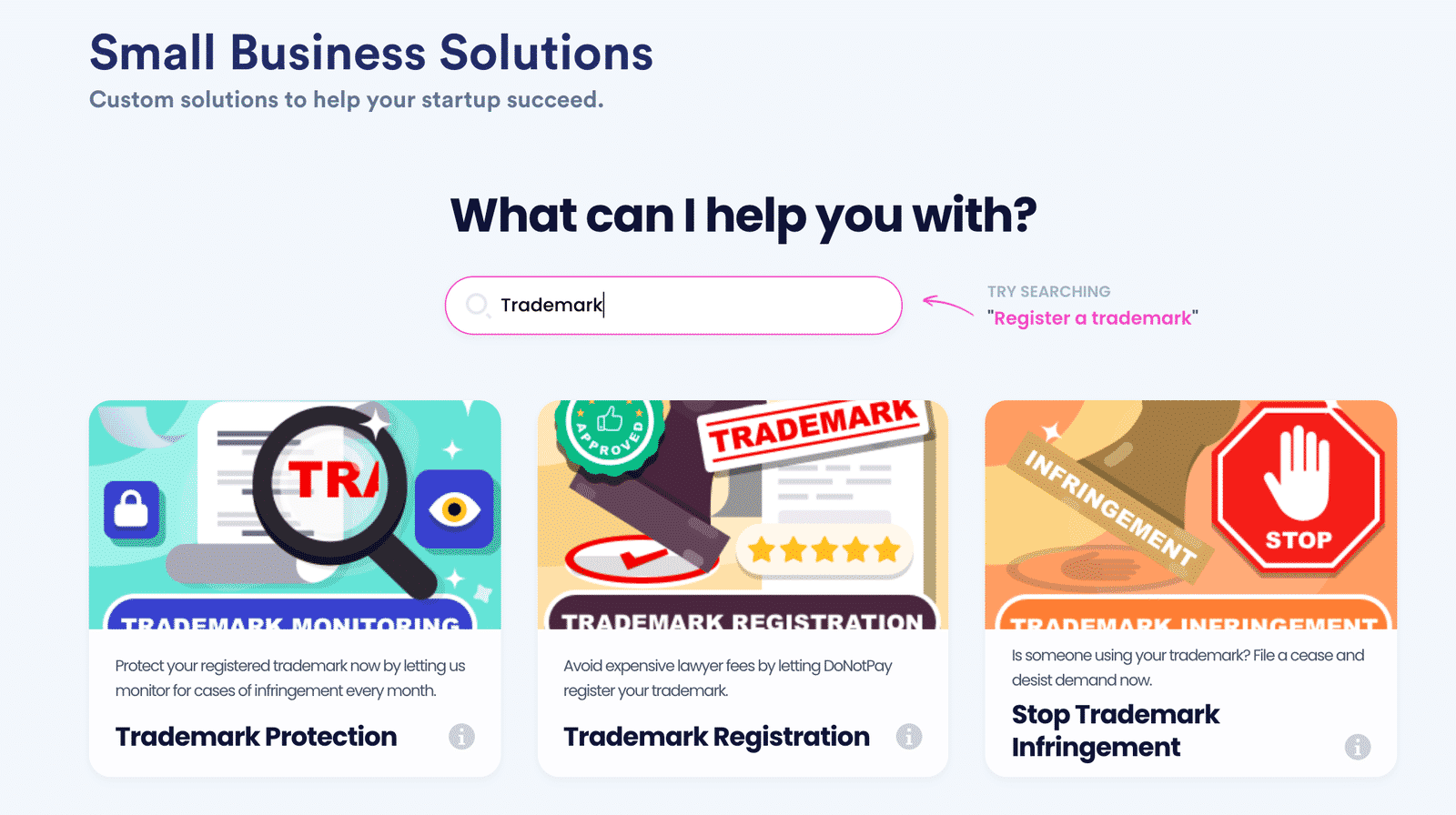 Instead of navigating the trademark registration procedure yourself or spending money on an attorney, why not try DoNotPay? Our pocket lawyer can do a quick clearance check for your chosen trademark and generate an application form within minutes.
All you have to do is:
Select our Trademark Registration product
Provide details about your enterprise and the chosen trademark (e.g., what type of goods and services you provide)
Submit the evidence of paid application fees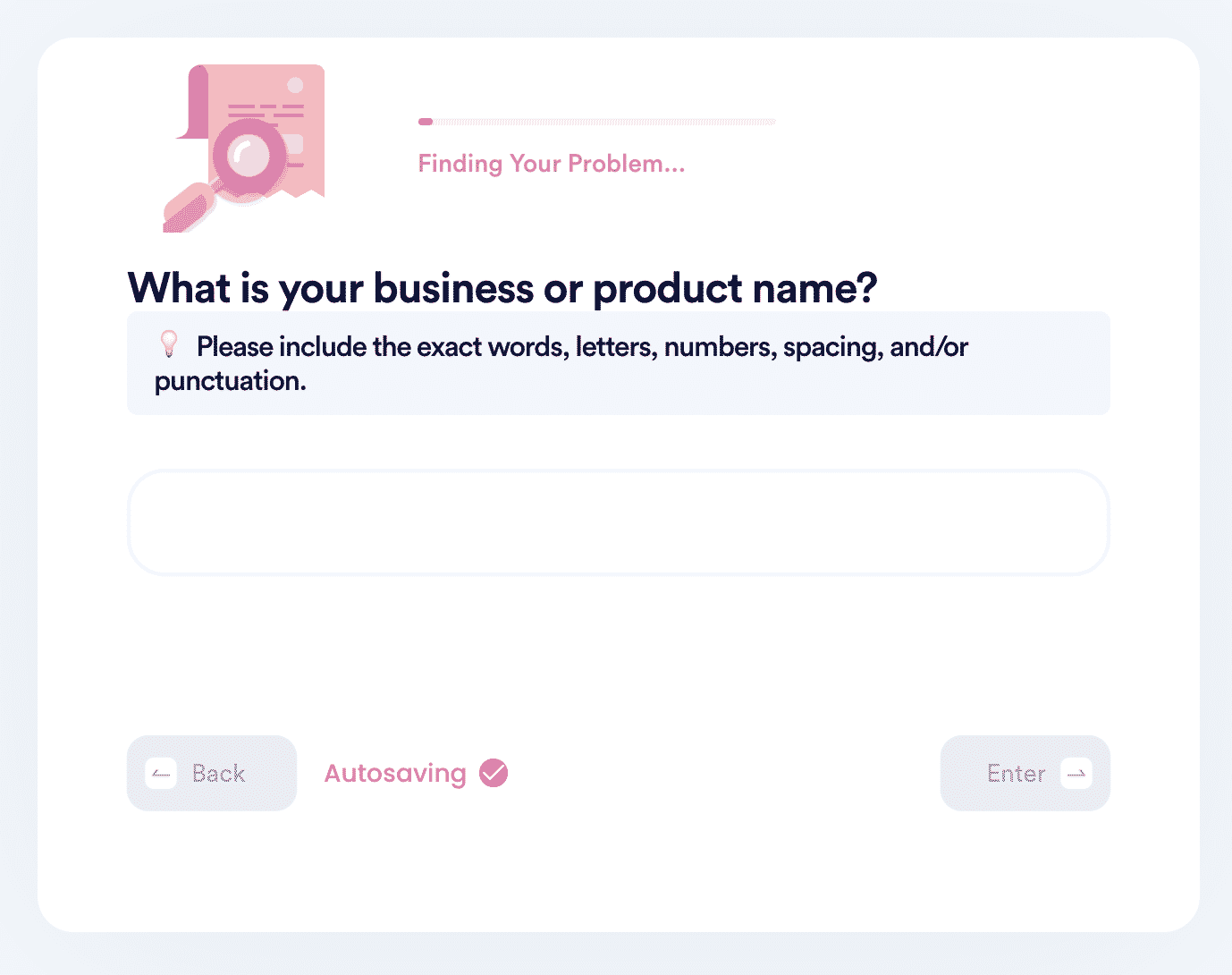 Once you are done, DoNotPay will ask for your e-signature to complete the form. After that, we will forward the trademark application to the UTSPO.
Why We Will Be Your Best Aide to Help You Grow Your Business
Handling annoying administrative issues is the last thing you want to worry about while trying to build a business empire. The good news is that you do not have to! DoNotPay has developed many nifty products that make various pesky tasks easy to complete.
Some of the small-business-related matters we can help you with are:
Taking out business loans
Obtaining an Employer Identification Number (EIN)
Automating the filing of 83(b) election forms
Requesting your money from customers who won't pay
Registering a DMCA agent
DoNotPay can also make communication with your clients or business partners easier as we enable you to fax and mail your letters, forms, and other important documents without leaving your office.
We Can Handle All the Mundane Tasks for You—So You Don't Have to!
It is no secret that building a trusting relationship with clients takes time and effort, so why have all that hard work been ruined by negative online reviews that are fake? DoNotPay is here to help you remove illegitimate, fake reviews in a matter of clicks!
Want to dispute unfair chargeback requests but are not sure how to go about it? By using our Fight Chargebacks feature, you can have DoNotPay create a customized chargeback rebuttal document in a few minutes.
With our app, you can also protect your trademark from people trying to use it, file the self-certification request with the Privacy Shield program, and handle many other aspects of your business hassle-free!