What is a Revocable Living Trust Account?
A living trust is a legal written document that is an estate planning tool. It is created by an individual, called a grantor, during their lifetime to manage and distribute their assets to appointed beneficiaries. This article will go over the basics of a revocable living trust and how you can set up a revocable trust bank account. It will also introduce you to DoNotPay, an AI-Powered robot lawyer that can help you set up a living trust for free!
What are the Two Types of Living Trusts?
Revocable and irrevocable trusts are two types of living trusts that are different from each other. To put in simple terms, a revocable trust is one you can revoke and end, whereas an irrevocable trust is one you cannot. However, there are more differences between the two.
In a revocable living trust, the grantor still controls their assets, so the assets are still liable for taxes. In an irrevocable living trust, the grantor relinquishes control of their assets, which reduces their estate tax liability.
More About Revocable Living Trusts
A revocable living trust is a commonly used estate planning tool that can be managed during one's lifetime. It determines who will get your property and assets after you die. 
Most people choose a revocable living trust to avoid probate. Probate is a process that is conducted by the courts. Probate is time consuming, very costly and is considered to be a burden rather than a help. Properties under a revocable living trust pass to the beneficiaries without the need for probate. Revocable living trusts can help you avoid probate for any property you own, including real estate, heirlooms, jewelry and back accounts to name a few.
Revocable Trusts and Bank Accounts
If you have decided to set up a revocable trust and include your personal finances as an asset, you can set up a separate bank account(s). If you have more than one beneficiary, you can create more than one revocable bank account or assign a portion that will go to each. The revocable trust should include which beneficiary will receive ownership of which bank account or what percentage of the bank account will go to whom. 
Here are the list of major banks that can assist with the creation of a living trust bank account:
Wells Fargo

Bank of America

J.P Morgan Chase

US Bank

TD Bank

PNC Bank
The table below shows the details of living trust services offered by 5 major U.S banks:
| | | | |
| --- | --- | --- | --- |
| Bank | Minimum Investment Needed | Revocable or Irrevocable Trust | Annual fee range |
| Bank of America | $500 thousand to $600 thousand | Both | 0.45% - 1.40% |
| J.P Morgan | None | Both | 0.15% - 0.55% |
| PNC Bank | $1 million | Both | 0.40% - 1.40% |
| US Bank | $250 thousand | Both | $40 every year |
| Wells Fargo | $1 million | Both | 0.40% - 1.50% |
What if I don't have enough to set up a living trust bank account?
Wealth management and private client departments at banks may require minimum investments to start a revocable trust account. If you don't have the minimum required, not to worry. You can still place your own personal bank account in the trust. However, you will need to change the title of the account to infer that its contents will be transferred to a beneficiary. This can include the terms payable on death (POD), In trust for (ITF), or As trustee for (ATF).
FDIC and Revocable Trust Accounts
The Federal Deposit Insurance Corporation (FDIC) protects the revocable trust's bank deposits for up to $250,000 for each beneficiary. This is the case if the revocable trust lists 5 or less beneficiaries. If you had 5 beneficiaries for a revocable trust account, the maximum amount that would be insured by the FDIC would be $12.5 million.
Criteria that must be met to be insured by the FDIC
Here are the three criteria your bank account needs to meet to qualify for insurance:
The account name must include trust language. It needs to contain formal terms such as "living trust" or "family trust" or informal terms such as "POD", "ATF", "ITF", or "Totten trust"

If the bank holding the trust account goes bankrupt, the beneficiary must be entitled to the account. Contingent beneficiaries are not accepted and the funds will not be insured

The beneficiaries must be a living person and/or an IRS-approved charity or non-profit
Get Started on a Living Trust Today!
Are you looking to create a revocable living trust? Get yours today with DoNotPay! Skip the poorly made online templates and expensive lawyers. A revocable trust can be made today when you:
Log-in to

DoNotPay

and use the Revocable Living Trust service
Enter the state of your residence
Assign your trustees
Select your beneficiaries
Allocate your assets
If that seemed simple enough, that's because it is! DoNotPay can generate your very own revocable living trust in minutes.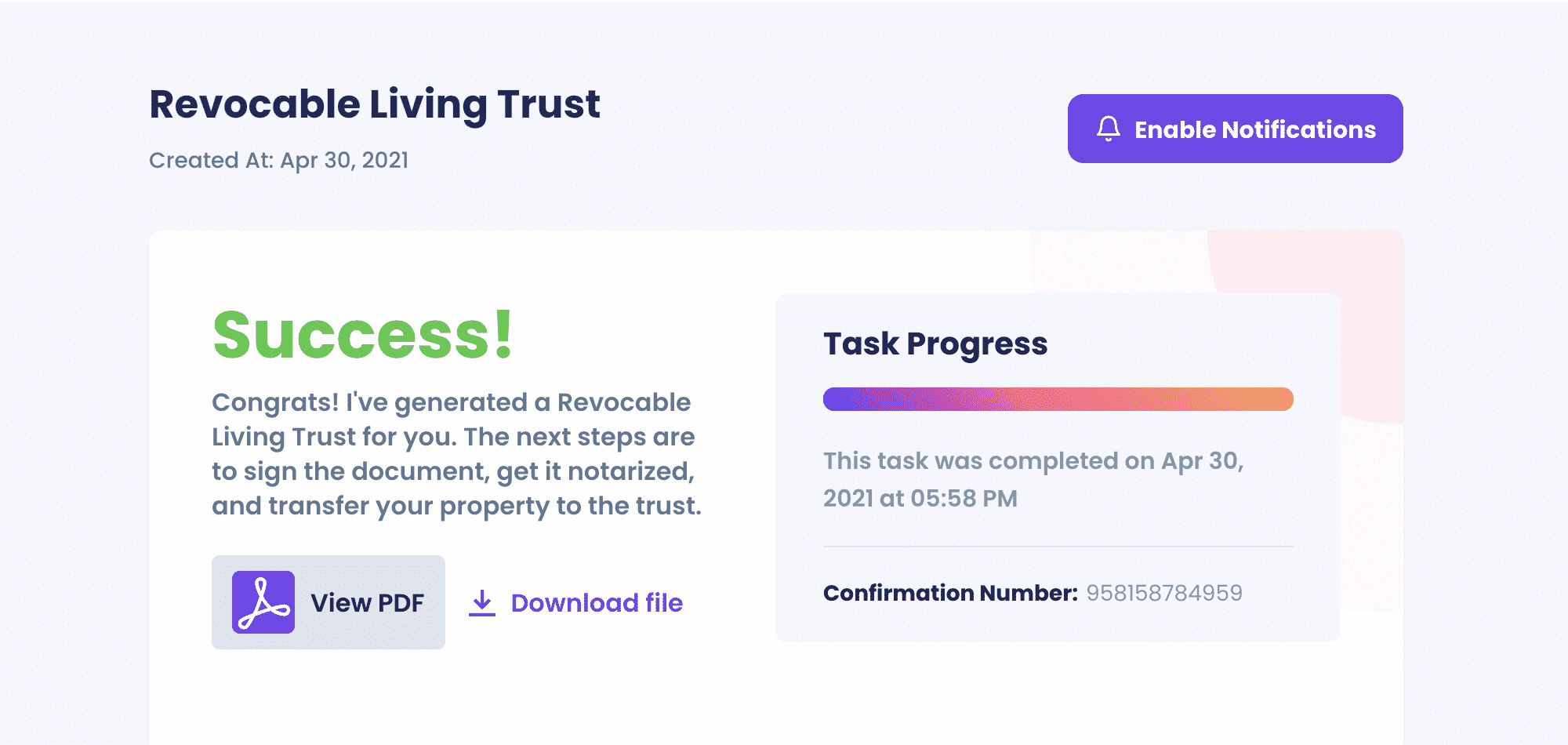 DoNotPay Has Got Your Back