What Is a Purchase Agreement? Learn All About It!
Whether you're buying or selling a property or certain goods, you may need a purchase agreement. What is a purchase agreement? We'll walk you through the ins and outs of this legal document and show you the best way to generate various kinds of contracts.
Purchase Agreement Explained
A purchase agreement is a document between a buyer and a seller stipulating the terms and conditions of a purchase. This agreement binds both the seller and the buyer to follow the terms they agreed to and make a transaction.
The basic elements of a purchase agreement are:
Seller

Buyer

Purchased/sold property

Purchase price

Payment
The main purposes of a purchase agreement are to deter scams and safeguard against losing money. Both parties should sign the document before making the transaction.
In addition to or instead of a purchase agreement, you may use a bill of sale, which is signed after the purchase takes place to document the transfer of ownership.
When Are Purchase Agreements Used?
Purchase agreements are typically used for high-value items—$500 and pricier—but they can also document a variety of properties:
Pianos

Firearms

Computers

Designer gowns

Bicycles

Cars and other

vehicles

Furniture

Appliances

Smartphones

Diamond rings

Sports equipment

Concert tickets
The most common purchase agreements are real estate purchase agreements, such as those for a lease or a mobile home purchase, and a real estate purchase agreement with seller financing. Other types also include asset, power, and stock agreements.
What Should a Purchase Agreement Include?
What terms and conditions a purchase agreement needs to include varies depending on the purchased property as well as on the buyer's and the seller's wishes. Take a look at what a typical purchase agreement and a real estate purchase agreement cover in the table below:
Purchase Agreement
Real Estate Purchase Agreement

Details about the buyer and the seller, including their names, addresses, and phone numbers

Agreement date

Description of the property that is purchased

Type of sale

Quantity of the goods

Purchase price

Payment details

Duration of the agreement

Terms of shipping and delivery

Details stating whether amendments or revisions to the agreement are allowed

Consequences of default by either party

Warranties, if applicable

Dispute resolution options

Signatures of both parties

Buyer and seller info

Date of the agreement

Closing date

Details of the person responsible for closing costs

Home inspection requirements

The terms of financing, if applicable

Contingency clauses

Any repairs the seller is responsible for

Seller disclosures (e.g., environmental hazards)

Dispute resolution options

Signatures of both parties
A Breach of a Purchase Agreement
Both the buyer and the seller could potentially breach the purchase agreement. This may include:
Committing fraud

Selling the wrong item

Not making payments

Selling the item to another party

Failing to deliver the goods on time or at all

Changing their minds and refusing to make the purchase
The remedies for a breach of contract depend on the specific situation. Sometimes, reimbursement is enough, and other times, the issue may lead to a lawsuit.
Creating Legal Documents Is Easy With the Help of DoNotPay
If you decide to have a bill of sale for your purchase, DoNotPay can help out! Our Standardized Legal Documents product is designed to generate various agreements for you so that you don't have to resort to contract templates.
Check out how to create legal documents once you sign up for DoNotPay:
Type in the name of the legal document you want to draw up

Answer a few questions to customize it

Download your contract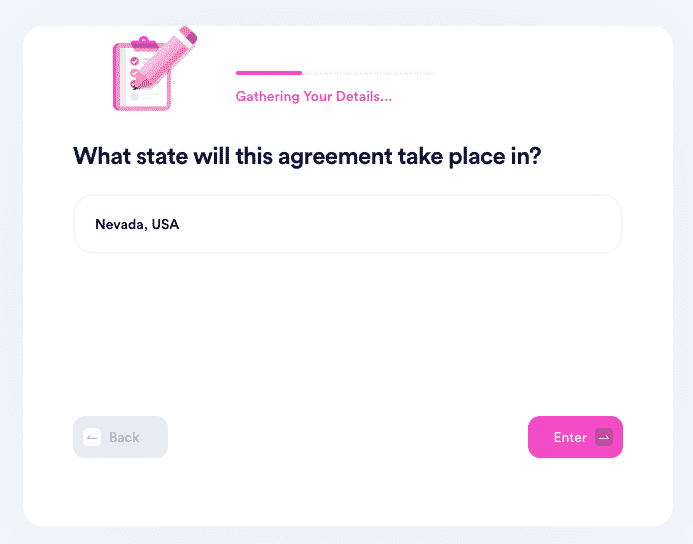 In a few simple steps that take minutes, you'll get an iron-clad document! Once it's ready, you can e-sign it and fax it using our Online Fax product. If your document needs to be notarized, we've got that covered, too. Having a DoNotPay account gives you access to everything our AI-driven app has to offer!
What Documents Can DoNotPay Draft?
Our app does all the heavy lifting and writes up personalized documents for you in a flash. Create a DoNotPay account and get a document without the need to hire a lawyer! Here's what contracts and agreements we can help you with:
Type of Documents
List of Legal Documents

Real Estate

Quitclaim Deed

Intent To Purchase Real Estate

Residential

Lease Agreement

Estoppel Certificate

Business

General Business Contract

Bill of Sale

Other

General Affidavit

Promissory Note

Child Care Authorization Form
Want To Learn About More Agreements? We Can Help!
If you're interested in learning about other legal documents aside from purchase agreements, you may find what you're looking for in our ever-growing learning center. Check out our articles on:
Tired of Companies Not Taking You Seriously? Use DoNotPay To Put a Stop to It
If you're sick of companies that violate your consumer rights, DoNotPay is here to help. If you're struggling with reporting robocalls, requesting a refund, claiming any type of warranty, scheduling a DMV appointment, reporting spam text messages, or anything else, our robot lawyer will help you sue any firm or individual in small claims court.
With DoNotPay, you can also sign up for any free trial, cancel any subscription, avoid getting charged after your free trials end, and much more!
Want Your Money Back? DoNotPay Is Here To Help
Are you looking for your missing money? Do you want to get a refund for a delayed or canceled flight? Are you trying to flip the script on illegal robocalls and earn money off them? DoNotPay will assist you in dealing with any of these pesky issues!
We can also help you bypass phone number verification, sign up for clinical trials stress-free, ace any government test in a jiffy, and block spam emails for good.