What Is a Health Care Directive? Find Your Answer in DoNotPay's Straightforward Guide!
It is never easy to discuss death or severe illness, making one unable to make decisions about their health care. It is crucial to do so on time if we've learned anything from the COVID-19 pandemic when a ventilator made a difference between life and death.
What is a health care directive? It is a guarantee that your wishes regarding your health care are followed even when you are incapacitated. DoNotPay can help you create this sensitive document with ease.
What Is an Advance Health Care Directive?
An advance health care directive is a general term for a legal document with instructions on how you want to be treated in serious medical situations when you are incapacitated or unable to express your wishes. The directive appoints an agent to make health care decisions for you when you can no longer do it yourself, be it because of a severe injury or illness.
The typical issues include whether:
You want to be treated in a hospital or at home
You should be placed on life support or receive a life-sustaining treatment
An autopsy can be performed and your organs donated
There are specific rules for a medical power of attorney for children, so make sure to check them out.
Other Names and Types of Advance Health Care Directive
An advance health care directive goes by many names, but you should be careful because some states view these seemingly identical documents as different, as is the case with a health care proxy and a power of attorney, for example.
Check out the alternative names for AHCD and the appointed agent in the table below:
Advance Health Care Directive
Agent

Medical directive
Health care power of attorney
Advance directive
Durable power of attorney for health care
Advance decision
Personal directive

Attorney-in-fact
Medical proxy
Patient advocate
Health care representative
Health care surrogate
Is an Advance Directive the Same as a Living Will?
A living will is a type of advance directive. This document is used to state your wishes about the treatment when you can no longer communicate. A living will generally addresses your end-of-life medical treatment preferences and does not require an executive agent. It contains instructions for the medical staff.
To create a living will, you must complete a living will form. You should find out whether your state recognizes the difference between the two documents. If that is the case, you should decide which one applies to your situation.
How Can You Create an Advance Health Care Directive?
If you wish to make the document, you must create or complete an advance care form. Since it deals with such serious matters, don't attempt to draw it up yourself unless you possess the required legal knowledge.
The wisest options are:
Hiring a lawyer
Using DoNotPay
The cost of attaining a living will or health care directive with the help of a lawyer can be sky-high. Luckily, DoNotPay can handle the task with equal success at an affordable price.
Draw Up an Advance Health Care Directive With DoNotPay
DoNotPay can help you draft an advanced health care directive according to the local laws of the state you live in. We will deliver a rock-solid document containing all the relevant information. You only need to:
Open the Advance Health Care Directive tool
Appoint your agent and provide the requisite medical information
Let us know which powers you appoint to your agent
You must also enter the names of individuals who will witness the signing of the document to make it legally binding.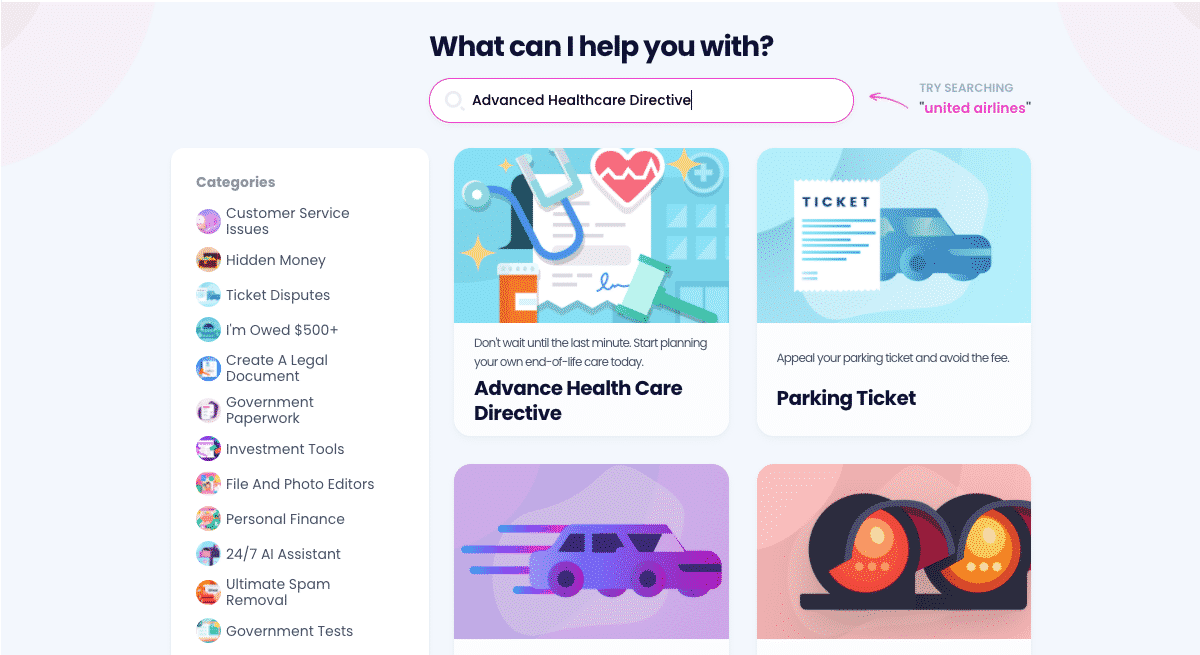 Deal With Administrative Issues With Ease
Drafting contracts and agreements, getting your documents notarized, disputing parking tickets, and creating passport photos will become a breeze once you sign up for DoNotPay.
We can also help you:
DoNotPay Helps You Protect Your Consumer Rights
Don't let companies take advantage of you! With our help, you'll be able to cancel any subscription or membership and request a refund.
As a consumer, you may be overwhelmed with endless steps and piles of paperwork you need to go through to get what you're owed. This is where DoNotPay comes in—let us be your assistant and fast-track the following:
Have you forgotten about a free trial you signed up for? Avoid being charged by using our app! With DoNotPay's virtual credit card, you'll get unsubscribed automatically without the company taking any money from you.
Are you getting spammed via email or text? Get rid of spam for good with our nifty app!