What Is a Dead Trademark? DoNotPay Answers
Registering a trademark is crucial if you want to protect your brand's reputation legally, but if the desired name, slogan, or logo is already in use, registering it as a trademark is impossible. What happens if the trademark in question is marked as dead, and are you legally allowed to register it as your own?
DoNotPay provides an answer to your "what is a dead trademark?" question and explains all the requirements you must meet to protect your mark.
What Is a Trademark?
A trademark is a word, phrase, design, symbol, or any other business aspect that identifies a brand's goods or services. It helps a business get recognized by customers and protects its reputation in case a competitor tries to copy it.
When you register a trademark and associate it with your brand, you will be protected by potential infringers as no one else will be allowed to use it. Unlike copyright that identifies works of authorship, trademarks can be used to protect images, podcast names, titles for a series of books, and similar.
Trademarks last for ten years (unless renewed) and can be:
Live
Dead
What Is a Live Trademark?
When a trademark is live, it means that it is still active. While a trademark is live, it blocks the registration of similar applications.
What Is a Dead Trademark?
A trademark is considered dead when it is abandoned, canceled, or expired and cannot block pending applications. It may also be marked as dead as a result of incomplete filing or failure to:
Meet deadline for registering
Maintain documents (e.g., Section 8 statement of continued use)
Renew a mark even though it's still in use
Can You Register a Dead Trademark?
A dead trademark can be registered by both individuals and companies. Before filing for one, you should know the answers to the following questions:
Question
Explanation
Is the trademark still being used?
Run an online search to check whether your desired trademark is in use. You can do so by googling the trademark in question.

Another way to see whether a mark is active is to search the United States Patent and Trademark Office (USPTO) database

How long has the trademark been abandoned?
If the mark you want has been abandoned for 3–5 years, you can probably register it as your own. Due to the Lanham Act, by which trademarks are not discontinued until there is no intent to use them anymore, you might take the case to court.

You need to prove to the court that the original owner does not intend to use it

How did the trademark die?
You should check how the mark died. For example, if a trademark is dead because of incomplete filing, it might still be protected by law (if the mark is still used in commerce)
Registering a Dead Trademark
Registering a dead trademark can be a tricky and exhausting process. You need to file an application with the USPTO, and they will either approve it or deny it, depending on whether or not your trademark fulfills the requirements.
Your application must contain the following elements:
Applicant's information—You need to enter your:

Name and address
Type of legal entity
Citizenship
Legal representative's name and address

Drawing of the trademark—If the mark you want to register is a word or phrase, you can only type in the letters, but if it is a logo or has multiple design elements, you need to provide a drawing
List of goods and services your business provides—You have to list the services and goods that the mark will protect
Trademark class—You must register your mark under one or multiple trademark classes, depending on the goods and services your business provides. Note that the more classes you select, the higher the cost of your registration will be
Date of first use of the mark—If you are filing for a use-based application, you need to include the date the mark was first used
Verified declaration—Either you or an authorized representative must date and sign a declaration that will attest to the truthfulness of the application
Once you fill out the application, you have to pay the filing fee.
If you do not want to bother completing the whole application process yourself, . Our AI-powered app will complete the application for you and forward it to the USPTO in no time.
How To Register a Trademark the Easy Way—Use DoNotPay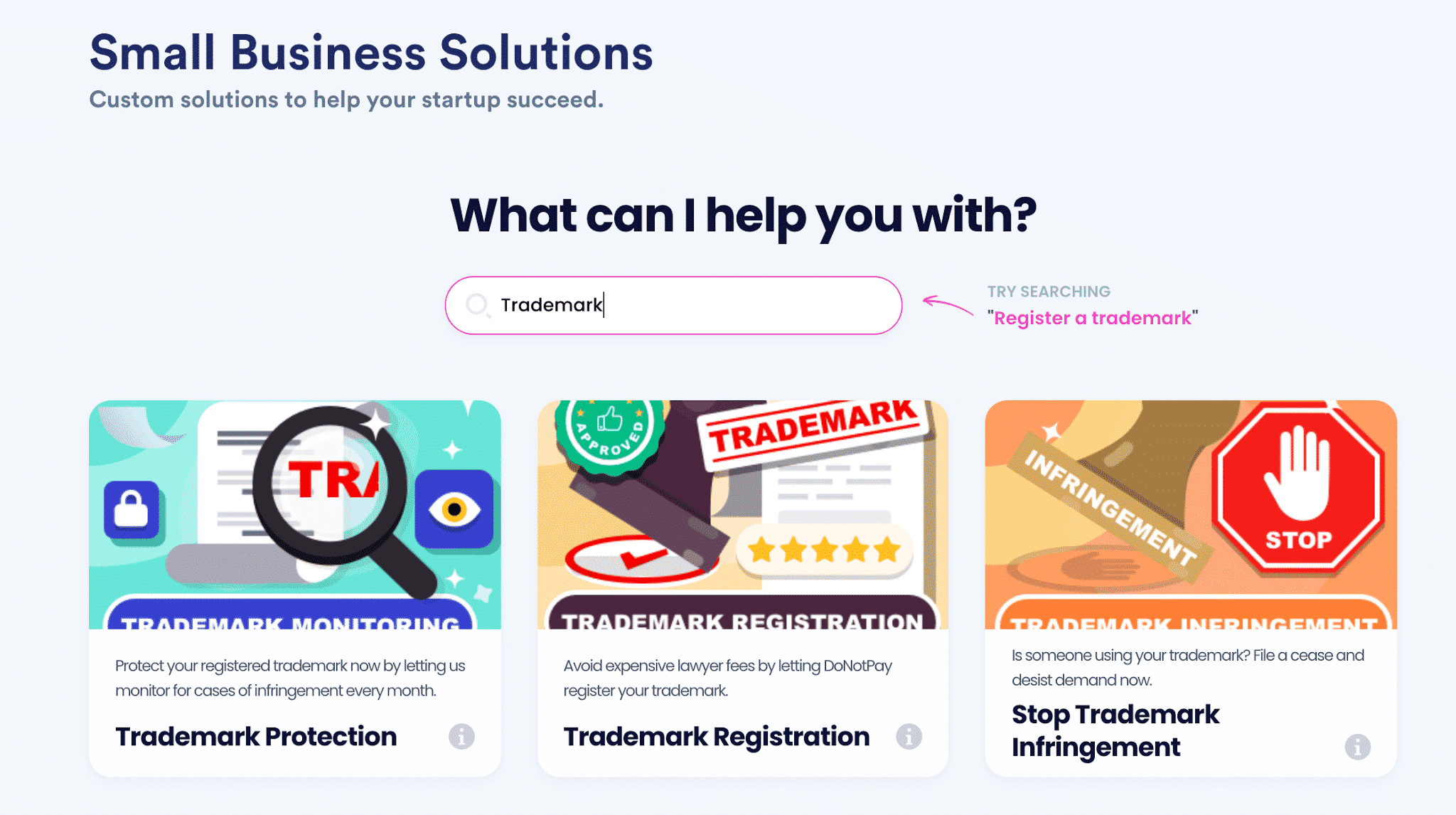 Why waste time performing clearance checks on a dead trademark or completing the application yourself when you can leave all the work to DoNotPay? We will:
Make sure your desired mark is not in use
Fill out the registration form
Send it to you so you can review it and e-sign it
Forward it to the USPTO in your stead
and follow these steps to handle trademark registration in a matter of clicks:
Locate our Trademark Registration tool
Give us the necessary details about your business and desired mark
Pay the USPTO filing fee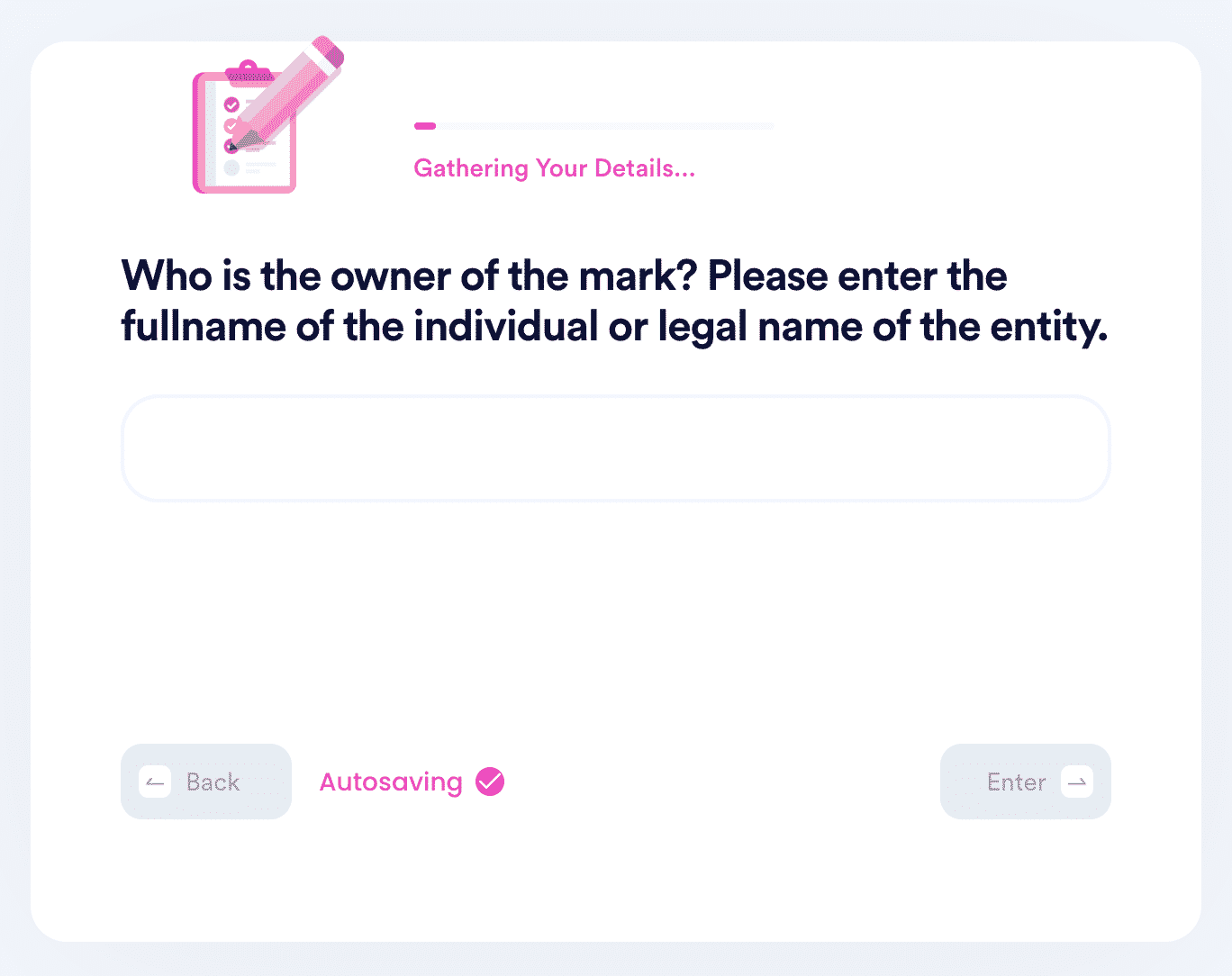 We will send your application instantly and give you a tracking number so you can check your trademark application's status anytime.
Resolve Various Business Problems With the Help of DoNotPay
Handling annoying administrative issues is the last thing you want to worry about while trying to build a business empire. The good news is that you do not have to! DoNotPay has developed many nifty products that make various pesky tasks easy to complete.
Some of the small-business-related matters we can help you with are:
Taking out business loans
Obtaining an Employer Identification Number (EIN)
Automating the filing of 83(b) election forms
Requesting your money from customers who won't pay
Registering a DMCA agent
DoNotPay can also make communication with your clients or business partners easier as we enable you to fax and mail your letters, forms, and other important documents without leaving your office.
Maintain a Good Business Reputation
It is no secret that building a trusting relationship with clients takes time and effort, so why have all that hard work ruined by negative online reviews that are fake? DoNotPay is here to help you remove illegitimate, fake reviews in a matter of clicks!
Want to dispute unfair chargeback requests but are not sure how to go about it? By using our Fight Chargebacks feature, you can have DoNotPay create a customized chargeback rebuttal document in a few minutes.
With our app, you can also protect your trademark from people trying to use it, file the self-certification request with the Privacy Shield program, and handle many other aspects of your business hassle-free!