What Happens to a House in a Divorce? DoNotPay Answers
One of the most traumatic aspects of any divorce is dividing up—and potentially losing—your property.
If your divorce becomes acrimonious after you file and serve your spouse with a summons, you may face a legal battle to get fair treatment—all too often, nobody wins in a contested divorce.
What happens to a house in a divorce? DoNotPay has all the info you need to make sure you understand the law!
Property Division in Divorce Cases
The law in most states classifies your property in one of three ways:
Marital or community property
Separate property
Mixed property
Marital or Community Property
Any property that you acquired as a couple after your marriage is considered community property, meaning that you and your spouse each own 50% of it.
Separate Property
Property that you owned before your marriage is generally considered to be yours. This may change if your spouse contributed to any household costs or mortgage payments. In such cases, a court might decide that the property becomes part of the marriage assets.
Mixed Property
In rare cases, property can be designated mixed, meaning that it is partly communal and partly owned by you or your spouse.
As an example, if you used your own money to buy a house before your marriage, the house might be classified as separate property. If it increases in value during your marriage, a court may decide that a portion of the equity is communal.
Contested or Uncontested Divorce Can Affect Court Decisions
If your divorce is contested, a court will try to distribute your assets as fairly as possible between you and your spouse. The judge will take extenuating factors into account, such as:
This means that a judge may allocate more than 50% of your assets to one spouse to ensure fairness and financial security.
As an example, if your spouse is awarded custody of your children, a judge may decide that it is in the best interests of the children to remain in the family home. Your spouse may then be awarded the house with a reduced requirement to buy you out of the property's equity.
The easiest way to ensure your house is handled fairly in a divorce is to aim for an uncontested divorce. This entails negotiating with your spouse to reach a settlement agreement before your case lands in court.
How Can an Uncontested Divorce Help Secure the Best Outcome?
An uncontested divorce means that you and your spouse reach an agreement on how your property and responsibilities should be divided after the divorce is granted. The advantages of a friendly divorce are that you:
Can agree on a mutually acceptable settlement, rather than relying on a judge
When it comes to your house, there are several scenarios you can negotiate with your spouse, as follows:
Keep the house and buy your spouse out
Cede the house to your spouse and receive payment for your share of the equity
Agree to sell the house and share the proceeds equitably
Depending on your circumstances, any of these may be a viable out-of-court solution. Most importantly, it will be a solution that you have both agreed to, not one imposed by a judge.
How Can You Draw Up a Divorce Settlement Agreement?
Negotiating and drawing up your divorce settlement agreement doesn't need to be complicated or expensive. The options you have to get your agreement finalized and included in your divorce papers are:
Settlement Agreement Options
Explanation
Lawyer
The traditional route is to let your respective attorneys negotiate and draw up your settlement agreement.

Lawyers charge up to $500 per hour, and allowing two attorneys to set up a legal document can quickly increase the cost of your divorce.

If you and your spouse are in broad agreement but need help with minor details, you can consider mediation as an alternative—this process can help you reach an acceptable resolution at a fraction of the cost of an attorney

Online
A cheap option is to use an online company to get a settlement agreement template for you to fill out. You should exercise caution in such cases, though—many of the templates available online are too generic to be of use. Some may even be invalid in your jurisdiction
DoNotPay can solve both these issues. We can create a custom-made divorce settlement agreement that spells out all terms of your divorce!
DoNotPay Helps Get the Best Settlement!

Your divorce settlement agreement should be fair and balanced—but it should be yours!
DoNotPay's Divorce Settlement Agreement product is designed to help you lock down the details of your settlement with your spouse and make sure you both get a fair deal.
To get your tailor-made settlement agreement, here's what you need to do:
Pick our Divorce Settlement Agreement product
Answer our questions to insert the details of your settlement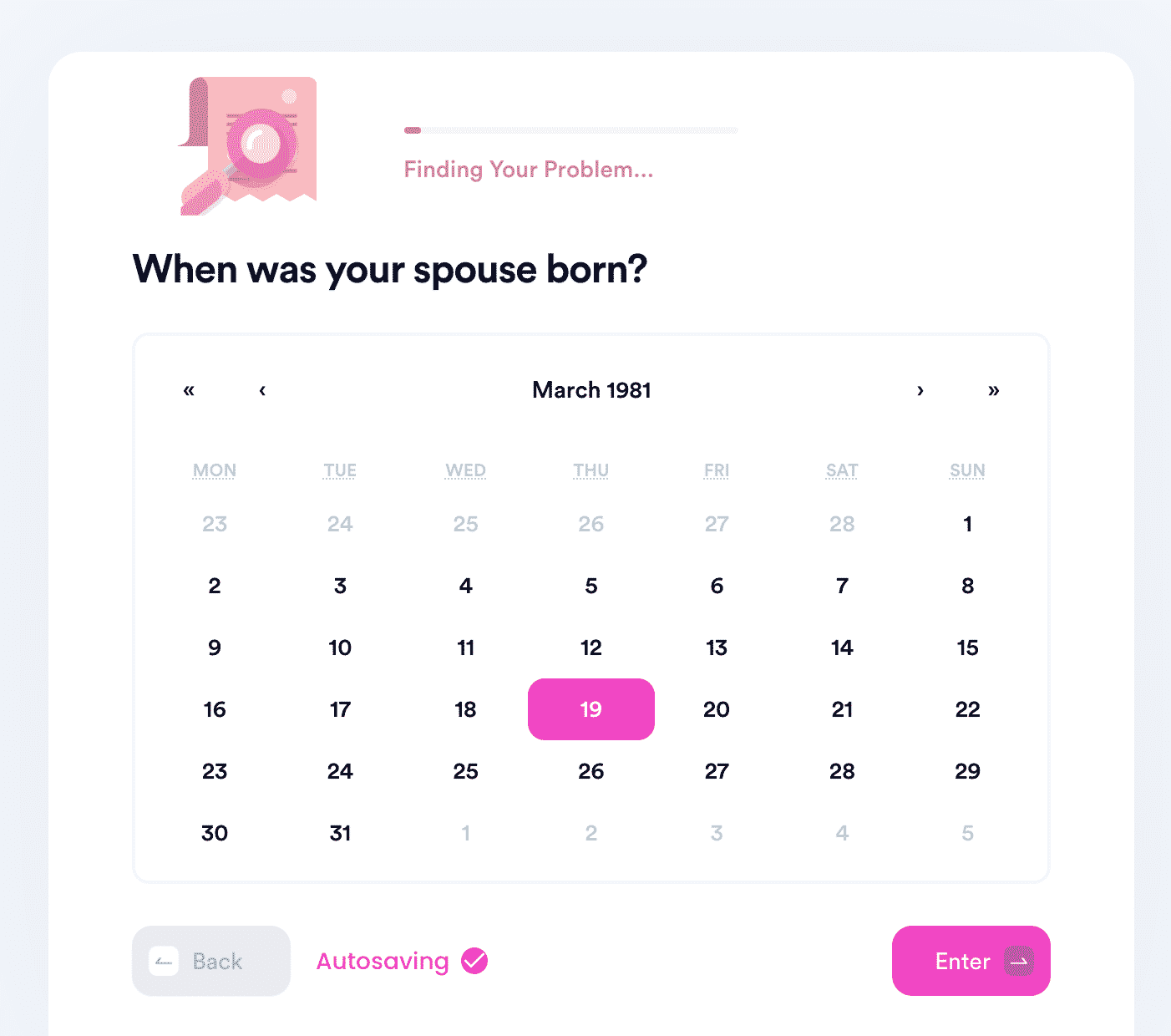 Once you have given us all the info we need, your agreement will be ready in a flash. All you need to do is print and sign it together with your spouse in the presence of a notary. Don't know where to look for a notary? We can help you get your agreement notarized online!
Drowning in Paperwork? DoNotPay Comes to the Rescue!
Dealing with administrative procedures is never a fun experience. Not only is it time-consuming, but it's also extremely inconvenient and impractical. Luckily, we have a practical solution!
Use DoNotPay to cut through the red tape and handle any bureaucratic issue that comes your way stress-free! Check out the list below to see a fragment of tasks you can tackle with our help:
Explore DoNotPay's Other Services
DoNotPay provides you with a ton of other services you can find useful when completing your everyday tasks.
You can contact customer service support without waiting for hours, request refunds from various companies, file a missing package claim, and get compensation for missed or delayed flights in a few clicks!
If you want to earn some money, we can help you with: