Find Out What Happens if You Miss Jury Duty in Missouri
Many people don't like being called for jury duty, but it is an important part of our legal system. There are numerous reasons why jury duty matters and why you should never skip it, especially because you can be penalized.
What happens if you miss jury duty in Missouri? In this article, DoNotPay will answer your question and explain the whole jury duty process in the Show-Me State so you can prepare for it accordingly. If you need to inform your employer about your jury duty leave but don't know how to do it, sign up for DoNotPay, and we will do it for you.
Jury Duty in Missouri—Most Common Questions
The table below contains answers to the most common questions about jury duty in Missouri:
Question
Answer
How are you selected for jury duty?
Prospective jurors are selected from a list of:

Registered voters
State identification cards holders
Licensed drivers

Being summoned for jury duty doesn't automatically mean you will sit on a jury. You will be asked questions that will help the court determine whether you are objective enough to try the case

What are the qualifications?
You will qualify for jury duty if you are:

A citizen of the U.S. and the county that issued the summons
At least 21 years old
Able to read, speak, and understand English

You will not qualify if you:

Haven't had your civil rights restored after being convicted of a felony
Aren't able to perform your jury duty due to a mental or physical condition

How long can it take?
Your first day (the orientation day) will last for four to five hours. Typically, selected jurors will spend about three and a half days in court, but they will always be informed about how long the particular case will last
How much will you be paid?
The compensation varies from county to county. For example, in Jackson County, you will be paid $18 per day, and in the Western District of Missouri, $50 per day (usually for federal jurors)
How often can you be summoned?
You can be called for jury duty once every three years
Missouri Jury Duty—What if You Miss It?
Failing to appear for jury duty will result in a hearing during which you should present a good reason for missing jury duty. If you fail to demonstrate good cause, you will have to pay up to $500. In addition to the fine, the court might order community service. You will also keep getting called to jury service.
How To Get Out of Jury Duty in Missouri
You can be exempt from jury duty if you:
Are on active duty in the Armed Forces of the United States
Are a breastfeeding mother
Have a medical condition that prevents you from being on a jury (you need a physician's note)
Are a health care provider whose patients' health would be influenced by your jury service
If you are a student, you can postpone your jury duty by writing a request. You may postpone jury service once.
DoNotPay Helps You Get Jury Duty Leave Easily
Once you receive your jury duty summons, you must inform your employer of it so they can verify your jury duty leave. By informing them, you prevent them from firing you or penalizing you in any way. If you don't know how to let them know about your jury service, our app can help! We will use the information you provide to create an official leave request letter that complies with all the Missouri jury duty laws.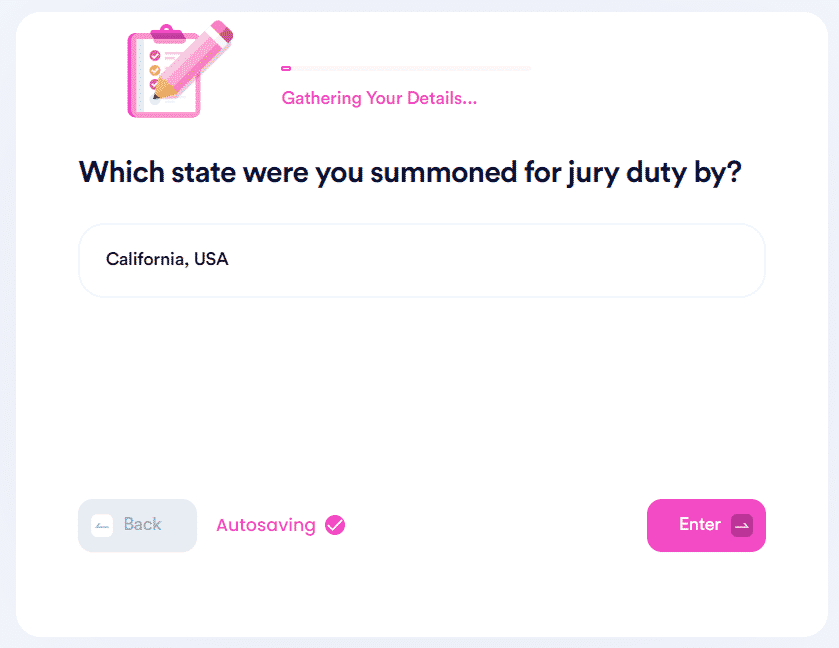 You will only need to register for our platform and do the following:
Open the Request Jury Duty Leave tool
Confirm whether state or federal court summoned you
Answer a few questions
Attach a photo of your jury summons
Once you complete the steps, we'll send your letter to your employer in minutes. You can also choose to submit it yourself—we will provide a PDF file that you can download and print.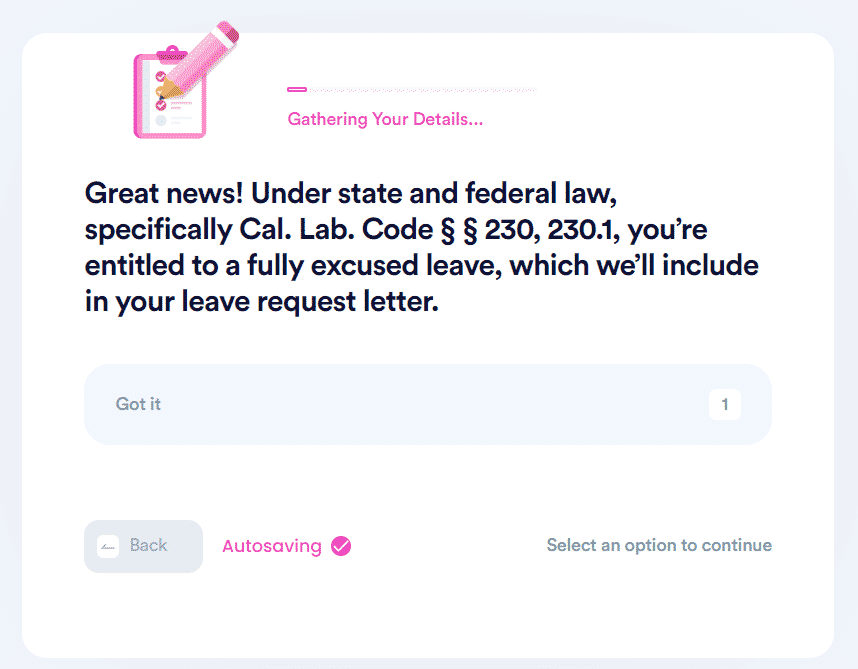 Deal With Administrative Issues With Ease
Drafting contracts and agreements, getting your documents notarized, disputing parking tickets, and creating passport photos will become a breeze once you sign up for DoNotPay.
We can also help you:
DoNotPay Helps You Protect Your Consumer Rights
Don't let companies take advantage of you! With our help, you'll be able to cancel any subscription or membership and request a refund.
As a consumer, you may be overwhelmed with endless steps and piles of paperwork you need to go through to get what you're owed. This is where DoNotPay comes in—let us be your assistant and fast-track the following:
Have you forgotten about a free trial you signed up for? Avoid being charged by using our app! With DoNotPay's virtual credit card, you'll get unsubscribed automatically without the company taking any money from you.
Are you getting spammed via email or text? Get rid of spam for good with our nifty app!