What Happens if You Don't Show Up for Jury Duty in Ohio? Find Out Here
Have you been summoned to jury duty in the Buckeye State? You probably know that jury duty is important, but it may be an inconvenience because you'll have to be absent from work. If you want to know what happens if you don't show up for jury duty in Ohio, you're in the right place—DoNotPay will tell you all about the consequences of skipping jury duty.
Preparing for jury duty means that you have to request time off from work in advance, and DoNotPay can help you with this issue. If you , we'll create a professional leave request letter on your behalf.
What Are the Penalties for Skipping Jury Duty in Ohio?
Jury duty summons is an official order from the court, which means that ignoring it would have severe consequences, such as being:
Found in contempt of court
Fined up to $1,000
Imprisoned for no more than three days
If your jury duty is getting in the way of your everyday life, you can request to be exempt, but you'll need a valid reason.
What Are the Legal Reasons for Excusal From Jury Duty?
You can request to be excused from jury duty if you are:
Over 75 years old
Member of a cloistered religious order
Mentally or physically unable to serve jury duty (you'll need a doctor's note proving this)
A spouse or a close relative of someone who recently died or is seriously ill
Amish
A member of armed forces on active duty
A full-time student whose class schedule conflicts with jury duty (you will have to provide your class schedule and college ID)
How To Request To Be Exempt From Jury Duty
In federal courts, you must send your request by mail to ask to be excused, while with state courts, you can complete the process online. Follow the steps below to request excusal:
Write a request letter in which you'll explain why you need to be excused
Provide all the additional documentation that supports your claim
Add a future date when you'll be able to serve (unless you're asking for a permanent excusal)
Submit your request and wait for the judge's decision
If you are not permanently excused, you can still be called again after one year.
Frequently Asked Questions About Jury Duty in Ohio
Check out the table below to learn answers to frequently asked questions about jury duty in Ohio:
Question
Answer
What are the qualifications for jury duty in Ohio?
To serve on a jury, you have to be:

Resident of the geographical area served by the summoning court
U.S. citizen
At least 18 years old
Not convicted of certain types of crime

How are jurors selected?
Prospective jurors are selected during the process called voir dire—the judge and attorneys ask questions to establish whether a juror can be impartial in the trial
How much are you paid for jury duty?
Each state has its own rules regarding payment for jury duty. In Ohio, jurors are paid $10 per day of service in state courts. In federal courts, they are paid $50
How long does jury duty last?
The duration of jury duty varies from court to court, but most commonly, you will need to be a juror for one to three weeks
Inform Your Employer About Your Jury Duty Leave With DoNotPay's Help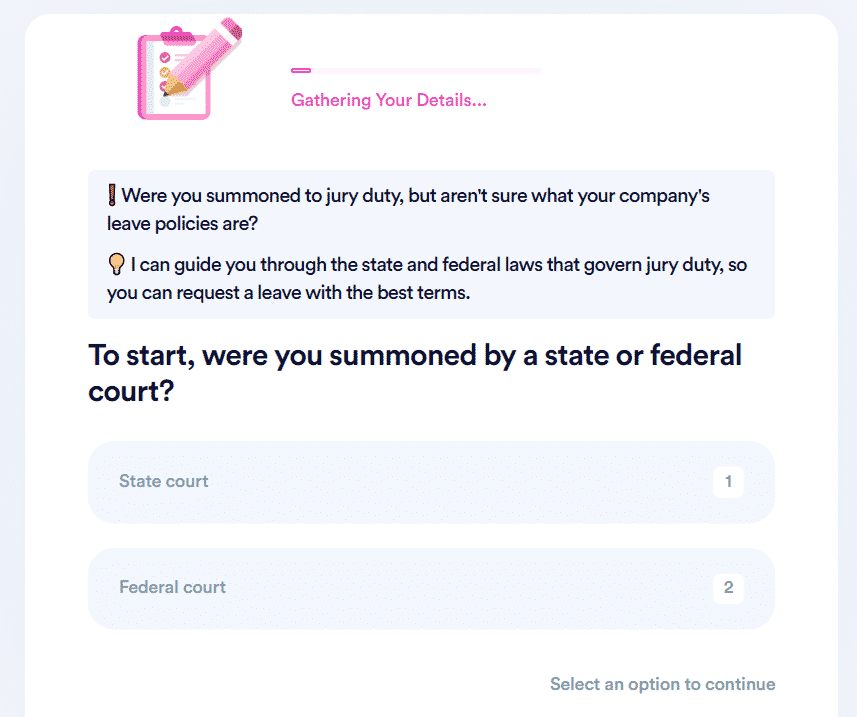 If you don't know how to tell your employer that you've been summoned for jury duty, DoNotPay can help! Our platform will create a leave request letter that will inform your employer that, by law, they cannot fire, demote, or penalize you in any way for serving on a jury.
To use our services, and follow these instructions:
Open the Request Jury Duty Leave product
Tell us more about:

The court you were summoned to
The summoning state
Your company's name
Expected absence dates

Upload a photo of your jury summons
DoNotPay has more specific information on jury duty in Cleveland, Columbus, and Ohio counties like: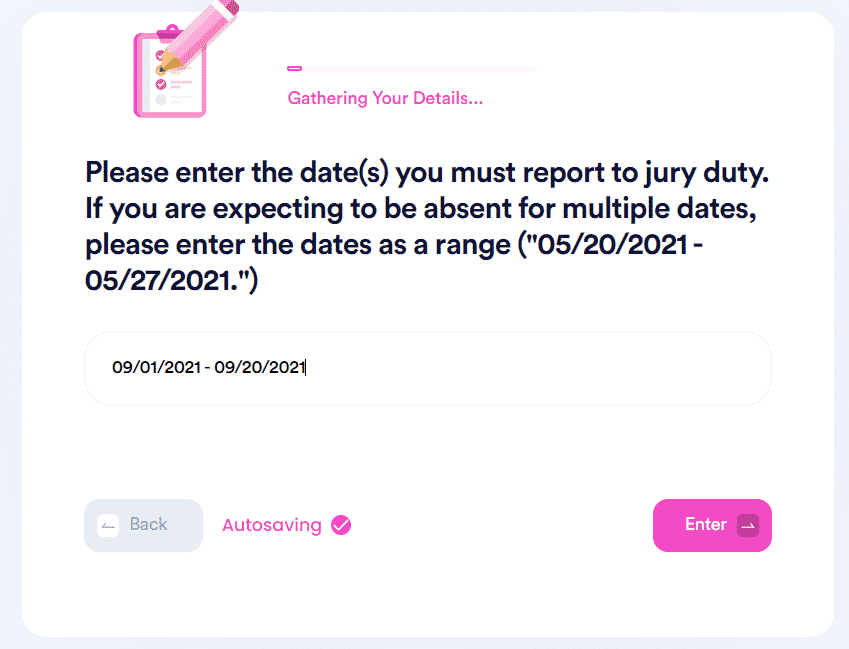 Let DoNotPay Help You With Various Tasks
The assistance we can provide doesn't stop here! Check out the table below for more details on our services:
| Improving Your Security | Making Your Everyday Life Easier | Creating Customized Paperwork |
| --- | --- | --- |
| | | |
Struggling To Be Economical? Rely on DoNotPay!
Our app—the world's first virtual lawyer—can help you save a significant amount of money in a few clicks! Starting from lowering your bills and reducing property taxes to claiming missing funds under your name, DoNotPay will keep the cash in your pockets.
Our system will also prevent you from financing unwanted or unused memberships and subscriptions by canceling them. You will be able to enjoy free trials without getting charged for them and get refunds from any merchant or airline company due to dissatisfying service!