Find Out What Happens if You Don't Show Up for Jury Duty in Colorado
Beyond being an essential component of the judicial wheel, jury service is also a learning experience—jurors learn about the justice system, fostering a sense of pride and faith in the law.
Not everyone can serve at the time of their summons. You can be excused lawfully from jury duty, but this civic duty is an obligation—you can't skip it without a court's consent.
So, what happens if you don't show up for jury duty in Colorado? You'll learn the answer here and also discover how our useful tool can help you .
Here's What Happens if You Skip Jury Duty in Colorado
If a court summons you, you must respond to the summons and follow the instructions—this is the first step in preparing for jury service. Some people who can't serve make the mistake of:
Ignoring the summons
Not showing up to court for the selection process
Being impaneled but not showing up for the trial
These are legal infractions that are considered contempt of court. Here's what to do if you miss jury duty in Colorado—you may likely have to appear before a judge to explain your noncompliance. If you don't give a good enough reason for missing jury duty in Colorado, you will be penalized in at least one of these ways:
A fine of up to $1,000
Community service
Up to three days in jail
A combination of at least two of them
The court will decide your punishment at its discretion, but your employer cannot penalize you for jury duty—if your employer is trying to force you to skip jury duty, it is your responsibility to report this to the court.
Here's How To Exempt Yourself From Jury Service the Right Way
States have different jury duty pay structures and service lengths. How does jury duty work in Colorado? The state adopts a one-day/one-trial system to make jury service convenient for its citizens.
Still, there are a few reasons why Coloradans may want to skip jury service:
The jury duty pay—whether for a state or federal juror—does not cover their regular expenses
Their employer isn't going to pay for jury service
They are currently going through a hard time
State or federal courts decide who can be exempt:
Who Can Get Permanently Excused?
What Can Serve as a Temporary Excuse?

People with permanent mental or physical disabilities
Individuals who have served within the last two years
Citizens older than 70
Sole caregivers to someone under the age of ten or an elderly person
Residents outside the summoning jury division
Volunteer firefighters, rescue squad members, or ambulance crew members
Federal law enforcement officers with arresting authority
Individuals experiencing undue hardship
People with active felony convictions

Already established vacation plans
Temporary medical issues
Full-time educational commitment
Economic or family hardships
Traveling out of the county or state (for retired or active military personnel)
The court will require applicable documentation to grant excusal.
Request Jury Leave From Your Employer With DoNotPay's Professional Leave Request Letter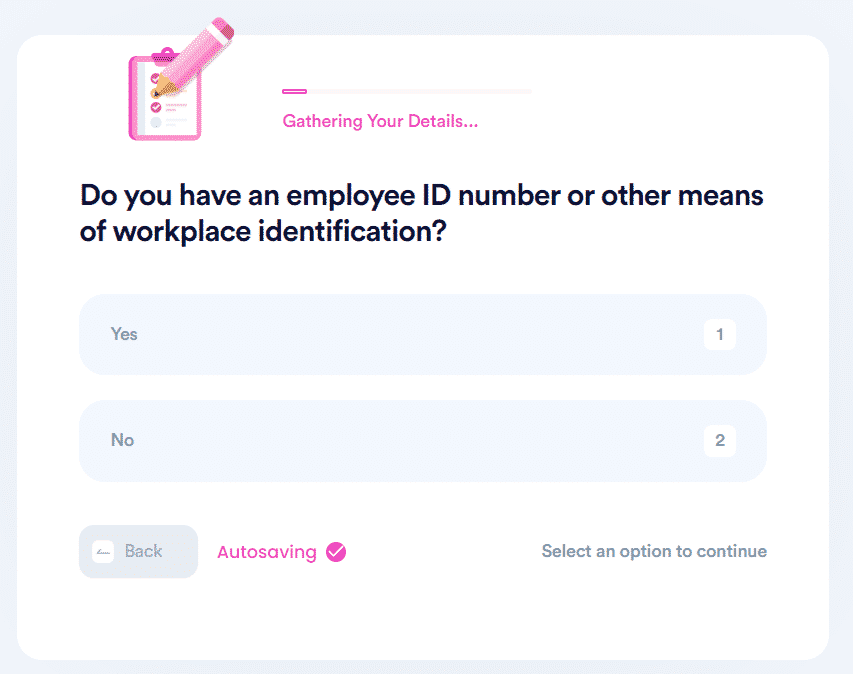 Depending on the terms set by your summoning court, it's often difficult to serve as a juror while still reporting to the office—you'll need time off from work. You have to notify your employer of your summons and provide documentation to prove your obligations—our jury leave request will help with both issues. Take these few steps to get one for yourself:
Locate the Request Jury Duty Leave product
Answer the chatbot's questions and provide a photo of your jury summons
Specify whether we should send the letter to your employer for you
You can download the letter and send it yourself if you prefer.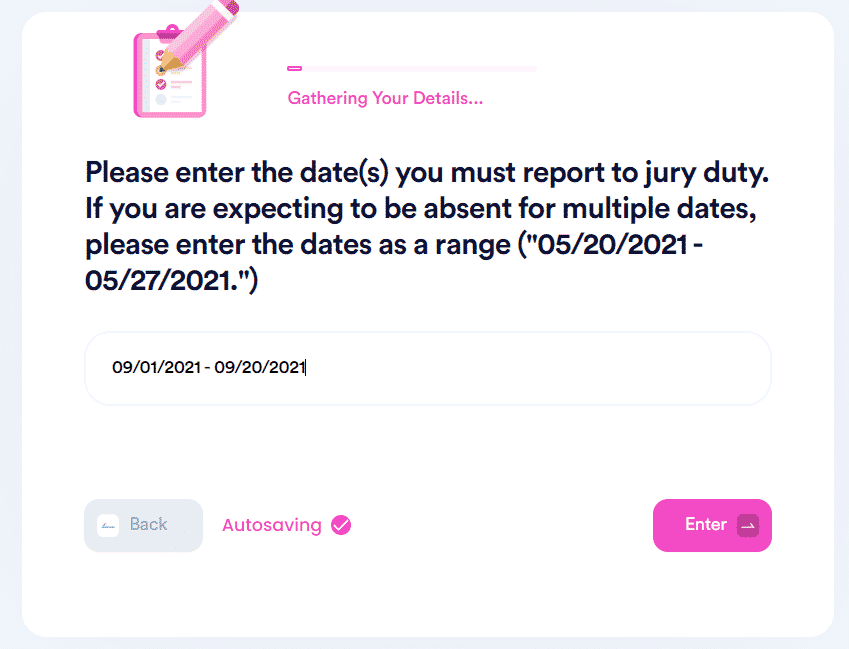 Our learning center has a few other Colorado-specific jury duty resources to help you understand expected attendance compensation and special rules in:
Let DoNotPay Help You With Various Tasks
The assistance we can provide doesn't stop here! Check out the table below for more details on our services:
| Improving Your Security | Making Your Everyday Life Easier | Creating Customized Paperwork |
| --- | --- | --- |
| | | |
Struggling To Be Economical? Rely on DoNotPay!
Our app—the world's first virtual lawyer—can help you save a significant amount of money in a few clicks! Starting from lowering your bills and reducing property taxes to claiming missing funds under your name, DoNotPay will keep the cash in your pockets.
Our system will also prevent you from financing unwanted or unused memberships and subscriptions by canceling them. You will be able to enjoy free trials without getting charged for them and get refunds from any merchant or airline company due to dissatisfying service!