What Happens if You Don't Go to Jury Duty in Texas? Find Out Here!
If you have been called to serve as a juror in the Lone Star State and want to know what happens if you don't go to jury duty in Texas, you've come to the right place! We will explain how jury duty works and tell you all about the valid reasons to request an exemption. Prepare for the service by learning how to draft a leave request letter or let DoNotPay handle it in your stead.
Jury Duty in Texas Explained
Jurors in Texas are chosen randomly from a list (made by the Secretary of State) that includes citizens who:
Have Texas driver's licenses
Hold Texas identification cards
Are registered to vote
In some counties, each juror receives a questionnaire along with the summons, which helps the court officials determine who's eligible for jury duty and able to perform their civic duty fairly and impartially. In other counties, prospective jurors answer a series of questions in person when they show up in court for the jury selection process.
What Happens if You Don't Show Up for Jury Duty in Texas?
If you skip jury duty in Texas, you will be held in contempt of court, and the judge might impose a fine of up to $1,000. You can avoid paying the fine if you have a valid reason for missing the summons.
Valid Reasons for Jury Duty Exemption in Texas
In Texas, you can be exempt from jury duty if you:
Are older than 70
Have legal custody of a child younger than 12 and jury duty requires you to leave the child without any supervision
Are a public or private school student
Are enrolled at a higher education institution
Are an officer or an employee of:

The senate
House of representatives
Department of commission

Are taking care of a person who is unable to take care of themselves
Serve on active duty for the United States Military Forces
Work and Jury Duty in Texas
Your employer isn't obligated to pay you for your time off, but they are prohibited from threatening your position or firing you because of jury duty. To avoid any potential misunderstanding with your boss, you should send a leave request letter to notify them of your absence and help them verify your jury duty.
Don't know how to write one? and let us handle the creation of this document!
DoNotPay Generates a Tailor-Made Leave Request Letter in Your Stead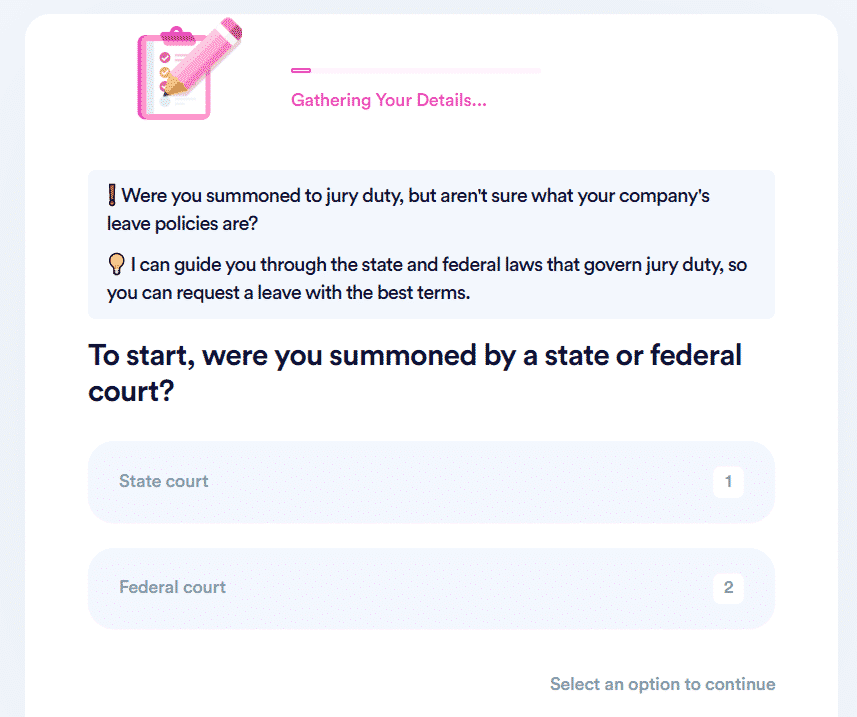 Need a leave request letter that will help you notify your employer of your absence? and get this important document in no time! To use our AI-powered app, all you have to do is:
Locate our Request Jury Duty Leave tool
Answer a few questions
Upload a photo of your summons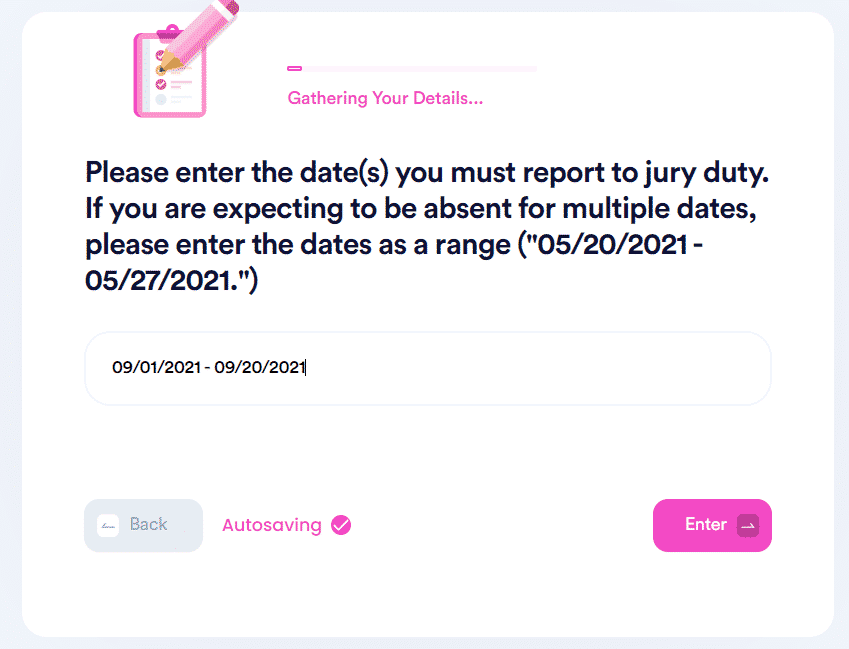 We will process your request fast and then send the letter to you via email in PDF form or forward it to your employer in your stead.
DoNotPay also has information on various Texas counties and cities, including:
Frequently Asked Questions About Jury Duty in Texas
To help you prepare for this important task, we answered some of the most frequently asked questions regarding jury duty:
Turn to DoNotPay and Remove Bureaucratic Issues in a Snap
Does paperwork bring you to the edge of a nervous breakdown? With our help, you will skip all administrative impediments and get ready-made legal documents before you know it! No failed drafts or huge legal fees!
DoNotPay can generate:
Once you create the desired document, you can fax it online without a faxing machine or have it notarized with zero complications in the same app!
Your Info Is Safe With Our App
You don't need to leave your credit card info or personal details if you want to start free trials that won't turn into paid subscriptions without notice. DoNotPay will create a virtual credit card with a fake name and generic credit card number for you in just a few clicks. This way, greedy companies won't take a single penny from your account without your authorization!
Our app can also help you file anonymous HR complaints or create burner phone numbers to avoid disclosing your real info when signing up for apps and platforms.