What Does SM Mean? Trademark Symbols Made Simple With DoNotPay
Looking to register a trademark but don't know where to start? The whole process can be overwhelming, especially if you are not familiar with the terminology. Need answers to questions such as "What does SM mean?" Trademark symbols can be confusing! DoNotPay's easy-to-follow article will provide all the key details and show you how to register a trademark hassle-free!
Trademarks Explained
Trademarks exist to:
Identify the original source of a product or service
Guard a business's commercial interests
Protect consumers from buying lower quality products from a different manufacturer
Promote goods and services
When you register a trademark, whether it is a picture or a slogan, you will make your products stand out from the competition. You will also be legally allowed to sue anyone who tries to copy the trademark.
TM vs. R Trademark
People usually confuse the TM and R symbols, and they are not sure what the symbols represent or when they are used. Familiarizing yourself with the differences is crucial before registering your trademark.
The main differences between a TM and R trademark are that the:
Former indicates that a particular word, phrase, or logo serves as an identifier for a product
Latter represents a trademark that's registered with the United States Patent and Trademark Office (USPTO)
The TM symbol typically does not offer legal protection, and you can use it without registering it. People usually add the TM sign on phrases, logos, or designs that they plan to register. Once their mark is registered, it will have the R symbol next to it and be under legal protection.
What Does SM Mean in Trademark?
In 1973, the United States adopted the Nice Agreement, which classifies trademarks into 45 classes. The first 34 classes are for goods, while the other 11 are for services. When protecting your trademark, you will have to register it under an appropriate class. For example, if you are offering insurance and financial services, you will have to file your mark under class 36.
Unlike the TM symbol, which serves as a proprietary mark for an owner's goods, the SM (service mark) is used for indicating ownership of services. This symbol is usually found on delivery vehicles, marketing materials, digital presentations, and various other visual forms. There are three types of SM marks, as follows:
| Type | Explanation |
| --- | --- |
| Standard | This type uses basics words and numbers, such as the company name for example |
| Stylized | Stylized marks generally include specific design elements. These can be photos, colors, and illustrations related to a business |
| Sound marks | This type of mark refers to the sounds associated with a company, for example, the roar of the Metro-Goldwyn-Mayer Studios lion |
How Much Does It Cost To Get a Trademark?
The cost of getting your trademark registered with the USPTO depends on:
The filling option—You can choose between two trademark applications:

Trademark Electronic Application System (TEAS) Standard—$350 per class
Trademark Electronic Application System (TEAS) Plus—$250 per class

Number of trademarks you register—As each mark requires you to file a separate application, you will have to pay separate fees for each
Number of classes you choose—Select one or multiple classes you want your mark to be registered under
Whether you hire a lawyer—If you want professional help during the registration process, you need to prepare a significant amount of money as lawyers charge high fees
If you want to go through the registration fee hassle-free and without wasting your hard-earned money, use DoNotPay. We will help you register a trademark and protect your brand in a few clicks!
Use DoNotPay To File a Trademark Without Breaking the Bank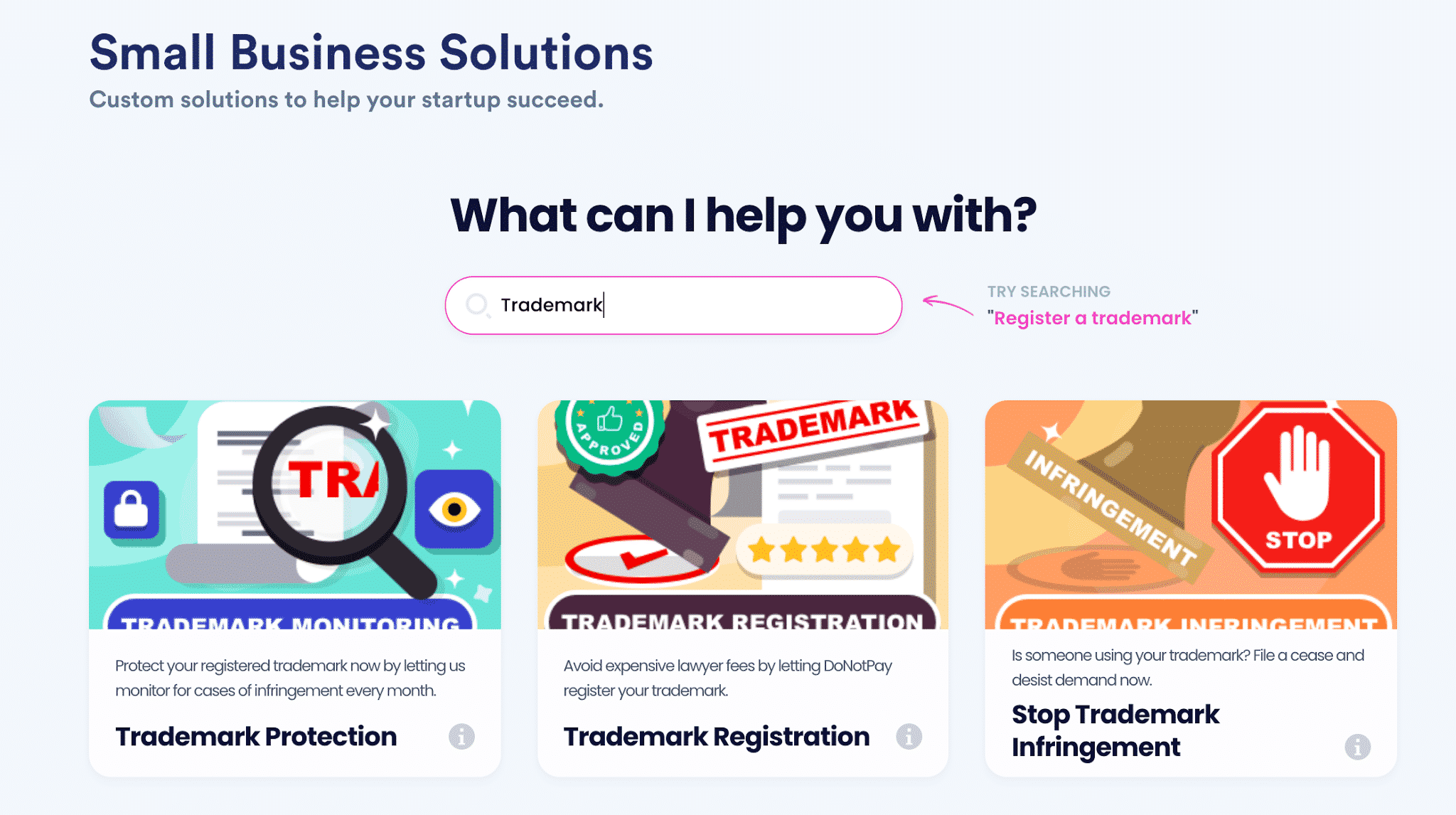 The United States Patent and Trademark Office rejects many applications due to minor mistakes, which makes the trademark registration process challenging and stressful. This is where DoNotPay comes in! Our AI-powered app will:
Do a thorough clearance search
Verify that your desired name or symbol is not already in use
Disclose all the information required for registration
Complete the application form in your stead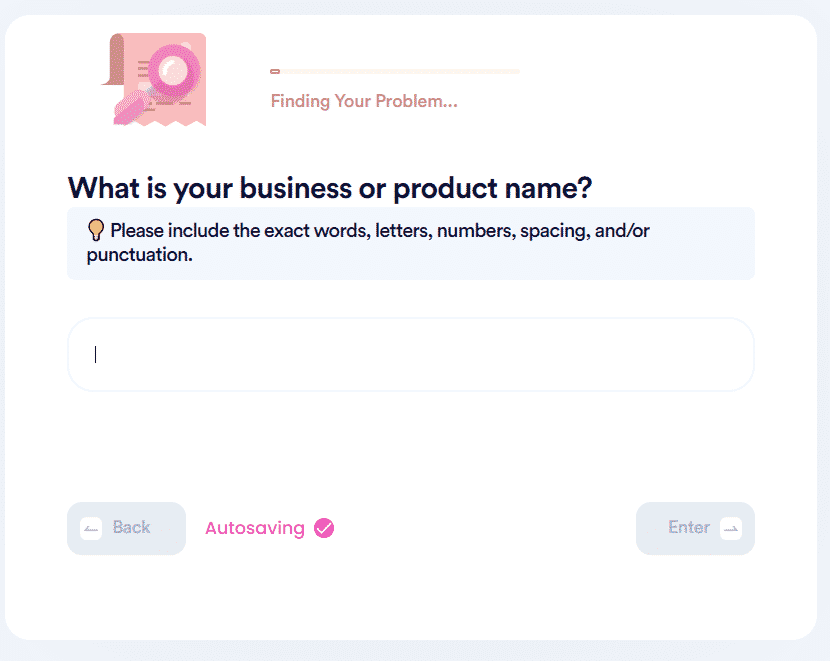 To use our app, all you have to do is:
Select our Trademark Registration tool
Choose the trademark type and provide the required info
Select a payment type
Once you submit your request, DoNotPay will forward the application to the USPTO and include your email so they can reach out to you when your trademark gets approved. We'll also provide you with the application tracking number so you can track its status in the meantime.
DoNotPay offers numerous detailed guides to help you understand other trademark-related conundrums, such as the differences between a copyright and a trademark and all the trademark requirements.
Wondering how long a trademark lasts? DoNotPay is here to provide the answer!
Resolve Various Business Problems With the Help of DoNotPay
Handling annoying administrative issues is the last thing you want to worry about while trying to build a business empire. The good news is that you do not have to! DoNotPay has developed many nifty products that make various pesky tasks easy to complete.
Some of the small-business-related matters we can help you with are:
Taking out business loans
Obtaining an Employer Identification Number (EIN)
Automating the filing of 83(b) election forms
Requesting your money from customers who won't pay
Registering a DMCA agent
DoNotPay can also make communication with your clients or business partners easier as we enable you to fax and mail your letters, forms, and other important documents without leaving your office.
Maintain a Good Business Reputation
It is no secret that building a trusting relationship with clients takes time and effort, so why have all that hard work ruined by negative online reviews that are fake? DoNotPay is here to help you remove illegitimate, fake reviews in a matter of clicks!
Want to dispute unfair chargeback requests but are not sure how to go about it? By using our Fight Chargebacks feature, you can have DoNotPay create a customized chargeback rebuttal document in a few minutes.
With our app, you can also protect your trademark from people trying to use it, file the self-certification request with the Privacy Shield program, and handle many other aspects of your business hassle-free!