What Does Libel Mean in Law?
When a person makes false claims that are harmful to another individual, this can be categorized as defamation. Legally, defamatory statements are punishable if they have caused harm to the individual mentally, physically, and emotionally. It can also have a negative impact on someone's reputation.
Defamation comes in two forms: "libel" is any written form of defamation, and "slander" is any spoken or gestured kind of defamation. In response to defamatory statements against you, you may choose to first send a "cease and desist" letter to the individual issuing the defamatory claims, warning them to stop using them or risk legal action.
What Kind of Defamation has Occurred in My Case?
Below, we define slander and libel as the two forms of defamation:
Libel can also be distinguished by the fact that it leaves a permanent record, like an email, radio or TV broadcast, newspaper article, or website posting
Slander does not have a permanent record and can be as simple as a spoken statement or a hand gesture
Distinguishing your case of defamation as either slander or libel must be done before it can continue, even before you have sent a cease and desist letter.
What Are the Four Elements of Libel?
In the United States, there are 4 key elements of libel that must be regarded, including: 
The plaintiff must prove the information was published
The plaintiff must prove that they were directly or indirectly identified
The plaintiff must prove that the remarks were defamatory towards their reputation
The plaintiff must prove that the information published was false and that the defendant is at fault for spreading this false information
Common Examples of Libel
There are many examples of libel that occur through the media, most of them have probably been things we've seen or heard ourselves, such as in the workplace! These include:
Writing letters to newspapers about individuals
Fabricating statements that morally incriminate another person
Accusing someone of committing a crime or having a criminal record
Accusing someone of having a communicable disease
Common Defenses to Libel
There are a plethora of defenses to libel in defamation cases, including arguably the most important — truth! In most jurisdictional bounds, if a plaintiff is involved in a defamation case, they must prove that the slanderous statements are false. If they are true, a defendant may prove that the statements are true as a defense. Some other common defenses include:
Consent
If a defendant is able to prove that the plaintiff gave consent to the publication of information or statements, they could use this as a defense.
Absolute privilege 

In some instances, privilege can act as a defense — this alludes to immunity to liability, granted by law in particular circumstances
This includes statements made in the legislative or judicial process, spousal statements, and statements or publications made by law

Conditional privilege 

Immunity and privilege may also come from the occasion on which the statements are issued — if a defendant is able to prove that they are entitled to privilege in a particular case, and a statement is believed to be factual
Conditional privileges also come from statements made in the public's best interest and statements to ensure the well-being of a family member
Should You Write a Cease and Desist Letter?
Writing a cease and desist letter is a complex process that can discredit your case or help it, depending on how it is written! Let's say you send a poorly written cease and desist letter to the person who defamed you. Once you go to court, the defendant can use the letter to their advantage. To add, many lawyers who are willing to draft cease and desist letters will charge an exorbitant amount of money for even meeting you and working to respond to your inquiries!
Discover the DoNotPay Advantage: Draft a Cease and Desist Letter in Minutes!
DoNotPay is an expedited and easy service! The cease and desist letter DoNotPay drafts will detail the information about the case, demand retraction, warn against future statements, and will order that the accused abides by state statutes.
All you need to do is:
1. Search "defamation" on DoNotPay and select the Defamation Demand Letters product.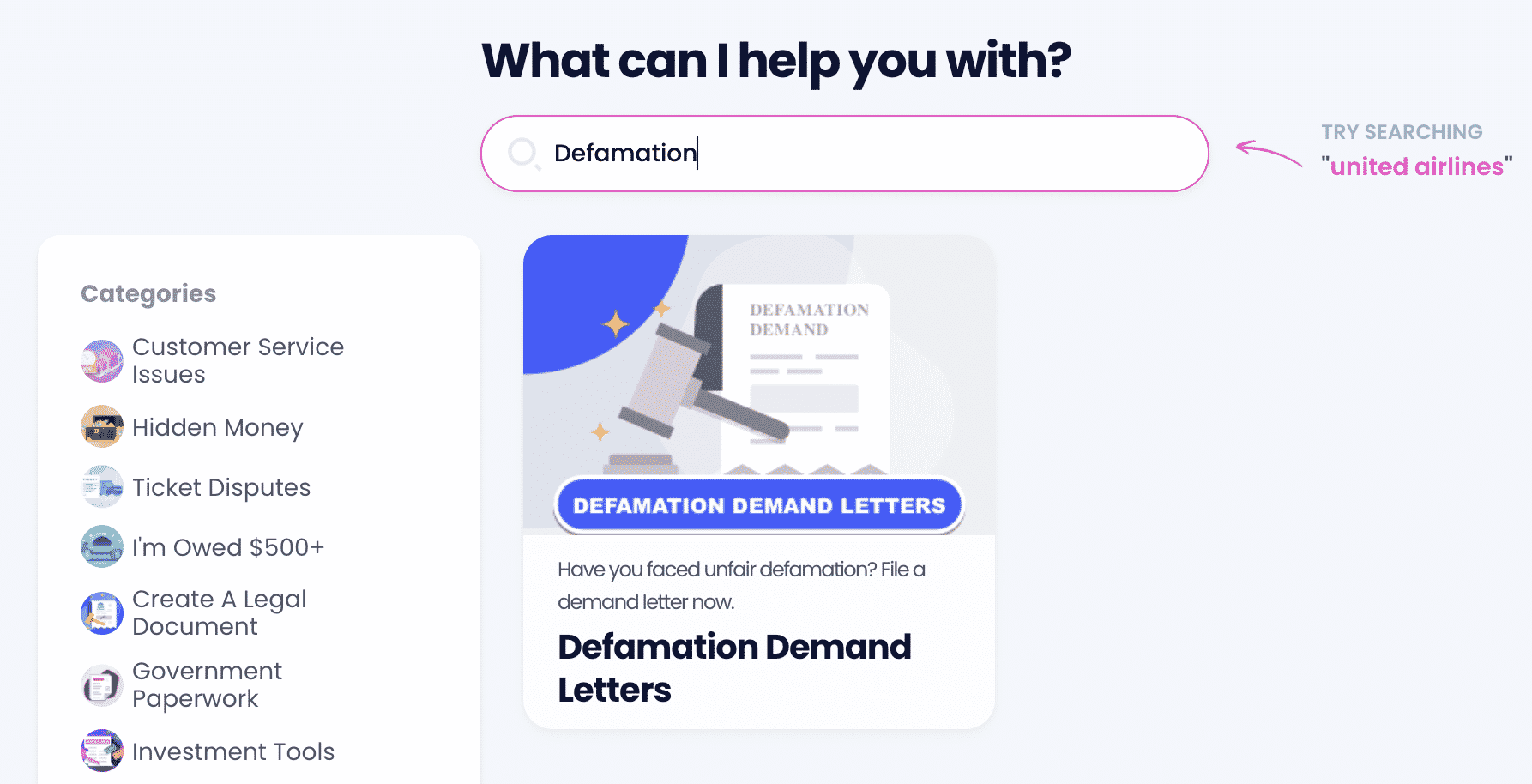 2. Tell us about your situation.
Were the statements slander or libel?
What were the statements?
Why are they false or misleading?
What consequences have you suffered as a result of these statements?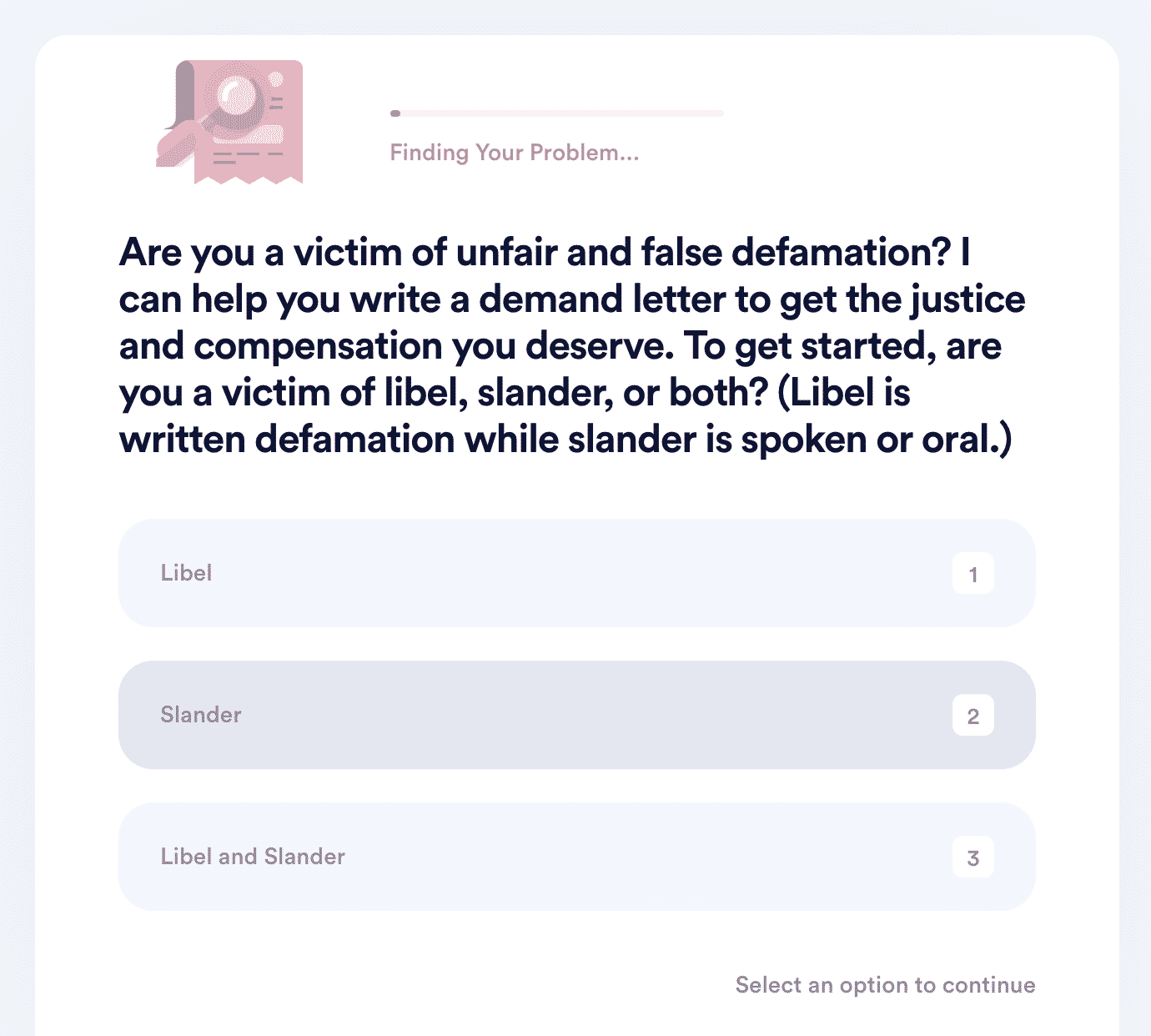 3. Based on your location, DoNotPay will immediately generate a formal demand letter on your behalf, with the most relevant state legislation regarding defamation.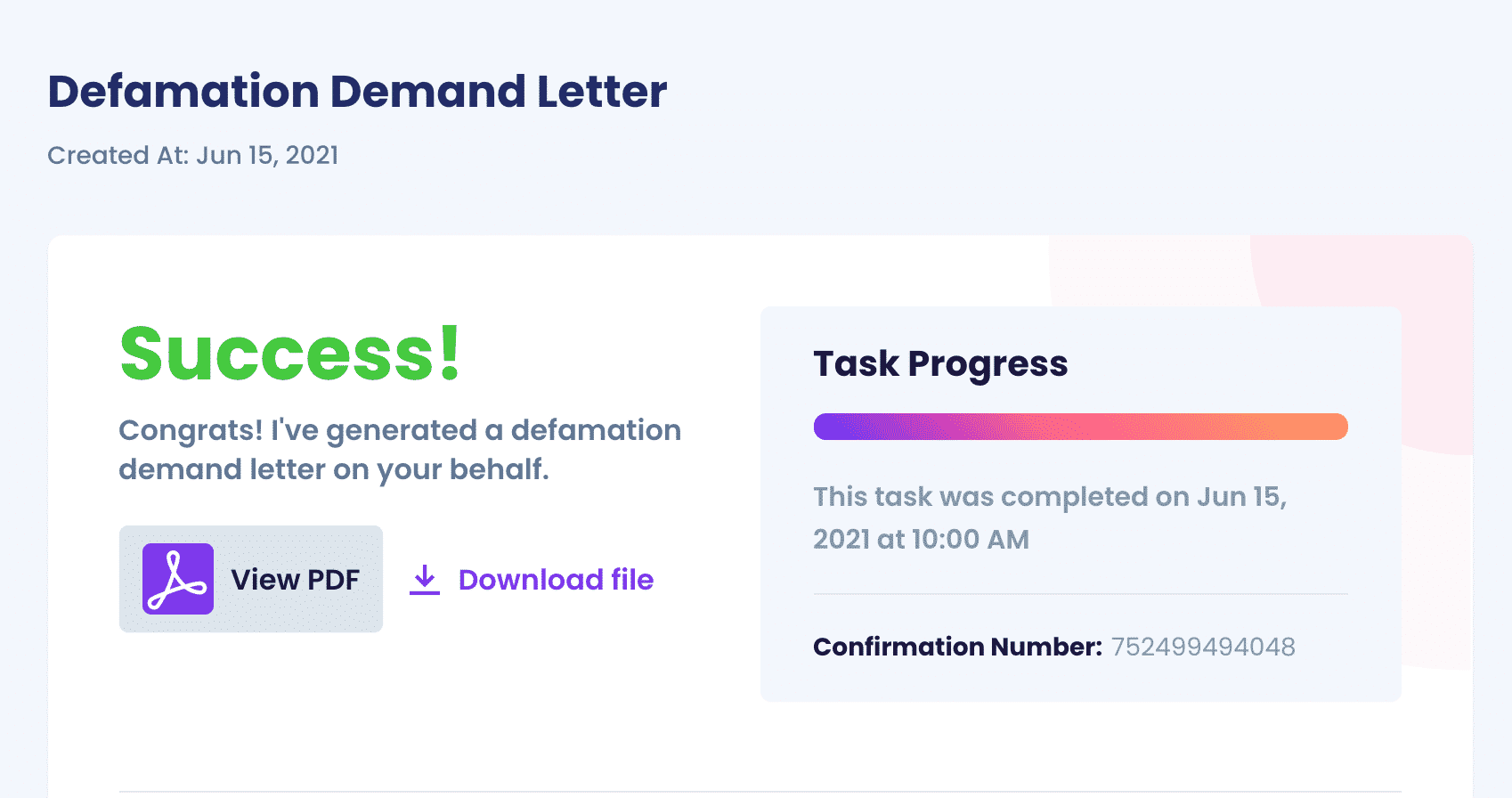 What Else Can DoNotPay Do?
DoNotPay doesn't stop at helping you write cease and desist letters. The AI-powered robot lawyer can help you with day-to-day issues such as cancelling subscriptions, creating passport photos, appealing parking tickets, and so much more! Here's what else we offer: