What Does It Mean To Trademark Your Name? DoNotPay Delves Into the Matter
What does it mean to trademark your name? If you have been building a brand around your name, you should consider trademarking it. Doing so entails a series of legal benefits, but it can also be time-consuming and expensive, especially if you do not carry it out properly.
Consult our handy guide to learn about trademarks and related application procedures. The good news is that you can skip the hard work and .
What Is a Trademark?
A trademark is federally managed legal protection for components of a given brand, including:
Trademarks are organized in 45 classes that dictate which type of goods or services they protect. The United States Patent and Trademark Office (USPTO) governs federal laws that protect trademarks. By registering your name as a trademark, you can sue other companies that infringe on it.
Can You Trademark Your Own Name?
Yes—if your name is associated with a specific product or service, you can trademark it to gain protection against unauthorized use. Most commonly, personal names are trademarked by performers and public figures.
To trademark your name, you must meet specific requirements:
Your name must have a business use
The business use must align with a trademark class
Your trademarked name will only provide legal recourse against other entities that try to use it in the same class. For example, Sarah Palin registered her name as a service mark (essentially a trademark but specific to services) in relation to educational and entertainment services. Another "Sarah Palin" could register that name for a different class of service mark. Keep in mind that trademarks and service marks are different from copyright, which protects works of authorship.
What Types of Names Are Easiest To Trademark?
The USPTO is most likely to approve trademarks for names that meet the following two definitions:
Fanciful—names that are made up and not logically connected to the associated good or service (e.g., EXXON)
Arbitrary—names that are not made up but have no logical connection to the product or service they represent (e.g., Apple)
Why Trademark Your Name?
Trademarking your name gives you legal protection against unauthorized use. For example, a trademark gives you legal recourse against cybersquatters that own domains similar to your registered name.
Smaller brands operating in local markets do not necessarily need a trademark or the protection it offers. If you intend to scale up your brand, you should take this step and defend your brand against unauthorized use, but you are not required to trademark your brand.
How To Trademark a Name
Before taking any steps, you must confirm that your name is not already registered as a trademark in your intended class—consult the USPTO's Trademark Electronic Search System (TESS) to do so.
To trademark your name, you must apply with the USPTO. They only offer one method for filing a trademark application, but DoNotPay can help as well:
| Filing Process | Yes/No |
| --- | --- |
| DoNotPay | Yes |
| Online | Yes |
| Phone | No |
| Mail | No |
| Fax | No |
Execute the filing procedure by following these steps:
Navigate to the TESS
Log in or create an account for TEAS
Start a new application for your name
Specify a trademark class
Provide the necessary information about your brand
Submit the application
Do Trademarks Expire?
Yes—a trademark registered at the federal level is only valid for ten years. However, if still in use between years five and six, you can renew it.
How Much Does the Federal Trademark Registration Cost?
Depending on several factors (legal assistance included), trademarking your name could cost you up to $1000.
The figure is the result of two primary expenses:
A government filing fee (charged for each class to apply to)
Legal consultation
The USPTO offers two application types:
TEAS Plus—$250/class
TEAS Standard—$350/class
TEAS Plus is ideal for first-time applicants whose brand fits into a set description already present in the Trademark ID manual. TEAS Standard is better for brands requiring a custom definition.
If you fail to submit your application correctly, your filing fee will not be refunded. That is why you will also need to hire a trademark lawyer to ensure the process runs smoothly. Unfortunately, a lawyer can cost more than $300/hour.
DoNotPay Will Trademark Your Name for You
Even though it is your name you want to trademark, that does not mean you have to do the work yourself. Your only task is to complete the following steps:
Sign up for DoNotPay
Find our Trademark Registration tool
Provide the required into
Review the application form and hit Submit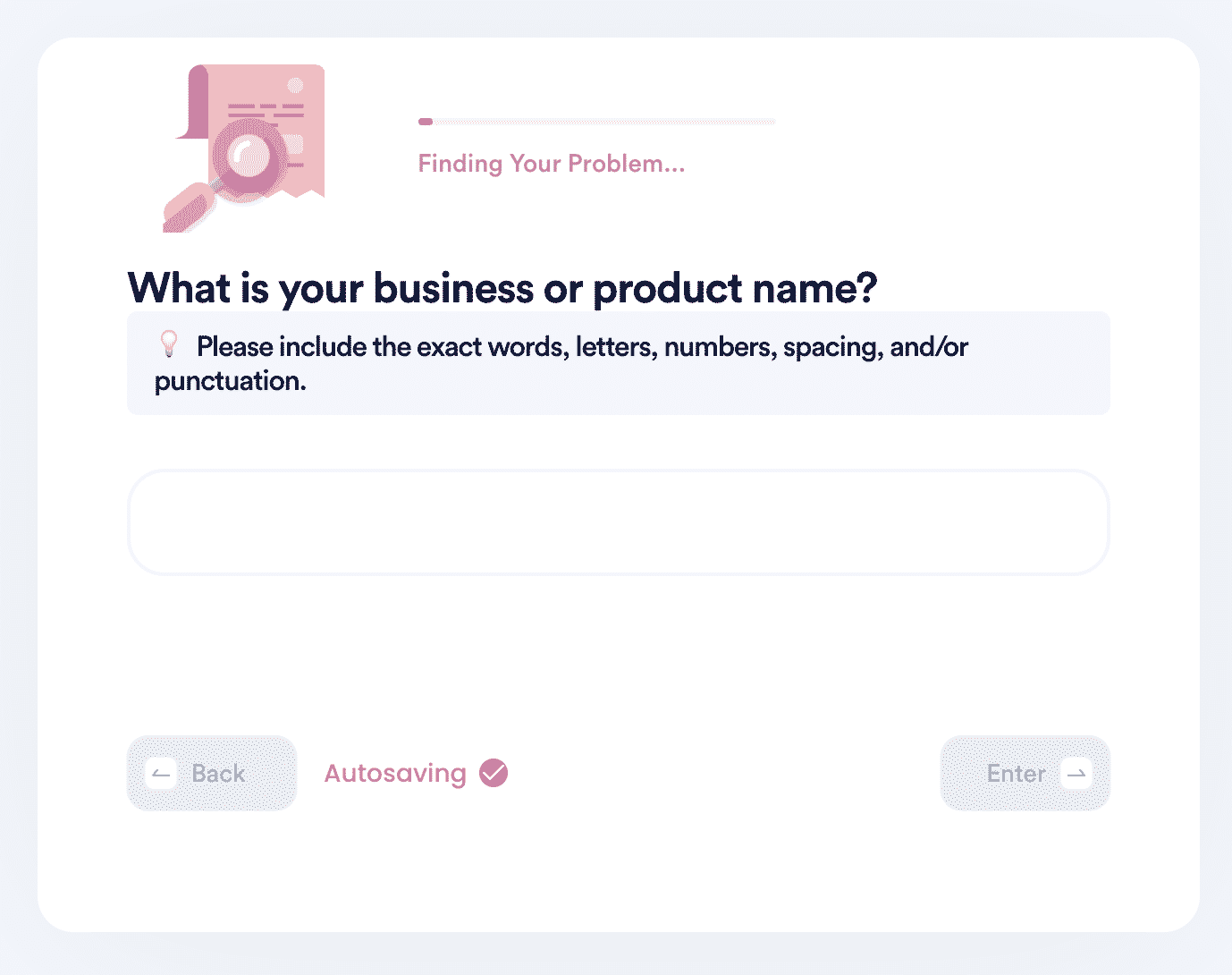 Our Trademark Registration tool will:
Gather the required information
Fill out the application
Send it for review and signing
Submit the application in your stead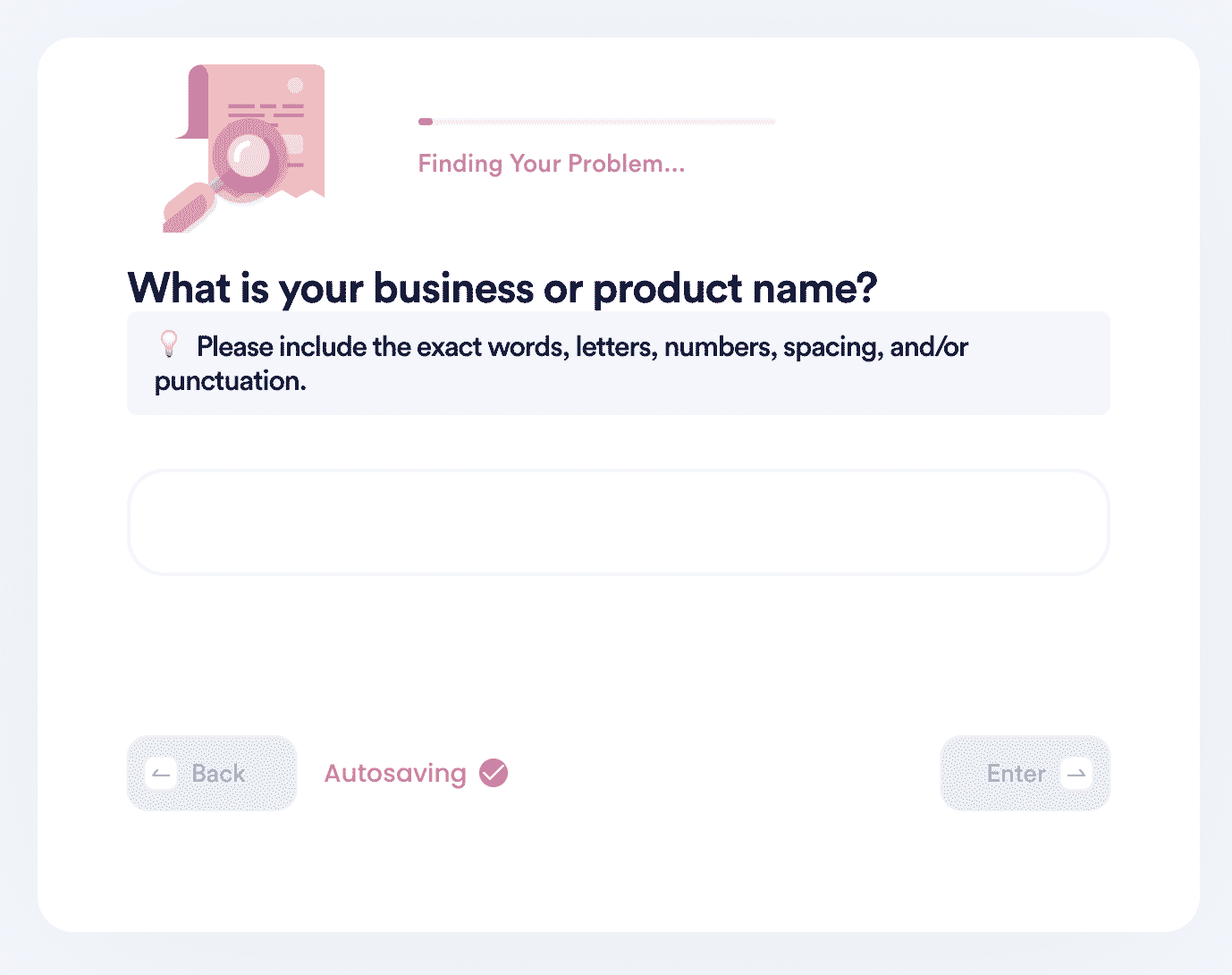 After applying on your behalf, we will give you the tracking number and ensure the USPTO has your correct contact info so that you stay updated on the process.
Don't Waste Ages on Tedious Administrative Tasks—Rely on DoNotPay
Running a small business can be a challenging endeavor, but you can count on DoNotPay to make the situation easier! We have developed a number of handy features that you can use to deal with your business-related hurdles. With our help, you can:
Send mail to your customers, investors, or business associates without wasting time going to the post office
Register your business slogan, logo, or name as a trademark to prevent brand infringement
Avoid copyright violations on your website by registering a DMCA agent
Protect the privacy of your clients' data by filing the Privacy Shield program self-certification request
Contest unjust chargebacks and keep the revenue
Deal with clients who breach the contract without wasting money on collection agencies or lawyers
Worked Hard on Creating a Good Business Reputation? Don't Let It Go to Waste!
Has one of the angry clients or envious competitors decided to leave a mean online review that could have a negative impact on your business? DoNotPay is here to help you remove it! We will analyze the problematic review and report it until it is taken down.
Don't know how to protect your trademark and make sure no one else is using it? Our app can monitor the trademark on a monthly basis and send cease and desist letters if necessary.
Let our app take care of many other issues—such as filing 83(b) election forms, registering for an Employer Identification Number (EIN), taking out small business loans, and similar—while you concentrate on the creative side of your business.