Help Your Family Pull Together—Know What Determines Power of Attorney Over a Parent
It is an uncomfortable but unavoidable fact that your parents will reach a point in their lives when they can't look after themselves. This may be due to physical debilitation, but it can also be a result of a decline in their ability to think and make decisions.
However difficult the discussion may be, you should prepare for this time by talking about a power of attorney to make sure they are looked after financially when they can no longer do it themselves.
DoNotPay can help you. We have everything you need to know about what determines power of attorney (POA) over a parent and how to set one up.
What Kind of Power of Attorney Is Right for My Parents?
There are different kinds of POA relating to managing your parents' finances for them. The most relevant financial POAs are:
Type of POA
Explanation
Limited POA
A limited POA only allows you to perform certain specified functions or is bound by time restrictions. This is a good option if your parents expect to be traveling for a specified time and need bills paid while they are away but are otherwise healthy
General POA
You can use a general POA to manage your parents' affairs while they are still healthy, but it terminates if they become physically or mentally incapacitated
Springing POA
A springing POA kicks in when your parents become incapacitated. It is important in this type of POA that you agree on the exact medical conditions that mean the POA becomes valid
Durable POA
This type of POA is the most wide-ranging, becoming valid upon signing (unless otherwise stated) and remaining so until it is terminated by:

Death of the principal (your parents)
Revocation by the principal
Your inability or unwillingness to carry on as the agent
How Do You Set Up a POA With Your Parents?
The most important aspect of a POA is that you, as the agent, cannot grant a power of attorney—it can only be set up by the principal while they are still of sound mind.
This means that the time to have the difficult discussion about a POA for your parents is now. You will not be able to get a POA once your parents are no longer able to make decisions independently.
The factors to consider when you discuss a POA with your parents are:
Choice of agent
Long-term financial planning
Ongoing financial responsibilities
Choice of Agent
However hard it may be to accept, you may not be the best-qualified person to be the agent of the POA.
Your actions, while they will always be with the best intentions, could be clouded by emotional considerations.
You should discuss the option of finding a trusted agent outside the family to take on the responsibility.
Long-Term Financial Planning
Your parents may have savings, property, or investments that are tied up in long-term commitments. The POA needs to address what should—and should not—happen with these.
Ongoing Financial Responsibilities
Your POA with your parents should cover every aspect of their day-to-day expenses, including:
Bills
Bank account access
Checkbooks
Credit cards
Living expenses
The more clarity you build into the POA with your parents, the less the likelihood of problems or arguments further down the line.
How To Get Power of Attorney for an Incapacitated Parent
If your parent or parents are already incapacitated, you will face a complicated struggle to get a power of attorney to look after their affairs.
The process to get control of your incapacitated parents' finances is as follows:
Check for a POA or a living will
Obtain a conservatorship or adult guardianship
Check for a POA or a Living Will
Your parents may already have granted power of attorney without telling you. Alternatively, they may have prepared a living will that sets out who should be responsible for their finances if they become incapacitated.
Obtain a Conservatorship or Adult Guardianship
You will need to approach the court to obtain a conservatorship or adult guardianship that gives you the right to take over and manage your parents' financial affairs.
The court process is complicated and can become expensive, so it is best avoided by agreeing for a POA to be granted as soon as possible. This is where DoNotPay comes in—we can help your parents prepare a power of attorney document in a flash!
Can DoNotPay Help With a Power of Attorney?

DoNotPay is here to help you simplify complex legal matters, and preparing a power of attorney document is our latest offering for you.
With DoNotPay, you don't need an expensive lawyer—you can set up your power of attorney letter in a few clicks. Here's what you need to do:
Sign up with DoNotPay in your web browser
Go to our Power of Attorney feature
Follow the prompts and fill in the details you want to be included in the document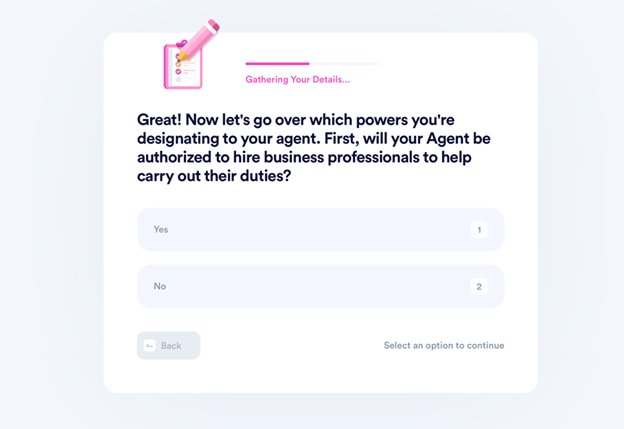 Once you have filled everything in, DoNotPay will generate your document. Your parents should then sign it in the presence of a notary.
You can use the services of a local notary public, but an even better option is to use DoNotPay's online notarization feature—you can get the whole process done in one shot without leaving your home!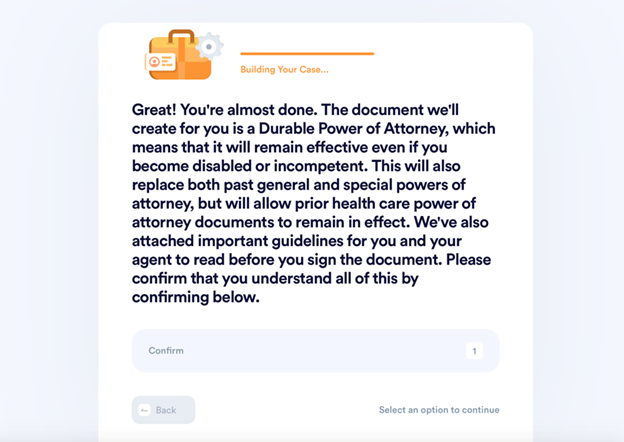 Not Sure if You'll Have Enough Money at the End of the Month? We Can Help
Most Americans go through financial hurdles daily. You don't need to put up with it all—as soon as you sign up for our app and voice your struggles, we will provide our assistance! DoNotPay is capable of:
Dealing With a Greedy Company? No Need To Worry
Are you dealing with a company that doesn't want to cooperate and keeps ignoring your consumer rights? No problem—DoNotPay can help you sue the company in small claims court and win your case.
If you need us to draw up a legal document, get it notarized, and fax it to the court, we can do that as well.
Have you been trying to reach the company's customer support reps with no success? Don't get stressed—our app will gladly wait in the phone queue in your stead and notify you as soon as someone picks up.