What Are the Three Types of Trademarks?
It doesn't matter what goods and services your business offers—protecting your intellectual property is crucial for your brand. Whether it is copyright or trademark, it will prevent other companies from using your ideas for their own profits and protect you from infringement.
Before you register for a trademark, it is important to understand the types.
What are the three types of trademarks? How can you decide the kind of trademark you want to use? We offer a comprehensive guide to everything you need to know about the importance of trademarks, trademark types, and the registration process.
The Fundamentals of Trademarks
Any word, mark, symbol, or phrase you choose to associate with your business or products officially is known as a trademark. It is used to differentiate your brand and allow it to stand out from others in the same industry.
Trademarks can be both registered and unregistered. While registered trademarks are legally protected by trademark protection laws, unregistered trademarks do not enjoy the same privilege.
Trademarks do not last forever—you need to renew them once every ten years.
Many creations can be trademarked, including:
The Three Main Types of Trademarks
There are three main categories of trademarks:
Fanciful marks
Arbitrary marks
Suggestive marks
Fanciful Marks
A fanciful or coined mark is original and distinct and can easily be registered with the USPTO because it is not similar to any other mark. Nike and Adidas logos fall under this category.
Arbitrary Marks
The arbitrary type of trademark includes a word, mark, or phrase that is well-known in general, but the meaning of it as a trademark is different. An example is apple, which is a familiar term as a fruit, but it is used by a computer and phone manufacturer as its brand name and logo.
Suggestive Marks
A suggestive mark is protected without having to provide a secondary description. Suggestive means that it is up to the customer to figure out what the company is offering. For example, the car brand Jaguar suggests speed but does not suggest a car manufacturer.
Other Categories of Trademarks
Various other categories of trademarks exist, as mentioned in the table below:
Other Categories of Trademarks
Description
Descriptive mark
A descriptive mark describes goods or services. A good example is a company named CoolBreeze selling air conditioners
Generic mark
For example, the name The Ice Cream Shop cannot be trademarked because that would prohibit all other ice cream parlors from conducting their business.

You need to properly describe the qualities and characteristics of your business to qualify for a generic trademark
Other Trademark Types
Other trademark protection types include the following:
Trade name—identifies a company instead of a product or service
Trade dress—associated with the overall aesthetics of a product or its packaging
Collective marks—used for membership in a union, community, or organization
Certification marks—approved when a product or service meets the criteria of a certifying organization
Service marks—only applicable for services, not for products. They receive the same legal protection as trademarks and have to be registered in the same way as well
Why Is It Essential To Distinguish the Trademark Type?
It is crucial to understand the different trademark types so that you can:
Better understand how your trademark category will affect your legal protection
Easily qualify for a registered trademark without any complications
Distinguish your brand from others through your trademark
How To Register for a Trademark With the USPTO
You should follow these instructions to file a trademark officially:
Design a trademark that is in line with your brand's identity
Select the trademark type to ensure that it is not too generic
Search the United States Patent and Trademark Office (USPTO) database to check if there are any similar marks
Fill out your trademark registration form, adding the trademark class and type
Pay the registration fees depending on the application type:

TEAS Plus—$250
TEAS Standard—$350

Submit your application
Many small business owners seek lawyers to apply for the registration process. Why pay extra when you can to do the hard work for you at an affordable cost?
DoNotPay Can Assist You in Applying for a Trademark Fast
Our AI-powered app can make the trademark registration process easy by guiding you through the trademark requirements and completing the tedious forms. All you need to do is follow these instructions:
in your web browser
Go to the Trademark Registration tool
Enter information about your brand and trademark
Pay the USPTO filing fee
Our app will prepare and forward your application right away. We will also provide you with the tracking number so that you can keep track of your trademark application.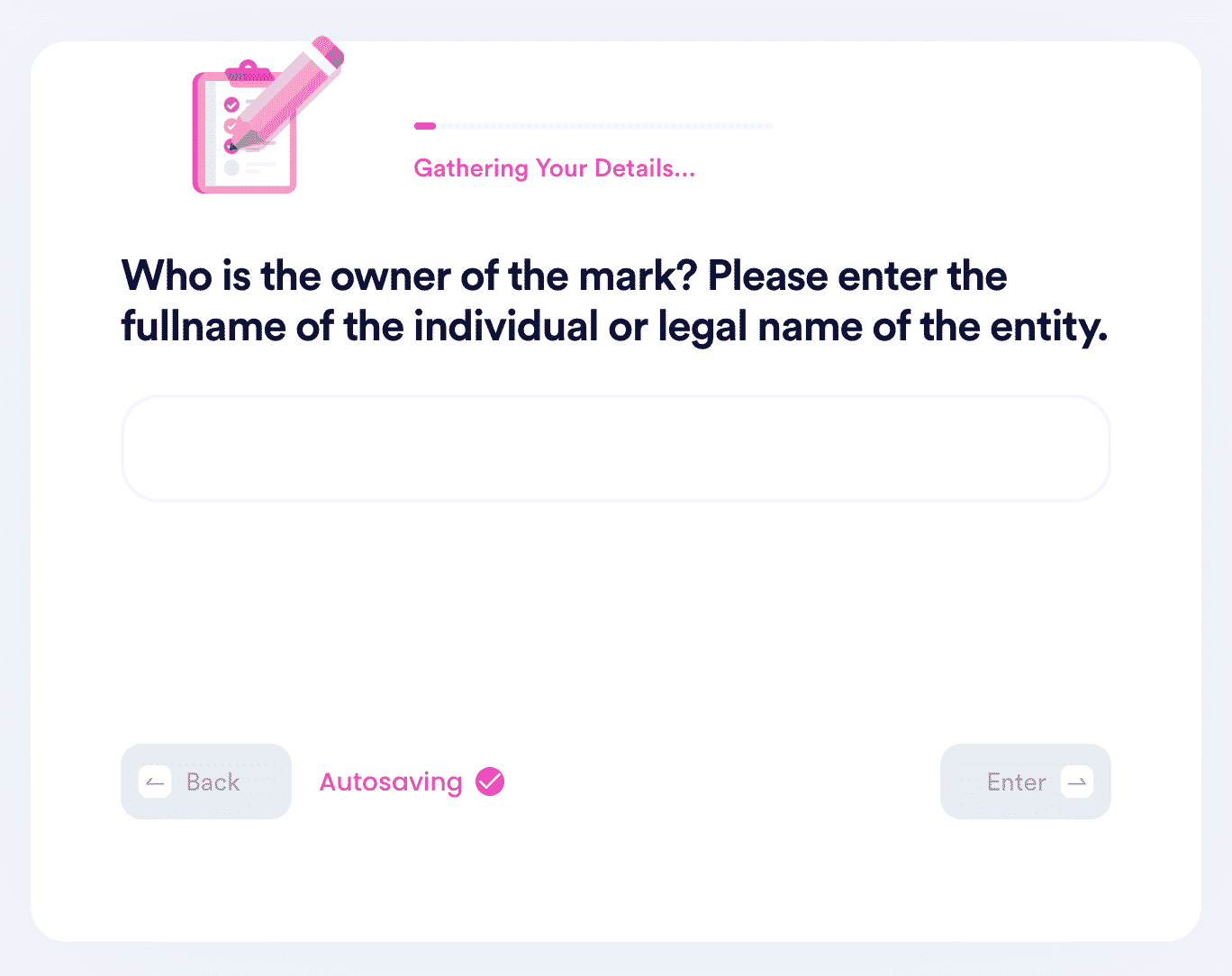 DoNotPay Helps You Do Everything by the Book!
Are you confused by the numerous business-related laws and procedures? If you cannot seem to get the hang of all of the processes, you should rely on DoNotPay. Allow your robot lawyer to help you take care of Employer Identification Number (EIN) and DMCA agent registration in a matter of minutes!
Once you handle those tasks, you should consider using DoNotPay to register your business slogan, name, or logo as a trademark and protect your brand by allowing us to check for trademark violations regularly.
Not sure how to handle 83(b) election forms? Automate the entire process and have your employees fill out and submit the forms in a few clicks! We can even help you protect the privacy of your clients by filing a self-certification request with the Privacy Shield program on your behalf so your website complies with data protection requirements.
Running a Business Is Smooth Sailing With DoNotPay
DoNotPay has a solution for any business issue. We can help you:
Draw up a professional and convincing small business loan request letter and get the necessary funds for your business
Report unjustified negative reviews that could damage your brand until they are taken down
Request payment from clients who break the contract
Dispute chargeback requests when they are unfair
Send letters or paperwork without going to the post office