What Are the Requirements to Receive Veterans Benefits?
America likes to show support for both active duty military and veterans of the armed forces. Part of that includes making available tremendous veterans benefits. But what are the requirements to receive veterans' benefits? Many people who are eligible for the benefits don't know how to go about getting them.
There are a lot of benefits available to veterans, but they're scattered around different government agencies. And, as always, with the government that has a lot of red tapes involved and hoops to jump through in order to get what you deserve. Whether you want to learn about veterans' home loans, veterans' pensions, veterans education benefits, or benefits for disabled veterans, there's an easier way to do it. DoNotPay can simplify the process for you.
Benefits for Veterans
You may not know about veteran benefits eligibility and you may be asking yourself "what are the requirements to receive veterans benefits?" and "do I qualify for veterans benefits?" The answer is probably. And here are some of the benefits you can get:
How to Find Out About Veterans Benefits Eligibility
Veterans benefits vary by state, but there's not an all-inclusive guide to what is available to you. And the process of finding out about the benefits you may be eligible for isn't a quick one. Here are the steps you have to take:
Locate the VA offices in your state.
Contact the VA office closest to you.
Talk to a rep at the VA to find out about your veterans benefits eligibility.
Request the forms you need to fill out to apply for your veterans' benefits.
Complete the needed forms to apply.
Wait to hear back from the VA about your eligibility.
How to Find Veteran Benefits With DoNotPay
The process of finding veteran benefits on your own is long and involved. Worse, you have to go through the government, which is always a pain. But there is an easier way to get it down. Have DoNotPay do the hard stuff for you.
If you want to know how to find veteran benefits with DoNotPay but don't know where to start, DoNotPay has you covered in 3 easy steps:
1. Search for and open the Military Protection product on DoNotPay.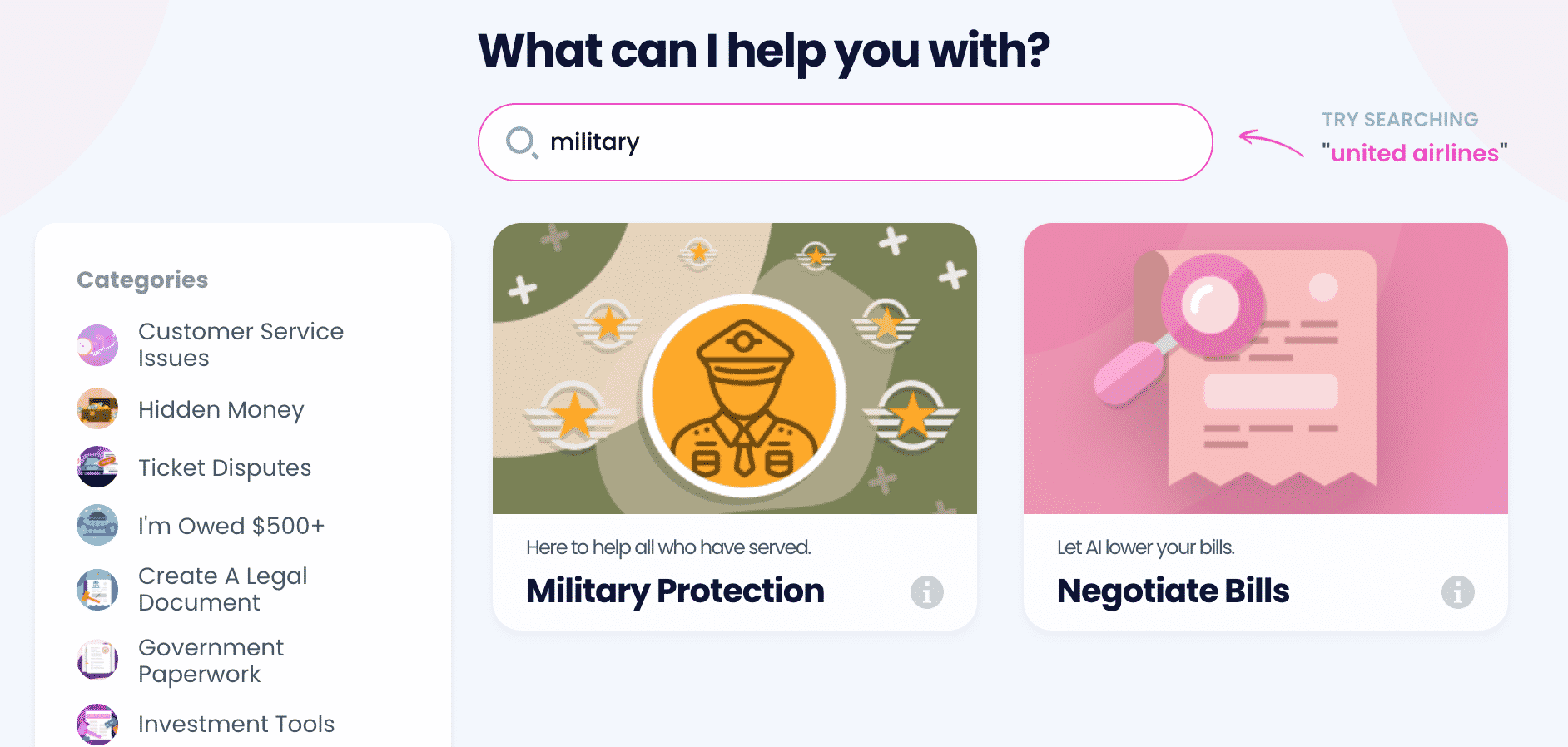 2. Select whether you want to 1) locate the nearest VA office, 2) access veteran benefits, or 3) locate service records.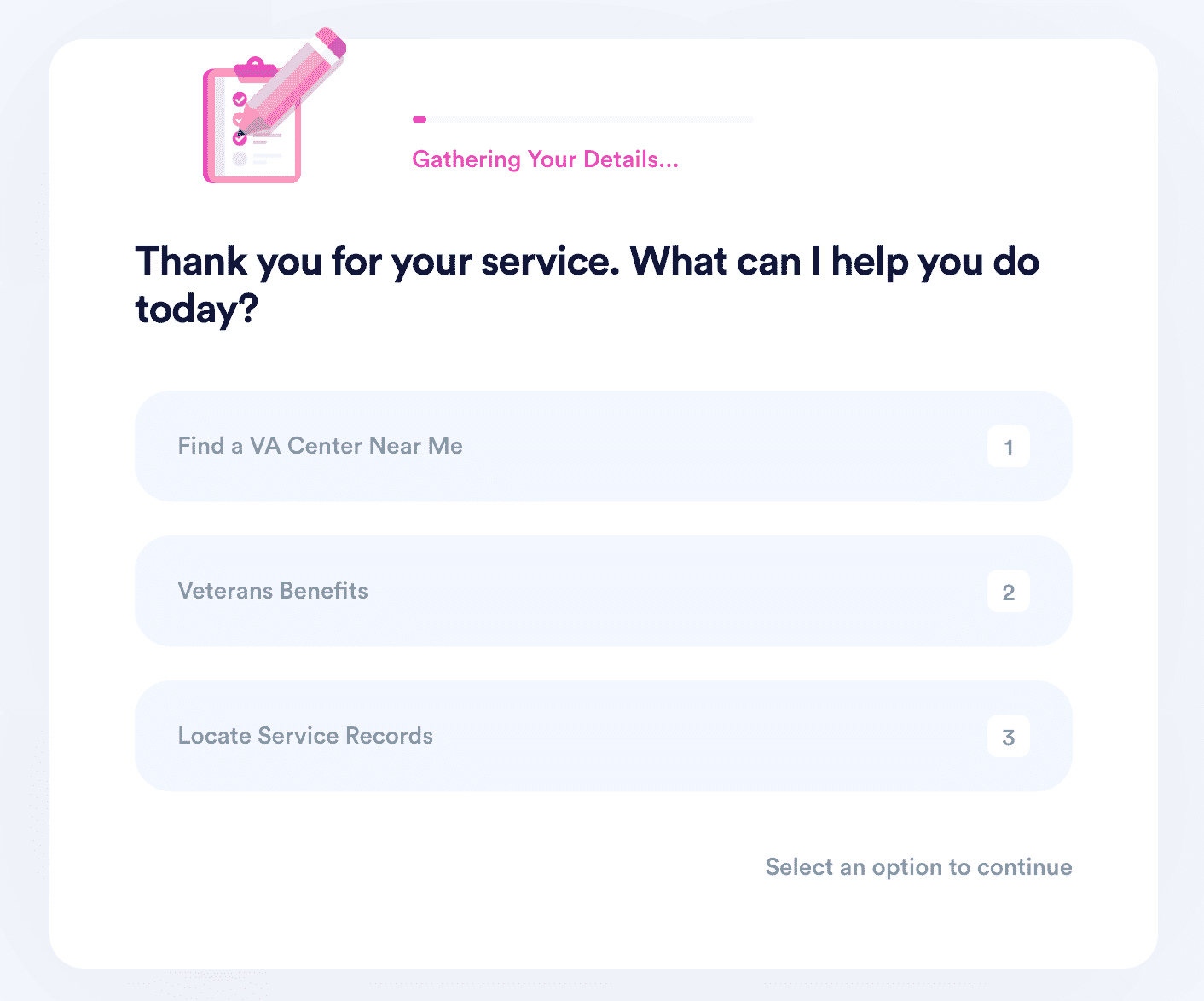 3. Answer a simple set of questions so our chatbot can collect the necessary information to help you and find the nearest office or fill out the appropriate forms.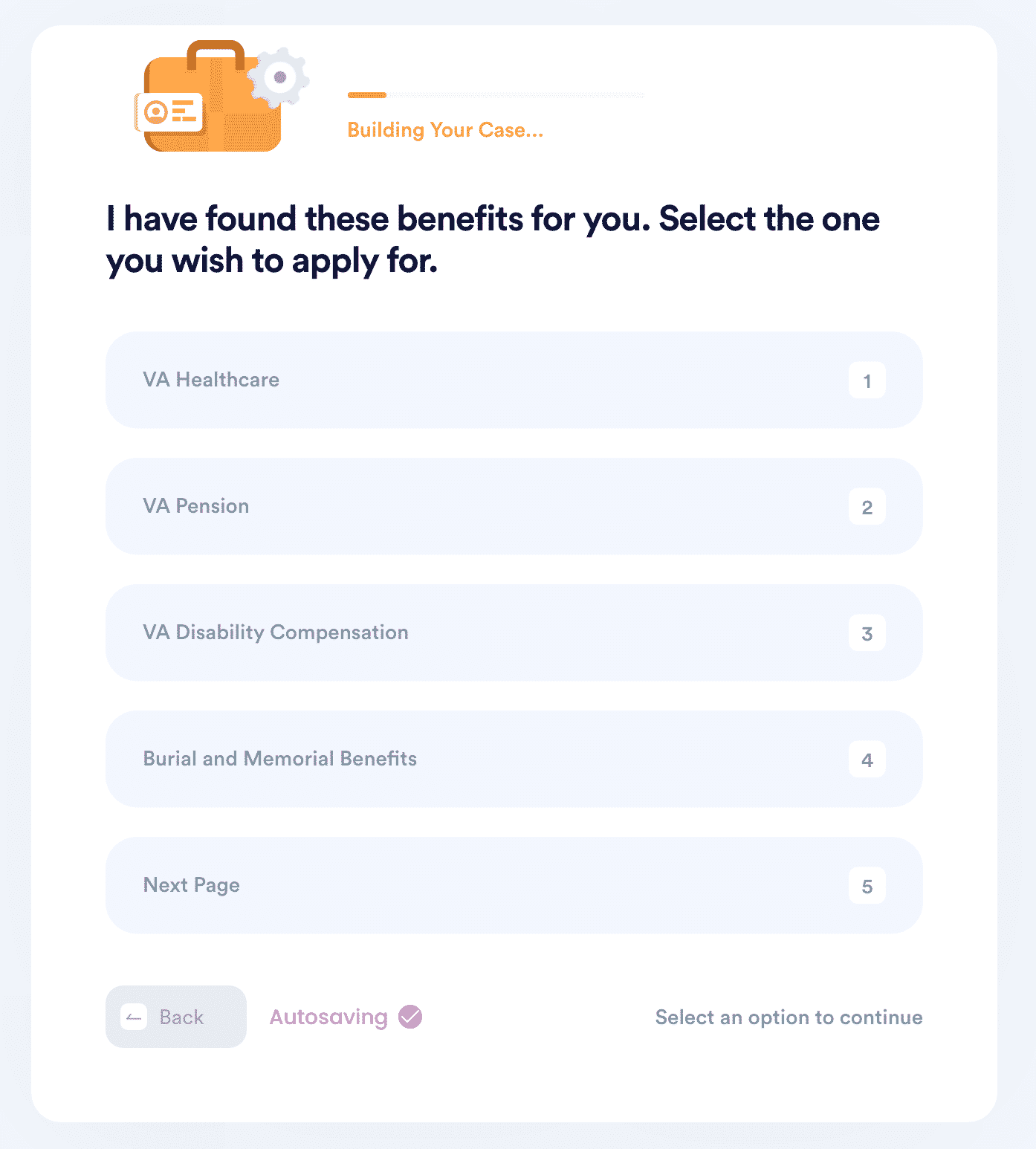 Why Use DoNotPay to Find Out About the Requirements for Veterans Benefits
There are several advantages to using DoNotPay to finding out about veterans benefits and your eligibility compared to doing it yourself, and they're the same benefits to using all of the products that we offer.
Fast: You don't have to spend hours trying to solve the issue and find the information yourself
Easy: You don't need to fill out long, tedious forms or track the progress of your requests on your own
Successful: We have tons of experience getting the information people need. You can be assured when you use DoNotPay to do something that you don't have the time to do yourself, we will get the results you want every time.
DoNotPay Works Across All States With the Click of a Button
As we said, veterans' benefits vary by state so you need to find out about the benefits available in your state, and DoNotPay can help with that. But what if you move or have friends or family seeking information about veterans' benefits in another state? We can help. If you do it yourself, you're restricted by how far you're willing to travel to get the information. We are available in all 50 states, making it as simple as clicking a button to find out about veterans' benefits anywhere in the United States.
What Else Can DoNotPay Do?
Helping you discover the requirements to receive veterans' benefits is just one of the many services that DoNotPay offers. Virtually any time you need to contact a business or a government entity, we can help you. Here is just a partial list of the services we offer:
Whatever you need us for, we're there for you. Contact DoNotPay today to find out how we can help you get the information you seek or take the action that you need.