What Are the Five Steps in Registering a Trademark? DoNotPay Has All the Answers
As a small business owner, an essential part of business is trademarking your brand to protect it from fraud and infringement.
What are the five steps in registering a trademark? DoNotPay has all the answers!
This guide explains in detail what trademarks are and how trademark registration works. If you want to skip the complicated process of registering your trademark yourself, to do it within minutes!
Trademarks in a Nutshell
A trademark is a text, mark, letter, phrase, or combination that identifies your brand and the types of goods that you offer. If you also offer services, you may need a service mark. A trademark allows you to stand out and gives you an edge over your competitors.
Getting a trademark does not necessarily mean that you own a specific word or phrase. It only prevents other business owners from using that same word in a similar context without your permission.
You can trademark almost anything. Some examples include:
Why Do You Need To Register a Trademark?
Trademark registration is fundamental because it:
Helps to build and increase the value of your brand
Protects your intellectual property from being stolen following the trademark protection laws
Prevents other business owners from taking advantage of your business for their benefit
Allows you to take legal action against fraud and infringement
Safeguards the earning potential of your brand
How To Register a Trademark With the USPTO in Five Steps
You need to follow these steps to file a trademark with the United States Patent and Trademark Office (USPTO):
Think of a trademark that identifies with the goods you are offering or that is unique
Search the USPTO trademark database
File your application with the USPTO
Pay the processing fee
Keep track of the application process
Come Up With a Creative Name, Logo, or Slogan for Your Brand
Creating a brand can be challenging because you want to make one that is distinctive. Avoid using generic names and slogans that can easily be copied or confused with other brands. Here are a few examples:
| Ideas for Creating Original Trademarks | Examples |
| --- | --- |
| Invent a word | FedEx, Kleenex |
| Use a word or phrase that is unrelated to your brand | Apple |
| Name your brand after a person | Cadbury, Ford |
| Abbreviate your brand name | KFC, BMW |
| Design a mark that is the first letter or an abbreviation of your brand | McDonald's logo |
| Create a mark that is unrelated to the name | Nike's logo |
Search the USPTO Trademark Database
Once you have decided on the name, logo, or slogan of your brand, you need to conduct a trademark search. This is carried out in the USPTO trademark database to confirm that the trademark you have chosen does not have any similarities with other brands selling similar products. Similarities can include:
Sound-alike names
Alternative spellings of the same name
Different formatting
Marks that look alike
This step is essential because if your trademark is similar to others, you risk your application being rejected.
File Your Application With the USPTO
You need to fill out the trademark application form to start your trademark registration process. The form contains the following information:
Your personal details
Information about your business
The trademark class of your business name, slogan, or logo
Your trademark symbol and description
Your signature
Make sure to review your application after filling it out to confirm that all the information you entered is correct. If you make any errors, the application can get delayed and even rejected.
Pay the Processing Fee
The trademark processing cost depends on how you initiate your application:
| Mode of Application | Cost |
| --- | --- |
| TEAS Plus | $250 |
| TEAS Standard | $350 |
Keep Track of the Application Process
You will get a serial number once USPTO receives your application. You can use this number to track your application status.
The USPTO will assign an examining attorney to review your application, which can take approximately six to eight months. If there are any errors, the attorney will contact you at the provided email address. They may even reject the application.
If the application progresses smoothly, the USPTO will approve your trademark.
Use DoNotPay To Register Your Trademark Without Breaking a Sweat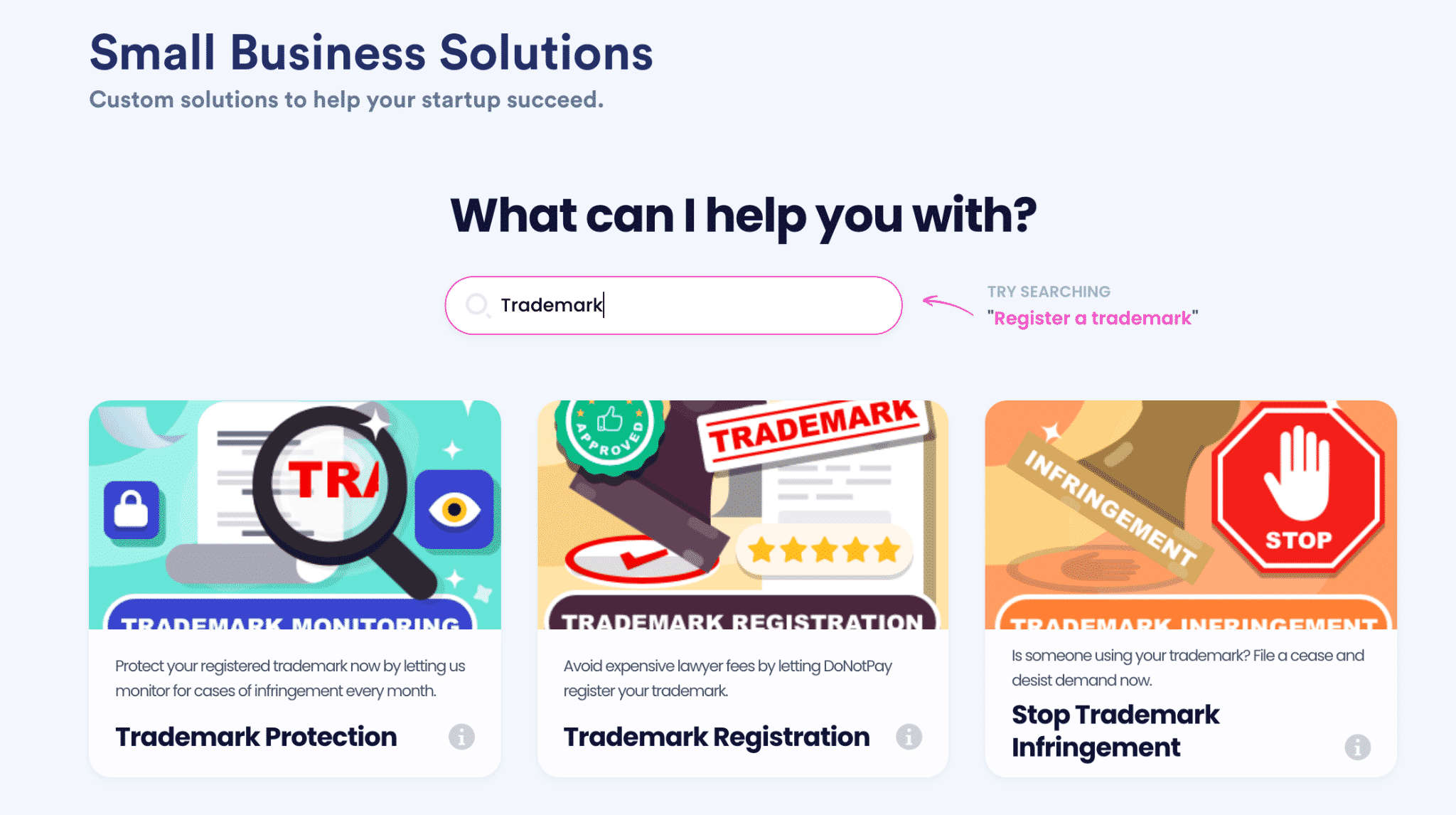 The trademark registration process can be quite complicated for a small business owner, so most people hire attorneys to do it on their behalf. Attorney fees can be expensive and can range from $200 to $2,000.
Are you looking for an option that won't break the bank? DoNotPay is the way to go. Our AI-powered app can help you with the following:
Performing a trademark search to confirm that your trademark is distinct
Providing information regarding the trademark requirements
Filling out the application form and sending it to the USPTO on your behalf
Here is what you need to do:
in your web browser
Search for the Trademark Registration product
Enter information about your trademark
Pay the USPTO processing fee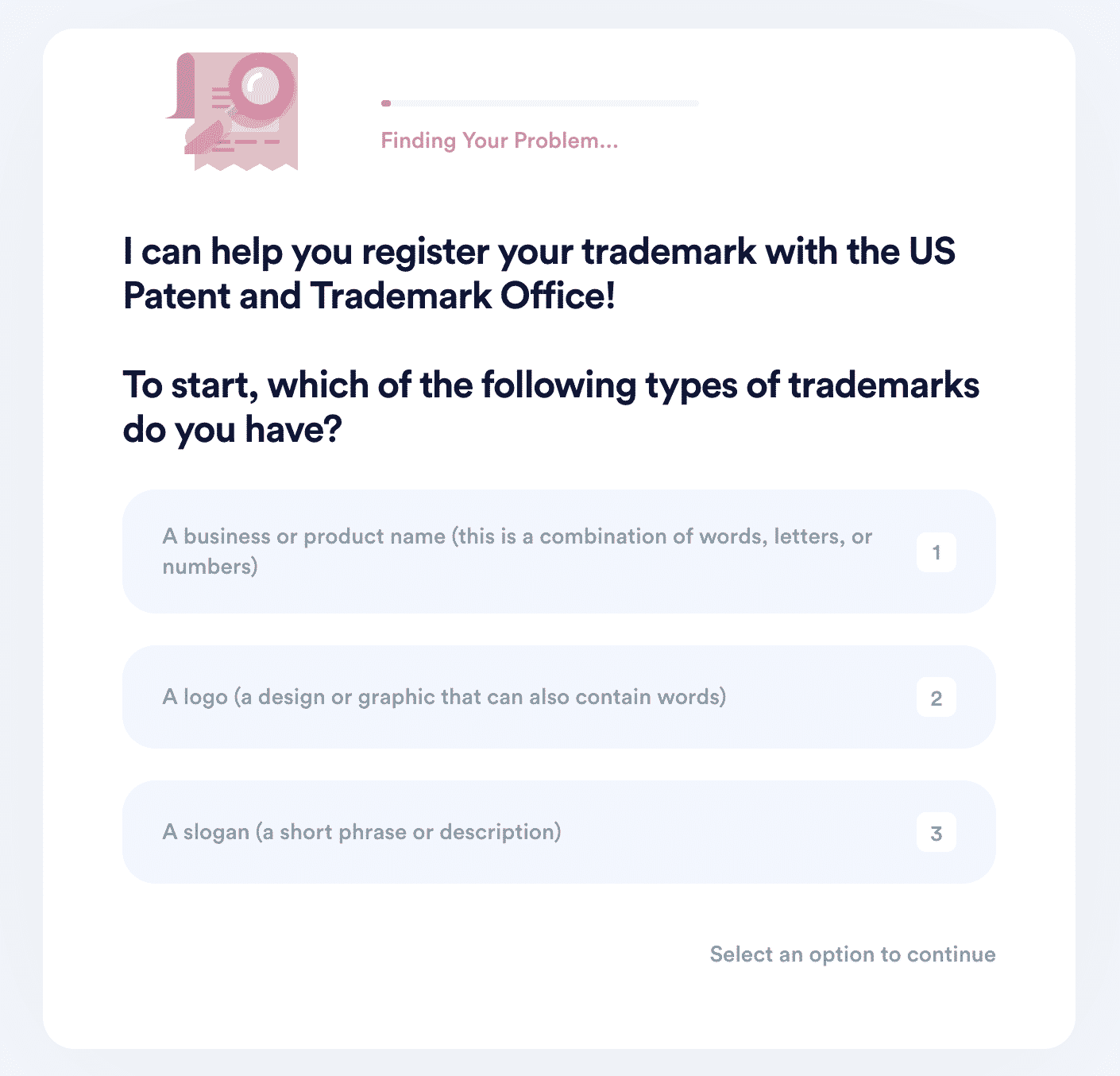 After submitting your application, we will email you the application tracking number so that you can check the application status.
For more information on trademarks, DoNotPay provides valuable answers to many questions, such as:
DoNotPay Has Everything You Need for Your Small Business
Navigating numerous business procedures can be overwhelming, especially if you don't have much experience. DoNotPay strives to make the situation easier for business owners, which is why we offer a number of simple-to-use products that can help you take care of various processes, including DMCA agent and Employer Identification Number registration, Privacy Shield program self-certification, and trademark registration and protection.
If you are not sure how to manage the filing of 83(b) election forms, DoNotPay has a solution that will automate the entire process and help you save time. Our app can even generate a convincing small business loan request letter for you. Don't feel like walking or driving to the post office to send the letter? Use DoNotPay to fax or mail any document in a matter of clicks!
DoNotPay Helps You Deal With Bad Clients
If you need help handling unpleasant situations with your clients, you can rely on DoNotPay. We have created various products to assist you in:
Making sure your business is free of negative, illegitimate online reviews—DoNotPay will analyze the review in question, estimate the best reason for reporting it, and report the review until it is deleted
Dealing with clients who breach the contract and refuse to pay—We will generate and send a demand letter requesting what's rightfully yours
Fighting unjustified chargebacks—Our app will create a personalized chargeback rebuttal document to help you keep your revenue
Resolve various business issues without wasting time or money—DoNotPay has got your back!