What Are Special Assessments on Property Tax
? Find Out With DoNotPay
The expenses of owning a property go way over what you initially thought when you bought it. Even when you pay the mortgage, you still have to pay property taxes for the rest of your life. And when you thought that was all, the special assessment taxes appeared. So, what's so special about special assessments?
This article will give you all the necessary information and an answer to the question—what are special assessments on property tax?
What Is a
Special Assessment Property Tax
?
A special assessment property tax is a tax surcharge—an expense added on top of regular property taxes that owners have to pay annually. The purpose of special assessments is to fund specific local improvements and infrastructure projects that benefit the neighborhood, such as:
Parks

Drains

Sidewalks

New roads

Pavements

Sewer lines

Street lights

Parking structures

Stormwater drains

Drinking water lines
The difference between property taxes and special assessments is that not all property owners in a municipality have to go through special assessments—only the ones living in a neighborhood that would benefit from the infrastructure projects. The neighborhood where the municipality is making public improvements is called the special assessment district.
How Do
Special Assessment Property Tax
es Work?
When you own a property, the local assessor's office must estimate its value once a year or less often, depending on your county's rules. By carrying out a property tax assessment, the assessor establishes the assessed value of your property that they later use to calculate your property tax amount.
A special assessment tax is not included in your property tax bill—it's an amount you have to pay on top of what you've already been paying.
The amount of money each property owner in the special assessment district has to pay is not calculated separately—it is usually based on the assessed value of the property itself.
Does Your Property Come With the Special Assessment Property Tax?
New property owners are often unaware of the special assessments on their properties. If you're buying a place or want to check if there's a special assessment tax on the property you own, you can search through the public records of your county's local assessor's office.
In case the records are not available or you cannot find the information about the special assessment tax on your property, you should request it from the governing authorities in charge of levying special assessments.
Are
Special Assessment Property Tax
es Deductible?
The federal government allows property owners to deduct the cost of property taxes on federal income tax returns. Does this apply to special assessment on your taxes? Not exactly. 
The Internal Revenue Service (IRS) states that property taxes are deductible in case they apply equally to every property in one jurisdiction. Special assessment taxes apply only to the special assessment districts, which makes them not tax-deductible in most cases.
Special assessments can be deductible if they are used as revenue to fund repairs or maintenance.
Tips on Lowering Your Property Taxes
Since special assessments are usually not tax-deductible, you may need help with paying your property taxes. Luckily, there are other ways to lower property taxes, including:
Refraining from renovations and improvements

—Any improvement of your property, such as building a shed, pool, or garage, increases its value. If you're considering a renovation or improvement, you should leave it until after the assessment

Following the tax assessor during the assessment

—The assessor will be less likely to make mistakes and overlook damage on your property if you're there to point it out

Examining your property tax bill

—You should always inspect your tax bill thoroughly for any irregularities and inconsistencies

Applying for a property tax exemption

—Every state offers property tax exemptions for its citizens, based on their age, disability, or other criteria

Filing a property tax appeal

—If the property tax assessment is not correct or seems unfair, you should consider filing an appeal
Dealing with property taxes is a demanding task. If you need help determining whether you are eligible for an exemption or appealing a property tax assessment, sign up for DoNotPay, and we will take care of the rest!
Appeal Your Property Tax Assessment Easily With DoNotPay
With the right assistance, dealing with property taxes can be as easy as ABC! DoNotPay developed a product that helps property owners lower their taxes with zero hassle.
Here is what you should do:
Open the

Property Tax

feature

Complete our questionnaire about your property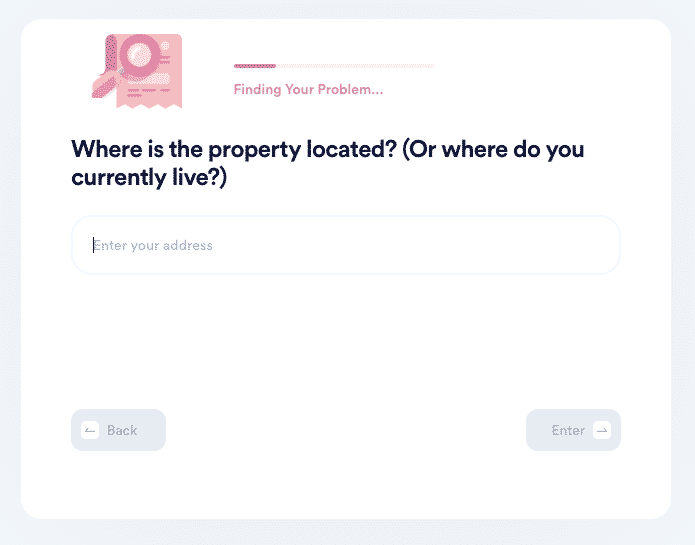 We will create a personalized guide for you with all the information you need to handle property taxes. Our handbooks include:
Appeal and assessment deadlines

Directions on negotiating with your tax assessor

Instructions on gathering evidence to reduce your property's value

A step-by-step guide on how to appeal your assessment

The list of property tax exemptions you qualify for and information on application procedures
What Are the Most Common Property Tax Exemptions?
Even if you live in one of the states with low property tax rates, paying property taxes can be financially demanding. Fortunately, every county allows eligible citizens to reduce their property taxes by applying for property tax exemptions.
You can find a brief overview of the most common exemptions in the table below:
| | |
| --- | --- |
| Property Tax Exemption | Who Is Eligible? |
| Homestead exemption | Property owners who are occupying it as their primary place of residence |
| Senior citizen exemption | Citizens who are 65 years or older and meet their state's income eligibility requirements |
| Veteran exemption | Veterans who were injured or disabled while serving in the U.S. Armed Forces |
| Disability exemption | Citizens who are partially or permanently disabled |
Your Online Safety Is Our Priority
The benefits of the internet are numerous, but so are the opportunities for scams of all kinds. DoNotPay can help you fight scammers left and right with easy-to-use features, highly customizable to match your needs. 
Our app can provide invaluable resources for fighting:
If you're an avid online shopper, we have your back. In case something goes wrong, we will help you contact customer service without holding, request a refund, or even sue the company in small claims court.
Diversity Is Our Middle Name
DoNotPay doesn't stop at online safety. Do you need to set up an appointment at the local DMV, but keep procrastinating because you know how awful the lines are? Are you a prospective college student trying to save on application fees? Have you lost track of all unnecessary subscriptions and memberships that keep draining your bank account?
If the answer is yes, DoNotPay is the right platform for you. Whether you're preparing for government-issued tests or looking for ways to lower your bills, our app will be of assistance.