A Guide to West Virginia Jury Duty
Trial by jury is an important part of the American justice system. You are entitled to a fair trial, and in return, you must serve as a juror from time to time.
Have you been called for West Virginia jury duty? Find out what it means to be a juror in this article. If you need assistance requesting time off from your job, you can use DoNotPay—we can help you draft a letter to secure your work leave.
West Virginia Jury Duty 101
Whether you're a first-time juror or it's been a few years since your last summons, you probably have a few questions:
How was I chosen for jury duty?
Is there a jury duty dress code?
How does juror selection work?
Does jury duty pay?
Jury Duty Summons
Jury duty works by assembling a team of impartial citizens to consider evidence against a person accused of a crime. The court summons prospective jurors in a random draw of West Virginia residents that meet the following criteria:
Is a United States citizen
Is older than 18
Can understand the English language (written and spoken)
Is capable of rendering satisfactory jury service
Retains the right to vote
Is a resident of the county in which the case will be tried
Is not convicted of an infamous offense (perjury, false swearing)
West Virginia jury duty lasts an average of one to three days. After serving on a jury, you will not be called again for at least two years.
Jury Duty Dress Code
Jurors must follow a business or business casual dress code. Do not wear the following to court:
Tank tops
Short dresses or skirts
Open-toed sandals
Jury Duty Selection
The first day of jury duty can be long because of jury selection. This is a process in which the defense and prosecution examine the prospective jurors with a series of questions. Jurors that have a potential bias against the court or either side of the trial are excused.
Jury Duty Compensation
West Virginia offers daily pay for jurors. The amount you receive depends on the level of court in which you serve:
| Court | Pay Per Day | Travel Reimbursement | Incidental Expense Reimbursement |
| --- | --- | --- | --- |
| County | $15 | $0.47 per mile | $0 |
| Federal | $50 | $0 | $40 |
West Virginia county juror compensation ranks low when compared to other states.
West Virginia Jury Duty Exemptions and Excusals
The following commonly cited vocations and conditions do not exempt you from West Virginia jury duty:
Military
Medical worker
Student
Elected official
Breastfeeding mother
Police
Firefighter
If you have a disability or are over seventy years of age, you may request excusal on your Juror Qualification Questionnaire. Those who skip jury duty without an exemption must pay a $1,000 fine.
Balancing West Virginia Jury Duty and Your Job
Begin preparing for jury duty by requesting your time off from work. It is illegal for your employer to fire you for jury duty-based absences. You can provide a copy of your summons for verification or contact the West Virginia Judiciary for additional proof if necessary.
Get Time Off Without Any Hassle—Use DoNotPay
Getting time off from work—even to do your civic duty—can be an awkward process. DoNotPay can take the stress out of getting your work leave. Our Request Jury Duty Leave product arranges your jury summons details into a professional letter to give to your employer.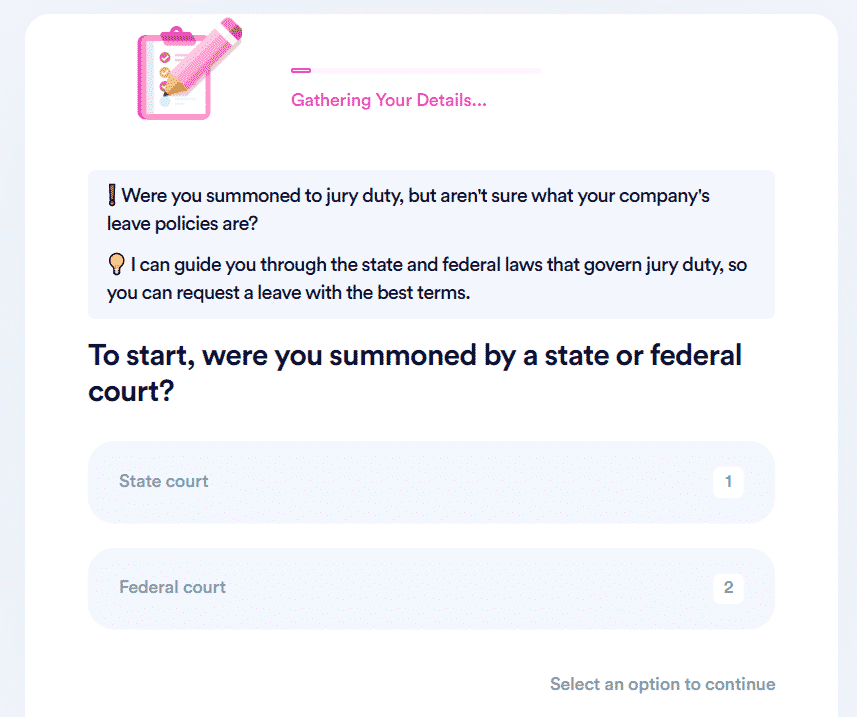 Here is what you need to do:
Navigate to the Request Jury Duty Leave product
Answer a few questions
Upload a photo of your jury summons
Once complete, you can decide whether to download a copy of the letter or let DoNotPay forward it to your manager directly.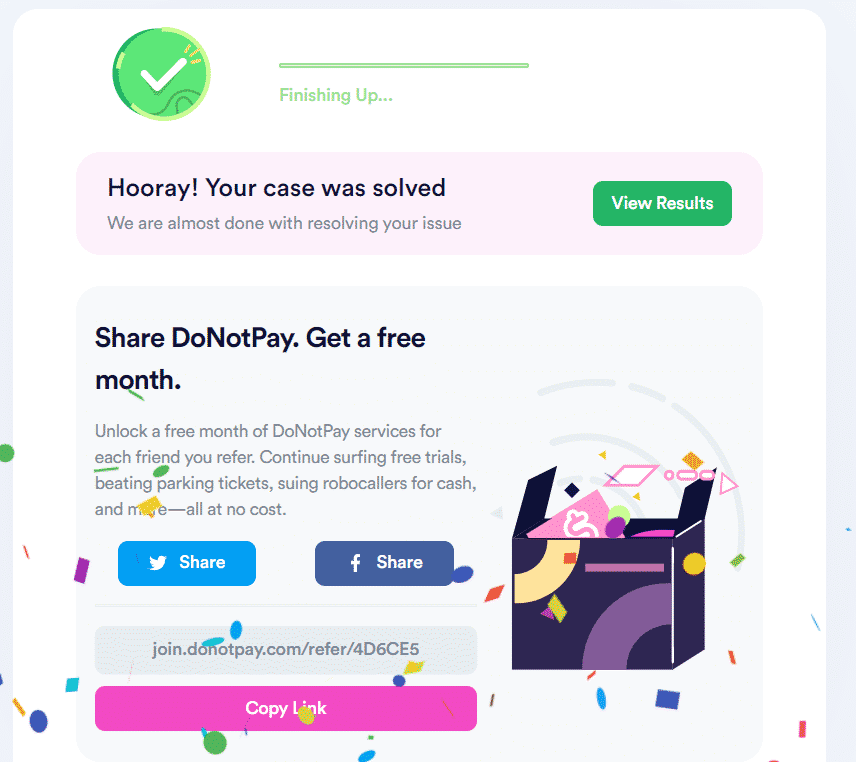 Put Greedy Companies in Their Place
If being on hold with customer service and requesting refunds and cancellations is your idea of the worst nightmare, we come to the rescue!
When you create a DoNotPay account, you'll be able to do the following with ease:
If worse comes to worst, we can guide you through suing any company in small claims court.
Use DoNotPay To Resolve Numerous Issues
The number of products we offer keeps growing. From simple chores to bureaucratic tasks and serious issues, there's not much DoNotPay won't be able to handle in a few clicks.
Would you like to search for unclaimed money you may not know about? Are you trying to save your work from copyright violations? Do you want to contact government representatives? Once you have a DoNotPay account, you will get everything done in a flash.
Even if you are a victim of stalking or harassment, violent crimes, or workplace discrimination, we can help you out! DoNotPay can also perform a sex offender search in your area and give you weekly updates.
If robocalls and spam are what's bothering you, our app will free you from such annoyances for good. Whether the spam is coming via email or text, we'll know what to do.