West Texas Victims Fund From A to Z
Victims of violent crimes usually feel helpless because they don't know what to do or who to turn to after the crime. That's why all states—including Texas—have funds dedicated to violent crime victims to provide assistance and victims compensation through various programs.
West Texas victims fund provides financial assistance to the Regional Victim Crisis Center (RVCC). If you were a victim of a crime in one of the cities in West Texas, you can contact the Center to get help, valuable info, and all the resources you need to deal with the crime-related challenges.
If you need help bearing all crime-related expenses, this guide will provide the quickest way to in Texas!
Regional Victim Crisis Center in West Texas Explained
The Regional Victim Crisis Center (RVCC) is a non-profit corporation that assists victims of violent crimes that took place in Abilene and other regions in West Texas. All services that the RVCC offers are free and confidential. The Center's staff consists of certified and highly-trained volunteer counselors, victim advocates, social workers, and prevention and education specialists.
The RVCC receives funding from:
State and local government

Foundation grants

Private donations

Corporate contributions
The two main goals of the RVCC are:
Preventing violence through various programs

Assisting victims and their family members after a violent crime, such as:
Victim Prevention
The Center educates students through various programs:
Program

Description

We Help Ourselves (WHO)

The program focuses on prevention of:

Child abuse

Bully behavior

Child sexual abuse

WHO assists teens and children in handling various potentially dangerous situations and provides crucial info on community resources

Promoting Alternative Thinking (PATH)

PATH discusses bully behavior and conflict management during lunch hour in elementary schools

Violence Prevention 6th–8th grades

This program covers the following topics:

Verbal, physical, and psychological abuse

Peer pressure

Self-care

Physical fighting

Stranger harassment

Running away

Sexual abuse

PEACE 9th–12th grades

Through the PEACE program, the RVCC attempts to decrease school violence
The RVCC also administers various crime prevention programs and sexual assault awareness seminars to various groups and organizations, including social workers, law enforcement officers, and similar.
Victim Services
The Regional Victim Crisis Center provides the following services to victims of violent crimes:
24-hour crisis line (325-677-7895)

Walk-in assistance

Crisis intervention for victims of sexual assault

Advocacy:

Providing info regarding victims' rights

Communicating with medical personnel, law enforcement authorities, and other agencies and organizations on victims' behalf

Accompaniment to courts, hospitals, prosecutors' offices, and law enforcement offices

Counseling with licensed professionals

Support during the criminal justice process

Referral to important community resources

Help with applying for the Texas Crime Victims Compensation Program
What Is the Crime Victims Compensation Program in Texas?
One of the crucial aspects of victims assistance is compensation for costs incurred due to injuries suffered in a violent crime. Crime Victims Compensation (CVC) Program in Texas covers all sorts of crime-related expenses that most victims and their family members can't meet.
You can apply for crime victims compensation if you are:
A victim of assault, sexual abuse,

domestic violence

, or any other violent crime that happened in Texas

A first responder who got injured during the crime

An individual who's authorized to act on behalf of a minor, deceased, or incapacitated victim

A dependent of a deceased victim

An immediate family member

A person who's legally responsible for paying crime-related expenses of a victim
The State of Texas offers another victims assistance program—Emergency Medical Care Compensation for Sexual Assault Exam. This program covers the expenses of the forensic exam for sexually abused victims.
Which Costs Does the Texas CVC Program Cover?
The highest compensable amount that the CVC Program in Texas offers is $50,000 per claim for the following costs:
Medical and dental care

Loss of income and support

Expenses for child and dependent care

Funeral costs

Crime scene cleanup

Travel

Replacement of property kept as evidence

Counseling

Attorney fees
The program doesn't cover:
Pain and suffering

Emotional distress

Lost, stolen, or damaged property

Costs already covered by another collateral source, such as Medicaid, insurance, restitution,

workers' compensation

, and similar
Texas Crime Victims Compensation Program—Eligibility Requirements
To meet all eligibility requirements and qualify for crime victims compensation, you have to:
File a police report

Cooperate with law enforcement

Apply for the program no later than three years after the crime
You won't get reimbursement if you participated in the crime, committed an illegal activity that caused your injuries, or were incarcerated at the time of the crime.
File for Victims Compensation in Texas in Four Easy Steps With DoNotPay
While the Regional Victim Crisis Center can help you apply for the CVC Program in Texas, the entire process is usually time-consuming. To file your application the easy way, you should rely on DoNotPay.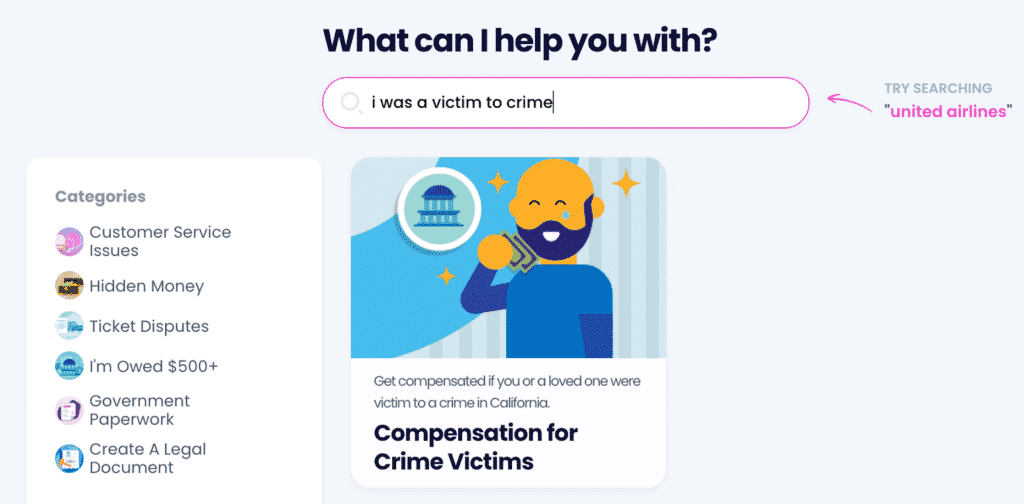 With us, you can apply for the program in a matter of minutes by following these steps:
Open our

Compensation for Crime Victims

feature

Tell us whether you're the victim or another claimant

Respond to our questions and verify your signature
We will take care of your application by completing the forms and sending them to the right office in Texas. DoNotPay also provides valuable info regarding numerous compensation funds, including the 9/11 Victims Compensation Fund and the emergency funds for domestic violence victims.
Use our app to apply for crime victims compensation programs in any state, including:
Clear Your Schedule With the Help of DoNotPay
DoNotPay is renowned for making our users' lives infinitely easier. Not only can we root out unwanted subscriptions for you—you don't need to do it manually one by one any longer—but we can unsubscribe you from unwanted email and snail mail lists.
Fire up our app and let it navigate the phone tree instead of you or use it to make a DMV appointment at your earliest convenience. Forget about googling clinical trials near you—DoNotPay can sort them out according to your needs and their individual eligibility criteria.
We can fill out the paperwork that you need to file at your local small claims court to initiate a dispute. You can work around the U.S. penal system and have DoNotPay locate an imprisoned loved one instead of you trying to reach individual prisons attempting to do it yourself.
You don't need to go to great lengths to get in touch with a counselor to sign your college fee waiver either—DoNotPay does it for you and then forwards the necessary documents on your behalf.
DoNotPay Never Ceases To Amaze
Where there's one useful feature, there are nifty features galore!
Use our Virtual Credit Card to sign up for free trials and stop robocalls and spam text messages from reaching your phone. If you feel a free trial unrightfully turned into an expensive paid membership, we can help you request a refund or chargeback for the inconvenience.
We can further assist you in exercising your consumer rights by making a warranty claim in your place and verifying your online accounts with temporary phone numbers.
We can also break down the Freedom of Information Act for you and introduce you to online fax options and property tax reductions.