All About the
West Michigan Regional Purchase Agreement
Buying or selling a piece of property in West Michigan cannot happen without signing a purchase agreement. Your options are to hire a lawyer, draft the agreement yourself, or download a purchase agreement template.
If you want to know more about drawing up a West Michigan regional purchase agreement, DoNotPay has the answers. We will also show you how to create other legal documents with a few simple clicks!
The West Michigan Regional Purchase Agreement in a Nutshell
A purchase agreement in West Michigan is commonly used for selling and buying real estate. It outlines the details of the transaction and obligations that both the buyer and the seller have to fulfill.
The process of buying real estate in Michigan typically starts with the buyer using the purchase agreement to submit their offer to the seller. The seller then reviews the offer and decides if they want to accept it, decline it, or present a counteroffer. After negotiating the terms like the price of the property and the ownership transfer date, the involved parties should sign the agreement to confirm their legal obligations. 
Terms and Conditions of the West Michigan Regional Purchase Agreement
A purchase agreement needs to include specific paragraphs. The lack of certain legal stipulations can create problems with the transaction. The table below gives you a detailed description of crucial West Michigan purchase agreement terms:
West Michigan Regional Purchase Agreement Sections

Details

Information on the parties and the property

Name and addresses of the seller and the buyer

Address and a clear description of the property

Price and terms

Offered price accepted by the seller

Payment methods, including:

Using an existing mortgage

Paying in full with cash

Issuing a down payment with cash and a new mortgage

Earnest money requirements

Closing date and costs

Date of closing the sale

Clause stating that any changes in closing must be in writing

Closing costs for the seller and the buyer

Real estate taxes

Manner of prorating tax payments and other costs, including:

Fuel

Maintenance fees

Homeowners association fees

Items to be included or excluded from the sale

Structures and fixtures attached to them, including:

Light and bathroom fixtures

Heating and cooling systems

Doors

Windows

Built-in kitchen appliances

Disclosures

Lead-based paint disclosure

Seller's property disclosure statement

Contingencies

Home inspection

Property appraisal

Financing contingency

Title

Offer expiration

Exact offer expiration date

Signatures

Signatures of all involved parties
How To Create the West Michigan Regional Purchase Agreement
Some of the ways you can use to draft your contract are: 
Hiring an attorney

Writing a document from scratch

Using an online

contract template
Regardless of the method you choose, you should know what you are getting yourself into.
Draft the Agreement With a Lawyer's Help
If you decide to hire an attorney, you will get a professionally drafted purchase agreement that includes all necessary sections. Bear in mind that lawyers charge heavily for their services. 
Drafting the Document Yourself
You can try creating the purchase agreement yourself. You don't have to worry about using legal terms in your contract—any document written in simple English language is acceptable in court. If you choose this method, you must include the sections we presented above and add any other paragraph you deem necessary. 
Downloading an Online Template
You can access various free online purchase agreement templates by typing in the necessary keyword in the search engine. The problem with online templates is that they outline general terms, so finding one that fits your requirements perfectly is almost impossible. The best solution is to look for one closest to your needs and customize it by adding and removing sections.
Use DoNotPay To Create Legal Documents Effortlessly
If you are buying or selling a property in West Michigan, you will likely need a bill of sale or an intent to buy real estate. DoNotPay can help with that! We generate legal documents that can easily measure up to those drafted by legal professionals. 
Our contacts:
Are tailored to fit specific needs

Comply with state laws

Contain all necessary terms
Take a look at all some of the contracts and agreements we can create in your stead:
Child Care Authorization Form

Quitclaim Deed

Bill of Sale

Intent To Purchase Real Estate

General Business Contract

Promissory Note

General Affidavit
How To Create a Contract With DoNotPay
You will get a personalized contract promptly if you take the following steps:
Log in to DoNotPay

in your web browser

Type in the name of your desired document in the search box

Answer a few of our chatbot's questions to help us personalize your document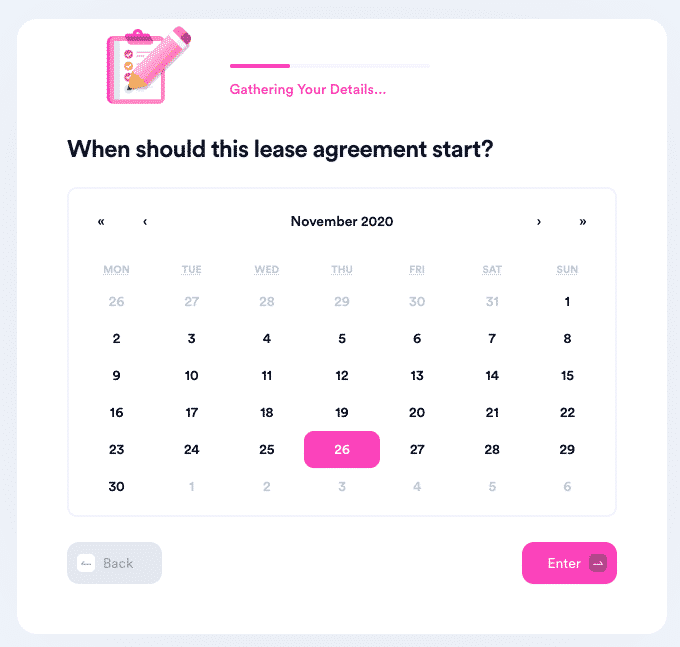 After receiving the agreement, you can use our app to get it notarized and faxed to the recipient. You can do it for the same monthly subscription price!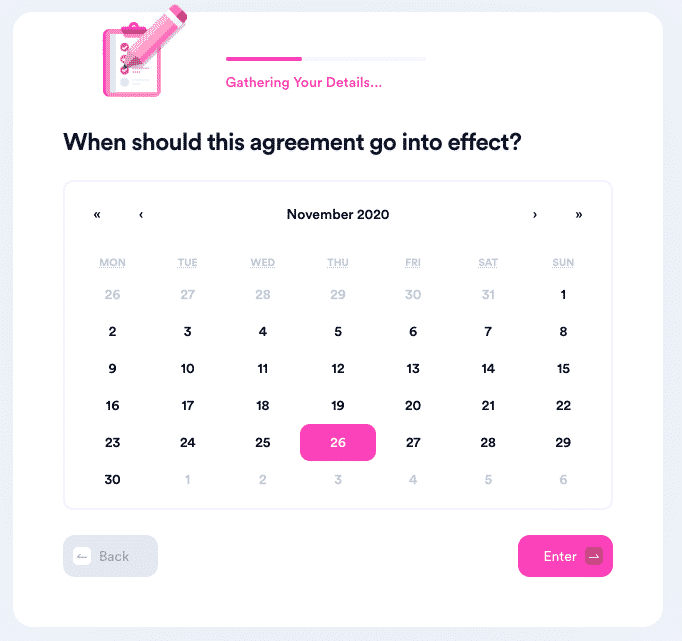 Let DoNoPay Help You With Your Paperwork
Why waste time on bureaucracy if you can rely on DoNotPay to handle pesky tasks for you? Cancel all your subscriptions at once, find unclaimed funds in a matter of minutes, appeal parking tickets hassle-free, and discover the best way to get your documents notarized remotely. 
In case you need help paying bills or you want to earn some money by participating in paid clinical trials, DoNotPay is here to help you out! 
Fighting workplace discrimination is of utmost importance, but the entire procedure seems rather complicated. The same goes for the crime victims compensation application in most states. DoNotPay is here to change that. We will help you file a report, request compensation, and create numerous other documents, including demand letters for neighbor complaints.
Keep Your Online Safety in Check!
While internet safety should be one of your top priorities, staying anonymous while surfing the web is almost impossible. If you want to avoid giving out your number when registering for services, you should try out our Burner Phone product. 
DoNotPay can also protect your credit card info, name, and email address, all through our handy virtual credit card. Sign up for free trials without worrying about unexpected charges.
With our app, you will learn how to deal with stalkers and harassers and how to access public records the easy way. 
DoNotPay offers many other useful products that can help you prepare for government tests, have your college fees waived, and manage any annoying issue in minutes!