How Does a Wells Fargo Small Business Loan Work? DoNotPay Has All the Answers
Wells Fargo is well-known for its favorable small business loan policies. If you intend to apply for a loan there, you need to prepare beforehand. What are the requirements for Wells Fargo small business loans? How many types of loans do they offer? We have answers to all your burning questions!
DoNotPay provides a comprehensive guide to everything you should know about Wells Fargo small business loans. If you need to apply for one, subscribe to DoNotPay and draft a formal loan request letter within minutes!
What Is a Small Business Loan, and How Does It Work?
Small business loans are financing solutions offered to small and medium-scale businesses by various banks and online lenders. Business owners can use these funds to cover expenses, including:
Daily operating costs
Equipment replacement
Equipment purchase
Real estate purchase
Start of a new business
Expansion of an existing business
Wells Fargo Small Business Loans Explained
Wells Fargo is a financial service organization that provides banking, mortgage, and investment services to its customers. It offers various loan opportunities to small business owners based on their budget, such as:
Business credit cards
Business Lines of Credit
In a business line of credit, you get to decide how much money you want to use from the credit limit offered to you. Wells Fargo offers anywhere between $10,000 and $100,000 revolving line of credit.
Here are some other notable features:
No annual fee for the first year
No collateral required

Low-interest rates

Enrollment in a free rewards program
No foreign transaction fees
SBA Loans
These are government-backed loans issued to borrowers through an intermediary, usually a bank or traditional lender. Wells Fargo offers the following types of SBA loans:
| Type of SBA Loan | Description |
| --- | --- |
| SBA 7(a) | A long-term loan for companies looking to acquire a new business, expand their own, purchase real estate, or buy new equipment. The loan amount is up to $5,000,000 with fixed or variable interest rates |
| SBA 504 | A long-term loan for land or building acquisition or equipment purchase. Wells Fargo pays up to $6,500,000, while the Certified Development Company provides $5,000,000 |
Term Loans
When you take out a term loan, you borrow a lump sum amount of money from a lender and pay it back in regular monthly installments. Term loans at Wells Fargo are one to five-year loans with an 8.25% fixed interest rate. You can borrow amounts ranging from $10,000 to $100,000 to fund business expenses, working capital, or emergency expenses.
Equipment Loans
These loans are provided to business owners to help them purchase or replace equipment. You can borrow funds ranging from $10,000 to $100,000 for equipment purchase or replacement, with a repayment period of two to six years.
Real Estate Loans
You can opt for a real estate loan if you want to buy commercial property, such as warehouses, office space, and similar. Wells Fargo offers between $50,000 and $750,000, depending on your requirements. The maximum loan that Wells Fargo offers on any property is 80% of the property's original cost.
Business Credit Cards
Business credit cards work like normal credit cards, allowing you to spend money until you reach a certain credit limit. You can secure the following types of business credit cards from Wells Fargo:
Platinum credit card—You earn 1 point for every dollar you spend and receive 1,000 bonus points every billing cycle if you spend $1,000. There is no annual or foreign transaction fee. The interest rate is only applicable on the funds you spend, not on the entire credit limit
Secured business card—This card comes with a $500 to $25,000 limit, and you do not have to pay any annual or foreign transaction fee. Secured business cards are great for covering startup costs, especially for startup businesses with an insufficient credit history
Business elite signature card—This card is suitable for businesses with annual sales of over $1 million. You don't have to pay annual fees for the first year but will need to pay $125 for every following year
How To Apply for a Small Business Loan at Wells Fargo
To qualify for a business loan at Wells Fargo, you need to have a credit score of 620 and be in business for at least two years. You can follow these instructions to apply for a loan at Wells Fargo:
Decide what type of loan is most suitable for your business
Get familiar with the requirements
Gather all required personal and business documentation, such as your credit ratings, bank statements, and tax returns
Write a formal loan request letter
Negotiate the terms and conditions of the loan
DoNotPay Can Assist You in Your Wells Fargo Small Business Loan Application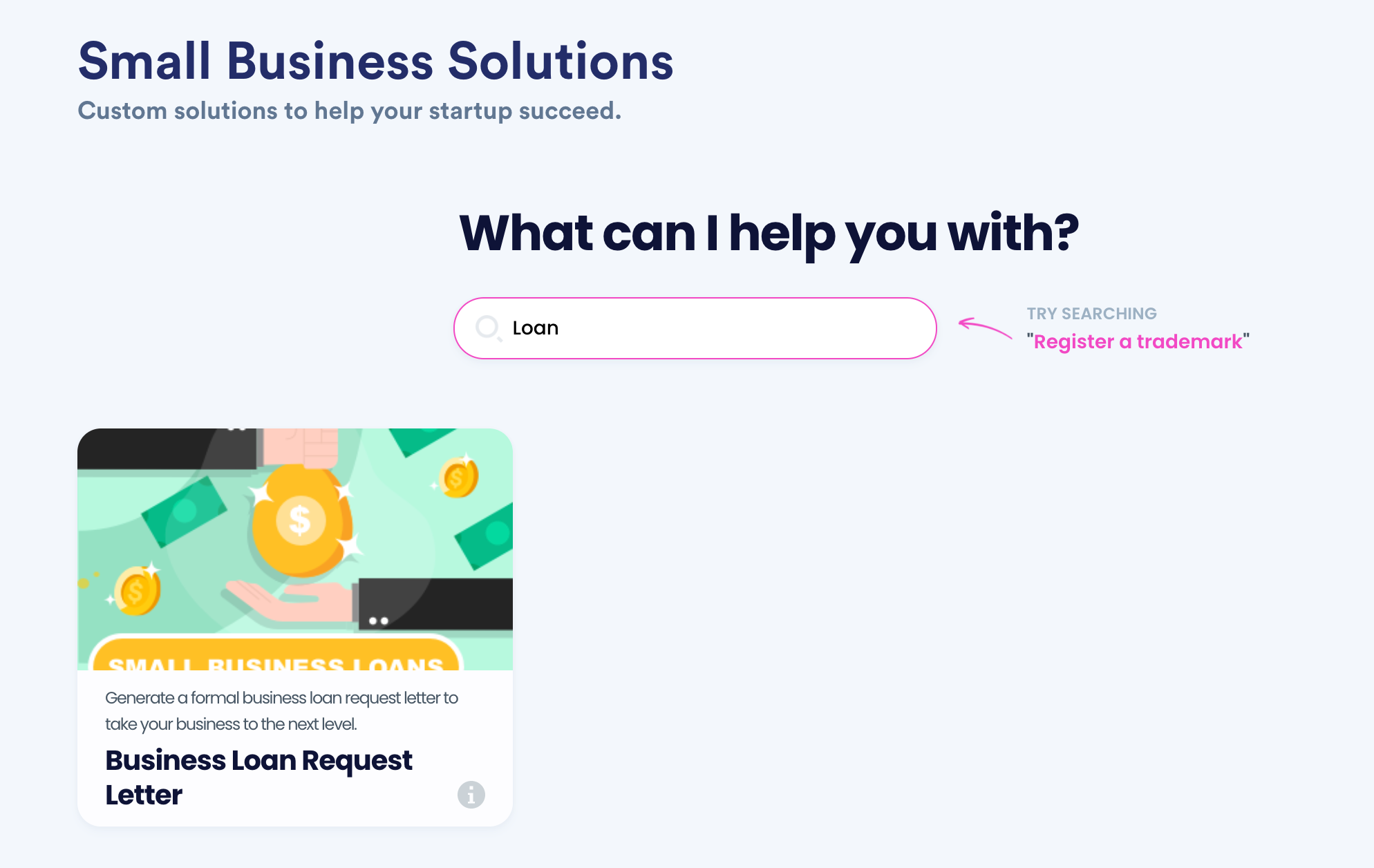 Applying for a loan at Wells Fargo might seem challenging, but DoNotPay is here to make the process easier! We can help you draft an error-free loan request letter quickly. Here is what you need to do:
Type Loan Request Letter in the search bar
Provide details about your company and tell us the purpose of the loan
Upload all necessary financial documents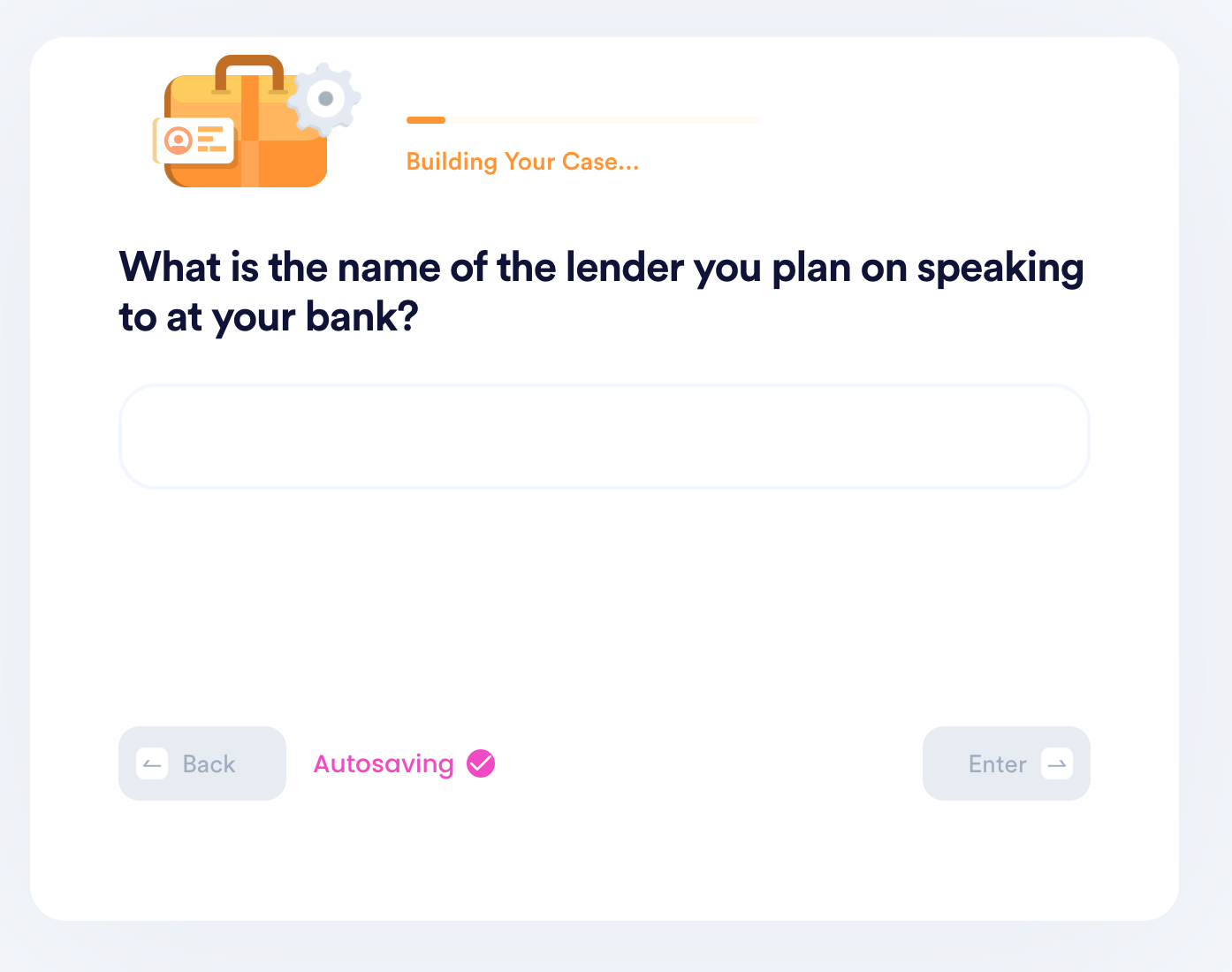 We will generate a personalized loan request letter and send it to the Wells Fargo loan department.
If you are looking for banks that offer the best loan terms and conditions, our learning center has helpful guides on loans offered by:
In case you want to find a perfect online lender, our integrated Find Online Business Loan Lender is here to help you out. Provide us with some relevant info and we will return a list of the top lenders perfect for you!
DoNotPay Helps You Do Everything by the Book!
Are you confused by the numerous business-related laws and procedures? If you cannot seem to get the hang of all of the processes, you should rely on DoNotPay. Allow your robot lawyer to help you take care of Employer Identification Number (EIN) and DMCA agent registration in a matter of minutes!
Once you handle those tasks, you should consider using DoNotPay to register your business slogan, name, or logo as a trademark and protect your brand by allowing us to check for trademark violations regularly.
Not sure how to handle 83(b) election forms? Automate the entire process and have your employees fill out and submit the forms in a few clicks! We can even help you protect the privacy of your clients by filing a self-certification request with the Privacy Shield program on your behalf so your website complies with data protection requirements.
Running a Business Is Smooth Sailing With DoNotPay
DoNotPay has a solution for any business issue. We can help you:
Draw up a professional and convincing small business loan request letter and get the necessary funds for your business
Report unjustified negative reviews that could damage your brand until they are taken down
Request payment from clients who break the contract
Dispute chargeback requests when they are unfair
Send letters or paperwork without going to the post office