Done With the Married Life? Learn How To Get a Weld County Divorce Fast
The divorce process is governed by state laws, which means that each state has its own rules and requirements for terminating a marriage. These regulations become even more specific in each county.
DoNotPay has the info you'll need when filing for a Weld County divorce. We can help you terminate your marriage in an amicable way by generating a divorce settlement agreement for you!
What You Should Know About Getting a Divorce in Weld County
To be able to get a dissolution of marriage in the Centennial State, you need to meet the residency requirement—that you or your spouse have lived in Colorado for at least 90 days prior to filing for divorce.
If you reside in Weld County, you will need to look for specific information for getting a divorce in that county. You also need to file your divorce papers in this county and attend a hearing there, if necessary.
What Kind of Divorce Can You Get in Weld County?
Depending on how well you and your spouses agree on relevant divorce matters, such as debt and property division, alimony, and child custody, you can have:
A contested divorce—when you can't reach an agreement on almost any aspect of your divorce
An uncontested divorce—when you and your spouse are on the same page and wish to end the marriage in a friendly way
An uncontested divorce is a low-cost option that will save you time. It will also be a lot less stressful since the procedure is simpler compared to the one for a contested divorce.
How Does an Uncontested Divorce Process Work in Weld County?
An uncontested divorce in Colorado, also known as a decree upon affidavit, allows the court to grant you a divorce after you submit an affidavit. You won't even need to show up in court for a hearing. To get an uncontested divorce in Weld County, follow the steps listed in the table below:
Steps
Explanation
Collect and complete the necessary forms
You can find the exact Colorado divorce forms you need on the Colorado Judicial Branch website. The forms will vary a bit, depending on whether you have children or not
Make copies of the forms
You need to keep a copy of the papers for yourself and have additional ones for your spouse and the court
Create a divorce settlement agreement
This legal document will clearly state how you and your spouse decide to handle the important divorce matters. DoNotPay can help you draw up a divorce settlement agreement!
Serve the divorce papers
Whether you will need to serve the divorce papers to your spouse depends on:

Whether you are filing the affidavit for decree as co-petitioners—in this case, you do not have to serve a copy of the affidavit to your spouse
Whether you are filing the petition on your own—you will need to ask your county sheriff to serve your spouse
Weld County is one of the few counties in Colorado where an online divorce is an option. You can file your forms online as well on the Colorado Courts official website.
Let DoNotPay Generate a Divorce Settlement Agreement for You
If you want to ensure that all your interests are protected when creating a divorce settlement agreement, you should turn to DoNotPay for help. Our app will make sure you get an airtight legal document tailored to your needs. You only need to follow these steps:
Click on our Divorce Settlement Agreement product
Provide required info about your spouse and finances
Choose to have your document notarized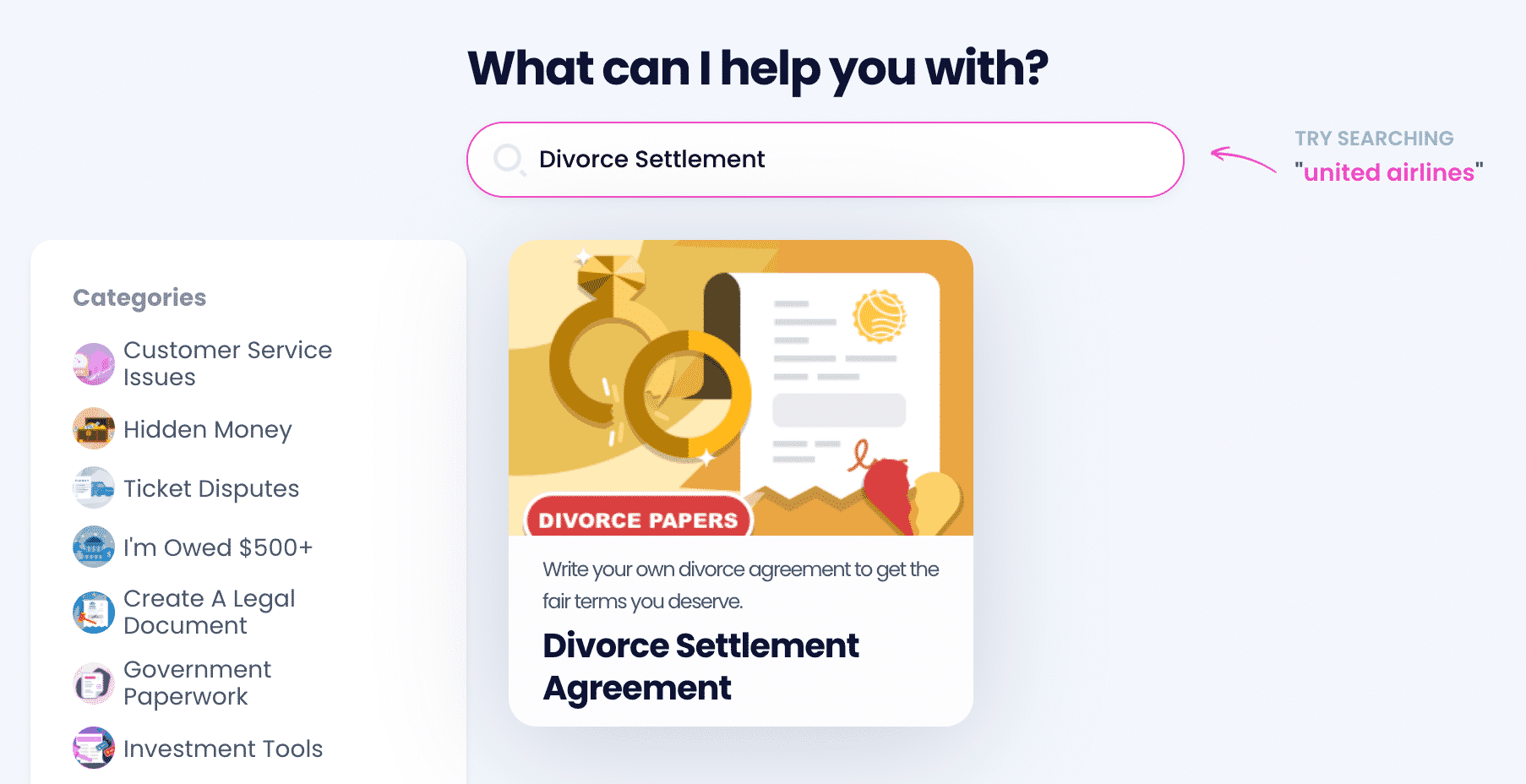 What Is the Cost of an Uncontested Divorce in Weld County?
If you are having an uncontested divorce in Weld County, you will need to pay a filing fee, which is $230. That is the main expense of the divorce, but you may have additional costs, including service fees and attorney fees (if you hire a lawyer).
How Long Does an Uncontested Divorce Take in Weld County?
From the day you file the initial petition for divorce in Colorado, it will take the court a minimum of 91 days to grant you divorce.
Got More Questions About Divorce? DoNotPay Is Here To Help
In case you are looking for more information about the divorce process in the U.S., you can count on DoNotPay to be your source. We can answer questions like:
Work Smarter, Not Harder!
Although there are certain tasks that are a pain but can't be avoided, such as paying your property taxes, you don't have to do them the hard way. There is always a way to make the overbearing bureaucratic procedures a bit easier. DoNotPay can find a loophole and help you cut through the red tape!
Reducing your property taxes is only one in the sea of tasks our app will make super easy to do! You can also use DoNotPay to:
Explore DoNotPay's Other Neat Features
DoNotPay offers a plethora of useful products to make your day-to-day life easier and enjoyable! Consult the list below to see what you can do using our app: