Don't Let the Guests Overstay Their Welcome! Write a
Weekly Rental Agreement!
Leases and rental agreements come in different forms and types made to satisfy everyone's needs. DoNotPay can tell you everything about a weekly rental agreement and assist you in generating other types of legal documents.
Info You Need To Know About a
Weekly Rental Agreement
A weekly rental agreement is a short-term rental agreement made between a landlord and a tenant. What makes this contract different is obviously its duration. This is why you shouldn't confuse it with a:
 Lease agreement

—usually lasts for a year

 Classic rental agreement

—lasts for a month
This contract lasts for seven days, but it can keep being renewed for as long as both parties see fit. A weekly rental agreement is the best option for people who don't want to commit to renting a property or have plans of changing their premises often. It is also common for vacation rentals.
Because of the agreement's short duration and its usage, tenants are often referred to as guests.
When Should You Consider Making a Weekly Rental Agreement?
A weekly rental agreement is especially convenient for certain situations that don't require a long-term commitment. You can make this contract in the following circumstances:
When leasing property to friends

—Sometimes it is necessary to set up some ground rules, even for people you know well and care about

If you are hosting an event

—A weekly rental agreement can be perfect for guest staying in a lodging while an event takes place

When using booking sites

—Using a weekly agreement when staying in a place for a short amount of time will allow both parties to have peace of mind
The above-mentioned examples are the most common reasons to use a weekly agreement, but you can create one for any other suitable situation.
The Details You Need To Include in a
Weekly Rental Agreement
When you decide to make a weekly rental agreement, you need to follow the same rules as when creating another rental contract. To ensure you write a rental agreement that protects everyone's interests, include this information:
Details about the property being rented—address, number of rooms, carrying capacity

Parties' personal information—names, email addresses, and phone numbers

Payment details—rent, utilities, and security deposit

Property rules—pet policy, parking situation, and noise control

Agreement terms—possibility of extending the agreement and start and end date
All the parties will also have to sign the document for it to become official; otherwise, it is as enforceable as a verbal agreement. You can find numerous contract templates online that can help you grasp the idea of what the agreement should look like. If you prefer to have someone else deal with the entire procedure on your behalf, you should use DoNotPay!
What if Someone Breaks the Agreement?
Ending a weekly rental agreement is not as problematic as breaching any other long-term agreement. These situations rarely occur, and even if they do, you should be fine if you have a well-written contract. 
The most important part concerns the rent payment. If the tenant leaves the agreement early, they will still need to pay for the amount of time they originally committed to staying. Make sure to highlight this rule in your contract.
DoNotPay Is the Tool That Can Help You Generate an Agreement Easily
If you don't feel confident about writing a legally binding contract on your own, you probably shouldn't risk it. Hiring a lawyer is not the best option either, especially if you lack funds to pay for their service. 
The good news is that DoNotPay is here to help you tackle this task in a matter of minutes. To get an agreement of your choice, you only have to open our app in a web browser and follow these instructions:
Type in the name of the document you need

Provide us with some personal information that can help us create the perfect contract for your needs
Certain documents need a notary's approval to become official, so make sure you get their signature if needed.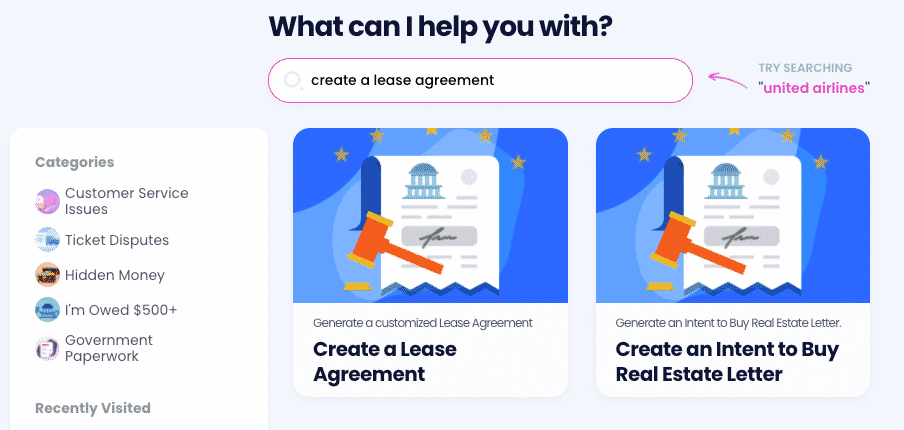 Drawing Legal Documents Is No Problem for DoNotPay
DoNotPay can help you make numerous documents that will protect your interests in different situations. Check out the table below for more details:
Agreements
Other Document Types

Quitclaim Deed

Estoppel Certificate

Intent To Purchase Real Estate

Promissory Note

General Affidavit
If you'd like to gather more information about real estate documents, you can find everything about the property management agreement, buyer representation agreement, mobile home lot rental agreement, and living with parents tenancy agreement.
We can also tell you how to write a contract properly. That's not all—DoNotPay has the scoop on other legal documents you might require, such as a:
DoNotPay Is Your Pocket-Sized Treasurer 
To pay or to DoNotPay—that is the question! Our nifty app finds money where you didn't even know you had it.
With our app, you can avoid college application fees, cancel unused subscriptions, explore free trials, and get out of paying for unfair parking tickets. 
We can also help you with high bills by composing due date extension letters or reducing property taxes, just as we can locate missing money that you can reclaim in any state you've ever lived. 
To top it all, we'll even assist you in requesting compensation from any airline—whether it is for poor in-flight Wi-Fi, a delayed, or a canceled flight.
Can't Find Your Head in All the Paperwork? DoNotPay Sorts It Out for You!
You no longer have to cash out on pricy legal advisors to do simple paperwork for you—our app can draft legal documents for you in a matter of minutes! 
We can write small claims court scripts, dispute letters for chargebacks and refunds, personalized letters to connect with inmates, DMCA takedown notices for copyright protection, and cease and desist letters for stalking and harassment protection. 
If you need to get a DMV appointment before taking a driving exam or any other government test, we're there to schedule it in your stead!