Finding a Good
Wedding Video Contract Template
Among the Bad and the Ugly
For your special day to go as smoothly as possible, you'd want to find a reliable videographer, and just as importantly, a solid wedding video contract. As there are millions of templates online, it's wise to learn about this document so that you grab the best wedding video contract template.
We'll help you in your search and break down this videography contract from top to bottom. When you require other more complex legal documents, and let our app write various contracts for you.
A Wedding Video Contract Explained
A wedding video contract is a legal document between the videographer and the client—the bridal couple—covering the terms and conditions of the videographer's services for the wedding. This contract binds both parties to fulfill the terms stipulated by it.
What Should a Wedding
Videography Contract Template
Cover?
Check out the main components of a wedding videography contract in the table below:
Terms

Brief Explanation

Info about the clients

Full names, addresses, and contact details

Info about the videographer and any assistants or substitute videographers

Names and contact info

Wedding details

The venue and other shooting locations, such as:

Couple's home

Hotel

Ceremony location

Reception venue

Bridal shower venue

Rehearsal dinner location

Day-after shooting location

Shooting dates

Dates, number of days, and work hours

Technical details

Video package selected by the couple (e.g., it may include additional travel and accommodation costs)

Number of cameras that will be used

Backup technical equipment

Delivery of the video

Place where the final edit will be delivered

Number of copies

Raw footage, if any

Total length of the video

Features and special effects

Background music added

Interviews of guests added

Date of the delivery

Delivery delays

Restrictions and house rules

Designated places where the videographer is allowed to film

Unrestricted venues

Special-permission venues (e.g., churches and historical places)

Drone restrictions

Release of videographer's responsibility in terms of the quality of the video due to conditions they cannot control, such as bad weather

Total cost

Price of the videographer's services and the delivery of the video

Payment conditions

Due dates and the deposit amount

Cancellation and refund policy

Agreed-upon terms in case of cancellation

Limited liability

Videographer's liability in case the video is lost, stolen, or damaged

Copyright

Copyrights of the filmed videos
Why Is a Wedding Videography Contract Important?
A wedding videography contract is necessary to ensure everything goes the way you want it to on your big day. A signed contract will prevent the videographer from changing their mind and bailing at the last minute, changing the price, filming in restricted areas, or not filming important moments. It's a guarantee that both the couple and the videographer will respect the terms of the contract.
This document also provides a safety net in case something goes wrong—for example, if a dispute arises.
How To Choose a Reliable Wedding Video Contract Template
You may opt for the first website that pops up when you search for a wedding video contract template. You should be careful and select the right template for you that will not take a lot of time to tweak. Here's what you should look out for in a potential template:
Grammatical errors

Watermarks

Out-of-date clauses

Hidden charges

Missing terms
Certain wedding videographer websites may already have a contract you can check online. This way, you can compare theirs and other templates and follow our guide to create the perfect contract for your wedding.
Let DoNotPay Draw Up Various Legal Documents for You
With the help of our Standardized Legal Documents product, you can customize a document and have our app create it in several clicks.
Follow these instructions to get numerous legal documents in a jiffy:
Enter the type of legal document you want

Answer a few questions to personalize it
Our AI-powered app will use the info you provide to draw up a contract unique to your situation.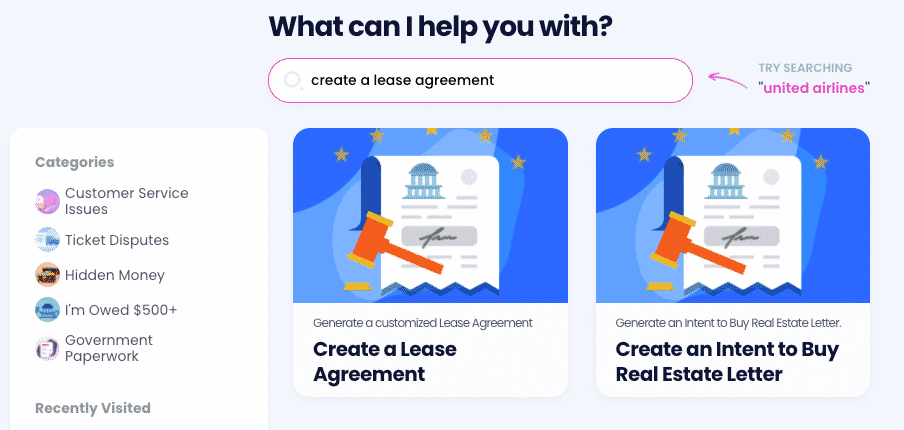 What Documents Can DoNotPay Help Me With?
DoNotPay can both draft legal documents for you and help you understand them. Rely on us to help you with more documents you may need before and after your wedding and in other situations regarding business and real estate. 
Check out a fraction of DoNotPay's scope of work:
Legal Documents DoNotPay Can Generate
Legal Documents You Can Learn About

General business contract

Bill of sale

General affidavit

Promissory note

Child care authorization form

Quitclaim deed

Intent to purchase real estate

Residential

lease agreement

Estoppel certificate
Admin Issues Giving You a Headache? Resolve Them With DoNotPay!
Scheduling a DMV appointment, applying for clinical trials, requesting refunds from companies, and getting in touch with your loved ones in prison are all difficult and time-consuming tasks. You have to take many steps before you can get any of these over with, and that's why our robot lawyer app is here to help.
No matter if you need assistance with appealing parking tickets, signing up for free trials, canceling various subscription services, or maybe preparing for government tests, DoNotPay will provide you with easy solutions.
Having Financial Struggles? Rely on the World's First Robot Lawyer
Many Americans struggle to make their ends meet at the end of each month. With that in mind, we've created plenty of features that will save you both time and money in the most efficient way. 
Using our AI-driven app, you can get help with bills, get refunds from airlines, find unclaimed money in any state, or earn off annoying robocalls or stalkers and harassers. If you want to fight for your right, DoNotPay will also assist you in suing any person or company in small claims court.
No matter the admin task at hand, our robot lawyer will provide swift and effective assistance.