Website Startup Costs Decoded—Find the Missing Links With DoNotPay
Ever since the pandemic, more and more businesses have fashioned websites to become alternative sales and marketing channels. This has triggered a rise in startups where goods and services are offered via website only.
When analyzing website startup costs, you need to consider the various functionalities you seek. This guide will help you uncover the expenses for:
Creating a website-based business up from scratch
Upgrading and maintaining it
If you have a budget estimate in mind and are looking for funding, let DoNotPay lead the way. Our app drafts loan appeal letters and sends them to lenders—sign up to use our multi-specialty services!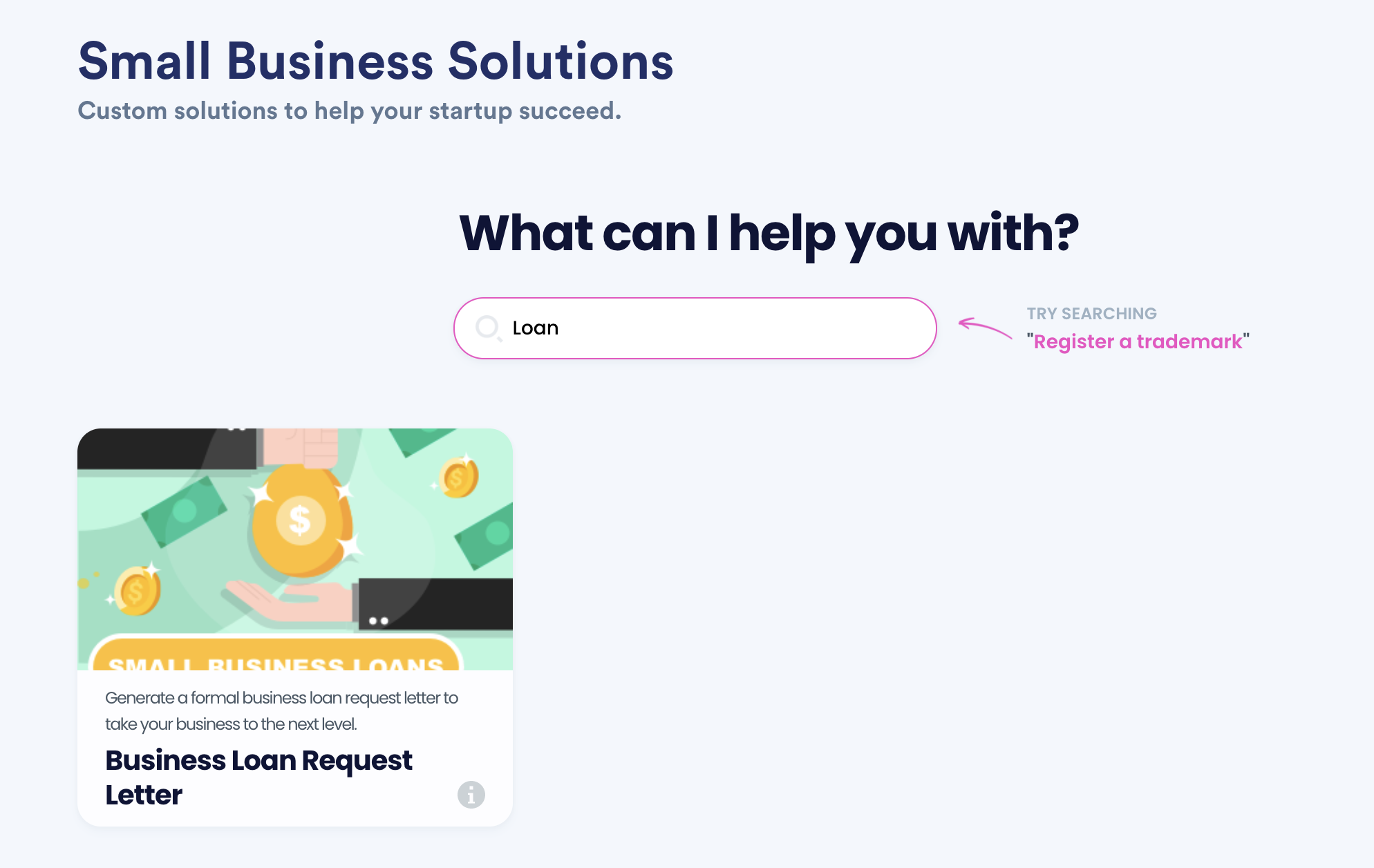 How Much Does It Cost To Start Up a Website for Business?
A website is an integral part of any business as it helps with branding and goodwill creation. Based on the complexity involved, website building costs can sit anywhere between $1,000 and $100,000. When building a website exclusively for ecommerce and marketing, the cost varies depending on the scale of operations and the nature of business. This table will give you a more specific cost analysis:
| Type of Business Website | Total Website Setup Cost | Maintenance (Annual) |
| --- | --- | --- |
| Ecommerce websites | $5,000–$60,000 (up to 1,000 products) | $25,000 |
| Content development websites for applications | $7,000–$75,000 | $45,000 |
| Corporate websites | $10,000–$40,000 | $8,000 |
| Informational websites | $2,000–$12,000 | $1,000 |
The Elements of Website Startup Cost Elaborated
Launching a website can be a one- or a multi-person job, and you may have to shell out bucks for multiple cost heads.
Here are some of the primary cost elements that pop up:
Cost Heads
Frequency
Estimates
Domain name
Annual
$10–$20
Website theme design
One-time
$150–$500
SSL certificate
Annual
$5–$400
Web hosting
Annual
$350–$500

Web hosting and SSL may come as clubbed services at discounted prices

Plugins
One-time
$150–$250 (quality plugins cost more but optimize your website output)
Stock pictures
Need-based
$8–$200
Miscellaneous
Need-based
$500

This includes payments for logo designing, customized graphics, insurance, etc.

Services
Need-based
$1,500–$5,000

This includes the amount you pay to various web designing or development services
Website Maintenance, Expansion, and Other Costs
One of the many advantages of website-based startups is their low utility costs and operational expenses. Once your website is up and running, you only have to set aside a few thousand dollars to keep it optimized and error-free. You have to pay about $5,000 for technical maintenance and installation of updates and security patches.
If you plan to expand your business and add more layers to your website, you can:
Hire a freelance developer—Average hourly rates are around $38
Appoint a full-time maintenance manager—Median annual salary is $123,130
Learn web management—$4,000–$10,000
Many online businesses also hire a full-time ecommerce manager (average annual salary $70,000) to oversee their overall operations.
Borrowing Dilemma—Do Lenders Approve Loans for Website Costs?
For your website-based startup to be successful, you need to invest in acquiring quality development services and allied software. If you don't have enough cash to support a full-fledged website startup, you can always turn to banks and other lending institutions for appropriate short-term or working capital loans and credits.
You can find several small business loans in the market, all with different terms, interest rates, and eligibility criteria. Here are some popular options for financing website startups:
The Roadmap to Securing a Loan for Your Website Startup
To get a loan for a website startup, you need a feasible business plan and a loan application letter that highlights your revenue model. Once the loan is sanctioned, you should plan and spend your investment wisely. Choose your key resource person with caution as many website startups fail because of:
Shoddy technology
Unstable sites
Untested coding
Incompatible software
Security risks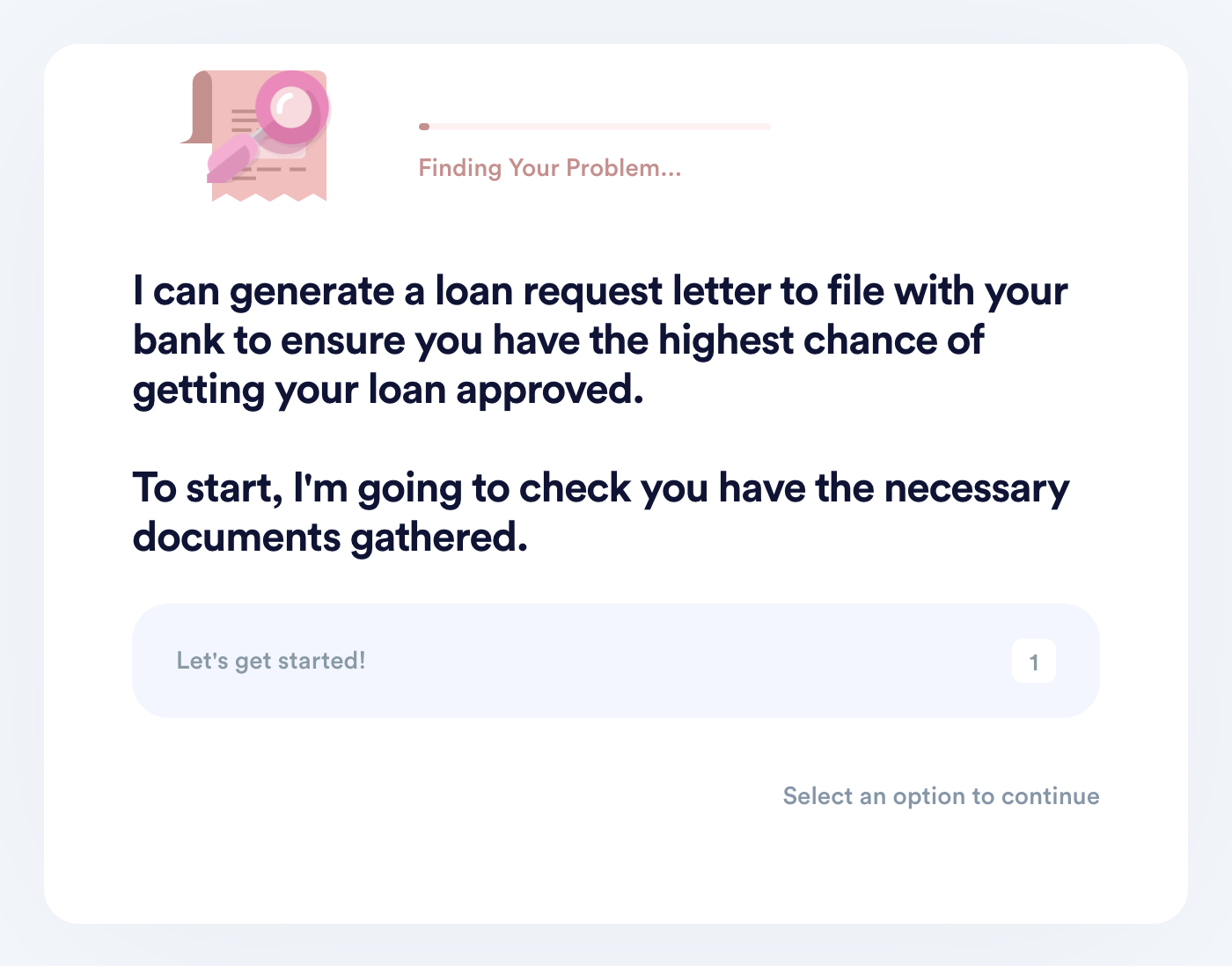 Winning Over Lenders Is Easy—Use DoNotPay To Draft Convincing Loan Appeal Letters
Are you unsure about writing a power-packed loan request letter? If yes, let DoNotPay draft one for your business! Our Business Loan Request Letter product uses your credit score and business details to create a perfect application letter. All you have to do is interact with our app's chatbot and feed in your particulars.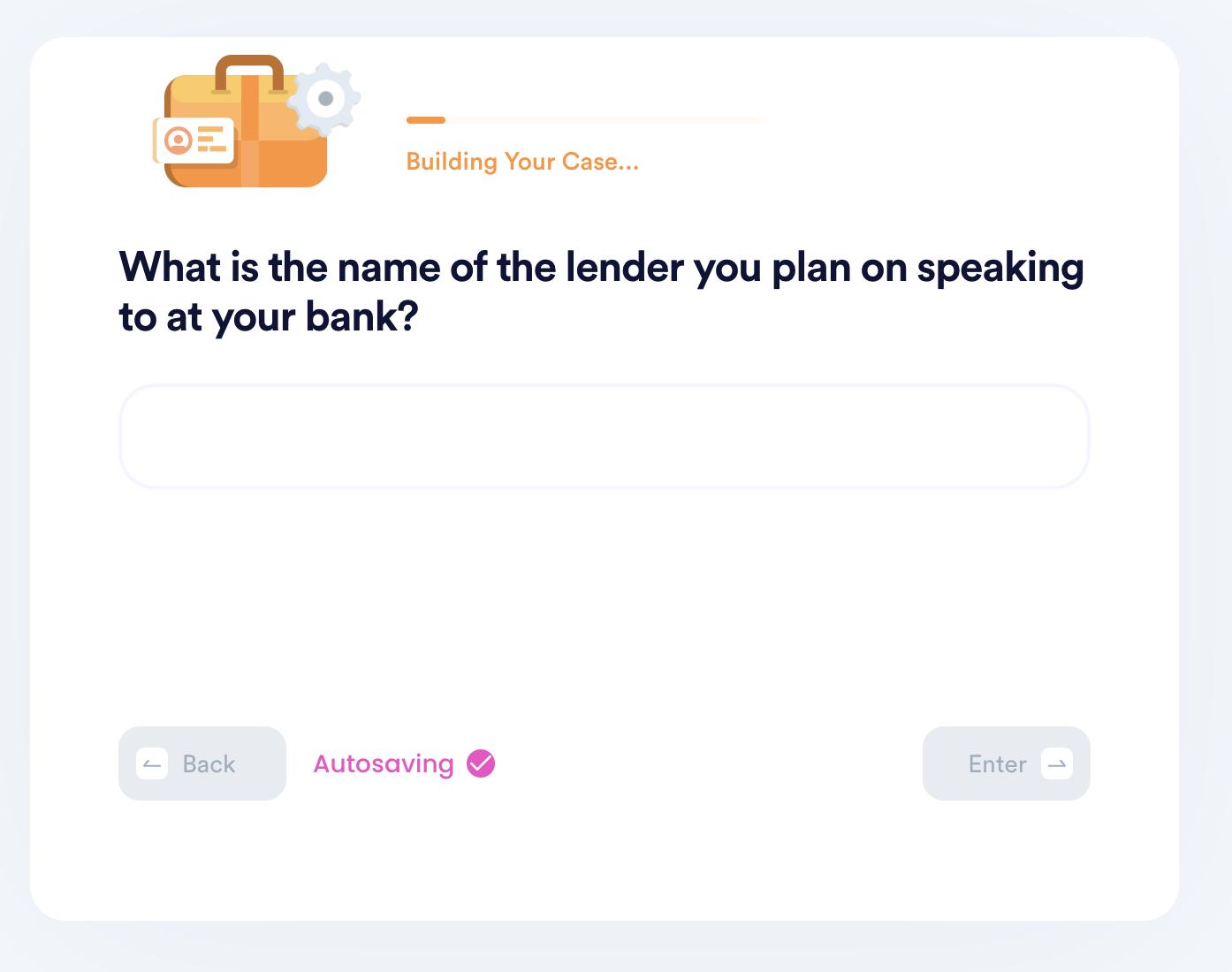 Open your DoNotPay account and follow these steps to use our services:
Select our Business Loan Request Letter product
Take note of the paperwork required
Enter your startup info and business plan
Tell us about:

The amount you want to borrow
The lending institution of your choice

Upload the paperwork as the final step
We will scan your responses and draft a suitable loan request letter that gives a refined view of all crucial info. We will then attach the necessary documents and send the application to the lending institution picked by you.
You can also use our Find Online Business Loan Lender product that is integrated with Business Loan Request Letter to look for online lenders and apply for the offered financial assistance.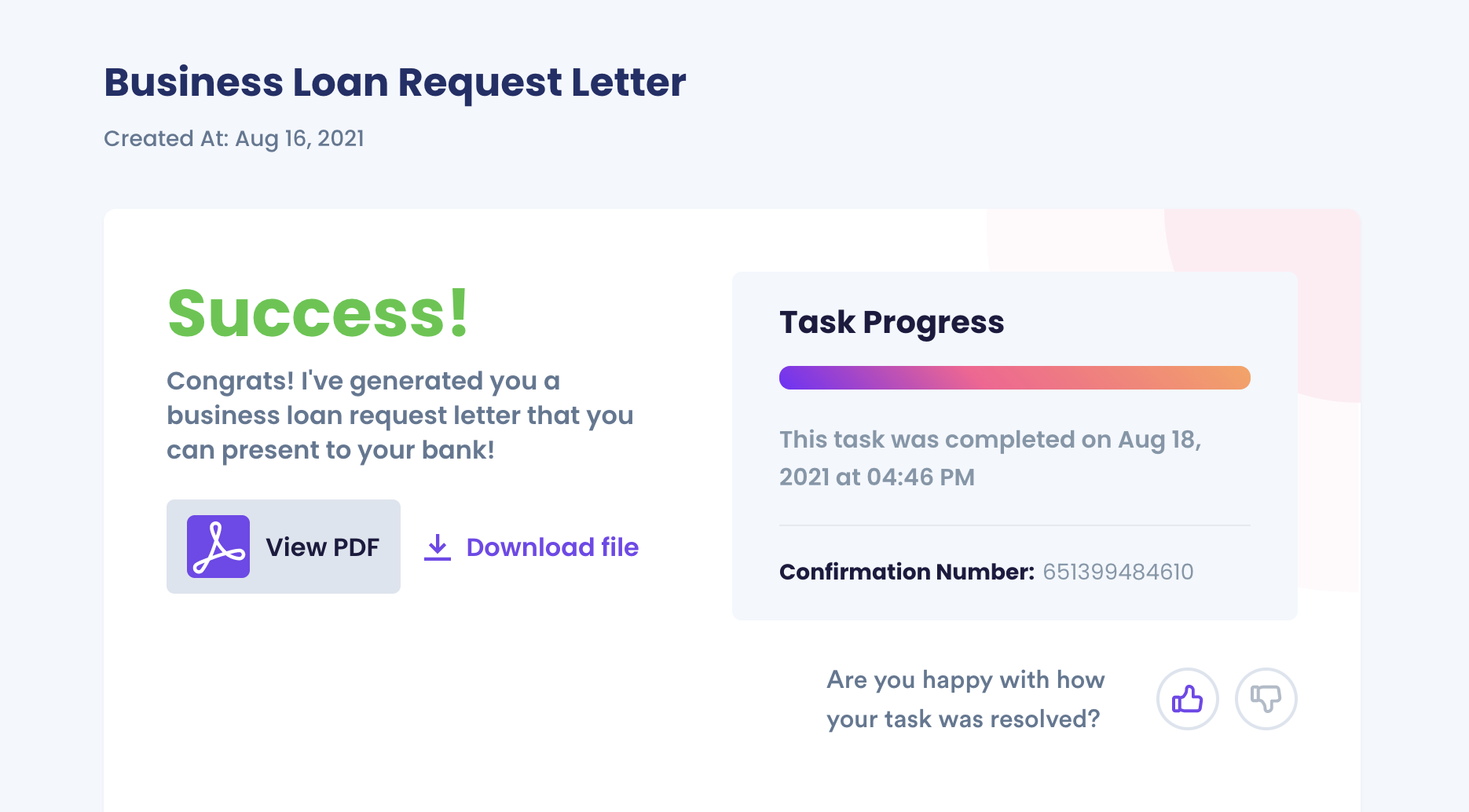 DoNotPay Goes the Extra Mile
Our app has much more to offer—products that will protect and elevate your business.
Count on DoNotPay when you want to:
Simplify Processes
Solve Issues

83(b) election form submission
Business loan application
Employer Identification Number (EIN) registration

Trademark infringement
Fraudulent chargebacks
Keep Your Company Safe
For your business to thrive, you need to be prepared for any problem that may come your way. This is where DoNotPay comes in! We can help you trademark your company name and even the logo or slogan. To avoid any copyright infringement issues in the future, you can use our app to register your DMCA agent. If you are worried about your clients' privacy, we will be glad to assist you in getting into the Privacy Shield program.
Are there any negative reviews online slandering your company? DoNotPay can help you get rid of fake comments potentially hurting your business.
As it all comes down to communication, we have developed a feature to help you reach your employees, associates, or clients the easy way. At no additional cost and no post office visit necessary, our AI-powered app can both fax and mail letters and documents.