Find a Professional
Website Design Contract Template
Website designers who choose not to sign a contract with a new client can find themselves in an unfavorable position. With a good attitude and a carefully drafted website design contract, many potential misunderstandings with a client can be easily avoided.
Luckily, you don't have to waste a lot of money on lawyers or learn how to write a contract. Nowadays, you can find a contract template online and download it for free. But how to choose a reliable website design contract template?
DoNotPay will explain the crucial elements of a professional website design contact template and help you find the best one!
What Is a Website Design Contract, and Why Is It Important?
A website design contract is a legally binding agreement between a website designer and a client. It defines a business relationship between the involved parties, including the:
Project scope

Pricing

Timeline for deliverables

Payment schedule

Intellectual property rights
A website design contract should also outline what will happen in case of any disagreements between the designer and the client.
By signing an agreement, the relationship between the participants becomes professional and transparent. When both parties agree on the terms, there will be less room for potential misunderstandings. Once all participants sign the contract, it becomes legally binding, providing an even higher level of protection.
Crucial Sections of a
Website Contract Template
Before choosing a website design contract template, you should know what sections to include. Omitting any of them can cause legal disputes with a client. You can see all the crucial elements of a website design contract in the table below:
Elements of a Website Design Contract Template

Details

A detailed description of the work 

The designer should provide a detailed and precisely defined description of the scope of work, including:

Every service and element regarding the coding and development of the website

Any future technical support 

Defined timeline of deliverables

The client should know when to expect the final product

Payment details and invoicing

This section should include:

Overall cost

Down payment

Payment method 

Due date for payments

Late fees

Some designers charge by the hour and others by the project. Clients often require minor tweaks and changes that the agreement should include, especially if the designer charges for them separately. You can also implement a payment schedule of your choice, such as a weekly, monthly, or half-up-front payment option

Determined revisions and edits

The designer should provide the client with terms for delivery options and drafts of the website. The standard is to agree on one or two revisions upfront to avoid going back and forth

Copyright ownership

A contract should specify:

When and how the client can use the work

Whether the designer receives full credit for their design

What the limits of using the work are
How To Choose a Reliable
Web Design Contract Sample
Finding a website design contract template is not as easy as it seems. There are many online samples to choose from, and they all may look legit. The trouble is that most website design contracts contain general terms, and you will have a hard time finding the one that meets your needs.
Your goal should be to find a contract sample that:
Includes all crucial sections of a website design contract that we listed above 

Doesn't contain overly complicated legal terminology 

Is easy to customize

Has a reasonable number of pages

Isn't too costly
What Should I Do When I Find a Suitable Website Design Contract Template?
Finding a website design contract template is only half of the job. You have to make sure the template meets both personal and legal requirements. Your next steps should be to:
Download the contract template

Add your personal information to the contract 

Read the terms carefully and customize them, if necessary

Have a lawyer go over your contract once it's ready
Draw Up Legal Documents Effortlessly With DoNotPay
When you need to create complex legal documents, using a contract template won't do the trick. If you find yourself in over your head, don't despair because DoNotPay can help! 
Once you provide us with the necessary info, we'll generate a customized contract that meets all the state-specific requirements. 
Here is what you should do to get your agreement in record time:
in any web browser

Find our

Standardized Legal Documents

product

Enter the name of the document you want to create

Answer our chatbot's questions
Your answers will help us customize the document to fit your case. You can even to notarize and fax the document!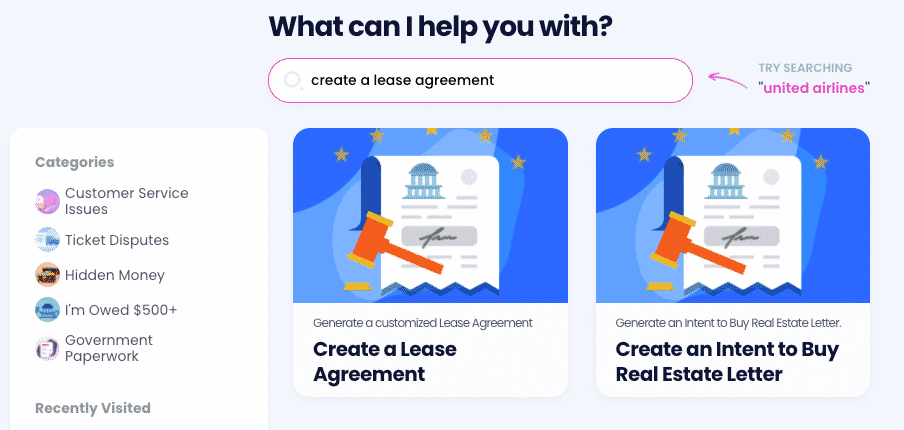 Which Contracts Can DoNotPay Create for Me?
We offer a wide range of business, real estate, and other contracts. Check out which legal documents DoNotPay can currently create for you in the table below: 
Type of Documents

Details

Real Estate

Quitclaim deed

Estoppel certificate

Intent to purchase real estate

Residential lease agreement

Business

General business contract

Other

Promissory note

General affidavit
DoNotPay Keeps Your Privacy Intact
DoNotPay can help you surf the web safely and securely. No need to provide your personal information to every company whose service you'd like to take for a test drive. Our Virtual Credit Card and Burner Phone products shield your data from prying eyes and dishonest merchants.
Feel like subscribing for a free trial? Make it truly free and avoid automatic membership renewals with our card. It can also help identify spammers and potential scammers who send bothersome robocalls and robo texts your way. As soon as they act on the virtual card number, DoNotPay will unmask them and demand compensation!
DoNotPay Can Help You Bring Any Business to Justice
Should a company refuse to grant you a refund or compensation, our app will help you take them to small claims court! 
We'll help you cancel the service in question to avoid any future charges, and we'll call their customer service so you can get info on your denied request. We'll draft the relevant court documents for your jurisdiction and give you instructions on filing them.
More Nifty Features That'll Make Your Day
You may not have breach of privacy issues or reasons to bring someone to court, but you surely have ample motivation to save or earn a few dollars here and there—especially if we catch you unawares!
DoNotPay can show you how to reclaim funds that you didn't know were under your name or make a denied warranty appeal to any company. We streamlined the processes of requesting refunds, college fee waivers, airline flight compensation, parking infraction dismissals, as well as applying to clinical trials that pay!