How to Make Money Online Legitimately
More than one-third of Americans participate in the gig economy. This means that about 57 million people in the US are making money online. And by 2023, over half (52%) of Americans will have joined the gig economy workers. If you're thinking about joining the bandwagon, you're probably looking into ways to .
The good news is that there are plenty of ways to . You only need to be careful not to fall prey to scams and fraud. As work-from-home jobs become more popular, bad actors are starting to target the market with "lucrative" job offers, all while posing as a reputable person or company to get you to trust them.
Luckily, you don't have to struggle to tell legitimate and scam jobs apart. DoNotPay can do the hard work for you. DoNotPay has a range of products designed to help you find the most suitable remote job. From egg and plasma donations to clinical trials and finding missing money, you have vast ways of making money with the help of DoNotPay.
Ways to Make Money Online
The internet has no shortage of things to do to make money on the side. If you're resilient enough, you can find gigs to help you make some extra cash through your phone or computer. The only downside is most of these gigs need a lot of time and effort to master and build. With that in mind, here are some easy ways to make money online.
Make Money through Affiliate Marketing
If you have a good social media presence or have a website or blog, you can make money online by joining an affiliate network and promoting all sorts of services, products, and companies. As an affiliate, you'll be paid whenever someone clicks from your site to the partner site and purchases something there. But you'll need to create lots of regular content to grow an audience and make money.
Earn Money by Selling Merchandise
You can make money by selling items online if you are the entrepreneurial type. Things like:
Jewelry
Pottery
Embroidery
Woodworking
You can also sell on Ecwid, Wix, Shopify, and Amazon Handmade or create your own store.
Make Money by Dropshipping
Dropshipping allows you to sell products without keeping them in stock. With this model, you can ship items from a third party (wholesaler, manufacturer, or other retailers) that in turn ships the product directly to a customer. It is a hands-free way of making money online.
Other Ways to Make Money Online
In addition to the methods mentioned above, you can also make money online through:
Print-on-demand where you sell designs on products to monetize your art better.
YouTube channel by doing what you're good at, whether it's makeup teaching skills, reviewing products, etc.
Influencer marketing is where you build a following and market other brands through sponsored content.
An online course where you teach others what you know best, whether it's language, skill, etc.
Is It Hard to Make Money Online Legitimately?
Yes and no. Yes, if you will have to learn the skills from scratch and struggle to find a company that pays for your skills. Also, yes, if you are going to build a fan base from scratch. However, it won't be hard if you're getting help from reputable sources like DoNotPay. DoNotPay can also provide insights into making money on different platforms, including CoinBase, Robinhood, or even the stock market.
Make Money With the Help of DoNotPay
As mentioned earlier, making money online can be too involved, especially if you decide to go with the ways above. You'll need to learn the skill, put it into practice, invest in technology and the internet, and hope to succeed.
But you don't have to go through all this to make money online. DoNotPay can help you make an impressive amount of money online with a few clicks.
List of ways DoNotPay helps you make money:
| | | | |
| --- | --- | --- | --- |
| Find Missing Money | Clinical Trials | Invest with the Law on Our Side | Plasma Donation |
| Free Birthday Gifts | Stock Drop Class Action | Data Breach Protection | Become an Egg Donor |
Here's how to get started:
1. Log in to DoNotPay and head over to the Make Money Online product.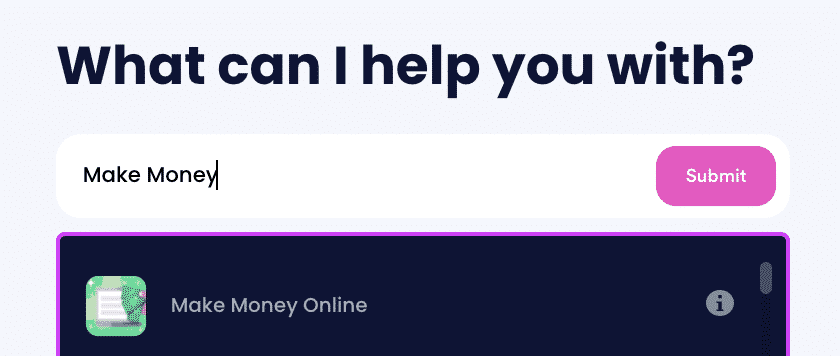 2. Select which option you're interested in from our list.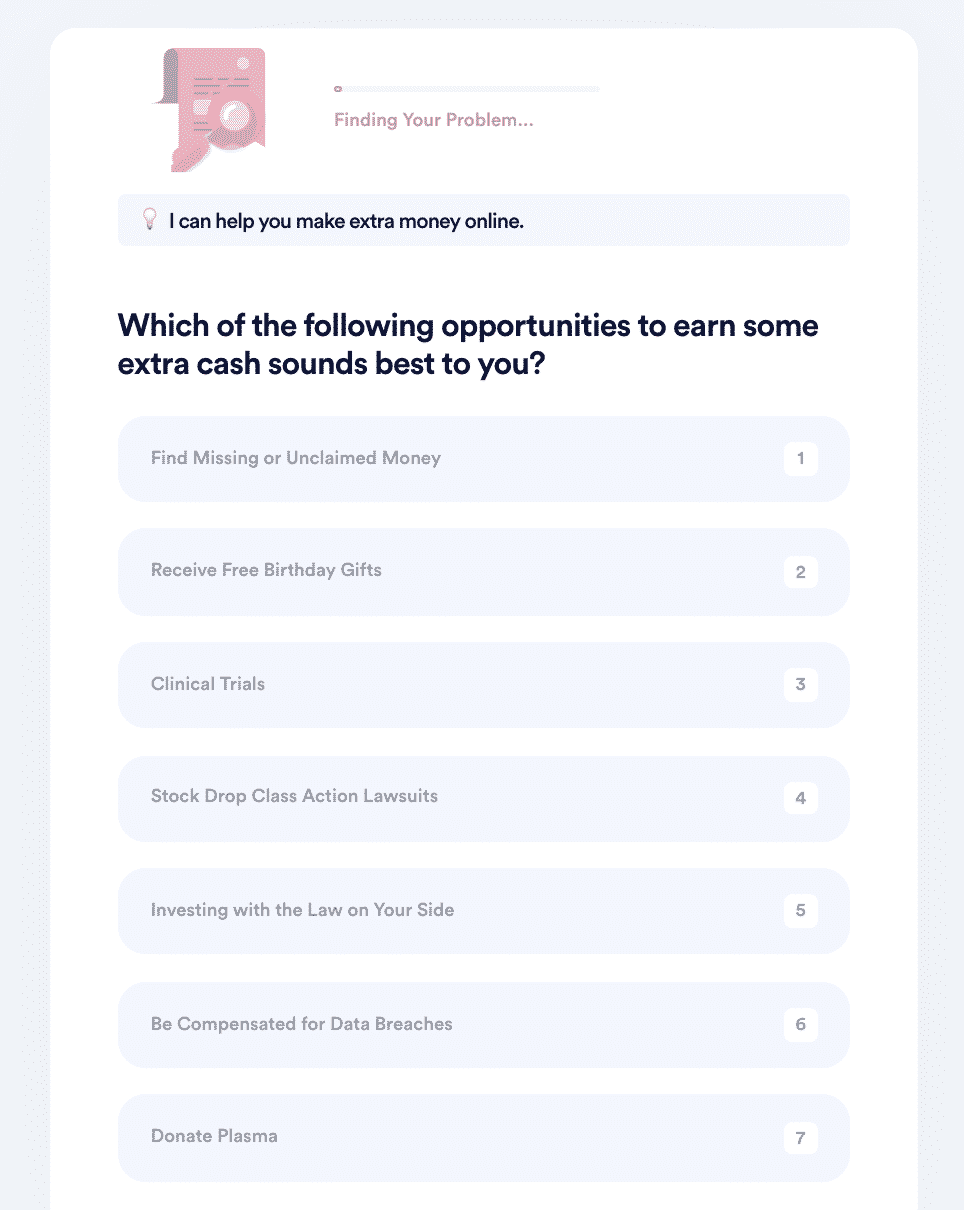 3. Complete the chatbot to start earning extra cash!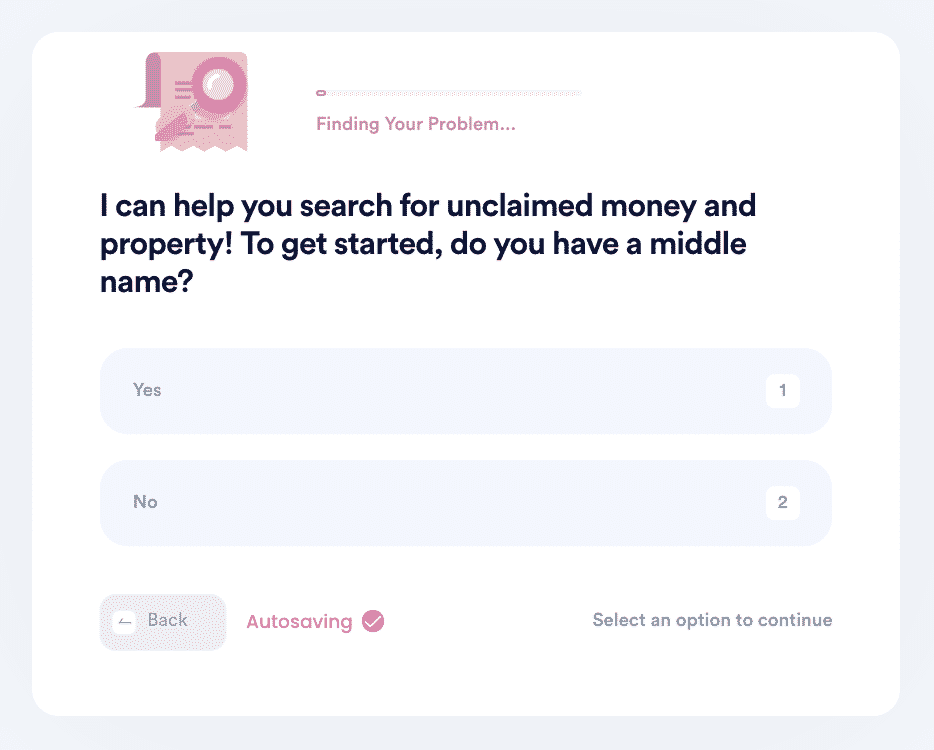 And that's it. Through DoNotPay's eight products, we can help you find the most suitable online gig to make extra cash over the weekend. Our app is designed to simplify the otherwise complicated process of finding online work. Simply put, we make working online as easy as a few clicks.
What Else Can DoNotPay Do?
DoNotPay is an automated legal app designed to take the hard work out of the process. It can help you resolve various other issues the same way it does online work. For example, DoNotPay can help you:
All with a click of a button. Don't struggle on your own when you can get things done easily and effectively. Sign up today to get started.