All You Should Know About Wayne County Divorces
Before filing for divorce in Michigan, or more precisely, in Wayne County, you must be familiar with all the standards and rules you should adhere to.
In this guide, we will teach you what Wayne County divorces look like, how much they cost, and what divorce papers you should prepare. If you and your partner opt for an amicable separation without a lawyer, we will show you how to get a personalized divorce settlement agreement in a snap by subscribing to DoNotPay!
What To Keep in Mind Before Getting a Wayne County Divorce
You or your spouse must be a Michigan resident for at least six months and a Wayne County resident for at least ten days to get a divorce in Wayne County.
There's only one divorce ground in this county—marriage problems that destroy the objects of the union and aren't likely to be fixed. Since Michigan is a no-fault divorce state, the plaintiff isn't obliged to provide evidence for their spouse's misconduct. The petition must be handled by the Wayne County Clerk of Courts.
The couple can opt for a friendly divorce, in which case they can agree on all divorce terms and conditions out of court and avoid hearings. This type of separation is called an uncontested divorce, and it's the easiest way to finalize the procedure.
If spouses have different ideas that can't be negotiated, they have to go to court and let the judge decide about all the crucial divorce aspects in their stead. Such a procedure is called a contested divorce.
The cost of a divorce without children in Wayne County is $175.00, while the divorce procedure involving children costs $255.00.
What Are the Wayne County Divorce Forms?
When filing for divorce in Wayne County, the basic forms that must be completed are the same as in the rest of Michigan counties, such as Oakland County. These include:
Complaint for Divorce—It's an official petition whose purpose is to start the divorce process. It must contain the essential info about spouses, the reason for the dissolution of marriage, and the list of all the property that should be allocated. This document should also involve the plaintiff's requests regarding child custody and support and alimony (spousal support)
Summons
Proof of Service Form
Waiver/Suspension of Fees—if applicable
It's quite important to know that the plaintiff can't serve divorce papers to the other party—the defendant—personally. They can appoint another adult person of their choice not involved in the case or hire a private process server.
Issues Discussed During the Divorce in Wayne County, Michigan
Here are some significant aspects that must be discussed in divorce papers:
Issue
Explanation
Child custody
If the parents can negotiate the custody terms, the agreement they make becomes enforceable right away. If not, the court must decide about the rules by considering several factors, such as:

Moral fitness of both parents
Relationship between the parents and the child
Parents' ability to provide love, education, and a good life to the child
Mental and physical health of both parents
Child's reasonable preference
Potential cases of domestic violence

Michigan requires divorcing parents to take up Parenting Classes to learn how to help their children cope with divorce and how to co-parent

Child support
Child support in Michigan covers:

Childcare
Education
Medical insurance

To determine the exact support amount should be calculated based on the Income Shares Model and Michigan Child Support Formula

Spousal support
In Wayne County, both spouses have the right to request alimony, but in most cases, it's allocated to the person who has the lower income. The choice may also depend on:

Age
Health condition
Marriage length
Ability to pay alimony
Amount of property
Reasonable needs
Living standards

Property division
Divorcing couples are free to agree on their own property allocation terms and conditions. If they achieve a mutual decision, the judge will revise it and approve their agreement. If not, the court will decide by taking the following factors into account:

Age
Marriage duration
Property sources
Physical and mental health
Separate property of each party
Spouses' abilities to earn and their contribution to acquiring the mutual property
If the couple can't negotiate these issues amicably, they should hire a mediator. This person should be able to help the spouses find a solution that will be acceptable for both.
Get a Top-Level Divorce Settlement Agreement With DoNotPay
Once it's time to finalize the uncontested divorce process in Michigan, you and your spouse should sign a divorce settlement agreement. Creating such a document isn't cheap or simple—lawyers tend to charge too much for drafting a single contract, while online templates aren't always reliable.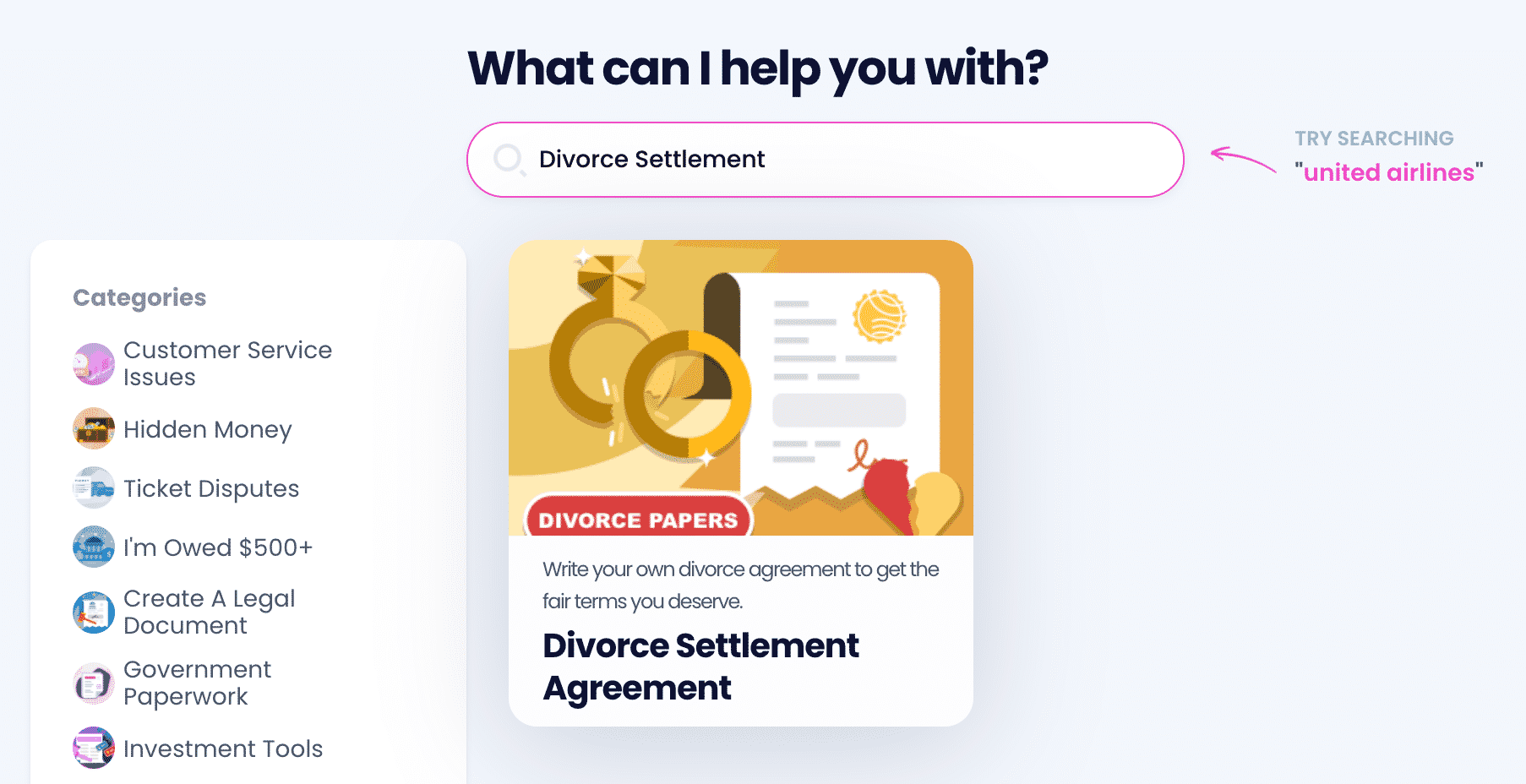 With DoNotPay, you get a chance to generate a fully customized divorce settlement contract according to all state-specific laws.
Here's how to create the contract with our help:
Create a DoNotPay account and log in to it
Navigate to the Divorce Settlement Agreement product
Answer a few of our chatbot's questions about your spouse, children, and the way you want to allocate the assets after divorce
After receiving your details, we will compose the agreement and let you print it out, sign it, and have it notarized to achieve a low-cost and easy divorce!
Our knowledge base also features numerous guides that can help you get familiar with: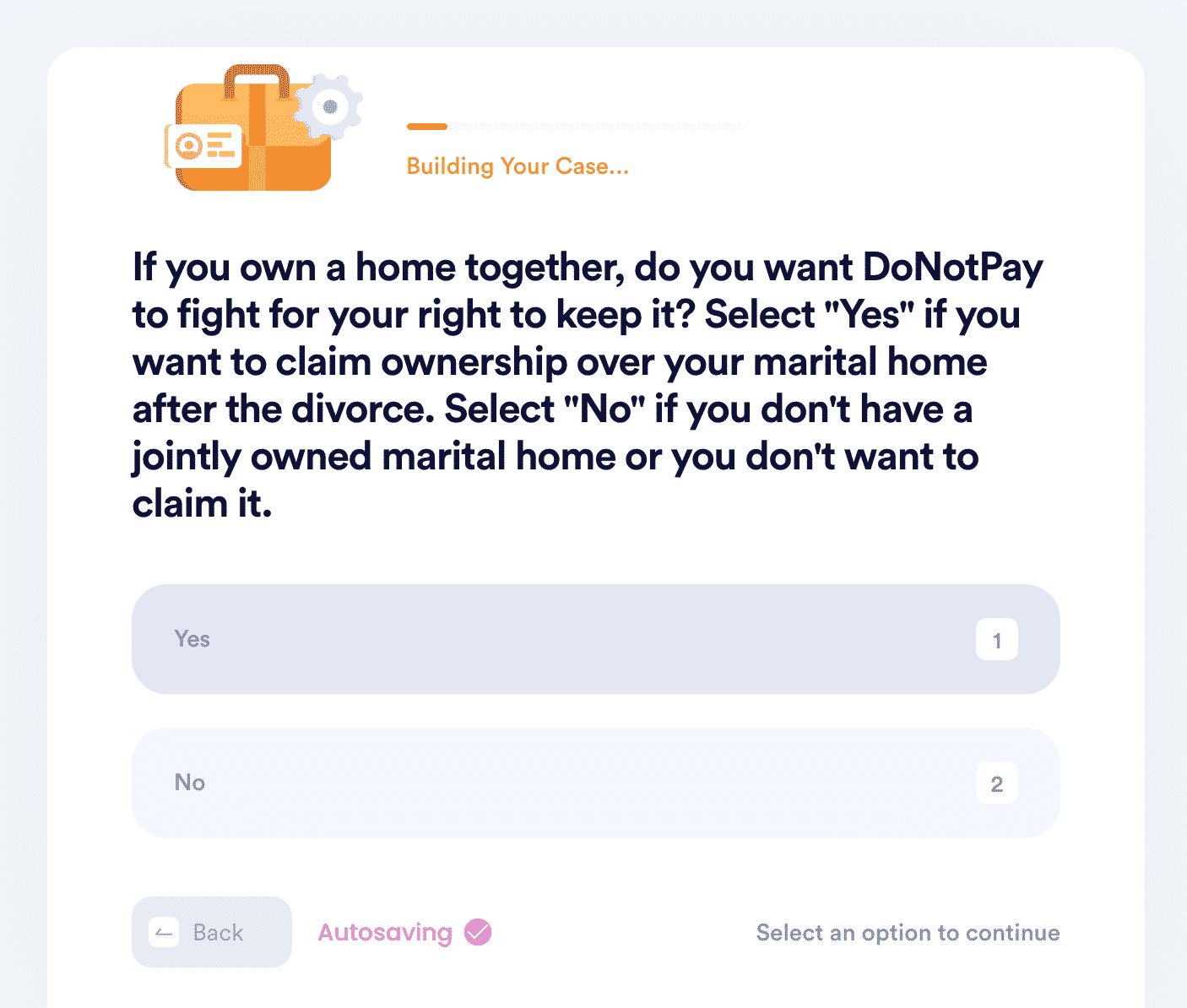 DoNotPay Crosses All Your Tasks Off Your List
Whether you need help with preparing for government tests, online faxing, or getting your documents notarized—DoNotPay will be able to help! Whatever problem you're facing, we'll turn it into a breeze!
Sign up now if you want an easy solution to stop email spam, cancel unneeded subscriptions, schedule DMV appointments, and draw up agreements from the comfort of your home.
We can also help you reduce property taxes, pay bills, appeal parking tickets, and find any unclaimed money.
Improve Your Quality of Life With DoNotPay
The beauty of our platform is that besides bureaucratic issues, it can also assist you with numerous other struggles! To name a few, we can help you:
The list could go on for days!