Find a WAV to MP3 Converter—Free Downloads
WAV is a file format for storing uncompressed digital audio data, and it is the default audio format for Windows. MP3 is a widely-used compressed audio format. It is great for distributing audio across the internet because it boasts a smaller size that takes up less bandwidth than a WAV file. By converting your WAV files to MP3, you save space on your hard drive and make transferring your music collections across your network a lot quicker process.
To convert your files from WAV to MP3, you will need to find a reliable audio converter. If a free WAW to MP3 converter is what you're looking for, we can help you find it, but you can also use our File Converter product. For a low monthly fee, you'll be able to convert 100+ different files safely and in no time! All you need to do is sign up for DoNotPay.
How To Convert WAV to MP3
If you want to use a program for the conversion, keep in mind that downloadable apps require some technical knowledge. The conversion process takes effort and is not that easy for someone who doesn't know anything about file conversion.
Many apps that allow WAV to MP3 conversions are available online for free, and you can check out some commonly used ones in the table below:
| Free WAV to MP3 Downloadable Apps | Description |
| --- | --- |
| Freemake Audio Converter | Freemake Audio Converter is a free audio converter for Windows. It supports MP3, WAV, OGG, WMA, and other audio formats |
| Wondershare Video Converter | Wondershare Video Converter is a professional video converter software that converts videos to more than 200 formats while preserving their original quality |
| Audacity | Audacity is a free, open-source audio editor that allows the user to convert, record, mix, and edit sound files |
You don't need to download an app on your computer to be able to convert WAV to MP3. Another option you have is to use an online file converter. It is an excellent choice if you're in a hurry and don't have time to download and install a desktop app. Online converters are easy to use—all you need to do is:
Upload a file you want to convert
Select the output format
Click on the Convert button
The Common Issues With WAV to MP3 Converters
One common problem with WAV to MP3 converters is that they often make the audio sound muffled, which is due to the high rate of compression. The higher the compression rate, the lower quality of audio.
When it comes to online file converters, they are limited in features and the number of conversions. You don't have any control over the process and the quality of converted files is not the greatest. Another major issue is the risk of downloading malware on your computer by clicking on malicious ads or downloading infected files.
Convert WAV to MP3 in a Few Clicks Using DoNotPay
Besides being 100% safe, converting WAV to MP3 with DoNotPay couldn't be any easier. All you need to do is log in to your DoNotPay account and follow the instructions below:
Open the File Converter product
Upload your WAV file
Choose MP3 as the output format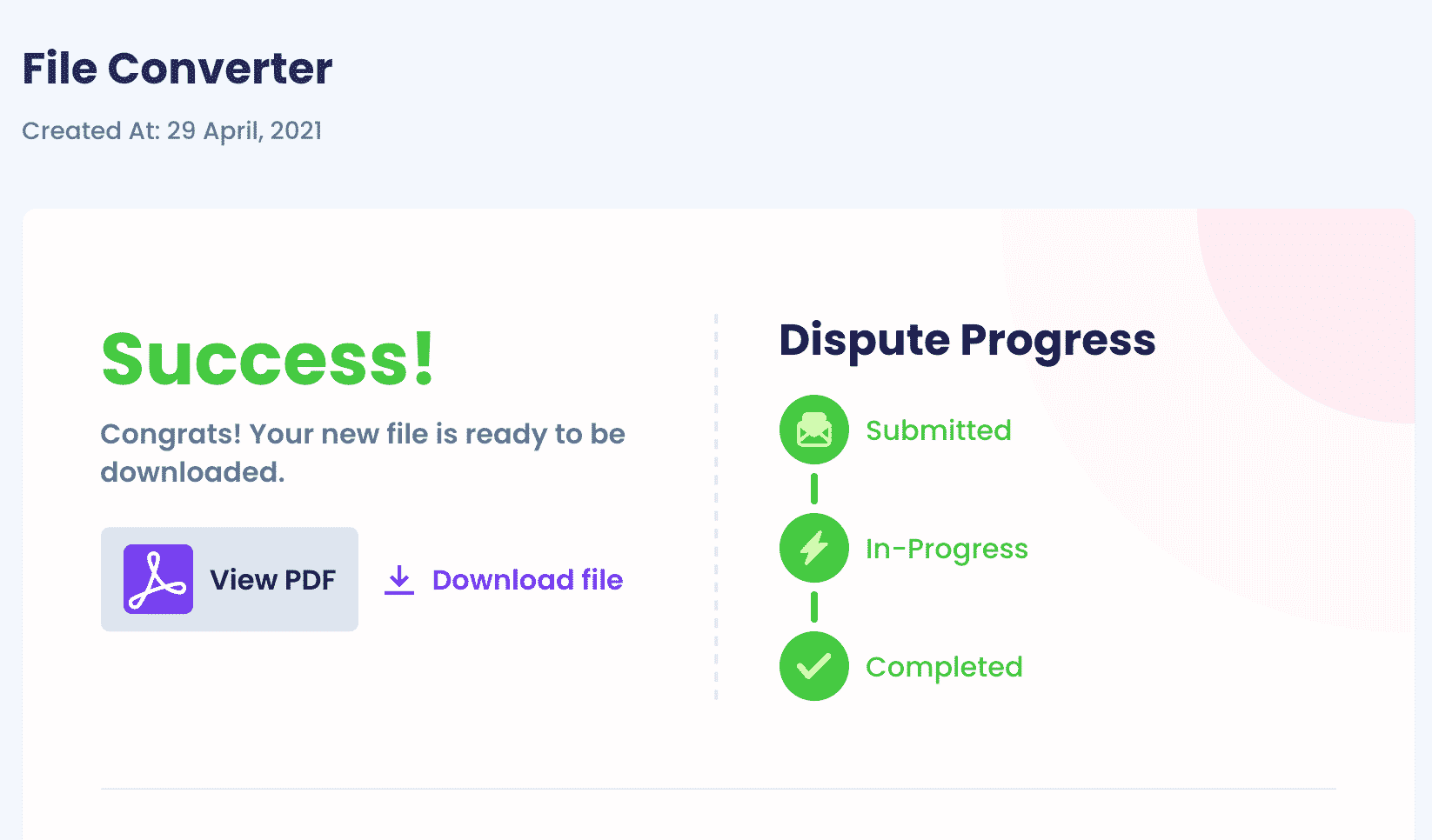 It is really that easy! Your file will be ready for download in only a couple of seconds, and you'll be able to download it from the My Disputes page.
Using DoNotPay, you can convert 100+ files and will have no limit to the number of conversions you can make. Most importantly, the converted files are of great quality. To protect your privacy, we will delete them from our servers 24 hours after the conversion.
What Other Files Can DoNotPay Convert?
Apart from converting your WAV files to MP3, DoNotPay can also help you with converting the following audio formats:
Hundreds of Useful Features at Your Fingertips
What makes DoNotPay stand out from regular file conversion tools is the array of other features you get access to once you start using our app.
On top of converting hundreds of file types, you can also use DoNotPay to:
DoNotPay isn't just a converter—it's an app designed to make your life easier by automating tedious and complicated tasks. You'll find hundreds of different products inside our award-winning app that will help you save time and money!
Create Legal Documents, Cancel Subscriptions, Appeal Parking Tickets—All With One App!
There's no shortage of tasks DoNotPay can assist you with. For example, the world's first robot lawyer can help you with all manner of legal processes, including:
You can also have DoNotPay handle tedious, time-consuming tasks, like filing complaints, requesting refunds and chargebacks, canceling subscriptions, contesting parking and seatbelt tickets, and fighting email spam for you.
DoNotPay can also save you hundreds of dollars each month by helping you reduce property taxes, lower your bills, and find unclaimed money in your name.