Water Damage Insurance Claims Tips and Tricks
You can rarely predict an inconvenience such as water damage. It usually comes unexpectedly and leaves a complete mess, including destroyed parts of your home or personal property. Dealing with such a loss is never easy. You don't want to pay for all repairs from your pocket, especially if it wasn't your fault.
Most insurance companies provide water damage policies that can come in handy if certain water-related issues occur in your household. In such situations, you must know how to file an insurance claim and get compensation for your loss.
We will share the most practical tips for making the claiming procedure much simpler and filing appeals with DoNotPay—the first virtual lawyer! Our app can tackle issues with health, veteran, hurricane, or unemployment insurance in a snap.
What Kinds of Water Damage Does Insurance Cover?
Whether your insurance covers the water damage that occurred depends on the loss and policy type.
Each company has specific offers, which means you need to read your insurance policy thoroughly to check whether you can use it for this purpose. Water damage insurance is usually available within:
HO-3, standard homeowner insurance that many companies provide

Endorsements
Below is the table with the most common water damage types:
| | | |
| --- | --- | --- |
| Water Damage Type | Explanation | Is It Covered by Insurance? |
| Flood | Damage caused by water coming from natural sources, such as excessive rain or river overflow | No |
| Sewer and water backup | Overflow caused by dirty water coming out of your sewer or drainage system—the reason may be an old sewer system, tree roots near the sewer, sewer system sanitary problems, etc.  | Yes, but it's rarely available within homeowner insurance. You usually need an endorsement for adding it to your insurance policy |
| Damage caused by ice and snow | Incidents that occur due to an excessive amount of ice or snow that can cause roof collapse or freezing in pipes | Yes |
| Sudden or accidental discharge | Damage due to water overflow coming from home plumbing or appliances, such as pipes, bathtubs, water outlets, or washing machines | Yes |
| Outside sewer water backup | Overflow caused by dirty water coming out of your outside sewer or drainage system | No |
| Gradual water damage | Damage caused by a lack of maintenance or issues that happen slowly and get worse with time | No |
When Should You File a Water Damage Insurance Claim?
Different insurance companies have different rules. Some insurers recommend reporting the incident as soon as it happens, without a specific time frame. Other companies have a predetermined deadline. Make sure you check the policy to confirm this information.
How To File a Water Damage Insurance Claim on Your Own
After you confirm that your policy covers the water damage that occurred in your home, the next step is to raise a claim with your insurance company. The claiming procedure consists of informing the insurer about the incident and asking for reimbursement. 
The list of claim filing methods includes:
Phone calls

Online claim forms

Email correspondence

Live chat conversations

In-person appointments
Here's what the procedure should look like, regardless of the communication method:
Contact the insurer using any of the above-mentioned contact methods and provide the insurer with a detailed explanation of the incident

Disclose your insurance details, such as your name or insurance policy number

Document the incident by taking photos

Let the appraiser estimate the damage or breakdown

Have your home parts repaired or replaced and bring all the invoices to the insurer to receive the money
Another option is to pay the repair expenses or get a replacement for the affected household part once you get compensation.
How To Raise Water Damage Insurance Claims Easily With DoNotPay
Wishing to avoid honoring customers' policies, insurance companies usually complicate their claiming procedures. Unresponsive customer support and many confusing steps make people withdraw and let it go. Fortunately, DoNotPay can help you by filing a claim in your stead in less than five minutes!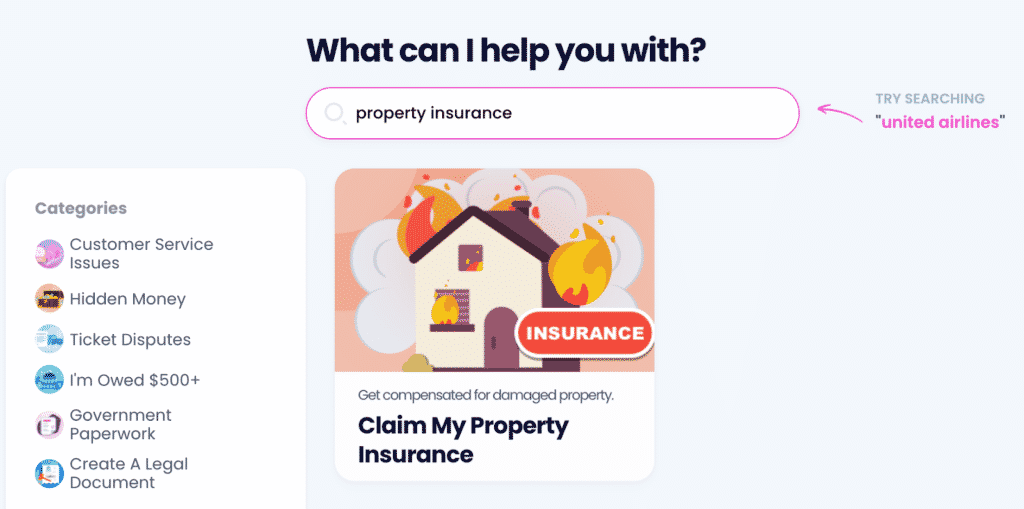 To use our help for claiming your water damage insurance, follow the steps below:
Access DoNotPay from any

web browser

Enter the insurance type in the search box

Disclose your policy number and other necessary details

Share the reason for raising a claim and describe the issue you experienced
Our app will make a claim letter based on your information and forward it to your insurance company. A representative should get in touch with you within a few days.
No insurance company is a challenge for us, as we can file claims with any provider, including Kemper, Grange, Shelter, or Nationwide.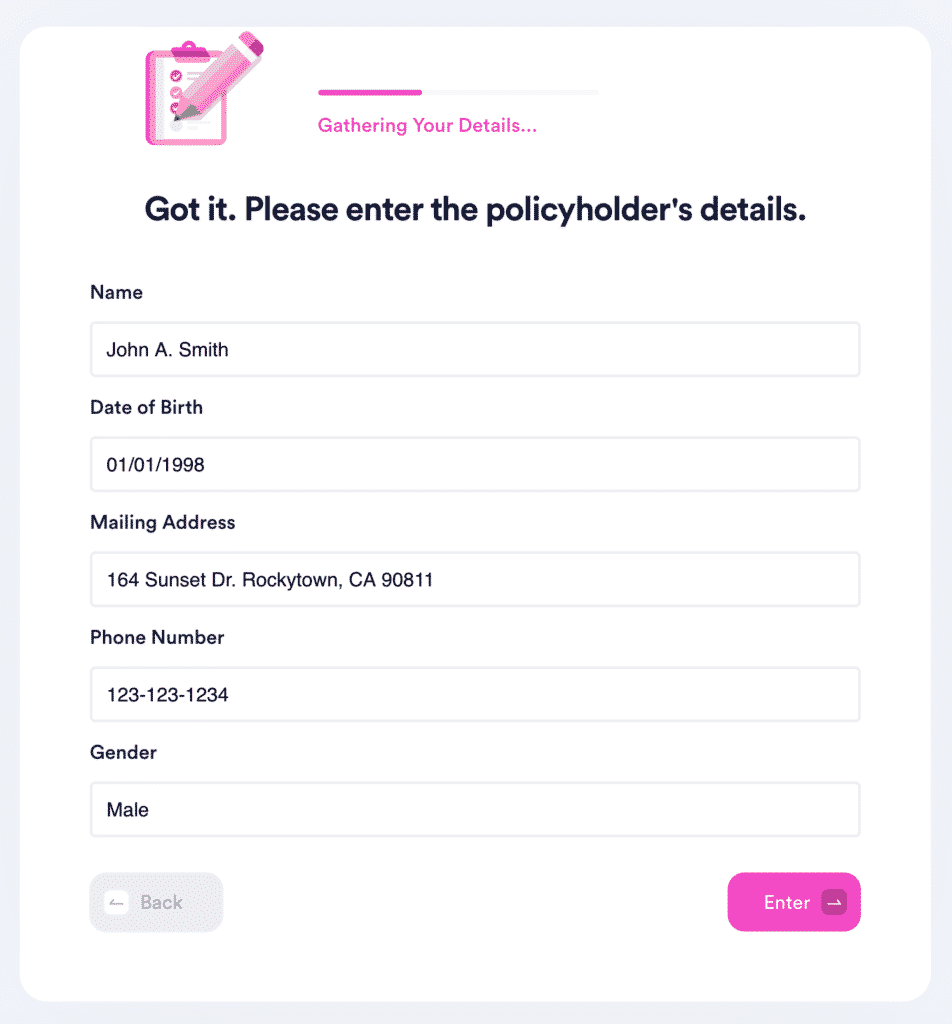 Got a Claim Rejection Letter? Submit an Appeal Quickly With DoNotPay
Besides claiming insurance in your name, DoNotPay can appeal a rejected claim. 
If you believe that the insurer turned you down wrongfully, follow these steps to get our help:
Open DoNotPay in any

web browser

Find the insurance you tried to claim

Click on

Appeal a Denied Insurance Claim

Answer a few more questions and submit the appeal
We will make sure the company receives the appeal letter promptly and will notify you about the outcome once it makes the final decision.
Our Robot Lawyer Gets Rid of All Admin Tasks
What makes DoNotPay so unique is that it helps you get back what is rightfully yours in many different ways. You can appeal parking tickets, find unclaimed money, demand a refund for canceled or delayed flights, get help with bills you cannot pay, or get your college application fees waived with the help of our platform.
If you're sick and tired of annoying robocalls, spam emails, copyright violations, text message spam, or stalkers and harassers, DoNotPay can assist you in getting rid of them once and for all.
DoNotPay Can Help You Save Money
Have you ever subscribed to a service's free trial you forgot about after a few days? Many Americans have, which is why DoNotPay has a free trial feature that will help you avoid getting charged once the trial is over.
If you want us to scan all your active memberships and help you not pay for the ones you don't use, connect your email address or credit card to DoNotPay. Our cancel feature will ensure that you don't waste your money on subscriptions you don't even remember exist.
If a merchant charges you once the free trial is over, though, you can use our robot lawyer to request a refund and skip the phone queue when doing so.
In case a company refuses to grant you a refund, you can also use our app to sue them in small claims court.