Deal With Water Damage Caused by a Neighbor in No Time With DoNotPay
The most likely outcome of water damage caused by a neighbor is a neighbor dispute. If you're having trouble with water damage from your neighbor, then you're in the right place. This article will tell you all about what the laws regarding water damage caused by neighbors are and how you can file a complaint to get compensation.
DoNotPay can help you by writing a demand letter to your neighbor in a few clicks!
Try Reasoning With Your Neighbor Before Going to Court
Have you tried talking to your neighbor about the flood they're responsible for? If the answer is no, the chances are that they aren't aware of the damage they caused. Before making any rash decisions, talk to your neighbor about the issue.
You can follow these steps to approach the matter in a civil way:
Make sure you're calm before visiting your neighbor
Talk to them about the problem in a friendly but confident way
Take them to your property to show them the damage
Negotiate the compensation with the neighbor in a calm and assertive way
If your neighbor refuses to pay for the damage they're directly responsible for, it's time to take a different approach—filing a complaint.
What Does the Law Say About Water Damage?
If the runoff from natural causes, like rain, is what caused water damage on your property, your neighbor cannot be held responsible. If it's clear that your neighbor caused it, though, the law is on your side. The majority of states have the following laws concerning water damage by a neighbor:
Reasonable use rule
Common enemy rule
Civil law rule
These rules are modified in a way that states now judge both parties before reaching a final verdict and granting compensation to the plaintiff. You should check your state's rules before taking your neighbor to court.
The Reasonable Use Rule
The reasonable use rule concerns some kind of alteration that your neighbor had on their property that caused the water damage on yours. You will need proof for the court that your neighbor caused water damage with their alteration. The elements that help courts reach a verdict are:
The importance of the alteration
The foreseeability of the increased damage while the neighbor was altering their part of the property
The comparison of the value of your neighbor's property and the damage to your property
The Common Enemy Rule
According to the common enemy rule, every landowner must protect their land from surface and runoff water. Many states follow this rule, but they made it less strict. If your state is one of those that modified this rule, you may still be able to hold your neighbor responsible for the water damage on your property if they were negligent about it.
The Civil Law Rule
The civil law rule is also known as the natural flow rule. It imposes liability on anyone who changes their land in a way that disrupts the natural flow of surface water. Some states modified this rule, so it currently resembles the reasonable use rule. This means that, if your neighbor disrupted the natural flow of water and it resulted in damage to your property, they can be held liable.
Use DoNotPay To Draft a Demand Letter
If you tried the friendly approach with your neighbor but they continue to flood your property, it's time you take some action. DoNotPay can help you with our Neighbor Complaint product. All you need to do is and follow these steps:
Type in Neighbor Complaint into DoNotPay's search bar
Select the type of problem you're experiencing
Provide more details about the issue—whether you talked to your neighbor about the problem, whether you have documentation of the water damage that was caused, etc.
We will generate a demand letter automatically with all the details you provided, and we'll mail it to your neighbor. The letter will contain the following:
Your complaint
Arbitration notice
The specific amount of compensation you're seeking
Warning of further legal actions you might take if the neighbor doesn't respond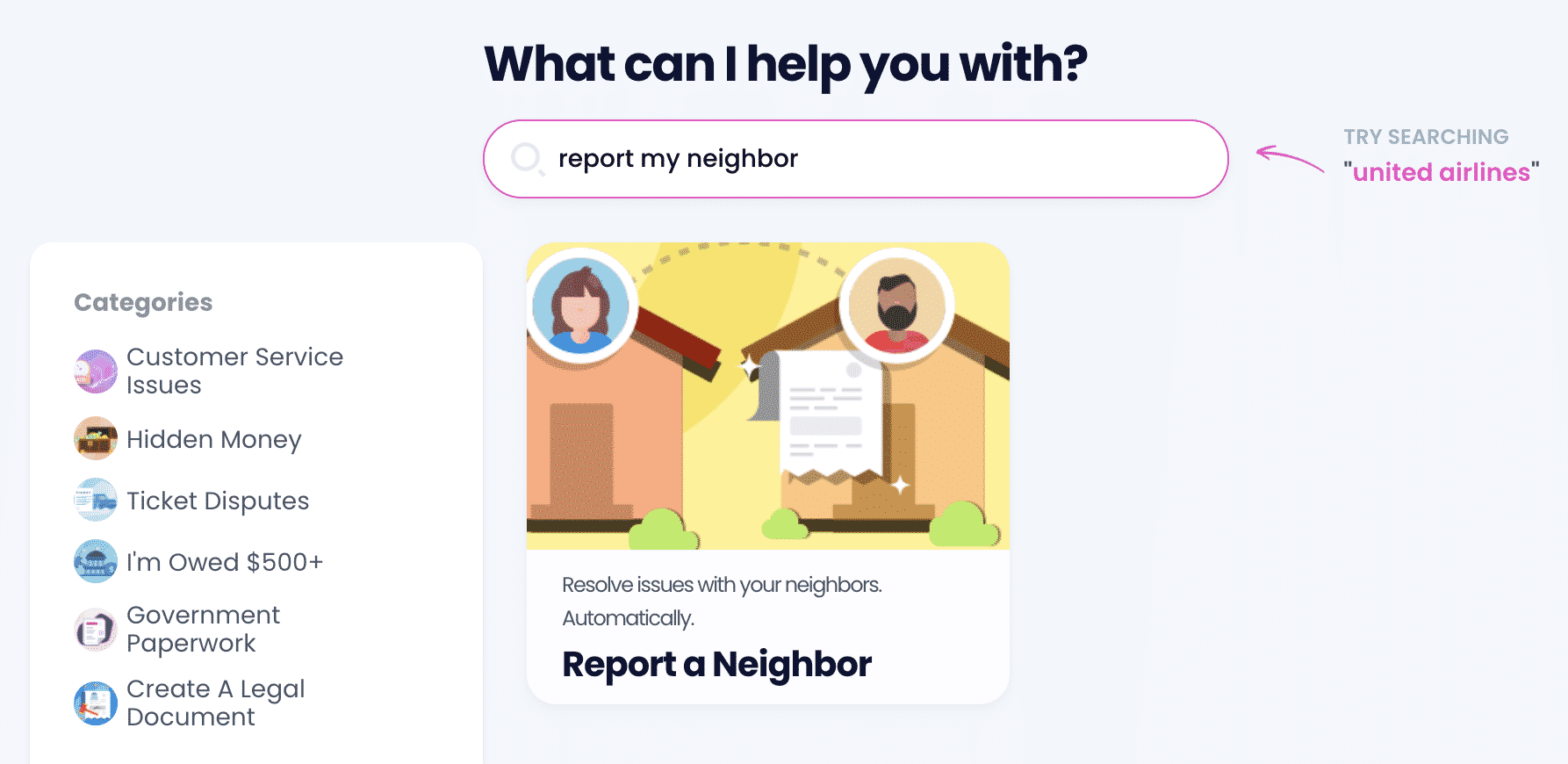 How Else Can DoNotPay Help With Neighbor Problems?
DoNotPay can help you with other problems related to your neighbors, such as:
You can visit DoNotPay's learning center for more information on what to do about neighbors who are a nuisance, or you can to have your problem resolved immediately!.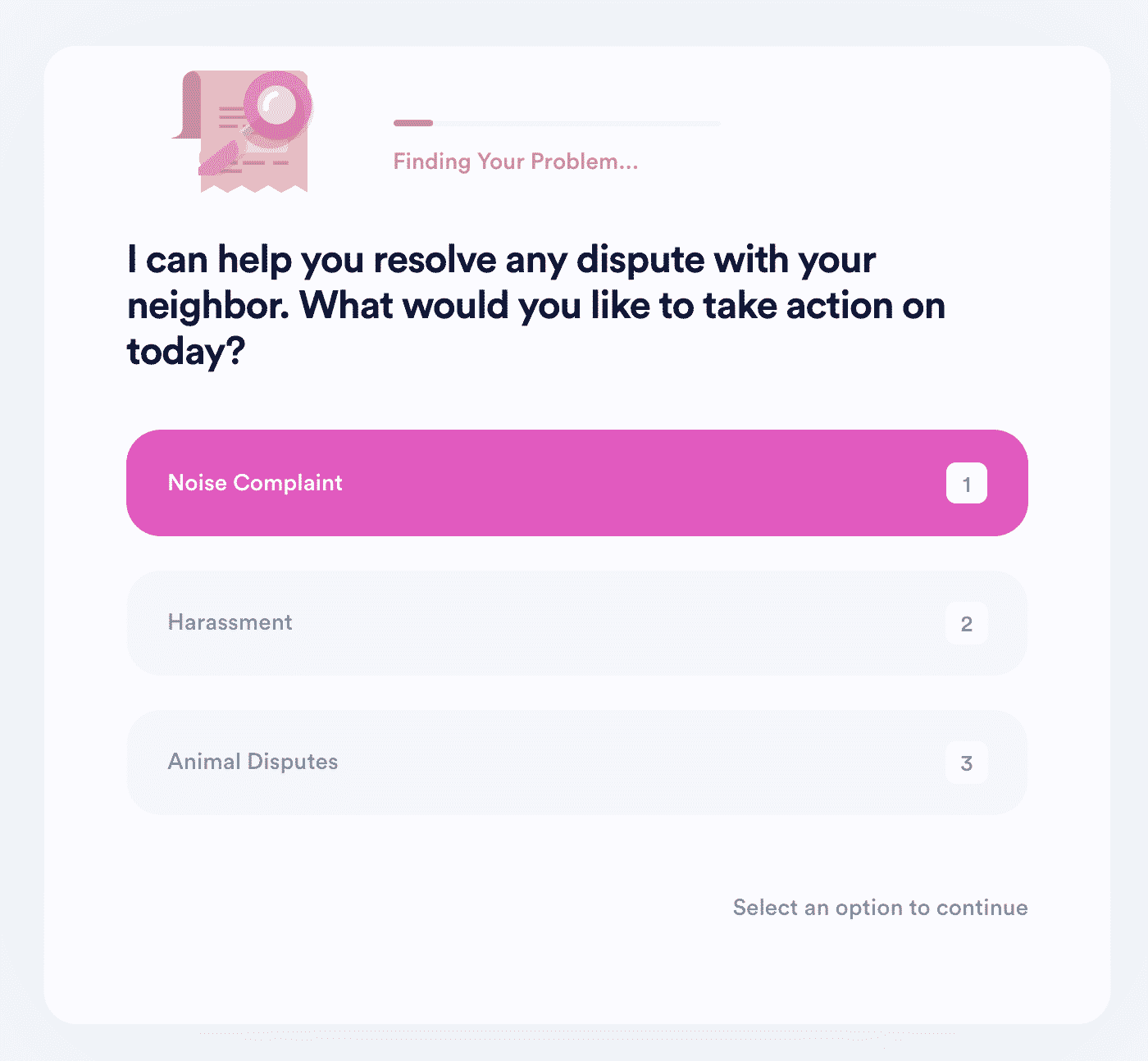 If You Decide To Take Your Neighbor to Small Claims Court, DoNotPay Can Help
Taking your neighbor to small claims court can be stressful, and that's why DoNotPay is here to help you deal with your claim. We have been honored with the ABA Brown Award for Legal Access, which in itself is proof that we'll do our best to help you. You can get up to $10,000 in small claims court, depending on your state's regulations.
Check out the table below for information on what we will do for you:
| | |
| --- | --- |
| What We Will Do | Brief Explanation |
| Collect information | Our helpful chatbot will collect all the necessary information about your case. It will ask you a few questions to create a strong claim |
| Fill out the claim | DoNotPay will fill out the legal claim automatically on your behalf—you won't have to lift a finger |
| Generate a script | We will generate a script of what you should say in court to make your case stronger |
| Explain what to do if the defendant is a no-show | We'll tell you what to do if the defendant doesn't show up at court |
Explore DoNotPay's Products and Save Both Time and Money
Are you sick and tired of spending ages on the phone with customer support trying to get more info about how to return a faulty product and get a refund? Maybe you'd like to cancel memberships you don't use but can't find that unsubscribe button anywhere? DoNotPay can help you sort out all of these issues in a jiffy!
Contest parking tickets, claim your car warranty and insurance, schedule a meeting with the DMV, and handle your other problems through the same app on your tablet or smartphone.
Getting access to public records or drawing up various legal documents with DoNotPay is child's play.
That's Not All!
The first thing you'll notice when you open DoNotPay is that you can use our app for almost anything.
Do you wish to enter raffles or sweepstakes? Are you interested in applying for paid clinical trials and earning some cash? Would you like to send mail without going to the post office? You're in the right place!
We will help you feel safe while browsing the Internet by assisting you in blocking and reporting spam emails, suspicious text messages, and pesky robocalls.