How to Pursue Waste Management Lawsuits
Waste Management is a publicly traded company that is headquartered in Texas. It is under the waste management and environmental services industry. To date, it has 309 recorded violations and a total dollar amount of damages of $515,816,357 since 2000. The company's most common offenses include financial, employment-related, environment-related, and safety-related.
In this article, we will disclose some of the most infamous Waste Management lawsuits and the dollar amount of damages that it has paid. We will also introduce you to a more streamlined process of filing a lawsuit against big companies such as Waste Management using .
Notorious Waste Management Lawsuits
Waste Management is an environmental services provider based in Houston, Texas. Their services include collection, transportation, treatment, disposal, and monitoring and regulation of the waste management process. Waste Management has been involved in several lawsuits from 2000 until 2020. The company's most common offenses included environmental violations, wage and hour violations, and many others. The table below shows a summary of their most notorious offenses:
Type of Violation
Agency
Damages

Aviation safety violations

Federal Aviation Administration (FAA)

$27,500

Benefit plan administrator violations

Private lawsuit in federal court

$1,000,000

Environmental violations

United States Environmental Protection Agency (EPA)

$5,500 - $3,330,750

Various state's Attorney General's office

$17,000 - $1,750,000

Various state's Department of Environmental Protection (DEP) and ENV

$5,000 - $2,477,912

California Air Resources Board (ARB)

$75,000 - $1,011,000

California Department of Toxic Substances Control (DTSC)

$30,485 - $311,194

Colorado Department of Public Health & Environment (DPHE)

$7,350 - $14,000

Family and Medical Leave Act violations

Labor Department Wage and Hour Division (WHD)

$9,576 - $40,000

Investor protection violations

Connecticut Attorney General's office

$457,000,000

Labor relations violations

National Labor Relations Board (NLRB)

$5,000 - $204,188

Motor vehicle safety violations

Federal Motor Carrier Safety Administration (FMCSA)

$6,390

Wage and hour violations

Labor Department Wage and Hour Division (WHD)

$6,526 - $244,999

Private lawsuit in state court

$7,000,000 - $15,000,000

Massachusetts Attorney General's office

$340,000 - $809,000

Kentucky Department of Workplace Standards (DWS)

$27,399

Work visa violations

U.S. Attorney-Southern District of Texas

$5,500,000

Workplace safety or health violations

Occupational Safety and Health Administration (OSHA)

$5,000 - $70,450
Suing Waste Management for Odor Emissions
Stony Hollow Landfill is Waste Management's landfill in Dayton that was established via a contract with Montgomery county. Over the years, there have been disputes around the balance of payments to the county and sanitary sewer overflow events. But the most notable of all these federal cases was the one that involved an odor issue in 2016. The specifics of the odor emissions case were as follows:
Residents in Jefferson Township, Kettering, Miamisburg, Moraine, Oakwood, and other places complained of odor emissions from Stony Hollow Landfill
A class-action lawsuit was filed against Waste Management that sought the company to compensate residents $1.875 million
The settlement also mandated the company to invest $1.45 million to eliminate the potential for odor emissions
Fair Credit Reporting Act Violation Lawsuit
In 2019, Waste Management Inc. of Florida and Waste Management National Services Inc. were sued in a class-action lawsuit represented by Josh Twardosky. The lawsuit alleged Waste Management of violating the Fair Credit Reporting Act (FCRA). The specifics of the class action lawsuit were as follows:
Twardosky was previously employed by Waste Management Inc. of Florida.
The plaintiff alleged that Waste Management procured a consumer report on him which was a violation of FCRA.
The defendants deny that the FCRA disclosure and authorization form violated the FCRA.
Waste Management's High Acres Landfill Lawsuit
In 2018, plaintiff James D'Amico filed a class-action lawsuit against the Waste Management of New York. The case involved the company's High Acres Landfill in Fairport with claims of nuisance, negligence, and odor emissions. The specifics of the Waste Management lawsuit were as follows:
Waste Management New York was to pay the plaintiff 1.3 million in damages
Waste Management was required to invest an additional $1 million to improve the landfill including the following:

Installing a gas collection system and waste mass dewatering pumps and control
Installing synthetic alternate daily cover systems
Establishing additional water- and vapor-based odor control misting system
How to Sue Waste Management With DoNotPay
If you or someone you know has suffered injustice from Waste Management, the best way to seek damages is to file a lawsuit in small claims court. Since it's in small claims, it levels the playing ground between you and large companies such as Waste Management and you don't have to worry about expensive lawyer fees. However, as with any lawsuit, there is a lot of bureaucracy involved and the filing of forms and demand letters. That is where DoNotPay can help. Our robot lawyer simplifies the filing process and has been helping users go after big firms such as airlines, insurance companies, ATT, Verizon, Uber, and many others. To file with , all you have to do is:
Log in to and select the Sue Now Product
Enter the dollar amount you are owed
Select whether you want a demand letter or court filing forms
Describe the reason for the lawsuit and submit any applicable details, including photo proof
That's it! DoNotPay will then generate a demand letter or court filing forms for you. We'll even mail a copy of your demand letter to the individual or business you are suing!
What Other Companies DoNotPay Can Help You Sue?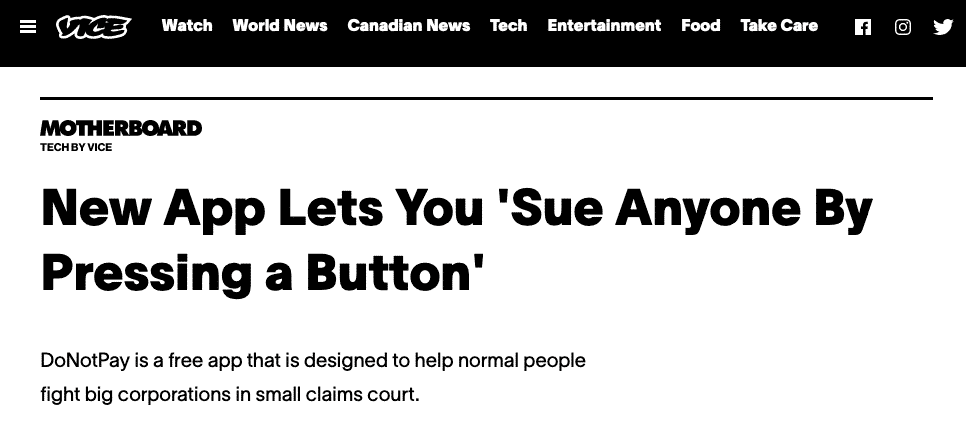 Use the Sue Now product to sue in small claims court and join thousands of users who have done the same. Have another company in mind? can also help you sue: