How to Get a Copy of Your Washtenaw County Divorce Certificate Quickly
If you need a Washtenaw County divorce certificate copy, chances are you need it right away, and you're here because you don't know where to start. You landed in the right place because we're going to go over the standard steps for getting your divorce certificates, then we'll show you a shortcut, and that's by letting DoNotPay order your certificate on your behalf.
Why You Need a Divorce Certificate
There are several reasons you might need official copies of your divorce certificate, and you should have more than one. They, like birth and marriage certificates, might be needed at a moment's notice for very important transactions, and they can take weeks to arrive once you've applied.
Here are common reasons why you might need that certificate ASAP:
You got to keep the house in the divorce, but you need to refinance it in your name.
You plan to remarry, and you need to apply for a marriage license.
You're updating your will, advance directive, and estate documents.
You're changing your legal name after your divorce.
You need to remove your former spouse as an insurance or pension beneficiary.
Getting your Washtenaw County Divorce Certificate on Your Own
In Washtenaw County, you'll need five things to get your certified divorce certificate copies:
The case number
The legal names of each party on record
The date the divorce was recorded
A completed record of the request application
Payment of $1 per page, and $10 for the certification
Once you have the correct information, you can either mail your application, make your application in person, or order your certificates over the phone.
Mailing Your Application
Send your completed application, a personal check made out to Washtenaw County Trial Court, and a self-addressed stamped envelope to the following address:

Washtenaw County Trial Court

ATTN: Records Department

P.O. Box 8645

Ann Arbor, MI 48107

Applying In-Person
You can apply in person at:

101 E Huron Street

Room 1106

Ann Arbor, MI 48107-8645

Office hours are Monday through Friday, 8 a.m. to 4:30 p.m.

This is the fastest way to get your certified copy, as the clerk can retrieve your records within about 20-30 minutes if you have the right information.

Applying Over the Phone
You can call Washtenaw County Trial Court, place your order, and pay the fees with a credit card.

The phone number is 734-222-3024
How DoNotPay Makes It Easier to Get Your Divorce Certificate From Washtenaw County
Do you want to take the guesswork out of the equation when getting copies of your Washtenaw County divorce certificate? Wouldn't you prefer to handle the situation online, without going to the post office or the court clerk's office? Here's how to get it done in just seven easy steps:
1. Go to the Certificates of Divorce product on DoNotPay.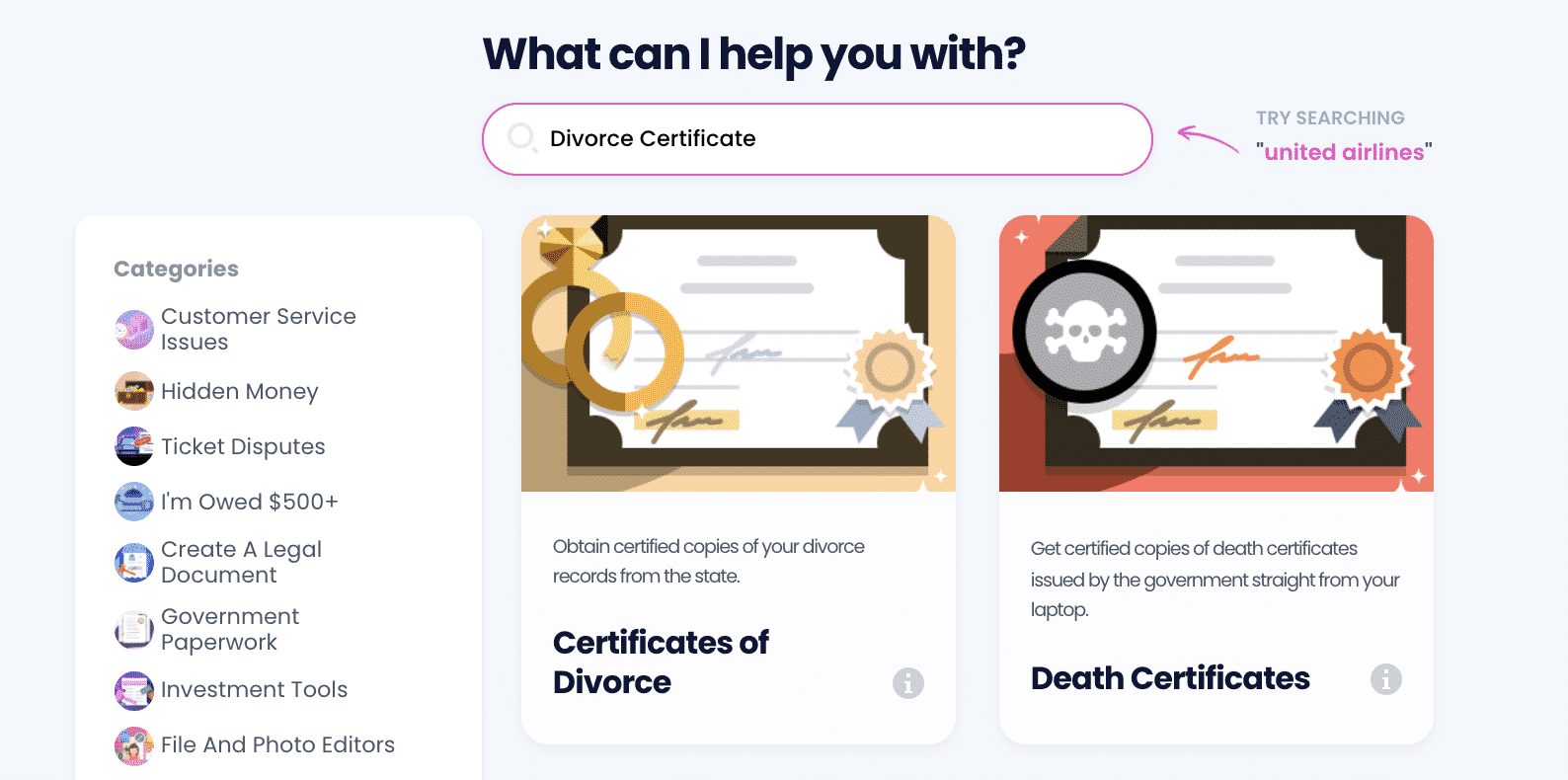 2. Select whether the certificate belongs to you or a relative/loved one. If it belongs to someone else, enter the details of both people on the certificate and select/upload evidence that proves your relationship with them. If the certificate is yours, enter the details of your spouse.*Please note: some states only allow people named on the certificate to apply.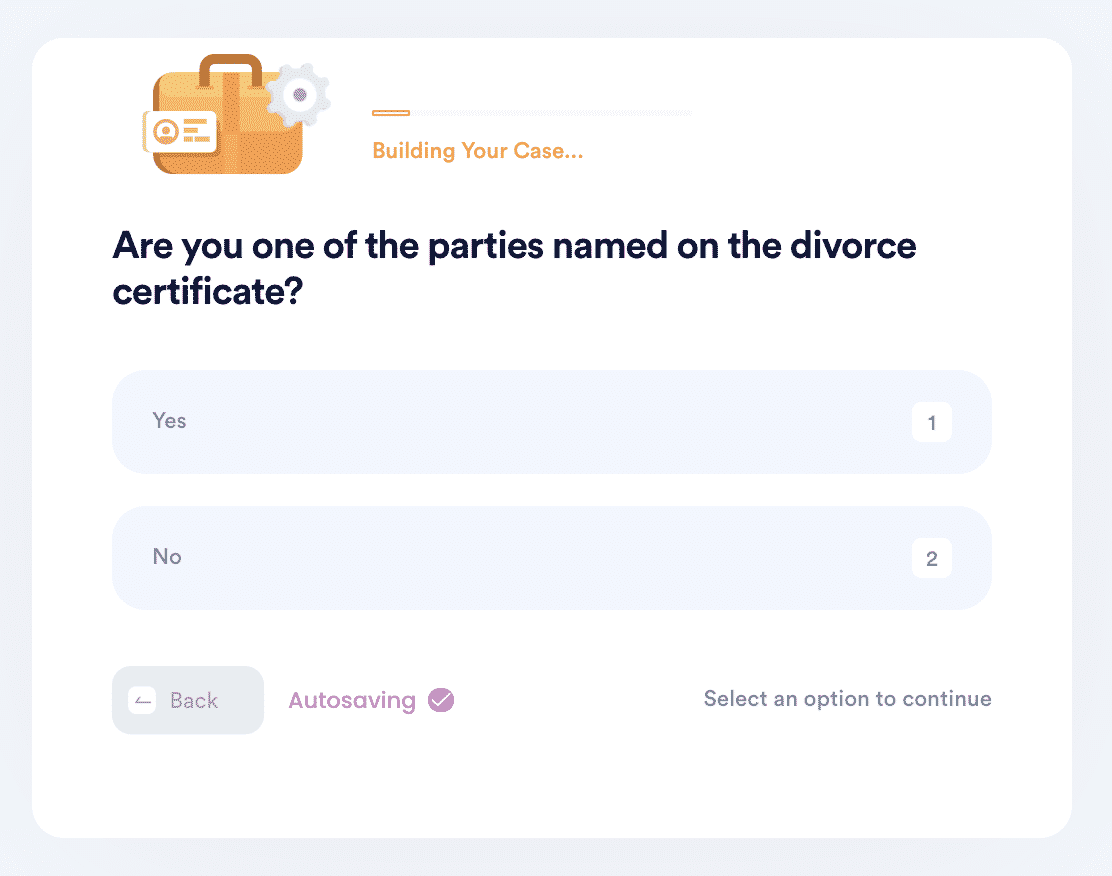 3. Enter the city, state, and county where the divorce certificate and original divorce certificate were issued as well as the dates they were issued.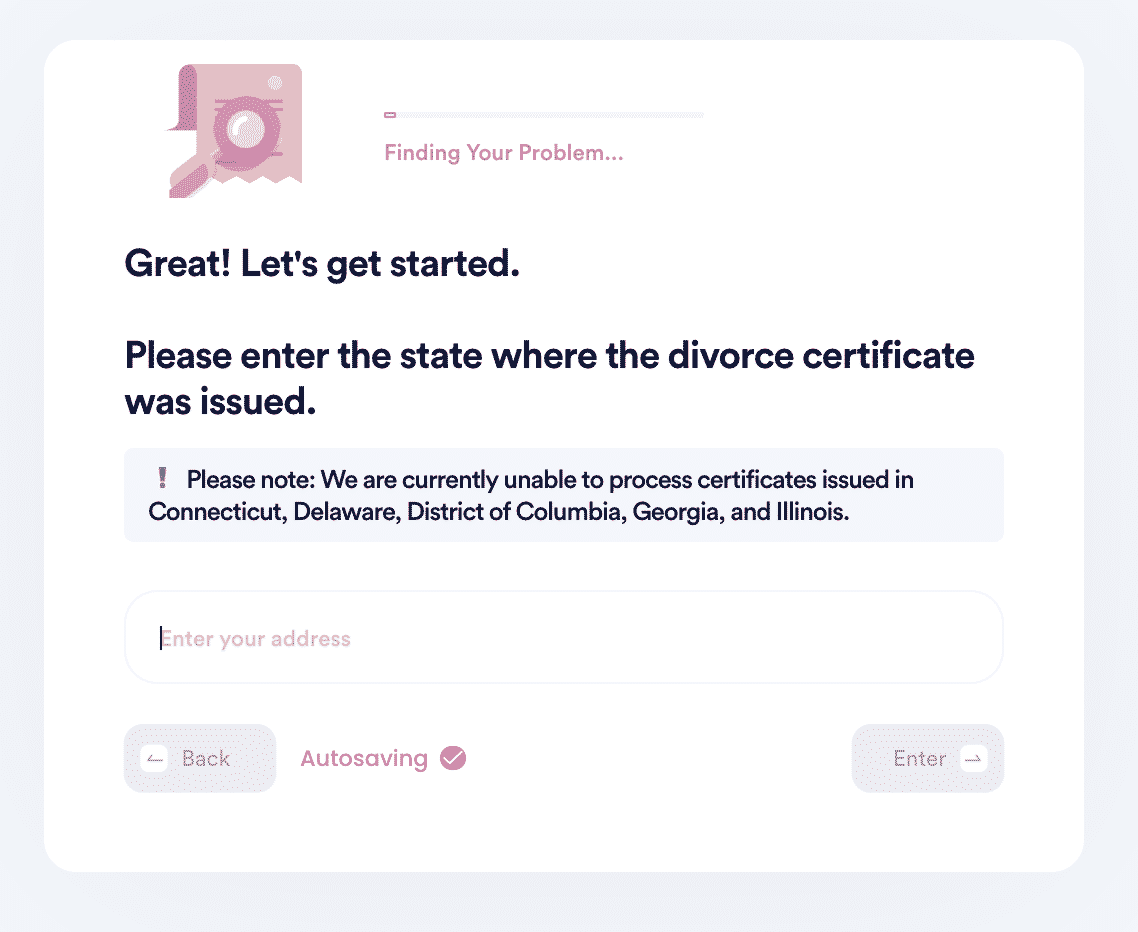 4. Indicate what you will be using this certificate for, and choose whether you need an authorized or certified copy.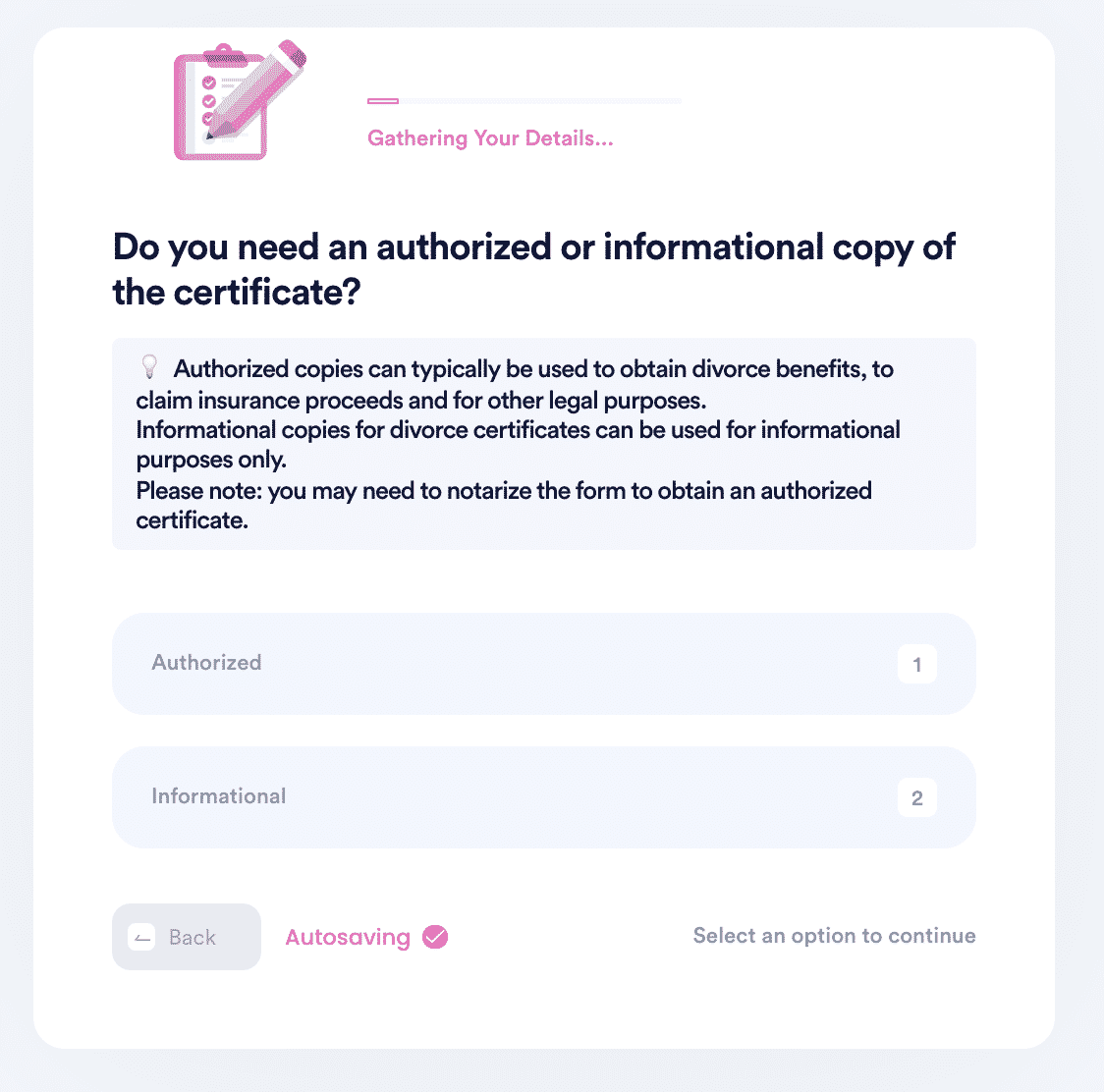 5. Enter your contact information and shipping address. Upload copies of your government-issued identification, such as a driver's license.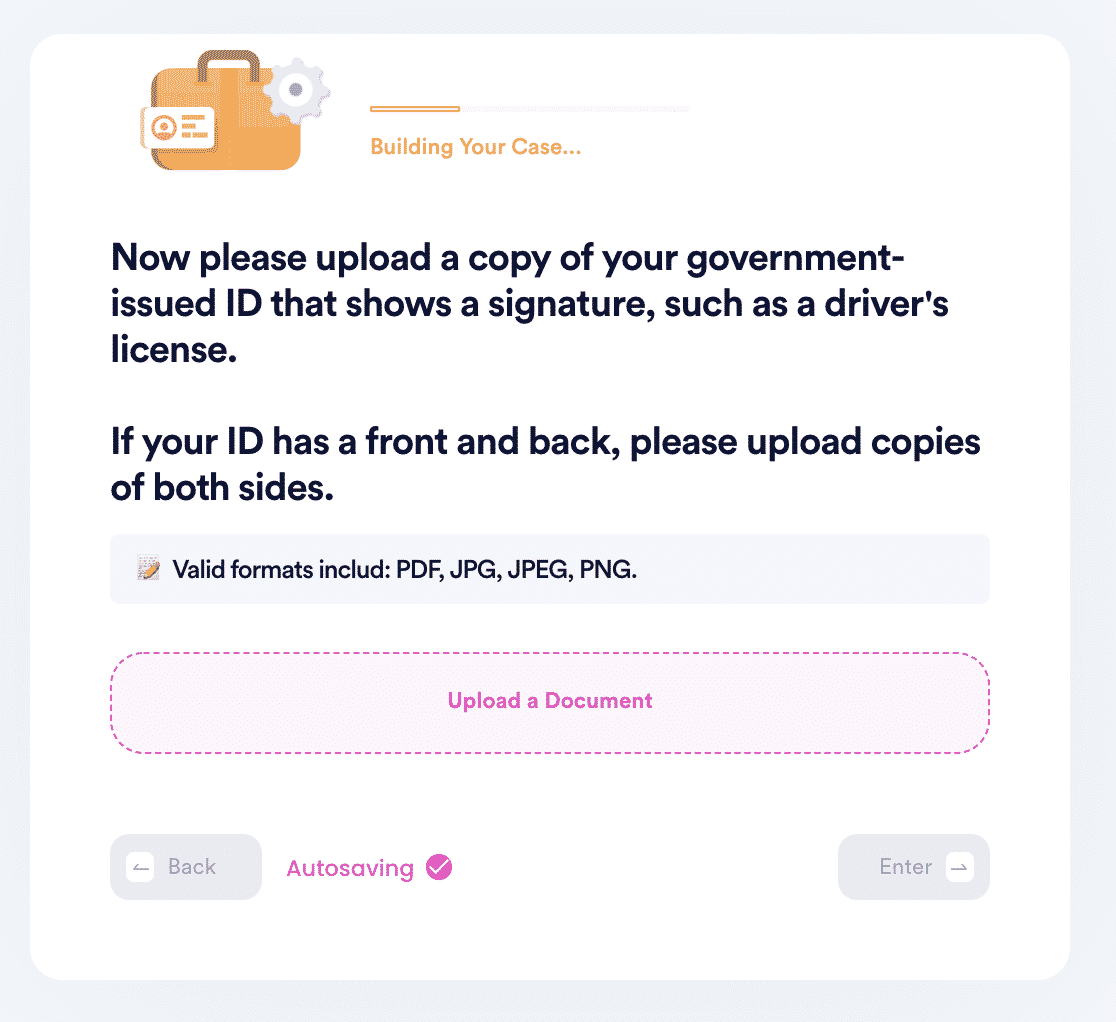 6. Choose whether you would like to electronically sign this form or not. Once we generate the form, verify that all of the information is correct.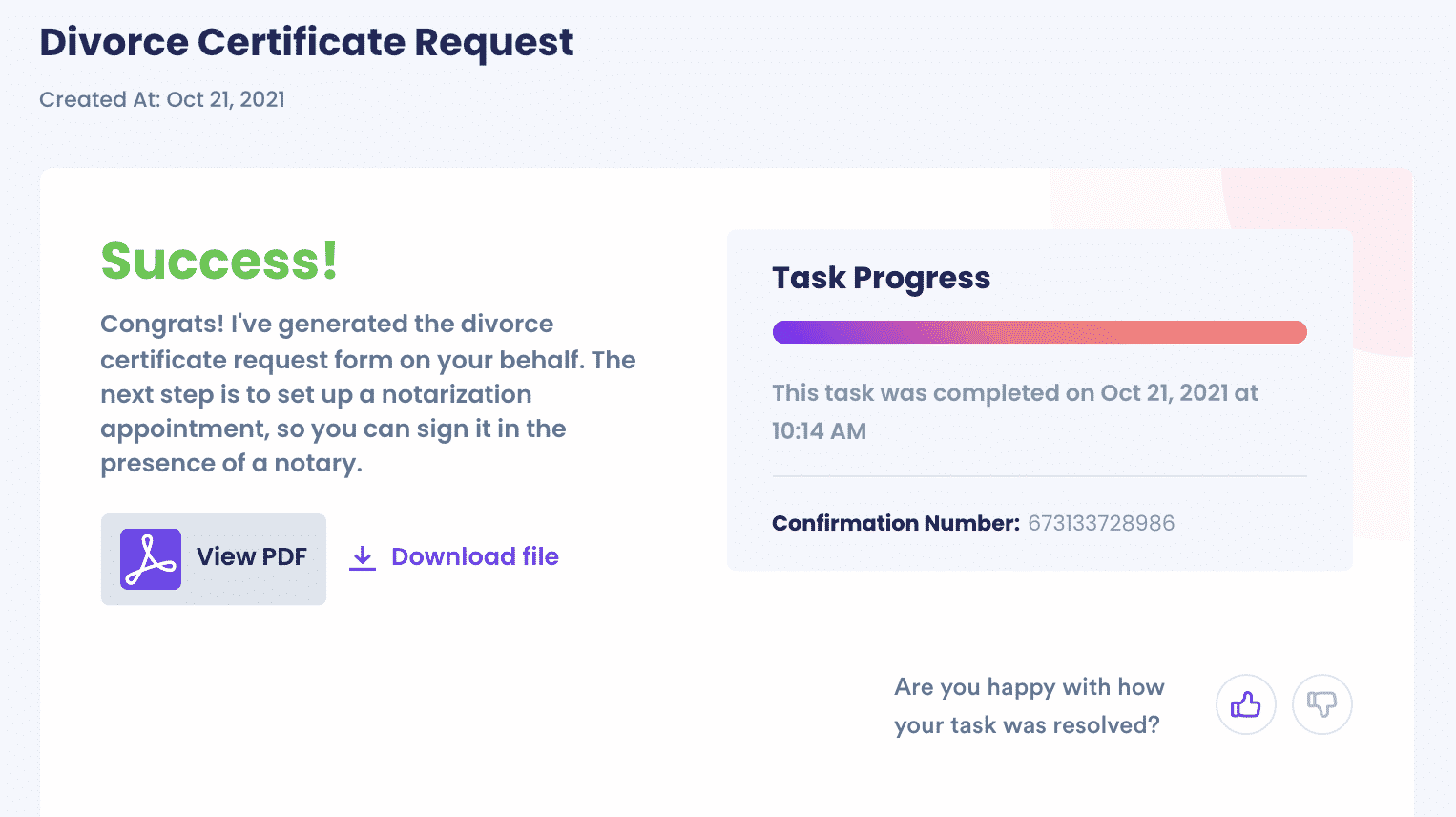 7. If you need the document to be notarized, schedule a notarization appointment using our Notary product. Otherwise, proceed to our Mail Checks product and let DoNotPay mail in your request form with a check on your behalf.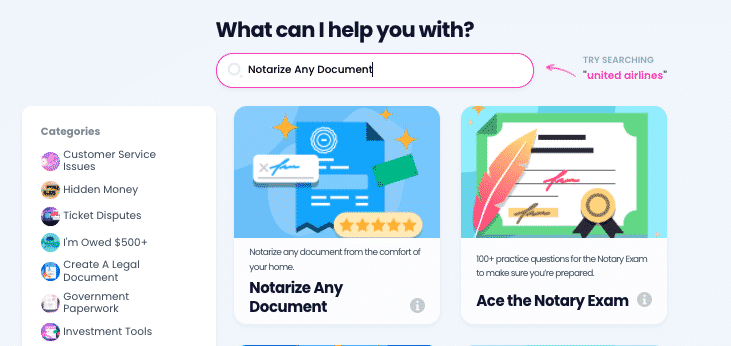 And that's it! There's a no faster and easier way to get your official divorce certificate copies than with DoNotPay.
We'll Help You Get a Divorce Certificate From Any Jurisdiction
Were you searching for "get my divorce certificates" and you ended up here, although your divorce was finalized in another jurisdiction? That's ok. No matter where your records are housed, we can retrieve them. Here are the five states in which we're the most active:
We can also get certified copies of birth, death, and marriage certificates, too. This is a great time to get all your vital records organized.
There's a Lot More That DoNotPay Can Do For You
We don't just handle records. There are thousands of tasks we can make easy for you. Here are five examples:
Our products solve problems, and getting your Washtenaw County divorce certificate is the perfect way to try us out. Let's get started now.