All the Facts About the Washoe County Divorce Process
Going through a divorce is a difficult process—you not only go through an emotional rollercoaster but also have to handle complicated administration. Every state and county has specific regulations about divorces, so it's essential to get acquainted with them to ensure a smooth ride.
If you want to know how the Washoe County divorce process works, DoNotPay can provide you with a step-by-step guide. Do you want to speed up the process? and get a divorce settlement agreement in a flash! We can also provide info on:
Divorce Requirements in Washoe County, Nevada
Nevada is a "pure no-fault state" that does not recognize fault-based grounds for ending a marriage, so it is enough to state incompatibility or irreconcilable differences to get a divorce.
If you want to file for divorce in Washoe County, you need to fulfill the following requirements:
Reason for divorce—You can seek a divorce from your spouse if:

There is no compatibility
Both of you are living in separate households for more than a year
One spouse is considered legally insane for at least two years

Residency—You and your spouse should be residents of Washoe County, Nevada, for at least six weeks to file for divorce. You will need to present the following information:

Your ID or driver's license
An employer's affidavit
A signed witness statement
If you and your spouse are living in different households, you need to provide a lease agreement or a signed testimony from friends or family members as proof. For insanity grounds, you should provide a signed doctor's statement.
How To File for Divorce in Washoe County
If you want to file for divorce in Washoe County, you need to follow these steps:
Check the eligibility—Confirm that you satisfy residency requirements and have proper grounds for divorce
See which type of divorce works for your circumstances—Washoe County recognizes two types of divorces:

Uncontested or friendly divorce—An uncontested divorce can be settled out of court because both partners agree on everything
Contested divorce—A contested divorce requires going to court and involving a judge who will decide on contested matters

Choose where to file the divorce papers—You can file for divorce in one of the following counties:

The county where you reside
The county where your spouse lives
The county where you both lived during the marriage

Fill out the court forms—You need to go to the District Court and do the following:

Fill out the Decree of Divorce
Present it to the district court
Pay the filing fee

Serve your spouse—If you are filing the complaint alone, you are required by law to serve the divorce papers to your spouse through a friend, family member, or a third party. If you are filing the complaint with your spouse, you can skip this step
Wait for your spouse to respond—After being served, your spouse has to respond within 20 days by filing an Answer to Complaint for Divorce. If they don't, you can request a default divorce where the court will grant everything the petitioner requested in the complaint
Obtain a Decree of Divorce—Once the judge has signed the Decree of Divorce, your separation is finalized
Filing Fees for Divorce in Washoe County
On average, the divorce process costs $326 for a Joint Petition and $364 for a Complaint. If you can't afford it, submit an Application to Proceed In Forma Pauperis. The court will waive your fee if you qualify.
Do I Need a Divorce Settlement Agreement?
If you opt for an uncontested divorce, you should prepare a divorce settlement agreement as proof you and your spouse agree on relevant issues. The contract sets out rules on how to manage or divide joint assets, liabilities, responsibilities, and child custody after the divorce.
In case you or your spouse disagree on any key points, you should hire a mediator to help you reach a compromise.
You can draft the divorce settlement agreement either before or after you file for an official divorce, but it only becomes legally binding once the court finalizes the divorce.
Ways To Draft a Divorce Settlement Agreement
You have several options to draft an out-of-court divorce settlement agreement, as mentioned in the table below:
| | |
| --- | --- |
| How To Draft Divorce Papers | Description |
| Through a lawyer | You can hire an attorney to draft your divorce papers, but most lawyers in Washoe county charge an hourly fee on top of a minimum retainer, so the charges can shoot up fast. If you and your partner agree on everything, it is still a safe option to consult a lawyer |
| Using online templates | You can look up divorce settlement agreement templates online and create one yourself |
| Via DoNotPay | DoNotPay can draft a divorce settlement agreement based on your circumstances and all important laws |
DoNotPay Can Draw Up a Divorce Settlement Agreement Within Minutes
Why hire expensive lawyers or use outdated templates to draft divorce settlement agreements when DoNotPay can do it for you with minimal time and effort? Here are the steps you need to take:
in your web browser
Select the Divorce Settlement Agreement tool
Provide the required info to our chatbot to personalize the document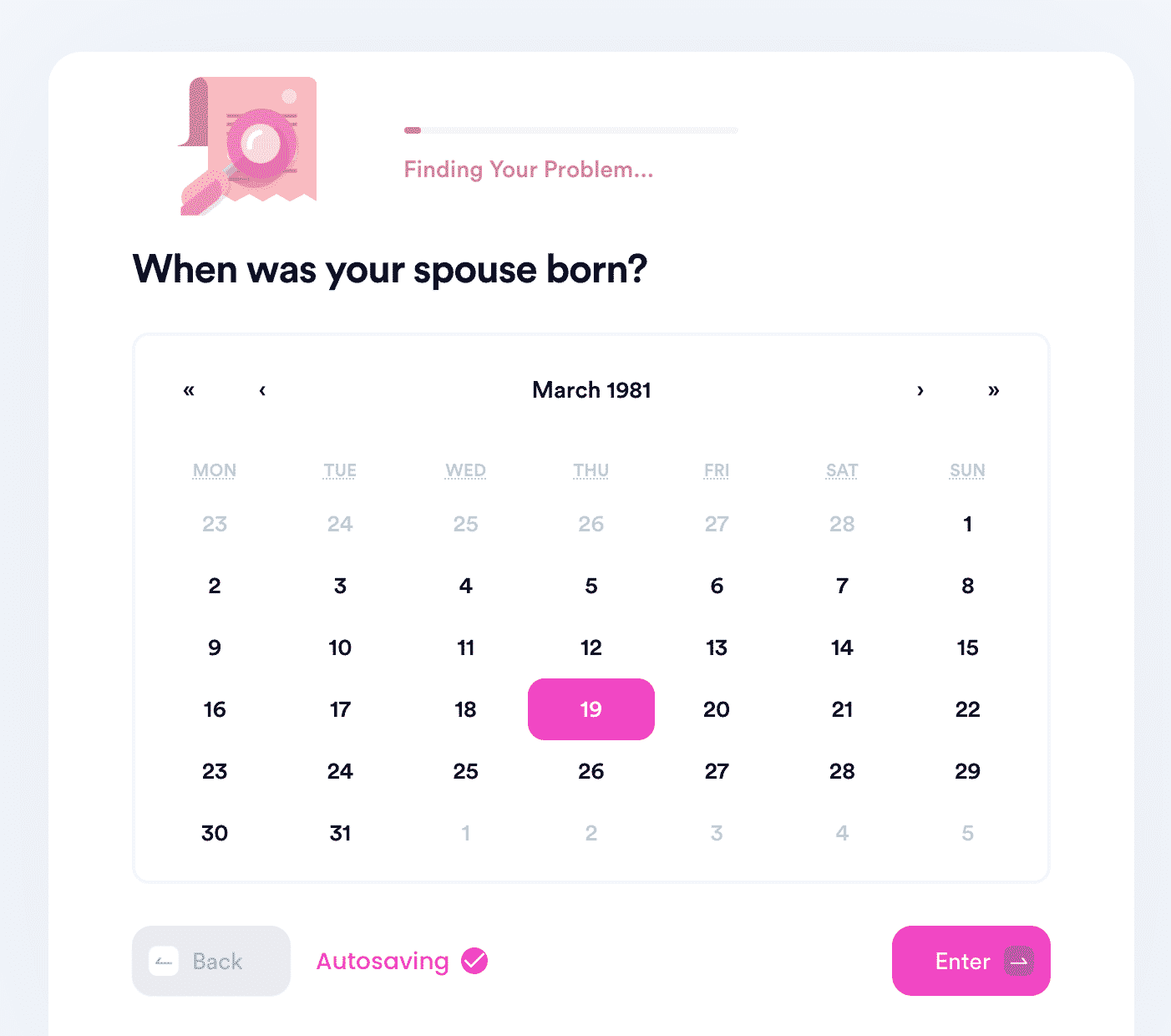 And you're done! We will draw up your document and send it to you. Once both parties sign the document, you should get it notarized. In case you don't know where to look for a notary, use DoNotPay to get your agreement notarized online.
Want more information on how the divorce process works? We can answer numerous questions, including:
How should you tell your kids you're getting a divorce?
DoNotPay Resolves Both Bureaucratic and Legal Issues
One of our app's best qualities is its versatility. You can use your personal AI-powered assistant to overcome both legal and bureaucratic obstacles without breaking a sweat. No more waiting in lines or breaking the bank due to sky-high lawyer fees!
Take a look at what you get access to for a low monthly fee:
Can DoNotPay Do Anything Else?
The world's first robot lawyer is capable of so much more! No matter if you want to find your unclaimed money, apply for clinical trials, get rid of email or text spam, prepare for a government test, fight workplace discrimination, or get gift card cash back, DoNotPay can help!
What are you waiting for? Sign up for DoNotPay now to enjoy our nifty products!