Washington State Rental Agreements
—Draw Yours Up in a Jiffy
A legal document between a landlord and a tenant stipulating the terms of a rental is called a rental or lease agreement. You may be looking for a free printable basic rental agreement or a contract template because you don't know how to write a contract or you don't want to hire a lawyer. You don't have to choose between a rock and a hard place—DoNotPay can write up Washington state rental agreements for you!
This article will answer any questions you may have about rental agreements in Washington and show you how our AI-driven app generates these and many other legal documents.
What Does a
Washington State Rental Agreement
Cover?
A rental agreement should outline the basic rental terms, those following the WA residential laws, and any additional terms the landlord and tenant would like to include. Check out the list below for the most common and essential terms a WA residential lease agreement should include:
Personal and contact info of the landlord and tenants

Dates when the agreement is signed and the move-in date

Description of the rented property (e.g., restrictions, storage space, and common areas)

Tenancy term (e.g., a one-year lease, a

short-term lease

, or a

month-to-month rental agreement

)

Rent amount and payment method and schedule

Other expenses and fees (e.g., utilities and late fees)

Security deposit details

Tenant responsibilities and restrictions regarding pets, guests, or maintenance 

Disclosure addendums, such as the lead-based health hazard disclosure

Landlord's access to the property

Signatures
Do I Have To Notarize a
Rent Agreement
in
WA
?
You don't need to notarize rental agreements in Washington state unless their terms are longer than one year, according to the Washington State Law under RCW 59.18.210.
If you don't notarize your lease, it will be recognized as a month-to-month one. It won't be void, but the validity of this legal term will be questionable. This doesn't make the lease void—it just questions the validity of the lease term.
In case your rental agreement needs a notary signature, our app can help you notarize this and any other document!
Relevant Washington State Residential Laws Explained
Before entering into a WA rental agreement, you should understand the state residential regulations regarding rentals. The most important ones are the following:
Landlord access:

A landlord needs to provide a two-day notice to enter the rented premises for repair, maintenance, and other non-emergencies

If they want to show the property to a prospective buyer or renter, a one-day notice is necessary

Security deposits:

WA doesn't impose a cap on the security deposit amount, which means a landlord can request as much as they want

A landlord has to return the security deposit to the tenant within 21 days of a tenant vacating the rented property

Disclosures:

Security deposit receipt

Move-in checklist—the landlord has to create a move-in checklist for the tenant, which will include any damages to the property

Fire protection & evacuation—the tenants must receive a copy of fire protection and evacuation info

Mold disclosure—the landlord needs to disclose any existence of mold and potential dangers

Voter registration packet (only required in Seattle)—all tenants must receive a voter registration packet provided by the landlord
Make a
Washington State Residential Lease Agreement
Using DoNotPay
Once you answer a few of our chatbot's questions, we'll take it from there and create a rock-solid WA residential lease agreement. You can rest assured that the agreement will follow the state's rules and guidelines and also be personalized to fit your and the other parties' needs.
Here's how it works:
Access DoNotPay from a

Enter

Lease Agreement

Answer several questions
Feel free to make as many agreements as you wish! You can use our app to e-sign and fax your agreement in a matter of minutes.
DoNotPay can also provide tips and advice in case of landlord or tenant harassment. If you want to request a security deposit refund or write a security deposit refund letter, count on our assistance!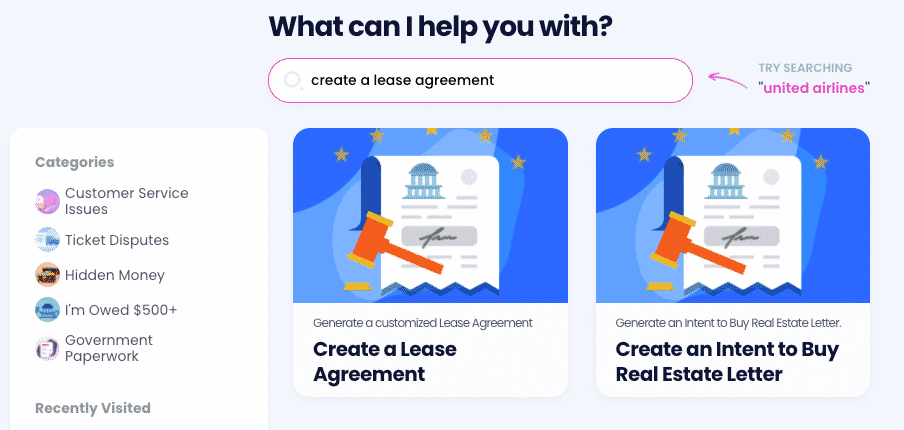 —your virtual lawyer extraordinaire—can currently generate the following legal documents:
General affidavit

Promissory note

Estoppel certificate

Intent to purchase real estate

Quitclaim deed

General business contract
DoNotPay Breaks Down Numerous Legal Documents
Familiarizing yourself with the agreement you're entering into and learning about different legal documents you may need is of utmost importance. This way, you'll know you're protected and that you're not violating any laws.
Whether you're a landlord or a tenant, the following rundowns of different agreements may come in handy in your real estate or other ventures:
Fighting Administration Is Easier With DoNotPay 
Bureaucracy is a disease of the modern world, and we finally have a cure. Thanks to artificial intelligence, DoNotPay knows how to handle numerous rules and regulations and make your life so much easier. 
Our bots ask you a few questions, gather the necessary info, and off they go! Filing warranty and insurance claims, requesting property tax reductions, getting access to public records, or claiming unclaimed funds under your name—you can deal with these bothersome tasks from the comfort of your home and within minutes!
If you need to get in touch with customer service representatives to ask for refunds or contact airline companies regarding compensation, our platform will make the process painless and care-free.
Don't hesitate to put our app into service if you need to contest parking tickets or avoid long lines at your local DMV!
How Else Can We Help?
Not only does DoNotPay handle bureaucracy, but it also saves you money in the process. Whether you're looking for the best learning materials for government tests or planning to comb through and cancel streaming subscriptions you don't use, DoNotPay can give a helping hand.
Our platform grows every day and comes with user-friendly features that will help you manage unpaid bills, stop copyright violation, or solve problems with credit cards faster than ever!