How Much Does Washington State Jury Duty Pay?
If you've been called to serve as a juror in the State of Washington, you need to know what the role entails and whether you'll get compensation.
In this article, we'll take a look at how much Washington State jury duty pays, how jurors are selected, and whether serving on a jury will get you in trouble at work. You can rely on DoNotPay to to your employer in no time.
Washington Jury Duty Pay Rates Explained
As a petit juror, you'll be paid $10 for each day of service and for the jury selection day. The State of Washington may offer reimbursement for travel expenses depending on your transportation method. You can also opt to spend the night in a nearby hotel if you live 60 miles away from the courthouse, and the court will reimburse the cost of your stay.
If you are summoned for a federal trial, you will receive $50 a day. If the trial lasts for more than ten days, you'll receive $60 for each day after the tenth day.
If you're a federal grand juror, you will also receive $50 a day, but you will be paid $60 a day after 45 days of trial have passed.
Is Washington State Jury Duty Pay Taxable?
The Internal Revenue Service (IRS) considers jury duty pay as a taxable income. You may receive a 1099-MISC or 1099-G form with your payment. The following reimbursements are considered non-taxable:
Mileage compensation
Accommodation fees
The jury duty pay that you transfer to your employer (if any)
If you have an unclaimed reimbursement for expenses related to your jury duty service, you may also be able to claim tax deductions.
Is Your Employer Obligated To Pay for the Days You Serve on a Jury?
In Washington, jurors reporting to jury selection or jury duty are eligible for unpaid time off. Most trials last for a day, though they can last up to five days or more. State regulations don't require private employers to provide daily wages during that time but encourage public employers to do so.
What Makes Someone Eligible for Jury Duty in Washington?
A prospective juror must meet the following criteria:
18 years old or older
A registered citizen of the United States and the county that issued the summons
Able to understand and communicate in English
Has their civil rights restored if previously convicted of a felony
Jurors are selected at random each year from various public records, such as:
Voters registration
Driver's license database
IDenticard holders
Random selection ensures that people from all walks of life can be a part of the justice system. Citizens who have served jury duty won't be summoned again in the same year.
What Are the Jury Duty Exemptions in Washington?
As serving as a juror is a civic obligation, you will face a number of legal repercussions if you skip jury duty in Washington without notice or a valid reason. While Washington doesn't have statutory exemptions for jury duty, you can still request an excusal if serving can cause undue hardships.
Below are some of the possible excuses you can use and proof that you must submit:
| Excuse | Proof |
| --- | --- |
| Medical condition | A letter from your healthcare provider |
| Financial hardship | A jury duty excuse letter from your employer and financial statements. You can factor in the jury duty compensation when building your case |
| Student status | Admission paperwork or school schedule |
| Care of a child | Proof of custody |
| Military duty | A notice from a commanding officer |
| Public service | A written statement issued by a supervisor |
Let DoNotPay Help You Request a Jury Duty Leave
While Washington law forbids employers from penalizing employees serving on jury duty, you still need to request time off from work. DoNotPay can help you with the task if you're unsure how to go about it. All you need to do is:
Navigate to the Request Jury Duty Leave feature
Answer our questions and upload your summons when prompted
Place an electronic signature and submit the form
You can then send the letter through DoNotPay or submit it to your supervisor by yourself.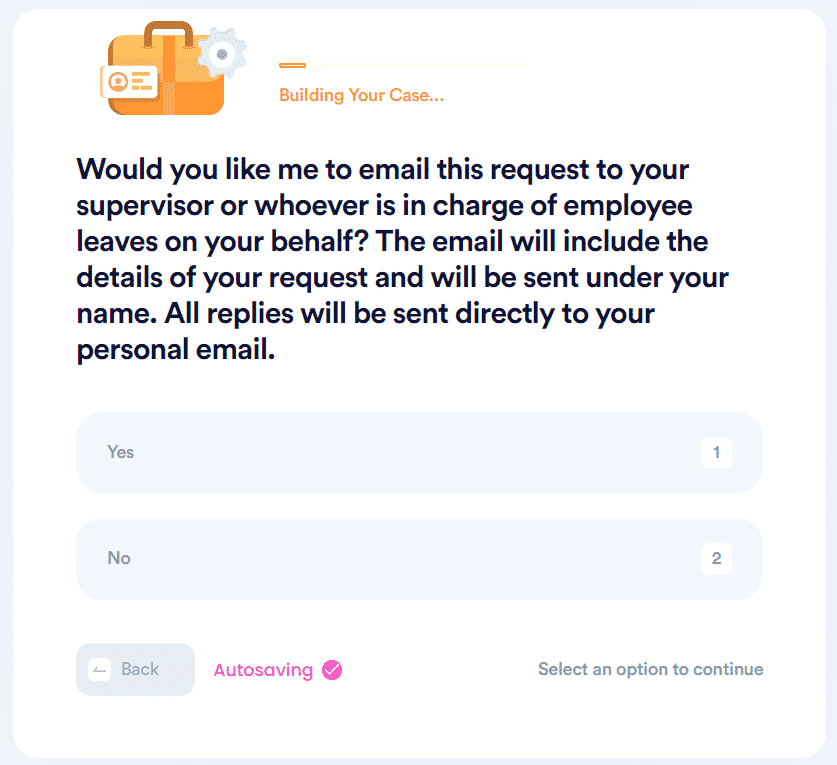 Check Out DoNotPay's Exhaustive Product Range
You can use our app to deal with any issue you could think of—from contesting parking tickets, applying for clinical trials, drafting an affidavit to homeschool, and sending defamation demand letters to contacting government representatives, applying for scholarships, appealing banned accounts, and getting in touch with embassies and consulates.
With DoNotPay by your side, you will never have to worry about how you'll cover your utility bills or property taxes again. Sign up now to discover all the ways in which we can assist you!
DoNotPay Puts Your Fears to Rest
Have you been dealing with workplace discrimination lately but don't know how to submit a complaint to your HR? Do you have a stalker or creepy neighbor who's a registered sex offender and who keeps you up at night? Do you want to put an end to robocalls and email and text spammers once and for all? DoNotPay can help you out!
If you're a victim of crime, we can help you get compensation as well. No matter the issue you're facing, you can count on us for swift and reliable assistance.