The Ins and Outs of Washington State Divorce Laws
Getting divorced in Washington State might seem scary at first due to all the complicated laws and legal technicalities. You might be wondering what the cost of the process is or whether you can get divorced without a lawyer.
DoNotPay can help you by explaining all the Washington State divorce laws and show you how to get divorced amicably!
Washington Divorce Laws—The Basics
Washington is a no-fault divorce state, meaning that you don't need a reason to get divorced. Evergreen State divorce laws only require you to state that your marriage is irretrievably broken without playing the blame game in the court.
WA Divorce Laws—Residency Requirements
Before filing for divorce in Washington State, make sure that you meet the residency requirements. To prove residency, either one or both you and your spouse must:
Currently live in Washington State
Be a member of the armed forces currently stationed in Washington
Know each other's addresses
Types of Divorces Recognized by WA State Divorce Laws
Washington State laws recognize two types of divorce:
Contested divorce
Uncontested divorce
Contested Divorce
Contested divorces are for couples who can't agree on key divorce issues and have to take their case to court. The judge makes decisions in their stead after multiple court hearings. This type of divorce is also expensive, as the average cost is $15,000. If the couple has any marital children, the number can get up to $20,000.
Uncontested Divorce
An uncontested divorce allows the spouses to go through the process without going to court or hiring lawyers because they agree on crucial divorce aspects. The procedure is faster, cheaper, and much less stressful than the contested one. Getting an uncontested divorce can cost you between $500 and $700.
Without being in agreement with your spouse, you aren't eligible for an uncontested divorce. If you can't meet halfway with your spouse, you should try divorce mediation. Opting for mediation in Washington State will help you reach an agreement and settle out of court, saving you the money you'd otherwise spend on lawyers.
Which Papers Do You Need for an Uncontested Divorce in Washington State?
Preparing the necessary paperwork can be demanding and time-consuming when you're doing it on your own. We've prepared a guide on Washington divorce papers to help you out—consult the table below for details:
| Divorce Form | Explanation |
| --- | --- |
| Petition for divorce | Also known as a dissolution petition, this form starts the divorce procedure |
| Confidential information form | This form needs to include the information on both spouses |
| Summons | By serving (delivering) summons to your spouse, you inform them that you've filed for divorce. Washington State laws require you to hire a third-party neutral to the case to deliver the papers, such as a process server or a sheriff's deputy |
| Acceptance of service | Your spouse can complete the acceptance of service form, so you don't have to serve the papers or hire anyone |
| Certificate of dissolution | This document is issued by the Washington State, and it provides proof that your marriage has ended |
| Divorce settlement agreement | This contract is one of the most crucial documents in an uncontested divorce. It contains the divorce terms you and your spouse have agreed to, and it has to be fair to both parties. The most affordable and reliable way of getting one is by subscribing to DoNotPay |
How To Get an Uncontested Divorce in Washington State
Once you meet the residential requirements, you should follow the next steps to file for divorce:
Prepare the required divorce papers—You can find the necessary forms online on your county's official government website or at your local courthouse. Getting the forms in person requires paying a fee, so be sure to check with the court clerk before acquiring them. Find out more about divorces in various Washington State counties, such as:

File the paperwork—Once you complete the papers, you will need to file them in the county where you live. If your spouse is a resident of a different Washington county, you can file the papers in either one. Filing the wrong forms or bringing them to the wrong court can get your case dismissed, which means that you'll have to start from scratch. You will also need to pay a filing fee. If you can't afford it, you can request a fee waiver
Go to a final hearing—Upon filing the papers, you will enter a 90-day waiting period required by WS divorce law. After the three-month wait is over, you will have to go to the court where the judge will:

Review the divorce papers
Ensure that both you and your spouse are getting divorced on your own will
Sign the Findings of Fact and Decree of Dissolution and make your divorce final
DoNotPay Helps You Get a Divorce Settlement Agreement in a Snap
Getting a properly written divorce settlement agreement is crucial if you want a smooth divorce. It prevents potential disputes over assets, alimony, or children later on in the future. You can either spend a fortune by hiring expensive lawyers to draw one up for you or use DoNotPay! We'll generate this vital document for you in a jiffy—all you have to do is:
Select our Divorce Settlement Agreement tool
Fill out a short questionnaire
Notify us if you need a notary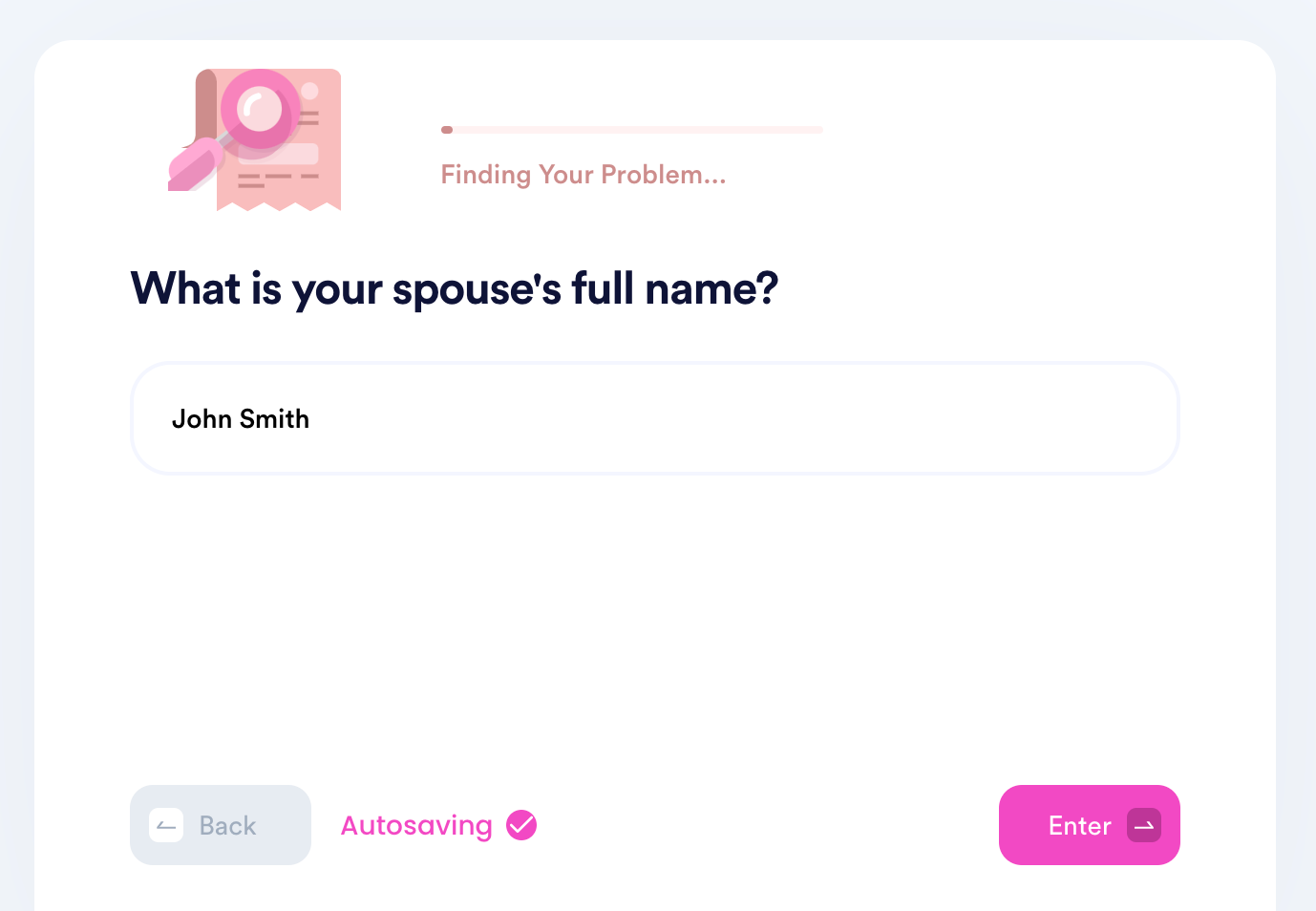 We'll process the details you give us and generate an agreement that will cover your and your spouse's resolutions on matters including:
The document will comply with Washington State divorce laws, and it'll fit your needs perfectly. You can then have it notarized easily by setting up an appointment with an online notary. All you need to do is follow the link we send you via email.
DoNotPay can also tell you all about online divorces in Washington State and teach you how to:
Use DoNotPay To Complete a Variety of Tasks at Any Time
Why waste time and money completing mundane tasks on your own when you can let DoNotPay assist you? Take a look at the table below to find out what our AI-powered app can do for you:
| DoNotPay Can | Services |
| --- | --- |
| Protect your safety and privacy | |
| Draft legal documents | |
| Help you get your money back | |
DoNotPay Has More in Store for You!
Since communication is key, you'll appreciate our feature that helps you get in touch with customer service reps quickly! We'll also show you how to send faxes online and have your documents notarized by an online notary with ease!
Going on vacation? Use DoNotPay to take a valid passport photo at home or get a tourist visa!