Can You Get a Washington Divorce Online? All the Answers From DoNotPay
If you are filing for divorce, you want the process to be quick, cheap, and free from hassle.
Washington State makes the process relatively easy, with all of the divorce forms you need available online.
DoNotPay is here to help you start your Washington divorce online with all the info you need to make it painless!
Who Can File for a Washington State Online Divorce?
If you or your spouse currently live in The Evergreen State, you are eligible to file for divorce in Washington.
The only time you will have to wait is a mandatory 90 days between you filing your petition and your divorce being granted.
Washington is also a no-fault divorce state, meaning the only grounds for divorce you need to claim is that your marriage broke down due to irreconcilable differences.
The filing fee for a WA divorce is around $320, and you may have to pay an extra $50 to have your papers served on your spouse.
How Does Washington State Divorce Online Work?
Starting divorce proceedings in Washington is a four-step process, as follows:
Downloading and filling out divorce forms
Negotiating a settlement agreement
Filing the forms
Serving your spouse
Downloading and Filling Out Divorce Forms
The state of Washington provides online divorce papers for you to download and fill out.
The forms include a:
Petition for divorce—including full disclosure of all children and finances in the marriage
Summons for your spouse
Confidential information sheet—containing personal details about the plaintiff and the respondent
Certificate of dissolution
Proof of servitude
Response form—to be filled out by your spouse to signify agreement or disagreement with each point of your petition
All the forms are downloadable as fillable PDFs or Word documents.
Negotiating a Settlement Agreement
If you and your spouse are aiming for an uncontested divorce, you should negotiate and sign a divorce settlement agreement before you file your petition.
The settlement agreement should cover all the points listed in your petition and state how your:
Children—if any—will be looked after
Assets and liabilities will be divided
Ongoing expenses will be covered
If you can agree on an out-of-court settlement before you file, you should be able to avoid court proceedings. If you can cooperate fully with your spouse in a friendly divorce, legal representation should also be unnecessary.
Filing the Forms
You need to file your divorce papers with the clerk of your county court or the court where your spouse lives.
Some counties in Washington require extra paperwork not included in the state-approved divorce forms, so you should check in advance of filing.
If your spouse agrees to the divorce and the settlement you have agreed on, they can sign a joinder at the bottom of your petition form. This states that your spouse is happy for the divorce to proceed as set out in the petition.
In this case, you do not need to serve the divorce papers.
Serving Your Spouse
If your spouse has not signed the joinder on your petition, you will have to serve the divorce papers.
This entails having them delivered by a professional process server, who obtains a signature to confirm that your spouse has received them.
Where Can You Get a Divorce Settlement Agreement Set Up?
Your settlement agreement is the make-or-break document for finalizing your divorce process with no fuss.
The settlement agreement is a legal document and needs to be carefully structured to make sure all the crucial aspects of your married life are regulated, including:
You can have your settlement agreement set up using the following resources:
Settlement Agreement Resources
Explanation
Lawyer
Family or divorce lawyers are experts at negotiating and drafting settlement agreements, but their expertise comes at a price. With an average hourly rate of $236 in WA, even an uncontested divorce can cost $5,000 per spouse if you go the attorney route.

If the two of you agree on the major terms of your settlement, you can opt for mediation instead—a trained mediator can help you negotiate face to face and iron out the details of your agreement

Online provider
Various online companies offer downloadable templates for you to fill out. While they are cheap, you will often find that they are too generic to cover your exact needs—any settlement agreement that doesn't tick all the boxes will be rejected by a WA judge
DoNotPay can solve these problems—we can without you paying a cent in lawyers' fees!
DoNotPay Helps With Your Online Washington Divorce!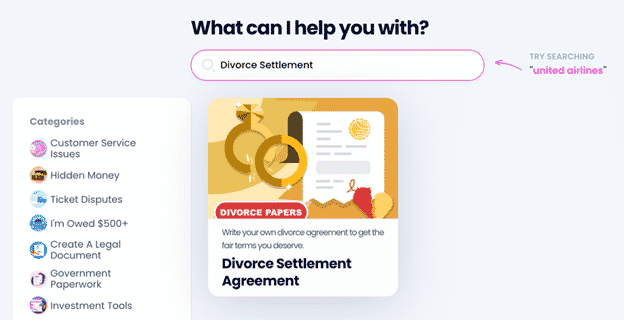 DoNotPay is here to make your divorce as easy as possible!
You can deal with a lot of the paperwork online in a Washington divorce, and DoNotPay can help you achieve more. Our Divorce Settlement Agreement product offers you a watertight and comprehensive document that can be customized to reflect what you and your spouse have agreed on. Your bespoke agreement is ready to sign in minutes, and you don't have to engage with lawyers at all!
To set your agreement up, here's what you need to do:
in your web browser
Click on our Divorce Settlement Agreement feature
Follow the prompts and give us the details you have agreed on with your spouse
Once everything is filled in, you will have your document in an instant. You can sign it together with your spouse and have it notarized.
Even if you don't know where to find a notary in Washington, there's no need to panic—our online notarization service can get your documents signed and sealed online!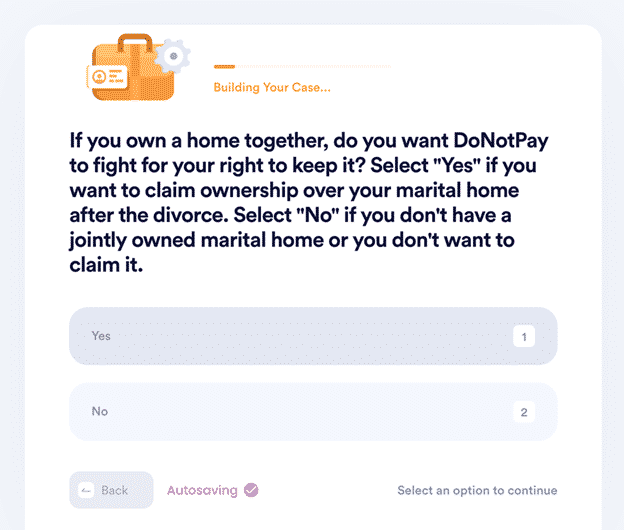 DoNotPay Has the Deets on County Law in Washington!
If you are looking for information about your specific county in Washington State, here are some examples of what DoNotPay can offer:
Learn How To Solve Legal Issues in Minutes!
Do you need to draft a legal document? Spending hundreds of dollars on lawyers is not the answer. We came up with a faster and more affordable solution. Not only can our app draft child consent forms, divorce settlement agreements, and powers of attorney for you, it can also provide legal assistance by helping you take anyone to small claims court!
Drafting numerous documents is not all DoNotPay does for you! Aside from drawing up contracts and agreements, we can also assist you in getting them notarized online from the comfort of your home or office!
Explore DoNotPay's Other Nifty Features
There is more assistance on the way! You can use DoNotPay's features to handle various tasks with ease, including:
We can also help you protect your safety. If you don't know how to deal with copyright infringement, stalking and harassment, work discrimination, sex offenses, and disputes with annoying neighbors, DoNotPay has got you covered.