Washington, D.C., Jury Duty—All You Need To Know
Serving jury duty is an important part of the U.S. justice system because it enables fair and unbiased trial for everyone. If you are called for jury duty in Washington, D.C., you will need to know:
This article will tell you all you need to know about Washington, D.C., jury duty and help you write a professional leave request letter so that your employer can verify your jury duty. If you want to send the letter to your employer immediately, register for DoNotPay.
Who Can Be Selected for Jury Duty?
Anyone who is a U.S. citizen can be selected for jury duty. The selection process is done by a computer that draws juror names from:
Lists of District of Columbia voters
D.C. Department of Motor Vehicles lists of driver's licenses or IDs
D.C. Department of Tax and Revenue records
Public assistance tolls
You will be able to qualify for jury duty if you are:
A citizen of the U.S. living in DC
At least 18 years old
Able to read, write, speak, and understand English
If you have pending felony criminal charges or have been convicted of a felony without your civil rights restored, you won't be able to qualify for jury duty. People who have a permanent physical or mental disability that might prevent jury service won't qualify for it either.
What Happens if You Skip Your Jury Duty?
If you can't perform your jury service, you must submit an excuse in writing on the back of the questionnaire you will get with your summons. Failing to do so will make the court issue an order to the United States Marshal Service to bring you before a judge for a show-cause hearing at which you will explain the reason for avoiding jury duty. Anyone who fails to show good cause for failing to report might be fined or imprisoned.
How Long Can Jury Duty Last?
The table below shows how long you will have to serve as a petit or grand juror:
Type of Jury
Duration
Petit

On call for two weeks
Serving approximately three to six days during two weeks

Grand

On call for 18 months
Serving approximately eight days a month
How Much Can You Expect To Be Paid?
If your employer doesn't give you paid time off, the federal court will compensate you for your jury service. Non-government employees will be paid $50 per day. You will also get compensation of $7 a day for transportation.
You won't have the right to compensation if your employer is paying you during your service.
Work and Jury Duty in Washington, D.C.
Protection of Employment of Jurors (Subsection 11-1913 of the D.C. Code) states that an employer must not deprive an employee of employment during their jury duty. It also says that the employer must not threaten or coerce an employee because they received a summons, responded to it, and served as juror. If an employer fails to pay the employee, they can bring a civil action for recovery of wages or salary lost as a result of this violation.
Use DoNotPay To Notify Your Employer of Your Jury Duty Leave
Do you keep getting called for jury duty but are afraid to respond because your employer might fire you? Don't fret—DoNotPay can help you get time off for jury duty by helping you create a leave request in mere minutes! We know all the relevant laws that prevent your employer from firing you or creating any trouble when you need to perform your jury duty.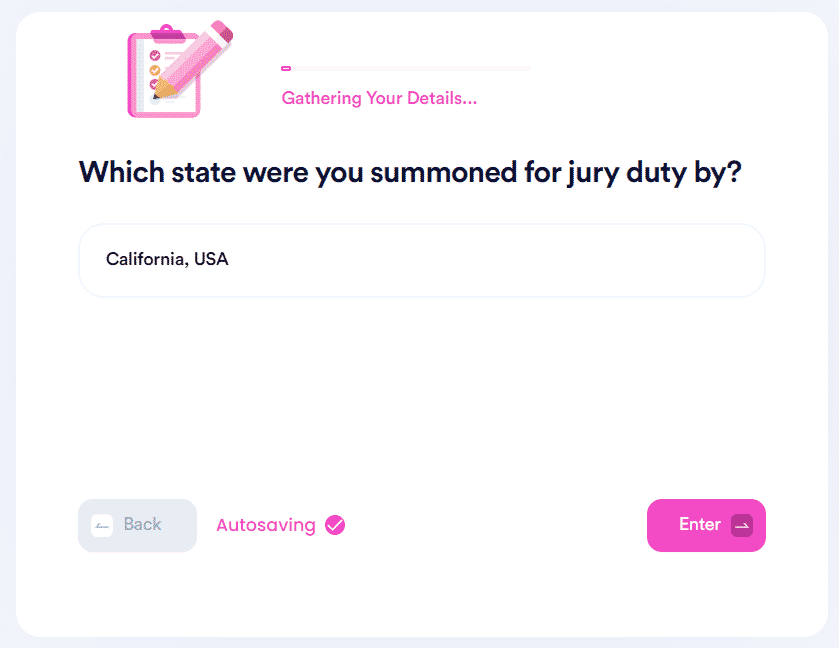 Sign up for DoNotPay and follow the steps below to create your request letter:
Open the Request Jury Duty Leave tool
Provide information regarding:

Court that summoned you—state or federal
Your company
Name and location of the court
Date when you'll serve

Provide a photo of your jury summons
Notify us if you want us to send the letter on your behalf
If you want to learn more about which questions they might ask you during selection, visit DoNotPay's learning center. We can also tell you more about:
Deal With Administrative Issues With Ease
Drafting contracts and agreements, getting your documents notarized, disputing parking tickets, and creating passport photos will become a breeze once you sign up for DoNotPay.
We can also help you:
DoNotPay Helps You Protect Your Consumer Rights
Don't let companies take advantage of you! With our help, you'll be able to cancel any subscription or membership and request a refund.
As a consumer, you may be overwhelmed with endless steps and piles of paperwork you need to go through to get what you're owed. This is where DoNotPay comes in—let us be your assistant and fast-track the following:
Have you forgotten about a free trial you signed up for? Avoid being charged by using our app! With DoNotPay's virtual credit card, you'll get unsubscribed automatically without the company taking any money from you.
Are you getting spammed via email or text? Get rid of spam for good with our nifty app!