Demystifying the Washington County Sex Offender Laws
Oregon has the most sex offenders per capita in the United States—citing 688 registered sex offenders per 100,000 residents. Any of them could be living or hanging around in Washington County. Sex offender laws exist to keep you protected, and in this guide, DoNotPay will give you the lowdown on all you need to know.
We will show you how to search the Oregan Sex Offender Registry, so you can map out the sex offenders near you. You will also learn how to use DoNotPay's feature and get an up-to-date Washington County sex offender list.
The A–Z on Washington County Sex Offenders
Washington County sex offenders are classified in levels based on the likelihood that they will recommit a sex crime. The levels are explained in the table below:
| Level | Description |
| --- | --- |
| Level 1 | Low likelihood to repeat a sexual offense |
| Level 2 | Considered to be at a higher risk of repeating an offense than Level 1 but is still classified as moderate |
| Level 3 | Deemed likely to re-offend based on the nature and severity of their previous crime. Some have predatory characteristics |
What Are Washington County Sex Offenders Not Allowed To Do?
Washington County sex offenders are not allowed to live in certain locations and to travel without informing the authorities about their whereabouts. If a sex offender is traveling to Oregon, they need to register with the local sheriff within ten days if they are staying for over 14 days. Sex offenders in this state receive regular home visits from the local law enforcement to ensure they are following the rules set out for them.
According to Oregon state law, sex offenders can't live next to a school or child care facility. The Department of Corrections will determine the distance that a sex offender can live from a place where children congregate based on the crime that was committed.
The Washington County Sex Offender Registry
Sex offenders in Washington County need to register with the Oregon State Police Sex Offender Registration Unit if they live, work, or attend school in Oregon. Failure to register is considered a felony.
The registration laws are strict, and a Washington County sex offender usually needs to register for life, except in the case of insanity.
Can a Washington County Sex Offender Apply for Relief From Registration?
Only Level I sex offenders can be granted relief from registration if:
It's been five years since they have been discharged from court's jurisdiction or supervision
They were initially classified as Level II, and it's been five years since they were in the Level I category
They haven't been convicted of any of the crimes below in the last five years:

Rape
Sodomy
Unlawful sexual penetration
Kidnapping
Sex with a minor
Burglary
Is the Washington County Sex Offender Registry Available to the Public?
Megan's Law states that information about sex offenders has to be made public. In Oregon, only information on Level 3 sex offenders is available for viewing on the state registry. To find information on Level 1 or Level 2 sex offenders, you need to get in touch with the local law enforcement authorities.
Where To Find the Washington County Sex Offenders List?
To find a list of sex offenders in Washington County, you can search the state database. Here's what you need to do:
Go to the Oregon State Police website
Use either of the following methods:

To search by location, click on the Map
To search by name or address, click the Search tab and enter the information

Hit the Search button
For a full list of sex offenders in Oregan, click on the Download button, and you'll receive a document that will contain the details on all perpetrators that the public is privy to.
You can also subscribe to receive email updates if a change occurs in the Oregon State Police Registry—for example, if a sex offender changes their home, work, or school address or becomes non-compliant.
Find Washington County Sex Offenders Using DoNotPay
The Oregon State Police website is not the most convenient to use and is difficult to navigate. DoNotPay offers a faster and more reliable way to search for Washington County sex offenders.
To use DoNotPay, here's what you need to do:
Key in Sex Offender in the search box
Type in your address and specify the radius
Select the weekly check option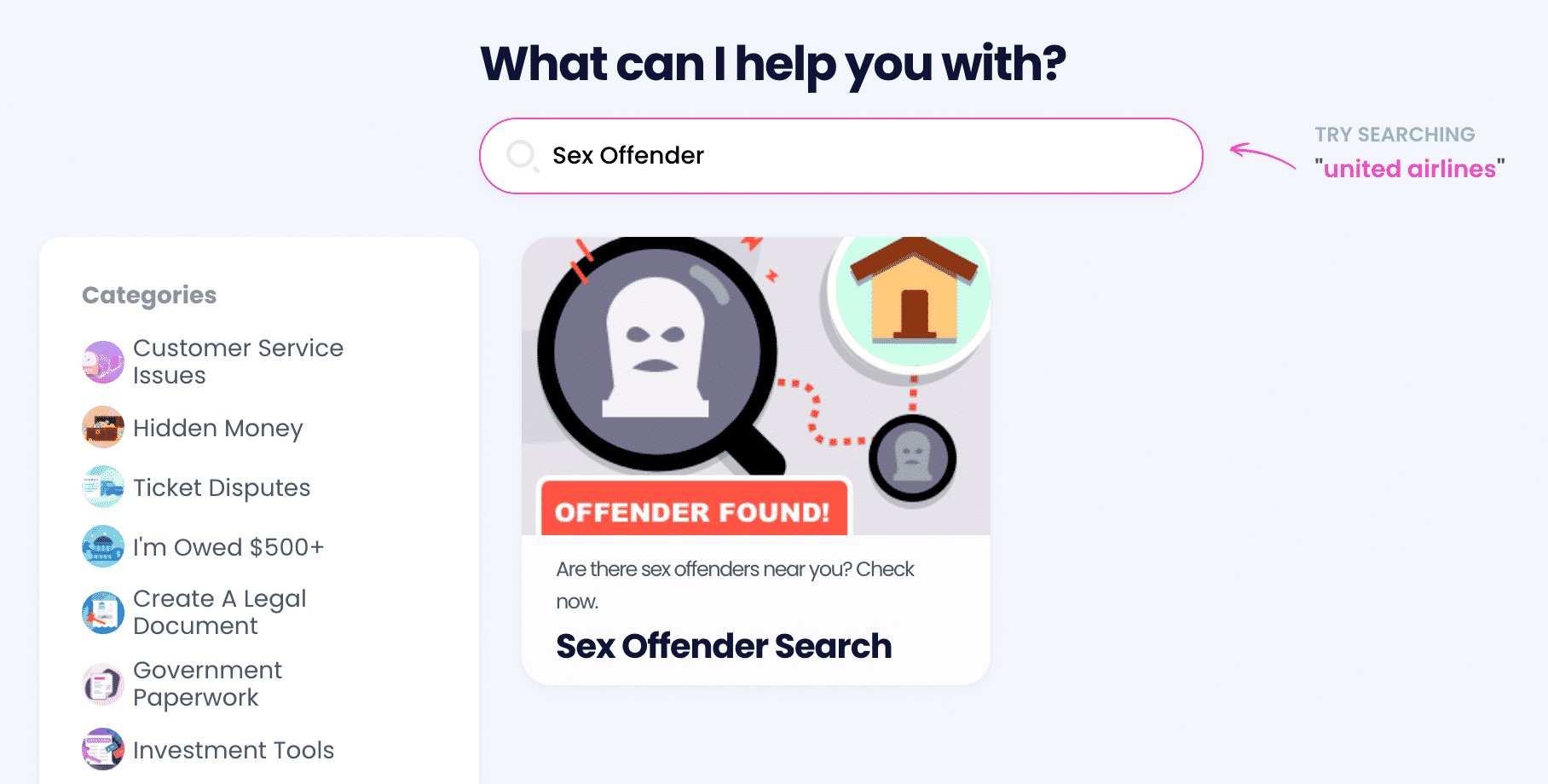 DoNotPay will automatically search for the sex offenders and generate a full report. You can also opt to receive comprehensive weekly reports that include information on newly registered sex offenders near you.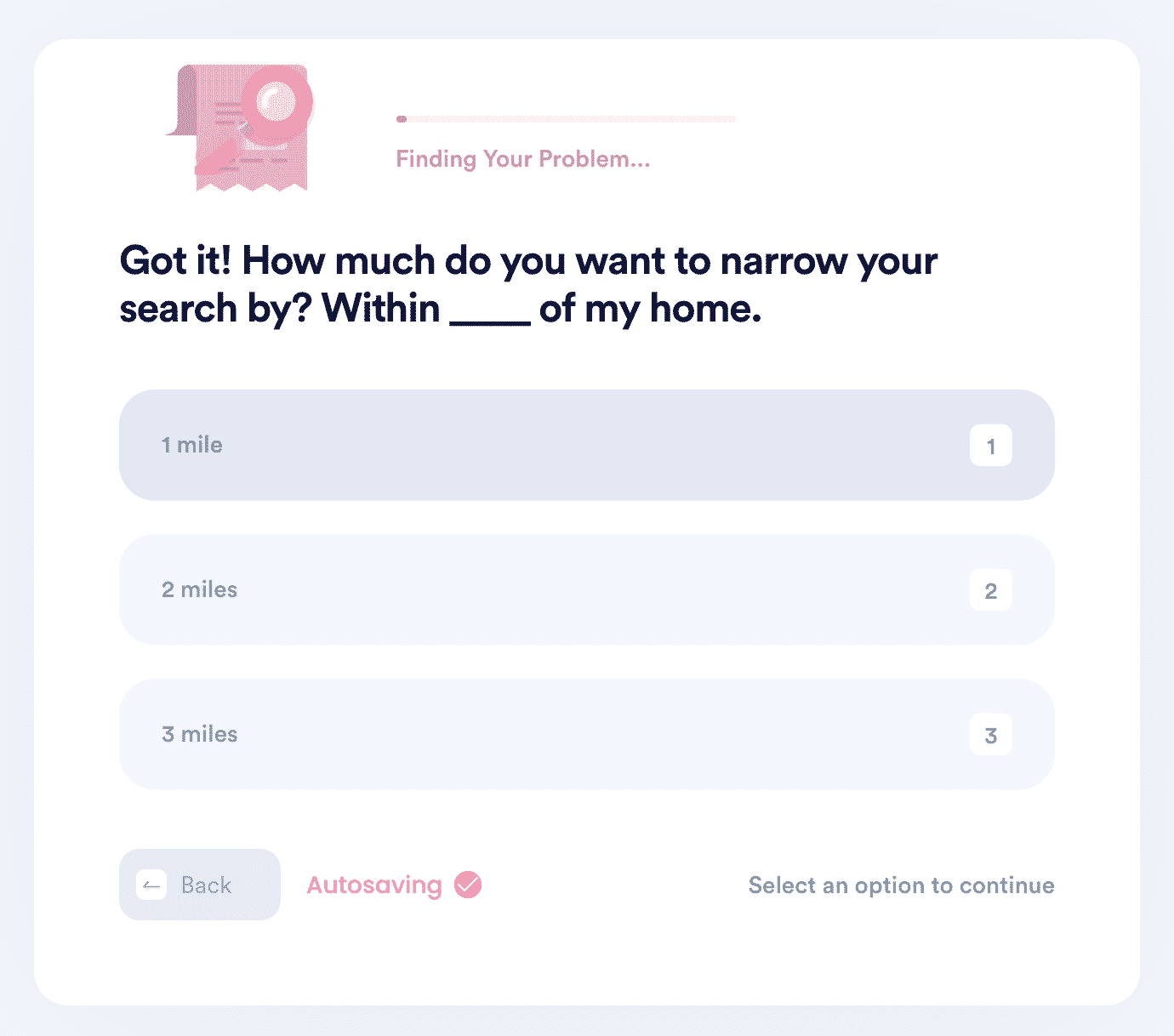 Can I Share the Information I Find on a Particular Sex Offender?
You can share the information you find on a sex offender strictly on a need-to-know basis. Sex offenders are protected by state law, and you are not allowed to harass or threaten them in any way.
DoNotPay Helps You Tackle All Kinds of Problems From the Comfort of Your Home
Are you too busy to go to Target, Walmart, or photo studios to get your passport photos taken? DoNotPay offers you the possibility of taking them yourself and having them edited without going anywhere!
Thanks to our app, you don't need to visit the post office if you want to initiate a return. You can also skip going to a notary office because we'll help you get your documents notarized.
Here are some other tasks you can complete with ease using DoNotPay:
We Help You Get Fuss-Free Subscriptions to Any Service
Interested in a specific service or platform? Make sure to get the best out of your free trial without getting charged and ending up with an unwanted paid membership. Even if you make a mistake, DoNotPay can end your subscription in a few simple steps!
Our system allows you to generate virtual credit card numbers to prevent platforms from getting your real bank details and using them for unauthorized transactions. We also offer burner phone numbers that will help you go through any subscription or verification procedure without disclosing personal details.