Getting a Washington County Divorce With the Right Info
Going through a divorce is typically stressful and time-consuming but can be a breeze if you've got the intel. What papers should you file, and how much will you end up paying? Do you have to hire an attorney, or can you handle a Washington County divorce alone?
DoNotPay provides information and offers help with the necessary documentation for your uncontested divorce in Oregon or any other state.
Washington County Oregon Divorce Requirements
According to Oregon divorce laws, either you or your spouse:
Must have lived for at least six months in Oregon before filing for divorce
Should file the papers in Washington County if you reside there
The person who files for divorce is called the petitioner, while the other party is the respondent. Keep in mind that if your spouse lives outside the Beaver State, a court in Oregon can dissolve your marriage but can't settle the division of property or alimony issues.
Washington County Divorce Steps
To get a divorce, the petitioner:
Doesn't have to prove their spouse has done something wrong—Oregon is a no-fault divorce state
Can cite irreconcilable differences—You could say that you and your spouse aren't getting along and cannot resolve your problems
Doesn't need their spouse's permission—While you can get divorced without your spouse participation, you should be aware that it's less complicated, time-consuming, and expensive if you reach an out-of-court settlement alone or through mediation
If you and your spouse are co-petitioners, i.e., you decide to file for an uncontested divorce together, you should:
Reach an agreement on all divorce aspects, terms, and conditions
Draw up a divorce settlement agreement
Fill out, sign the divorce forms, and file them with the court
Where To Get Washington County Divorce Forms
Washington County divorce forms are available on the Washington County Circuit Court website. Make sure you choose the right package for you, depending on whether you have children or not.
You can fill out all the necessary forms alone by following the instructions provided on the website. If you need help, you could use the Family Law Assistance Program, where you can get information on the:
Court process
Legal services
Required papers
All available resources
The Family Law Assistance Program provides so-called facilitators to review your documents. Keep in mind that they cannot provide:
You can reach out to the Family Law Assistance Program using one of the ways presented in the following table:
How To Contact the Family Law Assistance Program
Contact Information
Call the office
503–846–2896
Send an email
wsh.familylaw@ojd.state.or.us
Visit the office
145 NE 2nd Avenue, Room 120J

Hillsboro, Oregon 97124
Aside from completing and filing the required court forms, you and your spouse should outline all terms of your divorce in a divorce settlement agreement. You'll present this document to the court for review and approval.
How To Get a Divorce Settlement Agreement
You can get a divorce settlement agreement using one of the following available methods:
DoNotPay Is a Trustworthy Source of Reliable Divorce Settlement Agreements
Creating a divorce settlement agreement is a crucial step in any divorce proceeding. While the document must be drafted carefully, it doesn't have to cost you an arm and a leg. Our AI-powered app will make sure you get a divorce settlement agreement that:
Is affordable
Complies with the required state and local regulations to a tee
Is tailored to your specific circumstances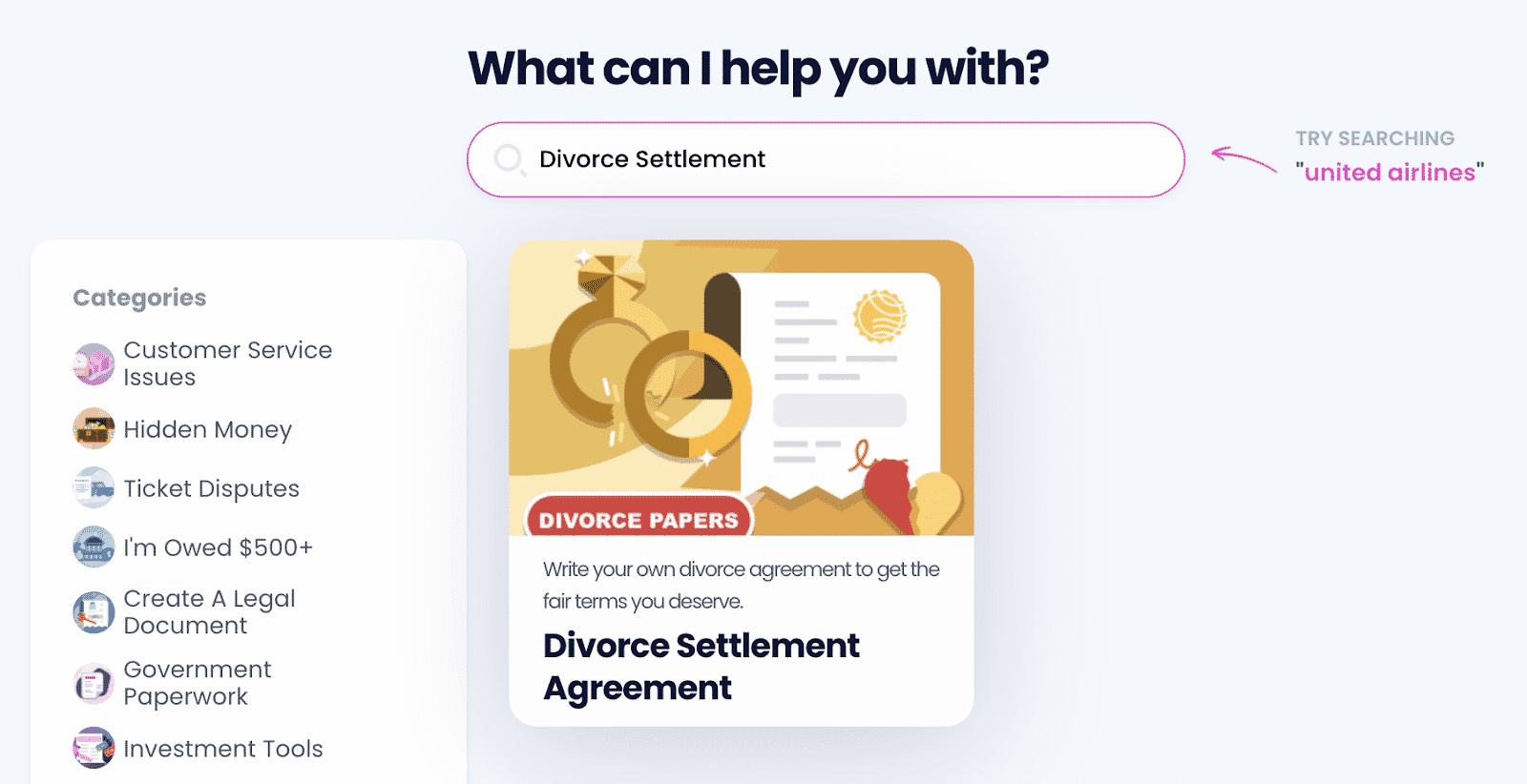 To generate the document easily, subscribe to DoNotPay and follow these steps:
Enter the Divorce Settlement Agreement in the search box
Answer our chatbot's questions to provide information about your debts, income, and assets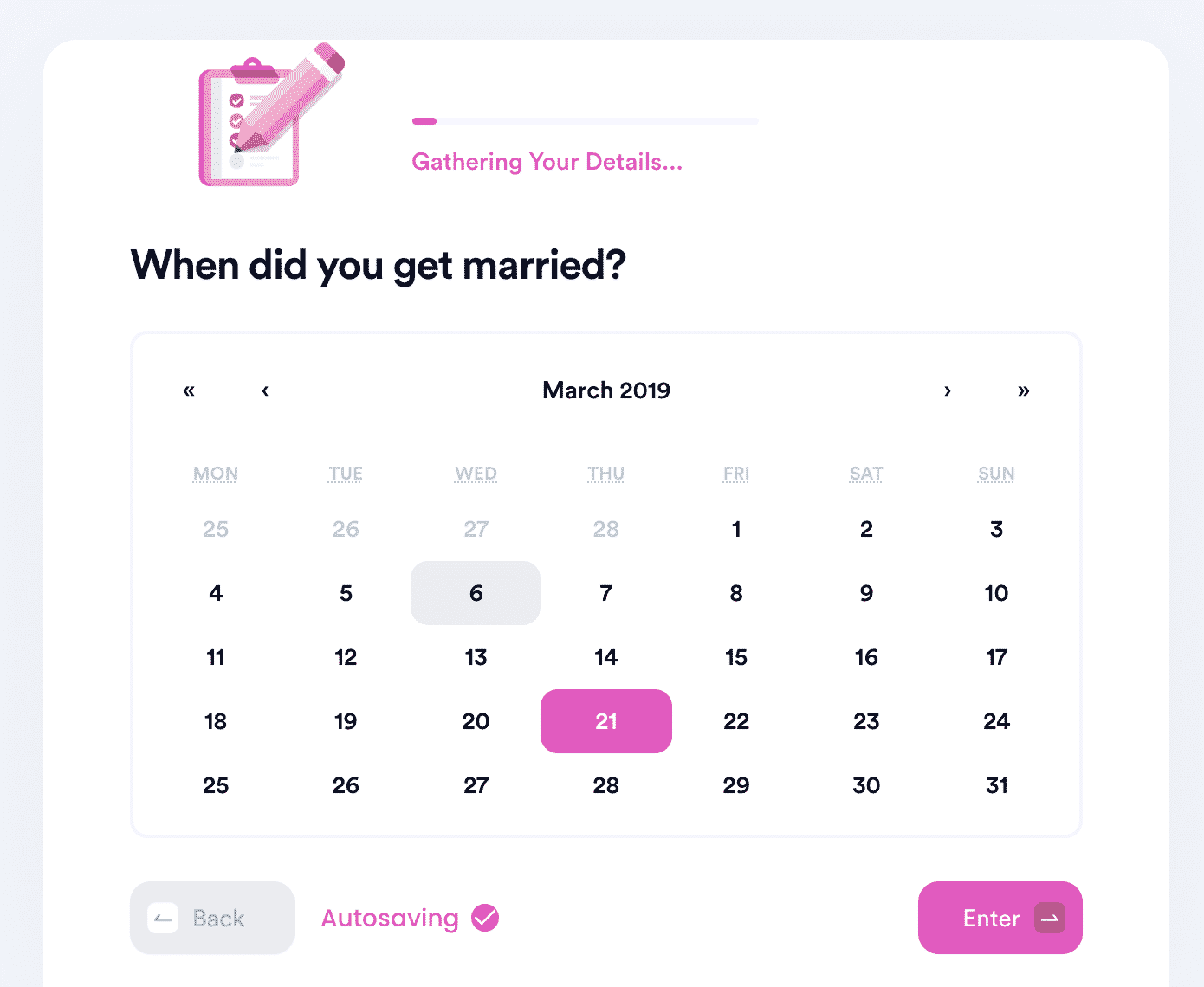 When you've completed these simple steps, DoNotPay creates a professional and comprehensive divorce settlement agreement in mere minutes!
If you need to get the document notarized, we can connect you with a remote notary who can provide the service 24/7.
Do you want to know more about getting a friendly divorce? You can browse through our website to find answers to lots of questions, such as:
DoNotPay Helps You Tackle All Kinds of Problems From the Comfort of Your Home
Are you too busy to go to Target, Walmart, or photo studios to get your passport photos taken? DoNotPay offers you the possibility of taking them yourself and having them edited without going anywhere!
Thanks to our app, you don't need to visit the post office if you want to initiate a return. You can also skip going to a notary office because we'll help you get your documents notarized.
Here are some other tasks you can complete with ease using DoNotPay:
We Help You Get Fuss-Free Subscriptions to Any Service
Interested in a specific service or platform? Make sure to get the best out of your free trial without getting charged and ending up with an unwanted paid membership. Even if you make a mistake, DoNotPay can end your subscription in a few simple steps!
Our system allows you to generate virtual credit card numbers to prevent platforms from getting your real bank details and using them for unauthorized transactions. We also offer burner phone numbers that will help you go through any subscription or verification procedure without disclosing personal details.