A Guide to Filing Walmart Employee Complaints
Walmart is one of the largest companies in the US. It's also one of the most discussed companies within online forums like Reddit and Quora. One of the most common topics of discussion online is Walmart employee complaints. And it doesn't stop there — even customers have their fair share of horror stories about shopping at the superstore.
So whether you shop at Walmart or are currently working there, we'll help you report your grievances about the company. In this article, we'll provide you with information on how to file a complaint against Walmart — both as a customer or as an employee — and we'll introduce you to a safer way to file a complaint using DoNotPay. 
Customers: How to File a Complaint Against a Walmart Employee
Customers who have received sub-par services or bought low-quality items at Walmart will be happy to know that there are several channels available to file a complaint. Take note that these options are not the only way you can make a complaint against a Walmart employee. Here is a table of contact details:
Employees: Common Reasons for Filing a Complaint
Anytime your manager or co-worker violates a state or federal law, you should always file an incident report with HR. Here is a list of federal laws that can serve as legal grounds for your complaint:
Title VII of the Civil Rights Act of 1964;

Americans with Disabilities Act (ADA);

Age Discrimination in Employment Act (ADEA);

Fair Labor Standards Act (FLSA);

Family and Medical Leave Act (FMLA);

Whistleblower Protection Act;

Occupational Safety and Health Administration (OSHA) regulations; or

Massachusetts Pregnant Workers Fairness Act.
But how do these legal provisions play out in the workplace? To put it simply, here are some offensive behaviors that are clear signs that someone is violating any of the laws listed above:
Discrimination

against someone because of their age, race, religion, gender, or disability

Unpaid wages or commissions, especially if it's between men and women in the same position or rank

Leave law violations such as the

boss

refusing to provide sick leave, annual leave, or maternal leave 

Sexual harassment such as telling lewd jokes or passing around nude photos via work email or message channels

Retaliation for filing a

human resource report

against someone who committed an illegal act

Whistleblower law violations such as retaliatory behaviors or creating an even more hostile workplace environment
Employees: How to File a Walmart Employee Complaint
Most companies will have a standardized employee complaint form where you can fill in the details of what you have experienced. In the absence of one, you may need to draft a complaint letter of your own. Although you may be thinking of storming HR and complaining in-person, a written complaint holds more weight and will be more helpful if an investigation is needed.
When writing a complaint letter, make sure to follow the company procedures as laid out in your Walmart employee handbook. If you do not have access to one, here is a list of items that your complaint letter should include:
A detailed description of who was involved

When and where the incident happened

Witness testimonies, photographs, or any other documentation

All other supporting documents that can be used as proof
Filing a written complaint by email or in person is the best way to ensure that it reaches HR. Keep in mind that HR also works for your employer. Some may be hesitant to advocate for you especially if you are filing a complaint against someone high up at the management level. When this happens, you may need to seek advice from an employment lawyer.
To protect yourself from awkward situations at work and the possibility of facing retaliation, the best way to file a complaint is by staying anonymous — and DoNotPay can help you do that!
How to File an Anonymous HR Complaint With DoNotPay
DoNotPay is your lawyer in an app! Our new product, Anonymous HR Complaints, lets you file complaints without having to expose your identity. Whether you are complaining about a supervisor or another employee, our app will ensure that your complaints reach HR safely and quickly. All you have to do is:
1. Open the Anonymous HR Complaint product on DoNotPay.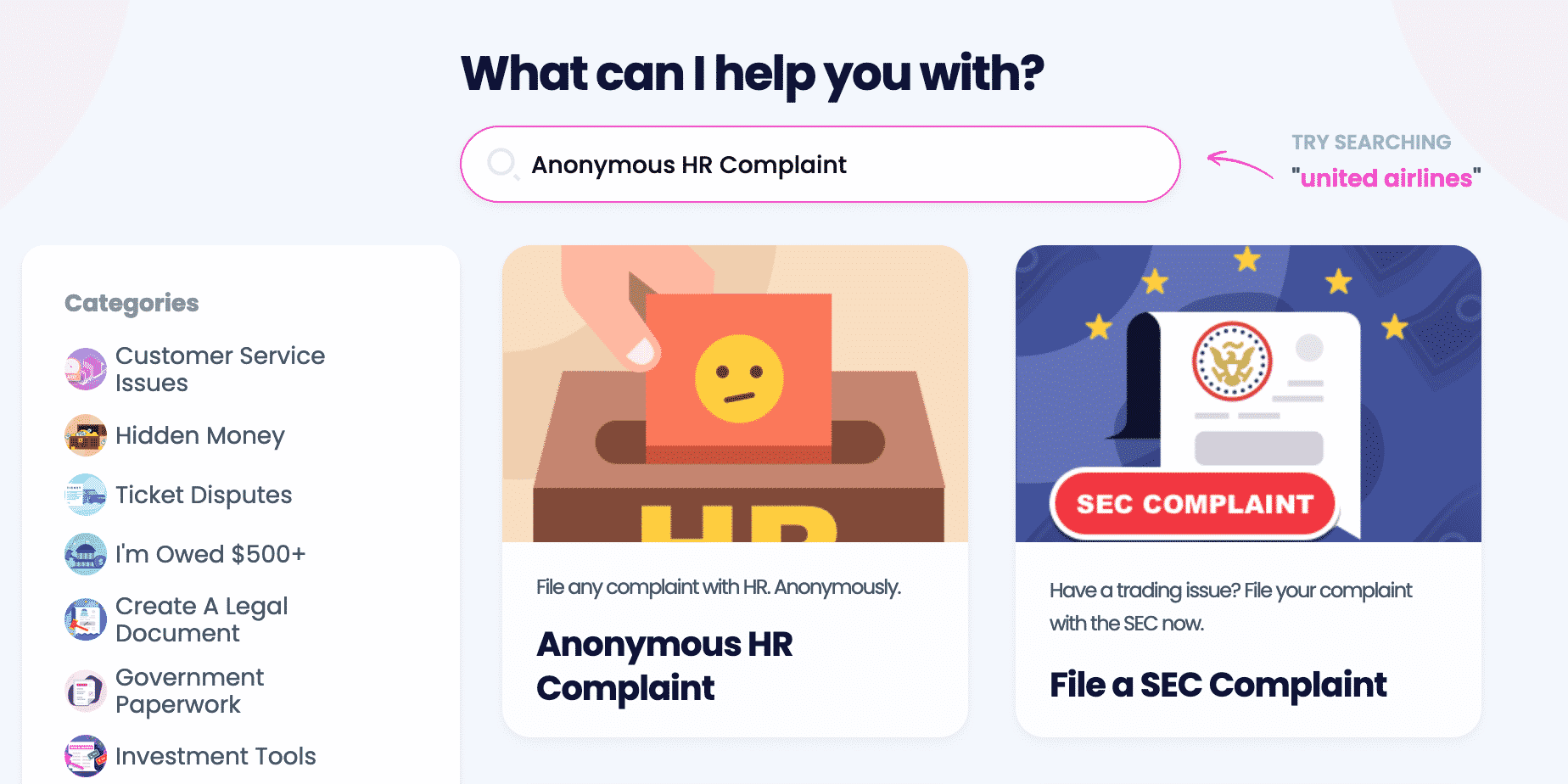 2. Enter your employer's name and the HR department's mailing address.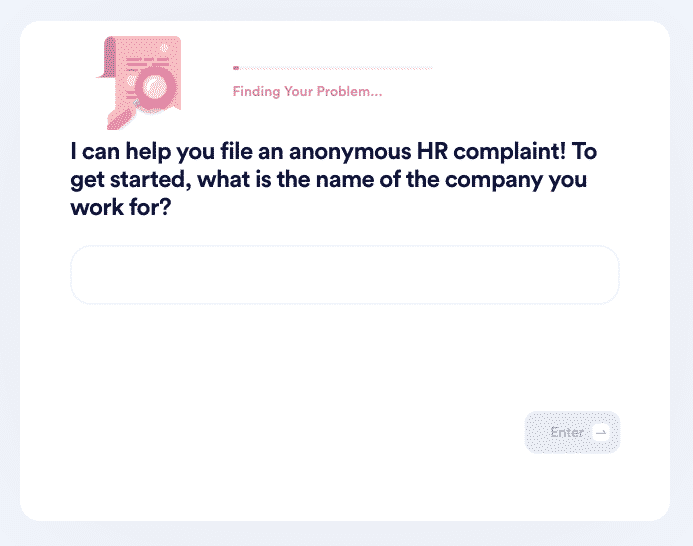 3. Describe the issues you're experiencing and how you want them to be addressed.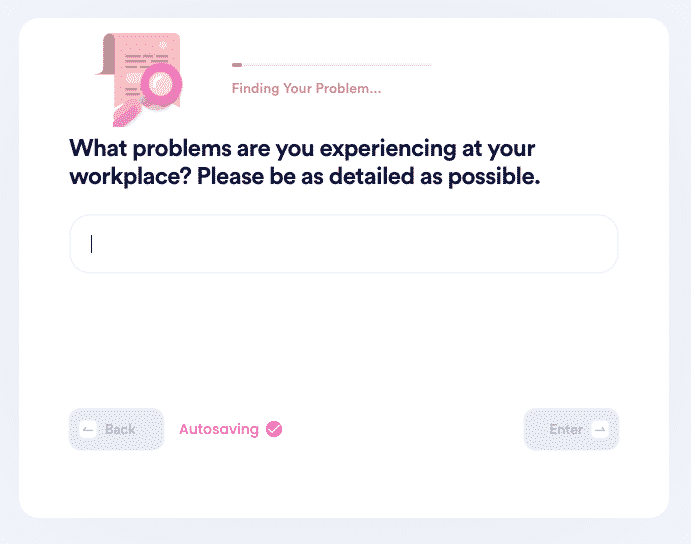 That's it! Your complaint will be mailed automatically to your HR department. How easy was that?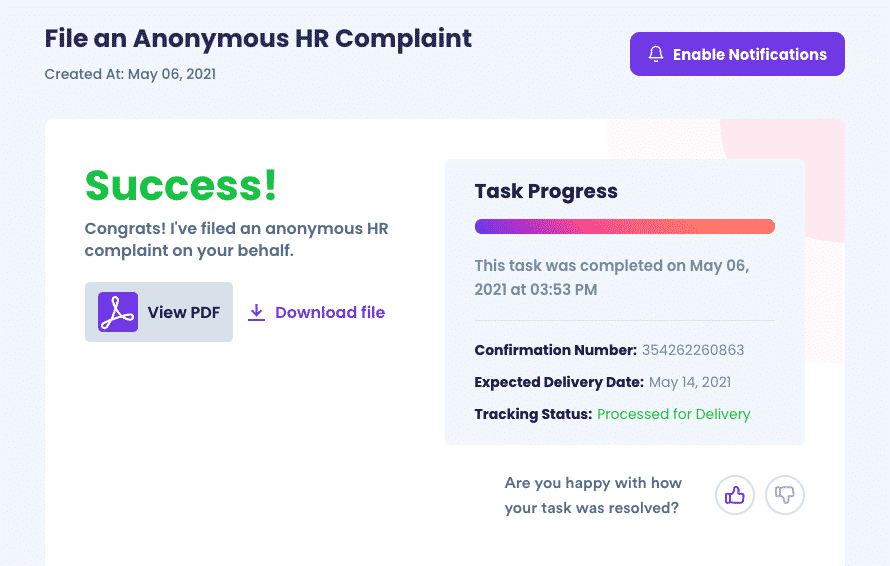 Get Your Daily To-Do List Done With DoNotPay
No one has time for long wait times and appointments two months away - let DoNotPay handle your to-do list and free your schedule! Here's what else you might be interested in: