Filing Walgreens Employees' Complaints
Whether you work at Walgreens or simply love to shop there, there are different ways to file an employee complaint or provide feedback on your shopping experience. Walgreens has hit national headlines many times due to complaints made by its employees and class-action lawsuits filed by its customers. If you have experienced something similar, how do you go about filing a report and how can you make sure that it actually reaches Walgreens?
In this article, we'll go over the ways you can file Walgreen complaints both as a customer and an employee. If you're a Walgreens employee, we'll go over how you can make a complaint anonymously with .
How to File a Complaint Against a Walgreens Employee
If you are a Walgreens shopper, there are many ways you can file a complaint against an employee or its services in general. If you have suggestions or complaints about the products or services you received from Walgreens, you can refer to the table below on who to contact:
What You Want to Achieve
What Action to Take

Ask inquiries or file complaints regarding online services

Call toll-free at 1-877-250-5823

Ask inquiries or file complaints regarding the company or a Walgreens store

Call toll-free at 1-800-WALGREENS (1-800-925-4733)

Connect with a customer service representative

Fill in the form

here

File a complaint about a violation of privacy rights

Fill in the form

here
Reasons for Filing a Walgreens Employees' Complaint
If you're a Walgreens employee, there may be a variety of reasons for filing a complaint to HR. Some of them are as simple as high-stress working environments but others warrant a trip to the Occupational Safety and Health Administration (OSHA) or the U.S. Equal Employment Opportunity Commission (EEOC). Some of these serious matters include:
Breach of employment contract

Unreasonable schedules and working hours

Safety and health complaints

Verbal or physical assault

Unequal pay

Employer retaliation against a whistleblower

Discrimination

against an employee's race, age, gender, or disability

Sexual or physical

harassment
How to File a Walgreens Employees' Complaint
Whether you have a complaint against a Walgreens co-worker or your manager, filing a complaint can be a daunting experience. Most companies have clear-cut procedures on filing a complaint and some have a standardized complaint form that employees can simply fill out. However, it has been reported that Walgreens does not have incident report forms available to employees. Another option is to draft a formal complaint letter by yourself. When submitting a Walgreens employee complaint letter, it is important to take note of these points:
Know your employment rights – Employees are protected by state and federal laws. Such laws include protecting you from your

boss

discriminating against your race, gender, religion, or disability.

Document the incident – This is the best way for you to build a case against whoever you are complaining against. Put everything in writing and include important details. Talk to co-workers who would be willing to provide testimonies so you have witnesses to support your complaints.

Talk to your supervisor – If you believe that you can trust the supervisor, you may try talking to him or her privately. It could be possible that they are not aware of ongoing issues. Private conversations can sometimes be enough to resolve issues. Otherwise, you can

report to HR

directly instead.

Follow procedures – Review your Walgreens employee handbook if you have access to one. Follow the correct process and procedure for filing an

HR complaint

. This way, you reduce the risk of HR rejecting your complaint if you failed to follow protocols.
There are instances when HR may not challenge authority figures, especially if your complaint is against someone in upper management. If this happens, you can start looking for legal options such as going to EEOC or OSHA. If you're worried about facing repercussions or being terminated from your position, can help!
How To File an Anonymous HR Complaint With DoNotPay
No matter what type of complaint you are filing, it can sometimes result in awkward situations or even retaliation. DoNotPay's Anonymous HR Complaints product helps you report an incident to your employer without revealing your identity! All you have to do is:
1. Log in to and click on Anonymous HR Complaints.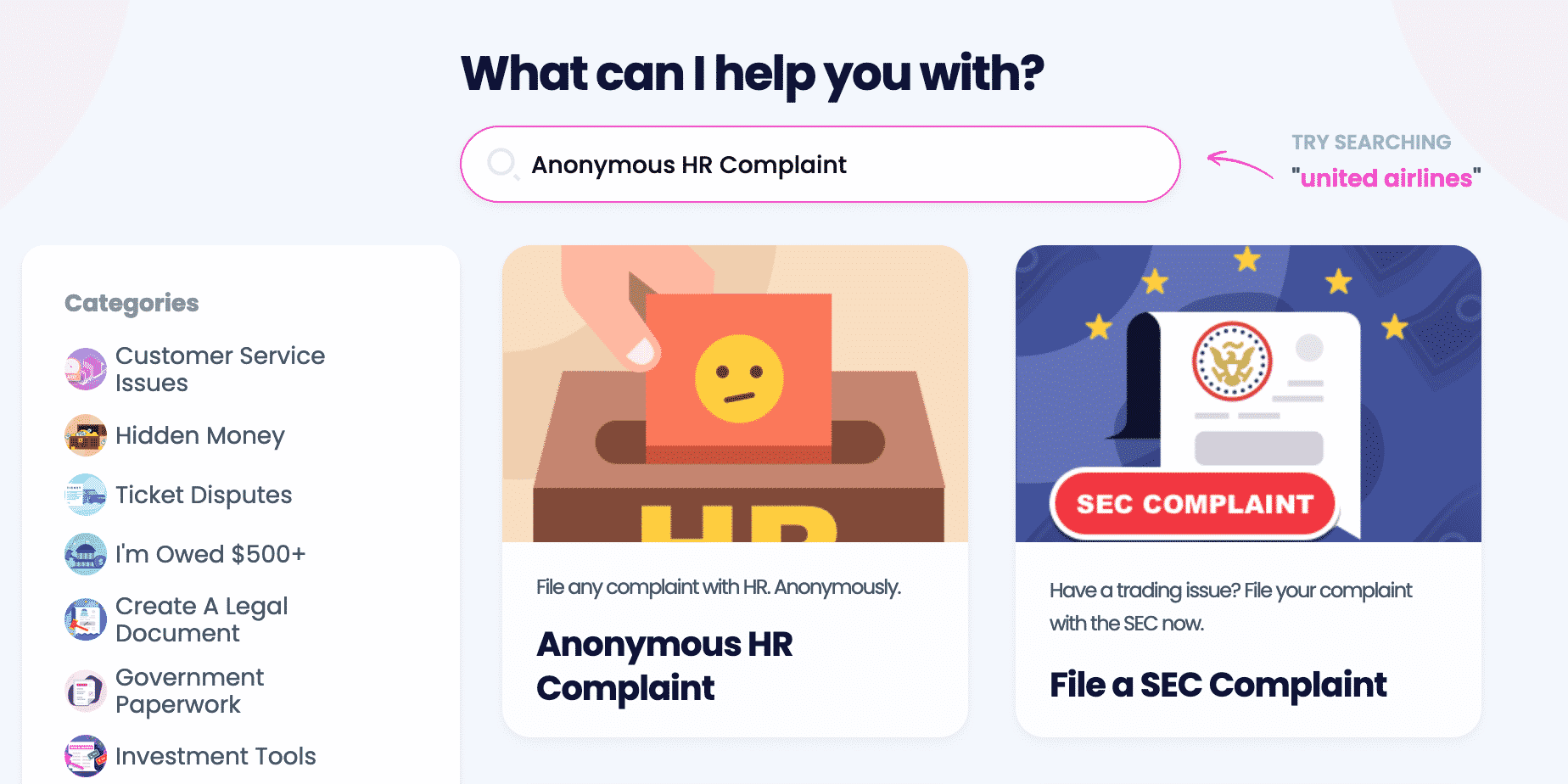 2. Fill in your employer's name and the HR department's mailing address.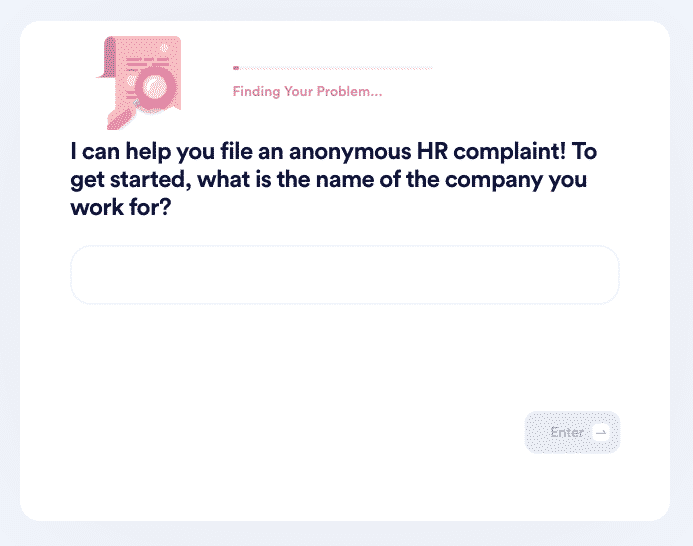 3. Explain the issues that you're having and how you would like them resolved.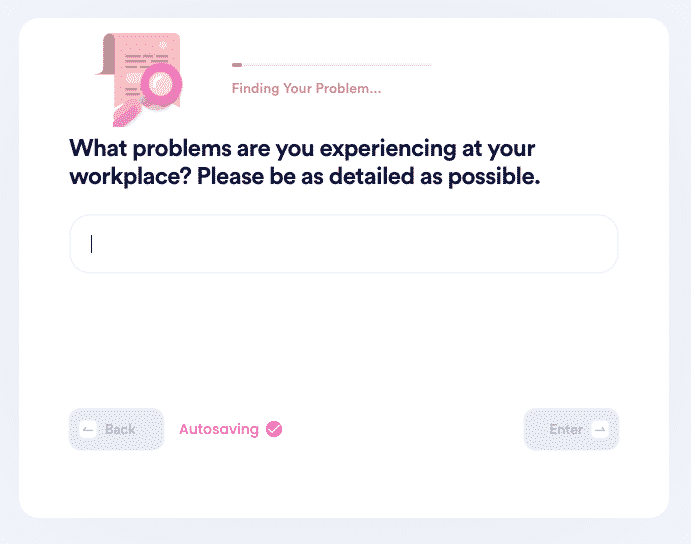 DoNotPay will automatically and anonymously mail the report! Your identity will not be included so no need to worry that!
DoNotPay Is Your Personal AI Assistant!
We don't stop at HR complaints - get your daily to-do list completed with our personal robot assistant! DoNotPay can help with other legal issues and customer service requests including: